Lough Mask
Ronan Cusack reports that lots of happy faces were evident around the shores of Lough Mask again this week as the good fishing continues. Anglers persisting with wet flies regardless of conditions are doing particularly well, with some fantastic bags reported. Dries and buzzer are also catching quality fish when conditions allow.
Partry angler Conor O'Mahony had 5 fish on Tuesday last. Conor spent the day fishing various wetfly patterns among the islands towards the middle of the lake (best fish 1.5lbs). Headford angler Andrew Boyd fished with Ben Watson from the UK for a day last week and they had 6 fish again on wets (best fish 2lbs). Ballinrobe angler Michael Vahey fished with a French visitor on Wednesday last and they landed 7 fish over the legal limit and numerous undersize. Jim Connell from Manchester fished with Ronan Cusack on Saturday and they had 6 keepable fish and again countless undersize (best fish 1.5lbs all returned). Denis Kelleher from Ballinrobe and Noel Fay, Kildare fished wets in Ballahalla Bay for a day during the week and Denis had a lovely trout of 4lbs.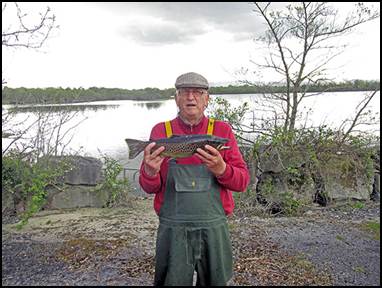 Ballinrobe angler Denis Kelleher with a fine trout over 4lbs taken on Lough Mask, April 2014
The Garda social club held a two day competition on Mask last week. 27 anglers took part and 31 fish were weighed in over the two days. First place went to Aidan Kelly (Blackrock)with 5 fish for 6.5lbs. In second place was Les O'Rourke (Blackrock), with 3 fish for 6.25lbs. Third position went to Stephen Neylon (Tallaght) with 2 fish for 4.75lbs.
The Kilbride Anglers also had a 2 day visit to Mask last weekend and reported excellent fishing, particularly on the Saturday. The competition was run on the heaviest single fish rule and was won by Dublin angler Peter McRory with a fine trout of 3.8lbs. 18 anglers took part in total.
Good fishing was reported at Hall's Angling Centre as Darren Maguire from Fermanagh landed 12 keepable fish and several undersize for a day's fishing last weekend. David Hill, also from Northern Ireland had 7 trout for a day (best fish 1.75lbs, all returned). Father and son team Rune and Sven Dolan from Norway had 8 on dries over 3 days (best fish 3.5lbs all returned).
Ronan also guides on Mask and can be contacted at cusackronan@gmail.com or at 087 2869487
Margaret Gorman from Isham Self-Catering at Dringeen Bay reported on some great fishing for guests, including 8 year old Keith Corrigan who caught his first ever trout on Lough Mask, a fine fish of over 3lbs, fishing from Dringeen Bay.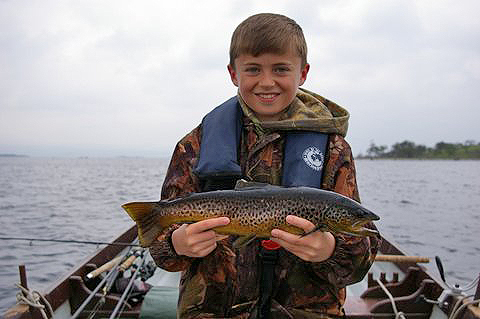 8 year old Keith Corrigan, who landed his first ever trout on Lough Mask, a beautiful fish of over 3lbs
All anglers continue to report lots of small fish with some decent fish here and there in excess of 3lbs. Isham guests, Florian Keller & friends from Germany have returned for a two week stay. They have encountered up to 15 fish some days. Florian also caught his first salmon of the year on Sunday morning in Cong, a beautiful fish weighing 8lbs 12oz.
A party of 4 anglers from Northern Ireland fished for 2 days with both dry and wet fly patterns. They found conditions challenging but managed to average 4 fish per day. Their best fish was just under 3lbs. Dennis Moss and a friend from Lough Sheelin fished on Saturday with wet flies. They boated more than a dozen trout, all of which were returned. Their most successful fly was a "Humungous". Stephen Neylon and Aidan Kelly fished the 2 day Garda Competition on Thursday 24th and Friday 25th April launching from Dringeen Bay. They had the winning bag of fish and the heaviest fish for the competition. Congratulations and well done to both of them. Brian Jamieson and a friend from West Meath fished for 1 day from Dringeen Bay with some success.
For further information on accommodation and angling advice, contact Margaret at 094 9546582 or email isham@eircom.net
Lough Corrib
Things are really heating up on Corrib, with quite a few reports in this week. Olives have been hatching for the last 10 days or more, and mayfly have started to hatch in more areas now. The main mayfly season looks like it will be over the next 2 weeks, although the forecast for warm sunny weather next week may set things back slightly.
Frank Reilly reports that fishing improved significantly last week, with some anglers reporting good rises of fish to olives. In the Oughterard area Dieter Lampe, Germany, staying at Currarevagh House, landed 10 trout over 2 days - best fish 3.5lbs. Dai Williams and John Cohen, Wales reported having the best fishing in 20 years landing 21 trout for 1 day on olives. 13 year old Cillian Tierney of Derrymoyle landed a fine trout of 6lbs in 1 evening.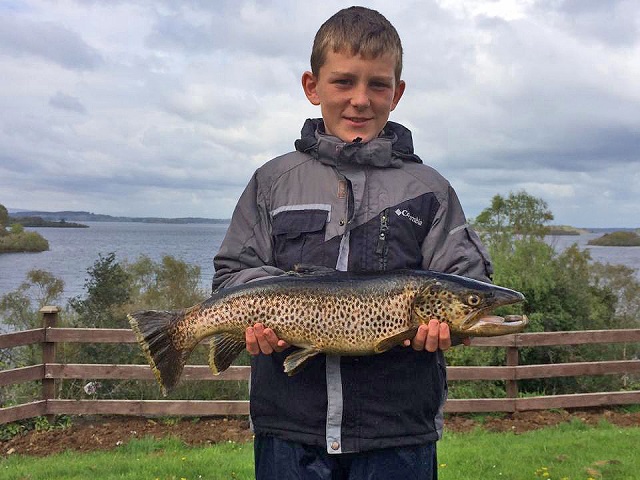 Cillian Tierney (13) from Oughterard, with a cracking trout of 6lbs plus that he caught on Lough Corrib, April 2014. the fish was taken on wet fly.
Good hatches of olives and some mayflies were reported in the Greenfields area, however very few anglers fished over the week. John Ryan from Nenagh, fished for 2 days and landed 5 trout for 9lbs. Headford Anglers held the Andrew Egan Competition on Sunday the 27th, with 20 anglers landing 8 trout over the size limit. 1st was Philip Hall, England, with 2 trout for 2.33kgs. 2nd was Martin Connor, England, with 2 trout for 2.18kgs. 3rd was Paul Ramsey with 2 trout for 1.18kgs. Philip Hall also won the best fish with a trout of 1.53kgs.
Tom Doc Sullivan sent in a great report from the annual Corr na Mona Anglers competition to raise money for the Galway Hospice. This was the 7th running of the event which was started in 2008, and is run as a catch-and-release pairs event, with teams being mixed in different boats.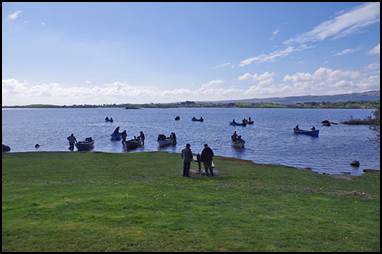 Boats heading out from the Carrick shore in very bright conditions at the start of the Corr na Mona Anglers competition for Galway Hospice
"As the event is staged on the last Sunday in April it is always a guess as to what the fish will be on, it could be olives, mayfly or buzzers. However the most important thing with wild brownies is weather conditions and the Gods weren't smiling on us for the event.
26 teams set out from the Carrick shore on the morning to brilliant sunshine and at that stage a very slight north easterly, however this wind lasted for an hour until midday. From that time on we were left with a flat calm lake, bright sunshine and, with thunder in the air, a very close and heavy atmosphere. It stayed this way until 5pm when the weather broke and we got some decent conditions for the last hour.
The fishing proved really difficult for all involved and the score cards showed that most fish were caught in either the first or last hour. The winning team was the pair of well-known anglers Toby Bradshaw and Joe Creane; Toby's catch of 3 trout including one cracker of 49 cm was enough to swing it and they finished 20 points ahead of Jimmy Molloy and Declan Gibbons in 2nd place - Jimmy also had a good fish of 49cm. They in turn were just 20 points in front of Mike Keady and Kevin Kerrigan in third place who had 3 trout between them.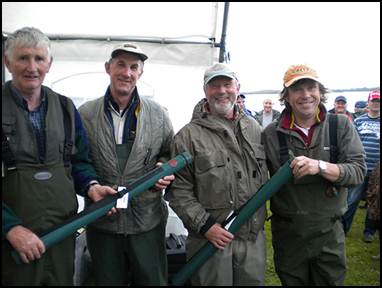 The winners of the Corr na Mona Hospice competition being presented with their prizes of a Hardy rod and reel each, sponsored by Tom Doc Sullivan and Pure Fishing. (l-r) Martin Kinneavy, Toby Bradshaw, Joe Creane, Tom Doc Sullivan.



The longest fish of the competition was a great fish of 54 cm caught by Peter Roche of Crossmolina, which was reckoned to be in the region of 5lbs weight. In total 52 rods caught 28 trout with an average length of 39 cm.
A special word of mention must go to Keith Nicholson's party from Kent in England. For the last two years they have switched their weekly holiday in May to fish in this event. Keith Lawrence and Mick Priest from the group finished 5th and won the overseas prize of a day's guided fishing on Lough Mask along with 4th prize which was 2 rods on the Galway Weir (kindly sponsored by IFI). Their compatriots, Keith Nicholson and Peter Thomason came 6th and they won a day's fishing on Lough Inagh with an evening meal for 2 (sponsored by Lough Inagh Lodge). The boys now think this was an elaborate ploy by Fáilte Ireland to get them to come back over again as they are now looking at availing of their fantastic prizes in July of this year! Two of this party - Keith and Mick - have been coming to Cornamona every year since 1990 and hope to celebrate their 25th anniversary with a big bash next year!
While we don't have exact figures yet for this year's event it is hoped that the club will have raised in the region of €2,000 for Galway Hospice. Up until this year's competition Corr na Mona Anglers have donated in excess of €13,000 to the Hospice from this event." Well done to all concerned for a very worthy cause.
Elsewhere, Mark and Martin Wilson enjoyed some great fishing on their recent trip to Corrib. Fishing out of Grasshopper Cottage at Cornamona on the 25th/26th April, they landed 12 trout up to 2.5lbs over the two days, all sportingly returned. The fish were all taken on size 12 wet Sooty Olive patterns and were in fantastic plump condition. They also saw mayfly hatching in the shelter of islands with the odd fish taking feeding on these. Two English anglers fishing from Grasshopper Cottage over the mid lake shallows near Mark and Martin had a great day's fishing on Saturday, landing 19 trout between them with many in the 2lbs bracket - best fish 4 lbs, and all sportingly returned. They commented that it was the best fishing they had experienced in many years. To enquire about boat hire or accommodation at Grasshopper Cottage, contact Roy or Sorcha at +353 949548165 or check www.troutfishingireland.com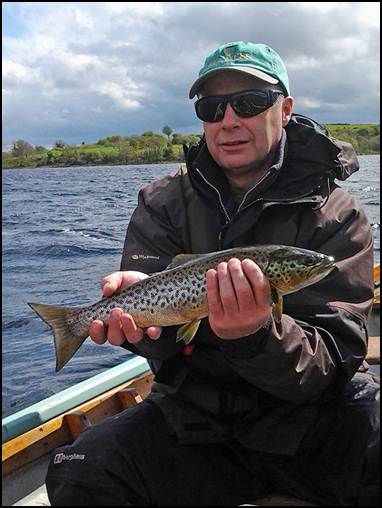 Mark Wilson with a nice Corrib trout taken on a wet Sooty Olive pattern, April 2014
In Oughterard, Gary Costello reported on great fishing for Welsh visitors Dai Williams and John Cowan, had a great weekend's fishing with 4 fish on Friday, 9 on Saturday and 7 on Sunday - best fish 4lbs caught by John Cowan, and most fish taken on olive patterns. Dai and John are annual visitors to Lakelands Angling Centre, where information on boat hire and accommodation can be obtained from Gary at on mayfly@eircom.net , call 091 552121, or check www.lakelandanglingcentre.com
Galway Fishery
Better conditions prevailed this week on the Galway Fishery, with 2 sluice gates open. Runs of spring fish have been slow, with the main run not seen yet. There were 5 fish landed for the week, including 2 fish on the fly. David Laughlin from Northern Ireland took a nice 11lbs springer on fly, while Athenry angler Declan Tuffy took a fine 12.5lbs fish, also on fly. Fergal Cormican from Dublin had a lovely 12.5lbs fish on spinner, while Laois man John Hetherington took a 9.5lbs fish on shrimp, and finally Clare angler Mick Browne landed a 10.5lbs fish on spinner.
With 2 gates open and fine weather forecast for the week, conditions look good, and angling prospects depend very much on a few more spring fish coming in on the next few tides.
Kylemore Abbey Fishery
Fishery manager Nigel Rish has just been in touch to announce the capture of the first salmon at Kylemore this year - by none other than the man himself. Nigel, a meticulous record-keeper, caught the first fish 11 days later than the average date of the first fish. The 9lbs fish fell to a small Collie Dog and was taken on the Upper River from Tullywee Bridge Pool.
Since the middle of the month fish have been spotted on a regular basis but light angling effort and poor conditions have not helped. Conditions for April have not been ideal with low water for most of the month and when water, albeit only a small spate last week arrived, anglers were hampered with a dirty algae ridden rise that encouraged a few fish to enter but made them difficult to encounter.
Hopefully this is the start of good times ahead at Kylemore.
To book fishing here, contact Nigel at 095 41178, or mobile 087 9580702, and for latest news check the website at www.kylemorefishery.ie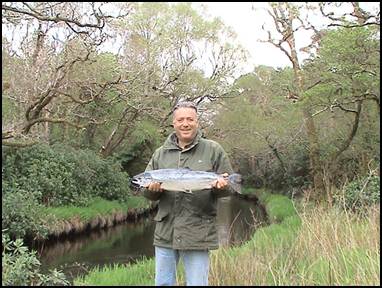 Nigel Rush with the first salmon of the season from the Kylemore Abbey Fishery, April 2014.