From Ballina Bryan Ward's Report
River Moy
The season on the Moy appears to be ending on a high, with well over 500 salmon recorded for the penultimate week of the season. Many fisheries recorded some great results, with the lower, mid-Moy and upper fisheries all reporting impressive catches. At this time, anglers are encouraged to release as many fish as possible, as many have been in the system for quite a while.
The Moy Fishery had a reasonable week, with 30 recorded, 23 of those caught on the Ridge Pool. Among those to land fish on the Ridge were Edward Smith, U.K., who had five to the spinner and released four, while Tom Davies had two, and a third off the Cathedral Beat. There were also two off the Point and a further four on the Fresh Water beat. The Ballina Salmon Anglers' water had a very good week, with 85 reported, while at Mount Falcon, there were 36 caught. The Knockmore waters' and Armstrong's both recorded catches of around 40, whit Gannon's producing 32.
The Foxford Fishery had 17 for the week, while Rinanney had over 70. There was also good sport had around the Foxford town Fisheries, with the Cloongee Fishery yielding 14. Rolan LeMoine, France had four at Cloongee spinning with Jacques Le Cove, also France had 5 to the spinner. Finally, the East Mayo Anglers' water had a great week, with 91 salmon caught, 47 of those released. Matthais Engles, Germany, had two on fly, Gerard Portes, France, had three to the fly including one nice fish of 10lbs with Michael Straugig, Germany, also had good sport on fly with one of 8lbs.
Anglers are reminded that they are required by law to return all completed Anglers' Log Books (even where there is no catch recorded), as well as any unused tags to Inland Fisheries Ireland before the 19th October 2013, using the business reply envelope issues with the Anglers' Log Book.
Burrishoole
A much better week for angling at Burrishoole, with a total of five wild and two ranched salmon and nine sea trout .The sea trout and the all salmon were released. The first half of the week was the best for angling, with a strong south-westerly wind .The lucky anglers were the Wilson Party from Mount Falcon, who had four salmon and five sea trout, John Dardis, Co. Kildare recorded a salmon and a sea trout, with Elizabeth Rogers, Lisburn, N.Ireland also landing one wild salmon.

Glenamoy
Anglers continued to enjoy good sport on the Glenamoy during the early part of the week, where John O'Neill had a salmon of 5.5lbs, Edward Murphy and Liam Gilsie had one each of 6.5lbs, with Dessie George landing one of 7.5lbs. A group of visiting anglers from Germany also enjoyed success, each landing a salmon weighing 5lbs, 6.5lbs and 7lbs respectively.
Ballisodare
Although there were few anglers fishing throughout the last week, some good sport was had at the Falls and on the River. Most fish caught were colored, with just a few fresh, sea-liced salmon caught. Most fish averaged 4lbs, while a few of 6lbs and 7lbs were also reported. All fish were caught on the fly, with all safely released. Successful anglers included Dermot Glennon, James McGuire and visiting anglers Andrew Bell, John Conneely and a group of anglers from the south of Ireland. Approximately 20 fish were caught for the week, considering how late it is in the season this was a respectable number.
Lough Arrow Trout Angling
Lough Arrow Fish Preservation and District Angling Association are hosting and end of season open competition on Sunday 29th September between 11.00am and 6.00pm. All proceeds will be donated to the North West Hospice. Entries taken between 10am and 11am at Flynn's Pier, or on Little's Island between 1pm and 2pm. Weigh-in will take place at Des's at 7.00pm. Prize for the heaviest single fish. For further enquiries, contact Alison on +353 (0)879541835, Karl on +353 (0)86 8343584 or David on +353 (0)86 3825376.
---
From Galway - Kevin Crowley's Report
Low water levels this week hampered salmon angling, so I have no reports from Connemara, but I expect to have some reports next week on the season end.

Lough Mask and Carra
Ronan Cusack reports that with only a few days remaining in the 2013 trout season on Lough Mask, the fishing has improved dramatically. Christy Crotty and John Ronanem Waterford had a fantastic 2 days sport this weekend. The lads had in excess of 16 trout exceeding the 13" limit, and lost count of the number of undersize trout they returned. Their best trout was 1.75lbs and all were returned. Local angler Kevin Egan fished on Saturday with Noel Fay from Kildare and they had 8 fish on wetfly along the shallows (best fish 2lbs, all returned). Ballinrobe Anglers chairman Tommy Foley fished with Neil Foley from Cork on Saturday last and they had 7 fish between them for the day and again returned numerous undersize fish (best fish 1.75lbs, all returned). Cian Murtagh and Joe McCarty from Kingscourt fished with Ronan Cusack on Friday last and they 16 fish over the size limit (best fish 1.5lbs, all returned). On 3 occasions throughout the day Cian had two fish on at the one time, which he said is something he never experienced before. Angling guide Denis O'Keeffe fished dries on Mask last Saturday with friends "Ted and Sue" and they had 6 fish over deep water (best fish 1.75lbs, all returned).
Lough Carra has also fished well this week, with some good bags reported. Cian Murtagh and Joe McCarty from Kingscourt had 3 nice fish on Thursday last, using a combination of wets and dapping (best fish 1.5lbs, all returned). Dr Martin O'Grady of Inland Fisheries Ireland fished Carra this week and enjoyed some excellent dry fly fishing. Martin used his own dry sedge patterns and had fish up to 3lbs every day. Gerry O'Brien, Ballinrobe also fished dries on Carra this week to great success.
Overall both lakes are in top form, so get out there and give it a lash before it's all over.
Ronan also guides on Mask and can be contacted at 087 2869487 or by email at cusackronan@gmail.com
To date we have now 214 salmon landed for the season and with just two weeks left, hopefully an improvement on this figure.
To book fishing contact Nigel at 095 41178, or mobile 087 9580702, and for latest news check the website at www.kylemorefishery.ie

Lough Corrib
Donal Connolly reports that fishing has been reasonably good for guests in the Glann area lately. Andrzej Borkowski drove down to us from Lucan early one morning, and was out on the water early. The trip was well worth it as he bagged 2 salmon of 3lbs and 4lbs, and a further 4 trout (averaging 1.25lbs each) caught on fly, which were all released. A nice days fishing!
Roger Thompson, Lurgan, landed a September salmon of approx.. 4.5lbs on wet fly, it was Rogers first Corrib salmon and after a quick photo it was released - a nice way to end his season!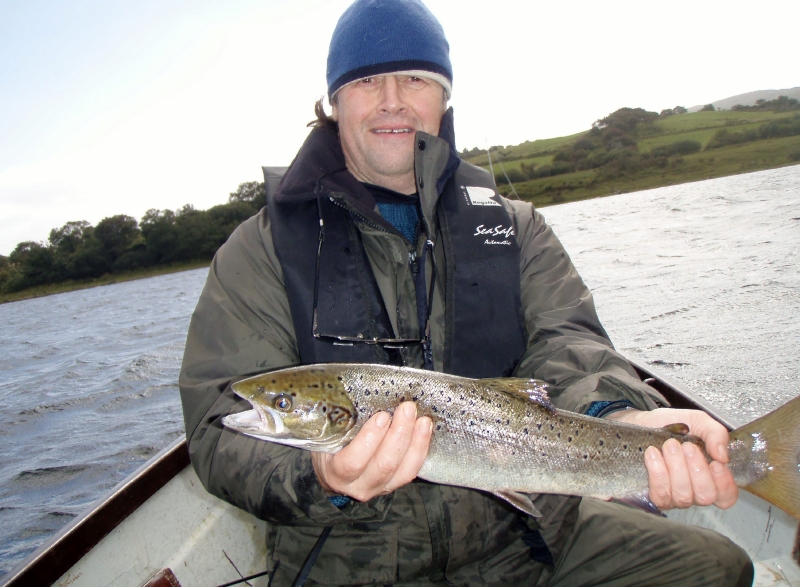 Roger Thompson from Lurgan, with a 4.5lbs salmon, his first salmon from Lough Corrib, caught during September, 2013.



To book fishing or accommodation contact Donal at 085 7364830, or check www.fishingcorrib.com

Westport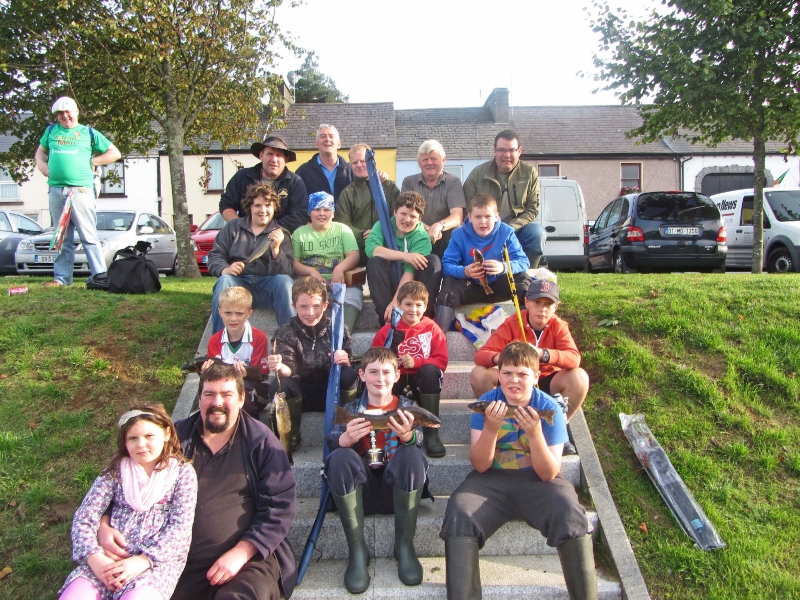 Some of the participants in the Westport Anglers Juvenile Day that was held on Moher Lough recently, with pride of place going to the winner, Caoimhin Duffy, who won a silver cup and a new fly rod.



Toby Gibbons from the Westport Anglers reported on the kids day out and competition held at Moher Lough, near Westport. This lake is stocked with brown trout by Inland Fisheries Ireland, and IFI were happy to make the lake and boats available to the club for the day. The winner was Caoimhin Duffy and he got a cup and a fly rod. The top 3 young anglers won a fly rod each, and hopefully they will progress to be competent flyfishers in the near future. There were 18 stocked trout caught on the day, best fish was 0.789kg, and 15 small natural trout, and most importantly everyone had an enjoyable day!