Salmon Angling

River Moy
An excellent week was had by many on the Moy system, where just over 600 salmon were reported for the week. Despite the low water conditions, fresh fish have been caught throughout the length of the system indicating that these grilse are running and travelling, despite the lack of fresh water.


The Moy Fishery enjoyed a very productive week, with more and more fish beginning to settle in these beats, 75 salmon were caught in total, 54 of those were off the Ridge Pool, 13 from the Weir Pool and six off the Cathedral Beat.

On the Ridge Pool, young Oscar Downing, South Africa, landed his first Atlantic Salmon, a grilse on fly.

Nick Downing also had success, with a 5lbs grilse while N.Ireland pair Colin Farrell and Sean Logan, landed fresh fish 10lbs and 11lbs respectively, both on fly. Sean Maye also had a nice fish of 10lbs, also on fly. Jimmy French was among those to have success on the Weir Pool, with two grilse of 3.5lbs and 5.5lbs, with Alex Herron, N. Ireland, among those to have success on the Cathedral beat.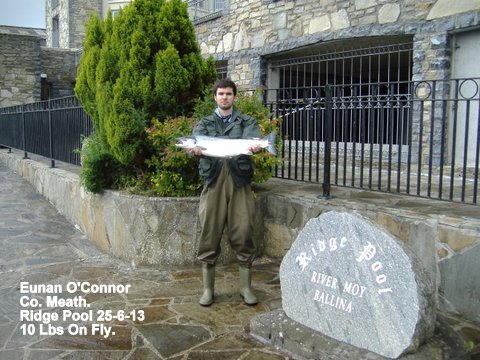 County Meath angler, Eunan O'Connor with his catch from the Moy Fishery.



The Ballina Salmon Anglers' water also had a very productive week, with over 80 salmon recorded from its beats. The Ballina Salmon Anglers' will be hosting a Juvenile Angling Competition on Saturday 6th July, from 11am to 1pm, with those wishing to take part asked to assemble an the river bank on the Canal side.

The mid-river fisheries all enjoyed a good week, with good catches reported from most of the fisheries downstream of Foxford Town. At Armstrong's, Michael Clarke landed a 12lbs salmon while fishing prawn, and at Gannon's Fishery, Chris Atkinson, England, had one of 10lbs (also on prawn). At the Foxford Fishery, Jean-Luc Mural, France, and party of three recorded 20 salmon over five days, with their best weighing 10lbs.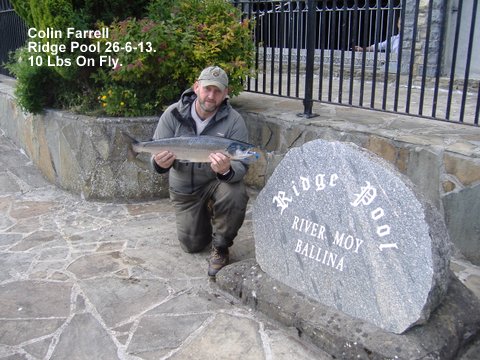 Colin Farrell, N. Ireland, with a fine catch from the Ridge Pool.



Rinanney and the Foxford Salmon Anglers' water also all reported catches for the week, while at Cloongee, over 50 salmon were recorded. Among those to enjoy good sport at Cloongee was Geoff Belcher, U.K., with one of 5.5lbs on fly, Peter Thornton, U.K., had two of 4.5lbs and 6.5lbs on fly, Stephen Brennan, Co. Dublin had two up to 7lbs while spinning and Jez Leech, U.K., landed a grilse and a 12lbs salmon on worm.

The East Mayo Anglers' water once again enjoyed great catches, with 115 salmon recorded for the week. Here, visiting angler Dietmar Jansen, Germany landed three grilse and an 11lbs salmon on fly, with Jerry Carney, Balla, also capturing one of 6lbs on fly.

The Moy Fishery is hosting its annual Juvenile Angling Day on the Cathedral Beat in Ballina on Monday, 8th July. Rods, tackle and tuition are available free on the day with the event open to anyone 17 years or younger. Angling will commence at 9.00am and finish at 6.00pm. Those wishing to participate should call Inland Fisheries Ireland - Ballina on +353 (0)96 22788 or email ballina@fisheriesireland.ie to book their place.

Ballisodare Fishery
Yet another excellent week at the Ballisodare Fishery, where 241 salmon were caught, a large proportion of those released safely. The fly, prawn and worm have all accounted for good numbers of fish throughout the week. Monday yielded 36 salmon, ranging in size from 3lbs to 13.5lbs, with Pat Forkan landing the best of the day, on fly.

Forty fish, up to 6lbs weight, were landed on Tuesday, with most taken on fly and prawn. Twenty-one of those were released. The prawn was the most successful method the following day, where a great catch of 50 salmon was recorded. All catches ranged between 3lbs and 8lbs, however the average size was approximately 5.5lbs.

Conditions on Thursday were very breezy, as a result few anglers fished. However, anglers did manage to land 22 salmon, despite the adverse conditions. A further 29 salmon were caught on Friday, between 3lbs and 8lbs while on Saturday 47 were landed, with 28 of those released. Angling effort was low again on Sunday, resulting in a catch total of just 17 for the day, with the fly and worm proving productive. To fish the Ballisodare Fishery, please contact Dermot Glennon on +353 (0)862515064.

Trout Angling

Lough Conn and Cullen
Many anglers continue to enjoy good sport on Lough Conn, despite a drop in angling effort on the lake. Fishing out of Pontoon Bridge Hotel, John Costello and Ian Quinn, Co. Kildare, boated six good sized trout and many smaller fish, while fishing the south end of Conn using Olives. Jonathan Brady and Anthony Quinlan, Belfast, averaged four trout per day over three days, all on wet Olives, while New York pair Brian Moran and Alex Suza landed two each over two days, their best fish an impressive 3.2lbs.

In the northern side of the Lough, Kevin Flaherty and Alan Timoney, Co. Galway recorded four trout each for their day, the best weighing 2lbs. Finally Mick McNeeley and Harry McCafferty averaged four trout each, all on Green Peters and Olives, with their biggest also 2lbs.

Sea Angling

Killala Bay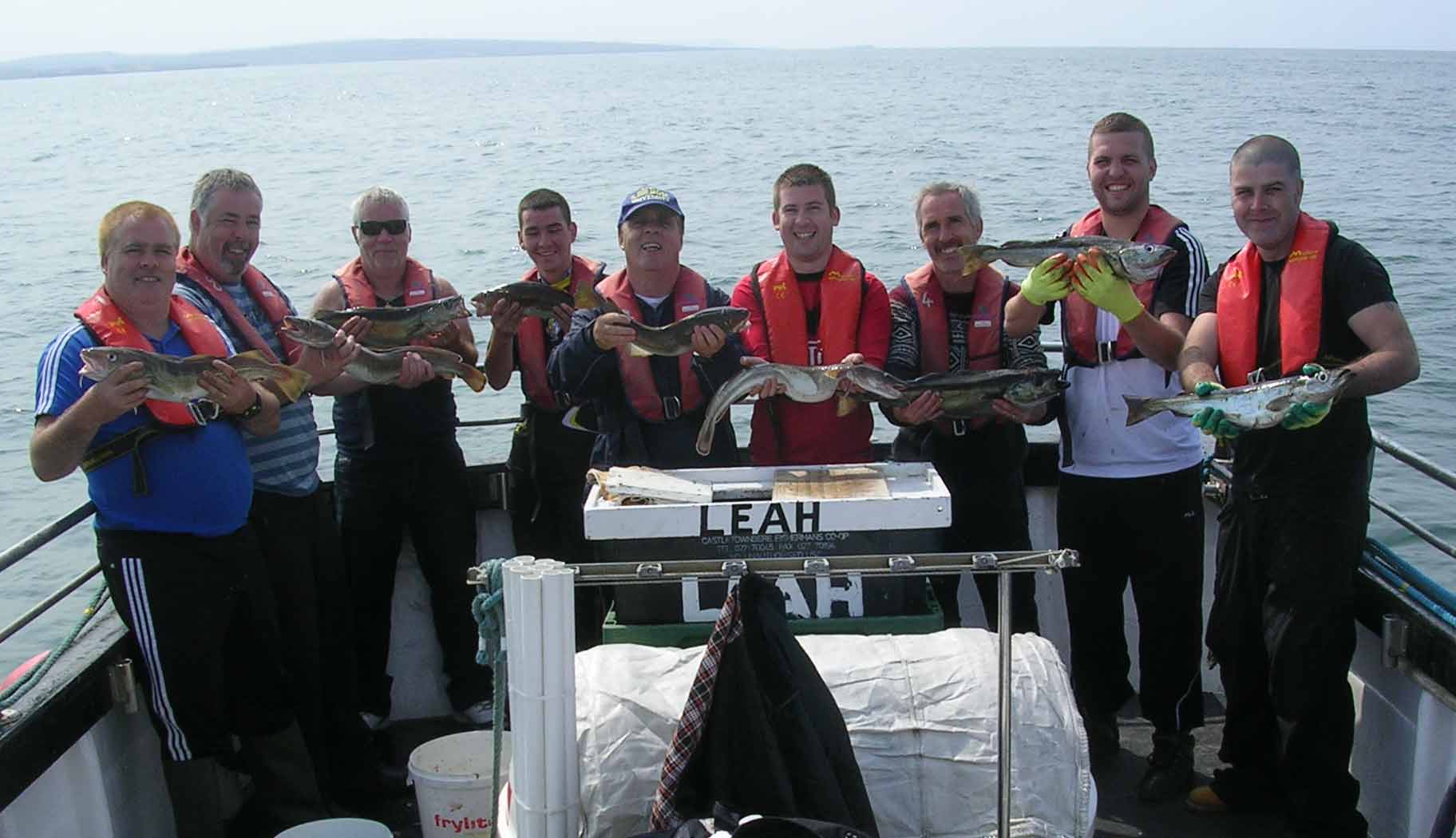 Group from Co. Longford, displaying their catch of pollack, ling, cod and coalfish onboard the Leah.

Skipper of the Leah, Donal Kennedy reported on a recent trip out of Killala. On Wednesday, 26th June, a party of anglers from County Longford departed Killala Harbour at 9.30am for a fishing trip in Killala Bay. The weather was fine, with light variable wind and some sunshine. A perfect day to go fishing. Mackerel were in good supply with a steady stream coming to the boat all day. As the party drifted across the bay in a slow but steady drift, many species were caught, including ling, with the best weighting approximately 7lbs. Pollock were also a feature of the trip, the best of which were up to 8lbs. Coalfish also appeared in the catches, a number of these were caught with the largest weighing 5lbs.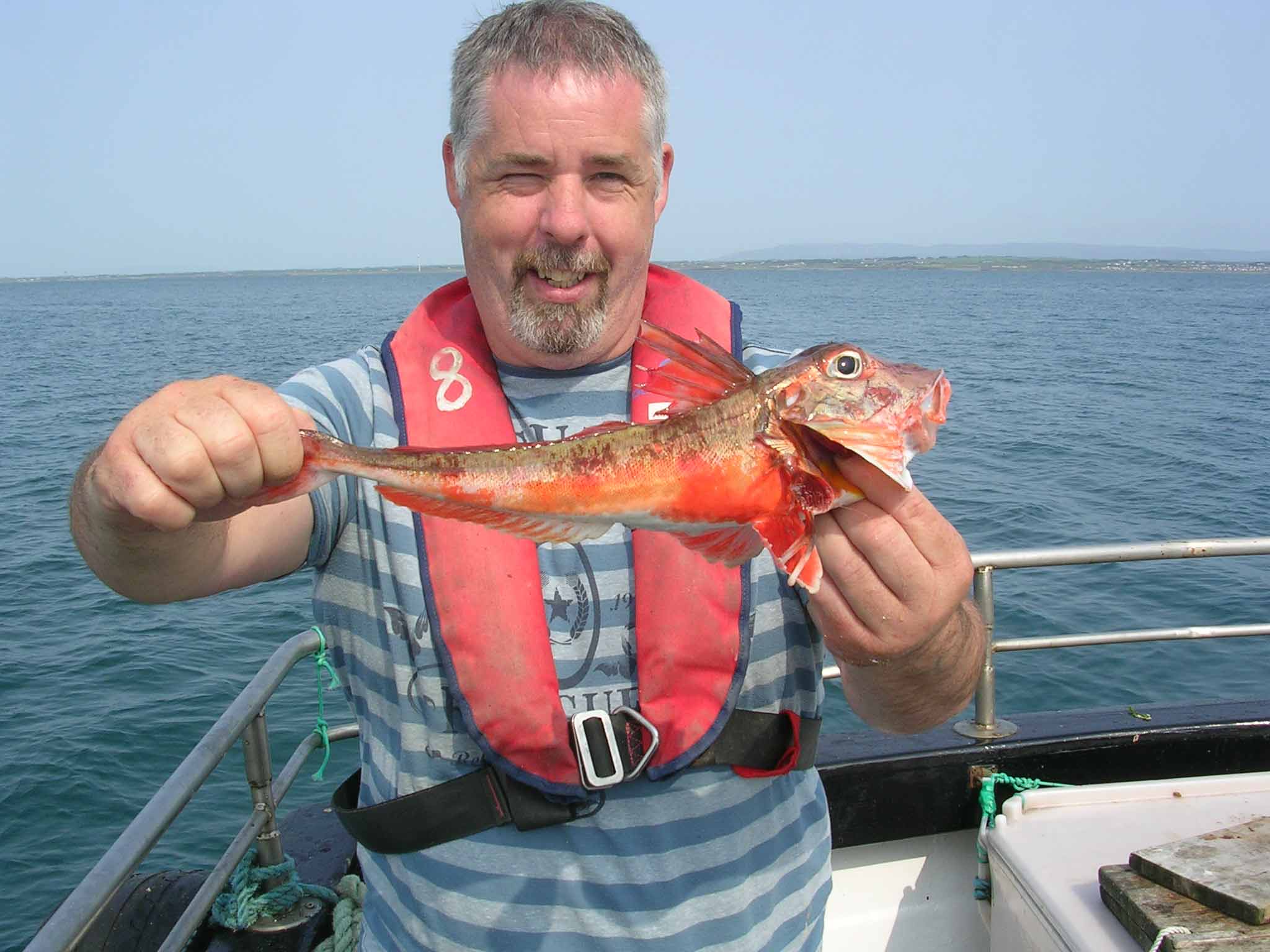 One of the Co. Longford group, and his fine red gurnard which fell just short of specimen weight.

The boat covered one productive patch of ground which produced some lovely cod, up to 6lbs. Pouting were also caught in abundance and throughout the day
there was a steady catch of mackerel, a vast difference in previous weeks where they were relatively scarce. One of the party landed a fine red gurnard, which when weighed on shore was just 1oz off the specimen weight. To book chartered fishing trips on Killala Bay onboard the Leah, please contact Skipper Donal Kennedy on +353 (0)86 8174509.