Pike Angling
Pike angling guide Kenny Sloan reports on good pike angling recently experienced on lakes in the Castlebar area. While guiding clients David Anchell and Mark Houlihan, County Cork, pike up to 15lbs were taken on the fly with 10 pike between 11lbs and 14lbs also caught. Pictured below, Mark Houlihan with a fine pike, and David Anchell, playing an energetic pike.
Sea Angling
Skipper of the Leah, Donal Kennedy reported good angling in Killala Bay over the weekend of the 16th/17th October. Some nice cod up to 6lbs were taken as well as a fine tope of 50-60lbs. An unusual catch for the time of the year was a 9lbs spurdog, with good numbers of pouting, coalfish, whiting and gurnard also caught. Pollack up to 7lbs were hooked throughout the weekend, as well as ling to 9lbs. Large numbers of very small mackerel were caught, with the occasional one of 2lbs also taken.
Fishing out of Porturlin on Sunday 17th anglers enjoyed great fishing around the Stags of Broadhaven despite the rough weather. Gearoíd O'Scolaí reported large mackerel were plentiful on the day, with numerous ling of up to 12lbs taken and Pollack up to 8lbs also caught in large numbers. A large number of cuckoo wrasse were also caught, with coalfish, gurnard, the occasional dab and a 68cm dogfish also hooked. The best tackle for the larger ling and pollack on the day was baited moppet lures.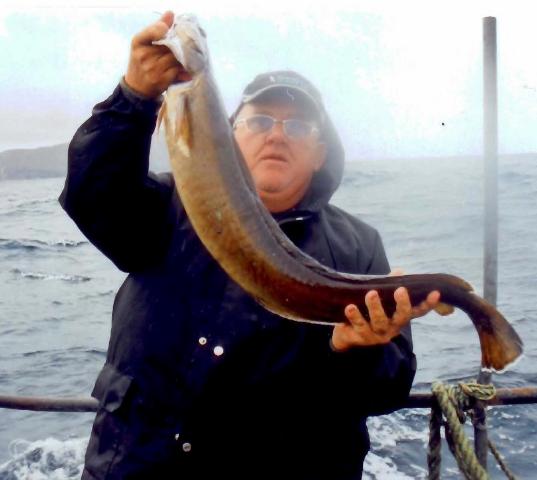 Gearoíd O'Scolaí, with one of many ling caught while angling near the Stags of Broadhaven.