Salmon Angling
River Moy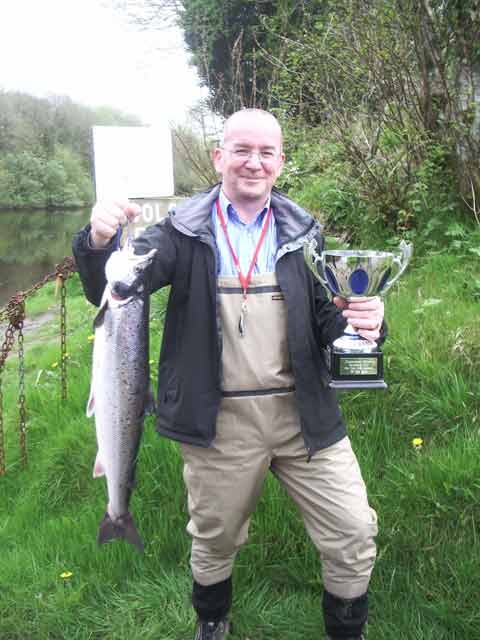 Eoin Farrelly, Dublin with his catch that won him the Coolcronan Cup.

The River Moy fished very well for the week, with 23 salmon reported, caught on the spinner, worm and fly. The Ballina Salmon Anglers water produced a few fish, including one of 8lbs caught by Declan Gannon on the worm. Upstream at Coolcronan, the first fish of the season for the fishery was landed by Eoin Farrelly, Dublin and was caught on the worm. Eoin received the Coolcronan Cup for landing the first salmon. Armstrong's Fishery also had its first fish of the season, a 9lbs salmon caught by John Mc Dermott fishing the worm. Gannon's Fishery also produced a few salmon, with a fine 13lbs salmon falling to Pat Healy, Roscommon.

East Mayo Anglers waters produced the best angling of all the Moy Fisheries, with ten salmon reported. Aiden Connolly, Athlone (worm), Paul McGrath, Swinford (fly) and Danny Irvine, Foxford (fly) all had salmon weighing in at 10 lbs. Visiting angler Steve Beavis, U.K. also had success at East Mayo, landing an 8lbs salmon on a spinner. Water levels continue to drop slowly on the Moy, and recent large tides should push even more spring salmon into the system. The Lower Moy Fisheries i.e. the Cathedral Beat, Pollnamonagh, Spring Wells, the Ash Tree Pool and the Point are now all open, as well as the Moy Estuary. Anglers are reminded that they should be in possession of a state rod licence to fish for sea trout in the Moy Estuary, and any sea trout over 40cm retained must be tagged and recorded in the angler's log book.

Inland Fisheries Ireland - Ballina were pleased to welcome the Lord Mayor of Leeds, Councillor James McKenna recently during his visit to Ballina. The Lord Mayor was joined by John Wilson, Sergeant at Mace to the Lord Mayor and Anthony Hanlon, Chief Executive of Leeds Irish Health & Homes. The party enjoyed their first experience of salmon fishing in the Salmon Capital of Ireland, on the world renowned Ridge Pool. Unfortunately for the party, no salmon were caught on the day.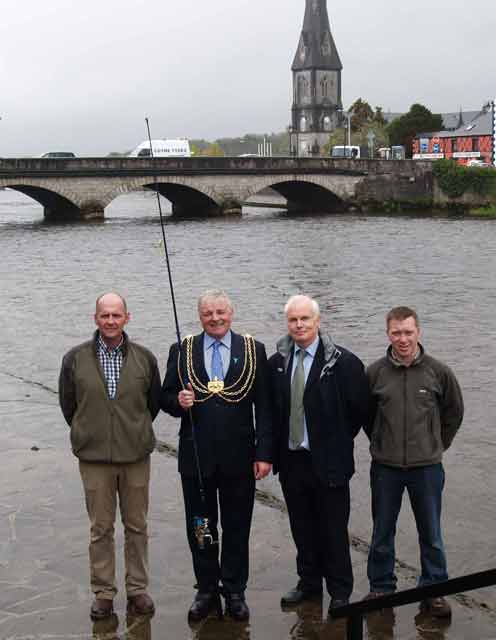 Moy Fishery Manager Declan Cooke, Lord Mayor of Leeds, Councillor James McKenna, Dr John Conneely, Director IFI-Ballina and Fisheries Information Officer Bryan Ward pictured at the Ridge Pool during the Lord Mayor's visit to Ballina.
Owenmore River and Carrowmore Lake
Water levels on the Owenmore River have been very low over the past week, and as a result only one angler was successful. Local angler Mervin Corway was the successful fisherman, landing a 9lbs salmon. Carrowmore Lake also experienced a quiet week, with two salmon caught by U.K. angler Michael Reighton. Fishing a long tailed Bibio, Michael caught and released two fine salmon of 11lbs and 8lbs.
Newport River and Lough Beltra
Few anglers fished the Newport River lately; as a result no salmon were reported. However, on Lough Beltra, some anglers had success. Frank Kelly had success at Walsh's, with his boat partner loosing one while Des Beirne boated a salmon of 9lbs at the Forestry. John Rainey, N.Ireland also had success, landing an 8lbs salmon at the Buoy. Several other anglers rose and turned salmon, with others loosing fish on the Lake.

Trout Angling
Loughs Conn and Cullin
Foxford Anglers hosted the Devanny Cup angling competition on the lakes on Sunday the 17th, with 22 anglers participating. Peter Roche, Cloghans won the Cup with a trout of 1.5lbs, with John Finnerty, Knockmore, taking second place and Padraig Traynor third. Fishing out of Murphy's, Jim McDonnell, Bohola had two fine trout caught trolling. The trout weighing 3lbs and 5lbs were boated using a silver Toby lure. Fishing in the Massbrook area Liam McHugh, Edenderry had two trout, with Mick Sweeney, Loughrea boating one, averaging 1.5lbs.
Fishing out of Pontoon Bridge Hotel on Lough Cullin, Padraig McElwaine caught one trout of 1lbs with Rory McMahon also landing one. Both fish were caught on the Claret Mallard. Angling out of Cloghans Bay, Bill Coolaghan, Sligo had one fine trout of 5.5lbs from the Castlehill Bay area. Within Cloghans Bay itself, Patrick Kelly, Cloghans had a nice trout of 2.5lbs, while Brendan Levens and Padraig Kelly, fishing out of Home Bay Farm had a trout each. Trout were spotted moving all over the lake in the past week, with sporadic Duck fly hatches still occurring, and the occasional hatch of Olives also observed.

Lough Arrow
Angling on Lough Arrow remains relatively slow, however Peter Dunn enjoyed success throughout the week, boating 5 trout averaging 1.5lbs. Peter sportingly returned one fish of 3.5lbs, with most fish being caught with Duckfly imitations in the evenings. Good hatches of Duckfly continue to emerge all over the lake, with the arrival of the Mayfly hatch now eagerly anticipated.

Ballin Lough
Fourteen rods fished Ballin Lough for the week, with a very respectable return of 64 rainbow trout, 46 of which were sportingly released. Timmy Deasy, Castlebar enjoyed success catching 17 trout in total for his trip, releasing 15 with the best fish weighing 2lbs. Tommy Brennan and boat partner, Co. Offaly accounted for 13 trout, their best weighing 1.5 lbs. Pat Murphy, Co. Galway also enjoyed success on the Lough, boating 8 trout, his best weighing 2lbs. Successful flies over the past week were the Montana Nymph, Black Pennell, Whiskey Fly, the Royal Wulff and various Olives.

Sea Angling
Broad Haven Bay
Belmullet Sea Angling Club members, including some juveniles enjoyed a warm, sunny angling venture on Sunday past, despite a fairly large swell from the west. Fishing out of Ballyglass Pier onboard An Gearoidin, the anglers enjoyed their day, despite the lack of significant numbers of mackerel, which were caught in abundance during the previous day. Angling around the Stags of Broad Haven and Benwee Head, large shoals of coal fish were encountered. Large numbers of good sized pollack were also boated, averaging 6lbs; including many double hook-ups, as well as good numbers of ling averaging 7lbs and the occasional cod.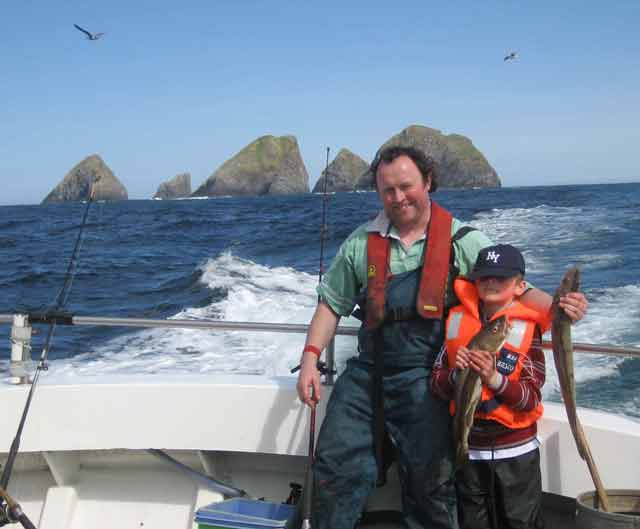 Pat Ruddy, Belmullet Sea Angling Club and juvenile club member Mathew Walsh near the Stags of Broad Haven.

Killala Bay
Skipper of the Leah, Donal Kennedy reported a very good days fishing on Killala Bay on Sunday past. Fishing out of Killala, a party of anglers from Tullamore, Co. Offaly departed the pier at 08.30 with a slight swell and gentle South-Easterly winds. 11 species of fish were encountered on the day including coal fish to 3lbs, numerous pouting, dogfish, whiting, red and grey gurnard. Good sized cuckoo wrasse were also boated, with one falling just short of the specimen weight as well as a fine ballan wrasse of approximately 4lbs. Many pollack were caught in the day, with the best weighing approximately 12lbs as well as ling up to 7lbs and several cod up to 6llbs. A good days angling by any standards, with such a wide variety of species boated.