River Moy
Good weather and the Easter holidays resulted in increased angling effort on the River Moy last week, with 34 salmon reported. On the Ballina Salmon Anglers' water, Andy Lynott, Ballina had a nice fish of 12 lbs on the worm, his first of the season. Anthony Murphy, Dublin took a 9 lbs fish on Armstrong's and Ciaran Sudway , Longford had a 8.5 lbs fish on the Foxford Fishery. A number of fish were also reported caught at Rinanney and the Cloongee Fishery produced 8 fish for the week. Paddy McDonnell, Swinford, Paul and Jim Kelly, Tubbercurry, Jack Lannon, Ballyhaunis all had fish of the East Mayo stretch where Martin Curry, Aclare took a very fine 15lbs fish on the worm.

Moy Estuary
The sea trout season opened on the Moy Estuary on the 17th April with local boatman and ghillie Judd Ruane reporting his best first day in years. Visiting angler Steve Harpingden from the UK had 18 trout ranging between 0.75 and 1 lb on mackerel strip. He really enjoyed himself and said he would definitely be back. Tony Murphy and son, Dublin and Tony Matheson, Ballina had 20 trout also on mackerel strip.
Ballisodare Fishery
The Ballisodare Fishery continued to enjoy a good run of salmon and the fishery returned 31 fish for the week, eighteen of which were very sportingly released. All salmon were taken between the Butt and Harrison's beat and averaged between 9 and 10 lbs. The most successful bait throughout the week was the Ally Shrimp fly. Some of the anglers who enjoyed success on the fishery over the week included Dennis Barrret, N. Ireland who had the best fish of the week at 12.5 lbs on the fly and Fechim McMorrow Snr, Collooney who had a nice 10 lbs fish on the worm. Josie Trotter, Sligo also had a very nice 11lbs salmon on an Ally Shrimp fly.
Carrowmore Lake
Angling conditions were less than ideal last week with bright sunny weather for most of the week. In spite of this, however, the lake fished very well with fish caught each day except Tuesday. A total of 15 salmon were reported for the week ranging in weight between7 and 11 lbs. The best fish of the week was taken by Herbert Halligan, Oughterard and weighed in at 11 lbs. On the same day, John Cosgrove, Bangor Erris had a fine 9 lbs salmon which he returned and Martin Rouland also from Bangor and Bill Flynn, Balbriggan each had a 7 lbs fish. Visiting angler, Keith Vingard, Scotland caught his first ever salmon, a fresh 7 lbs fish on the fly on the Lake on Thursday.
Owenduff River
Professional angling guide and casting instructor Paddy McDonnell reported a successful day angling recently while guiding Willie Behr, Germany. Fishing the Rock House Fishery, Willie caught his first ever fly caught spring salmon, weighing 12 lbs which was sportingly released. Later on the day he successfully hooked and landed his second springer! Both fish were caught on a Silver-grey fly. For information on guided fishing in the area or casting instruction, contact Paddy Mc Donnell through www.moyflyfishing.com.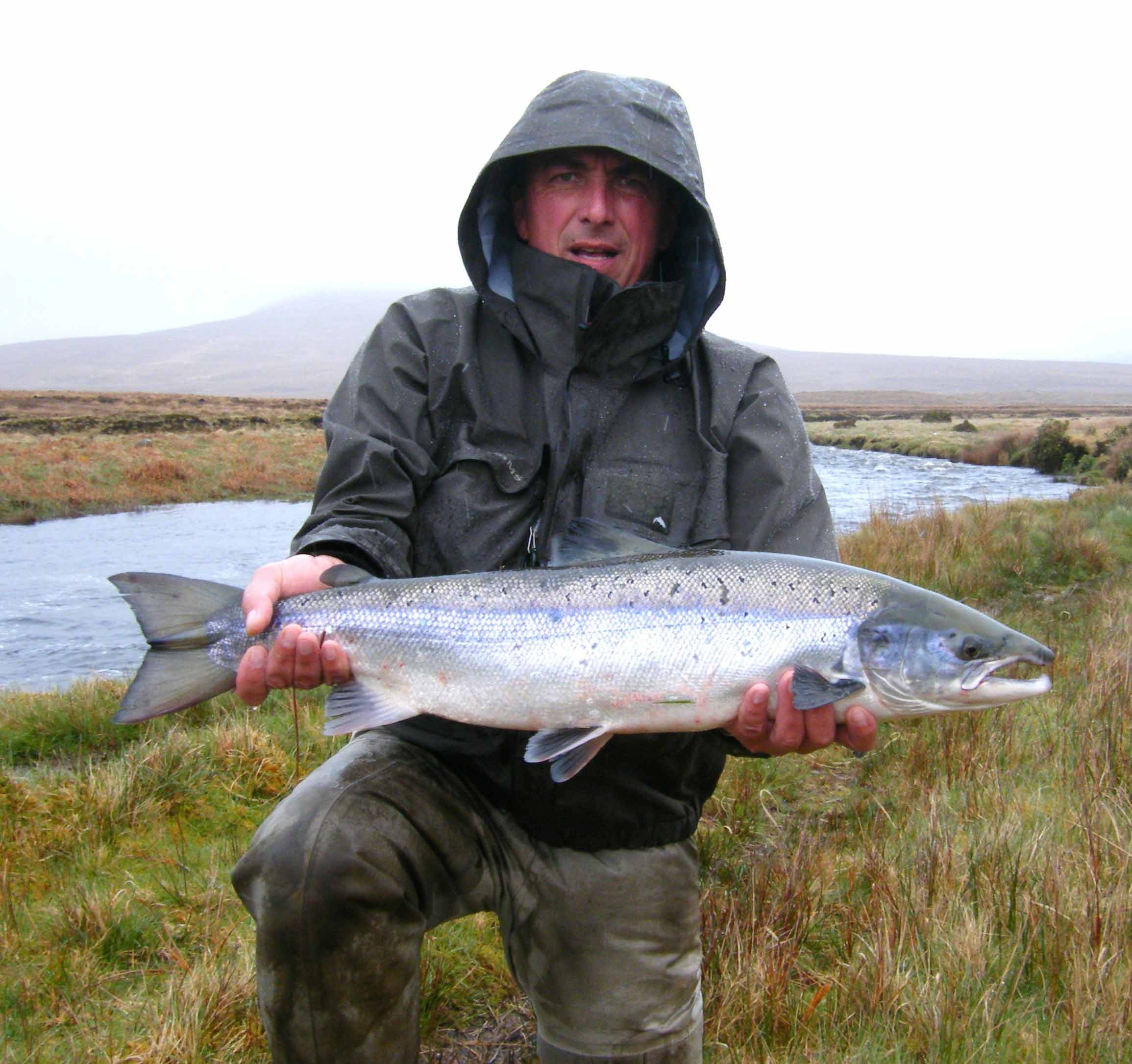 Willie Behr, Germany and his first ever fly caught spring salmon on the Owenduff River recently.

Lough Beltra
Anglers reported very good signs of spring salmon on Lough Beltra, however, angling conditions were less than ideal with bright sunny weather. Newport angler, David Nevin landed a fine 9lb salmon on Saturday evening and Castlebar angler Mick Cunningham lost another fine fish the same evening.
Ballin Lough
Good angling continued on the lake last week where 18 rods fished and reported a total of 47 rainbow trout of which 25 were returned. The most successful flies over the week were Green Peter, Muddlers, Murroughs, Bibio, and Black Gnat. Some of the successful anglers included Kevin Artride who caught 9 rainbows (6 released) and one brown trout with his best fish at 2 lbs. Mattie Foley and friend had 6 rainbows and released four. Neil Taylor and friend Castlebar caught 6 trout including the best rainbow of the week which weighed in at 3.5 lbs. Oliver Corcoran, Newport Angling Club had 8 trout and released seven.
Lough Arrow
Weather over the week was unfavourable with dry and bright conditions and, consequently, there were few anglers on lake though some trout were caught. French angler, Claude Pouzet had one fish weighing 2 lbs and Jonathan Frazer had another at 1.5 lbs. Anglers reported good movement of fish in the evening on the buzzer. Some fish were caught on the buzzer including Gerry Martin who had three trout averaging 1.5 lbs. Outlook for the coming week - some mayfly beginning to hatch. Mayfly conditions look more favourable from beginning of next week depending on weather conditions.
Lough Conn
As with Lough Arrow, the weather was not conducive to good angling - calm and very bright throughout the week. Fishing out of the Pontoon Bridge Hotel, Sean Jennings, Tourmakeady had two salmon trolling and two trout while Sean Murphy, Cork also had two trout on Octopus and Bibio. In the Gortnorabbey area, Joe McBride, Dublin had 3 trout his beat at 2 lbs. Ian Daly, Roscommon and John Warren also had trout of 1.5 lbs and 2lbs fishing buzzer. At Cloghans Bay, Brendan Murphy aged seven caught his first trout on Easter Sunday trolling flies and had three trout for the day his best at 1.5lbs.

Killala Bay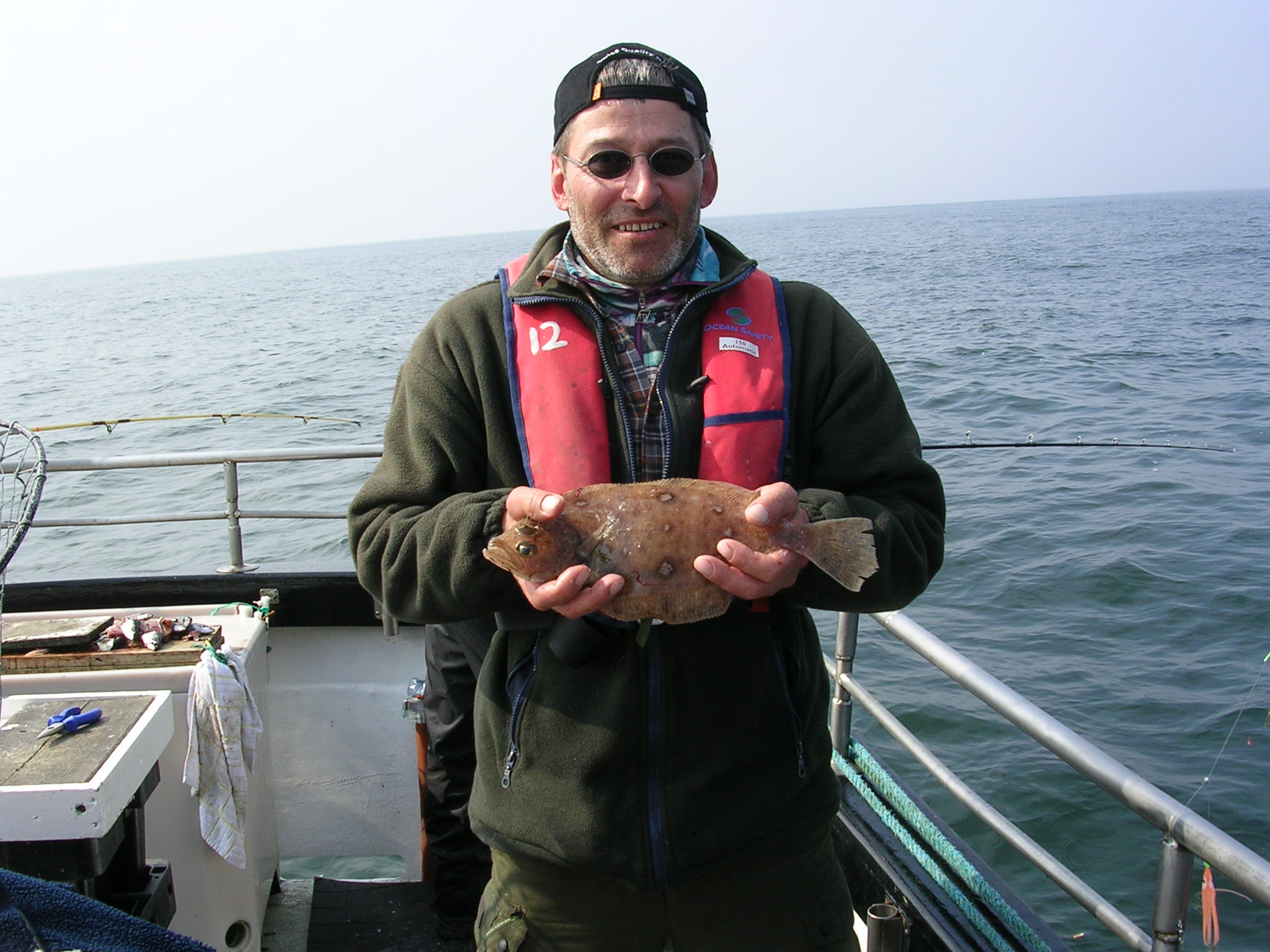 Florian Pinggero with his Killala Bay megrim.

A party of Swiss anglers fishing out of Killala on the Leah skippered by Donal Kennedy enjoyer some excellent sport recording 13 species including cod to 7 lbs and ballan wrasse to 5 lbs. The catch of the day was a fine megrim caught by Swiss angler Florian Pinggero which was just under specimen weight. Other species recorded included ling, grey, red and tub gurnard, cuckoo wrasse, coal fish and Pollack.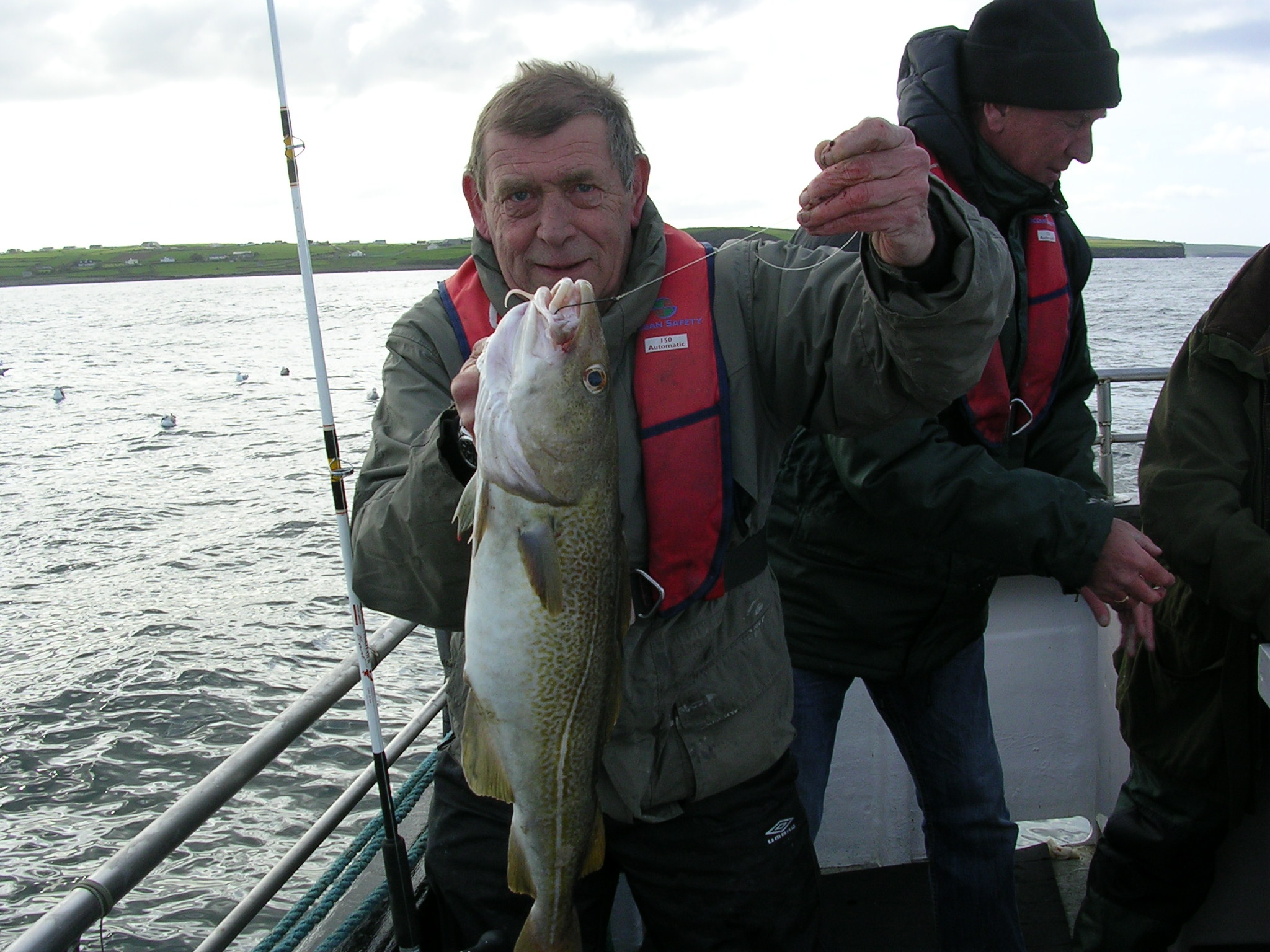 Graham Williams, Foxford with a nice Killala Bay cod.

Killala Bay also provided excellent cod fishing for a party of Foxford anglers also fishing from the Leah out of Killala. Skipper, Donal Kennedy said that the cod were some of the best he had seen in recent times from Killala Bay. Other species recorded by the Foxford group included pollock to 9 lbs and ling to 10 lbs amongst others.