Salmon Angling
River Moy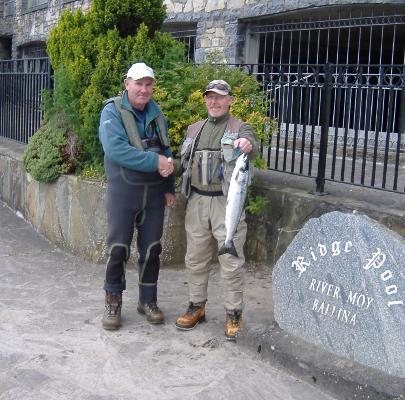 Ridge Pool Ghillie John Howley congratulates John Binns, Foxford, who caught the first salmon of the season on the world famous Ridge Pool.

Continued dry weather and low water levels assisted angling efforts on the River Moy, with 42 salmon reported for the week. The first salmon of the season was caught on the Ridge Pool on the 28th of April, a 4.2lbs fish taken on the worm by Foxford angler John Binns. Two further salmon were caught on the Ridge following this, a 9lbs fly caught fish taken by Alan Curry, N.Ireland, which was released. The other, a 9.2lbs salmon was taken by Martin Keily, Limerick, on a spinner at the Ridge Pool.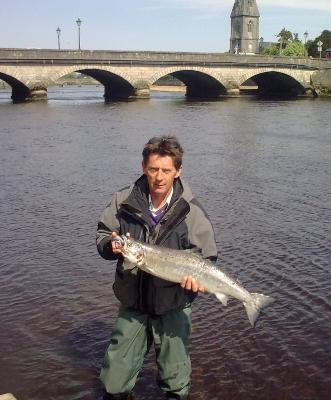 Martin Kiely, Limerick and a fine 9.2lbs salmon caught on the Ridge Pool.

Elsewhere on the Moy, Tommy Egan Snr. had success on the Ballina Salmon Anglers' Water, with a fine 13lbs salmon taken on the worm. The Foxford Fishery produced a salmon for U.K. angler Christopher Tibbetts, a 9.5lbs fish taken on the spinner. Rinanney fished very well with 10 salmon reported, the Foxford Salmon Anglers' Water and Cloongee also produced several fish each. At Cloongee, Paul Wymes, Dublin, caught one of 6.5lbs, while the East Mayo Anglers' Water had seven salmon for the week. Visiting anglers to East Mayo enjoyed success, where Jean Louis Lefere, France, had one of 7lbs to the worm and Ville Hokkanen, Finland, caught one of 8lbs on the fly. A few salmon were also reported from Lough Conn, caught while trolling spoons and lures.


Lough Beltra

Lough Beltra continues to fish very well, with numerous fresh run fish observed in the system. David Nevin had success early in the week, with two salmon for an evening's angling, an 8lbs and a 13lbs fish caught between the Buoy and the Dock on a Badger. Jonathan Murray boated a fine fresh 10lbs salmon at Tommie's Wall, with Vincent Rigney also boating a 9lbs fish at the Dock. Connor and Jackie Deffley, Pat Burns and Eamon Kennedy all caught salmon at 9lbs, with Jackie Deffley also landing one of 7lbs. These fish were caught on the Jaffa, Bibio and Green Peter.

 

Ballisodare
A total of twenty-five salmon were caught at Ballisodare throughout the week, eleven of which were released. Philip Soden had success on the Ally Shrimp, landing a fine fish of 10lbs, while Chris Kitchen, N.Ireland, had one of 9lbs to the fly, as did Dermot Glennon, Ballisodare. Michael Kitchen, N.Ireland, also had one to the fly weighing 6.5lbs. Samuel Wallace, N.Ireland, and John Savage, both caught 7lbs salmon, while M.Mullaney, Sligo, had one of 9lbs to the worm. J.J. O'Neill had success with the fly, where he caught one of 8lbs while Vincent Henry landed one of 8.5lbs on the prawn.


Carrowmore Lake
Carrowmore continued to live up to its reputation as a renowned spring fishery, producing a further 16 salmon for the week. Visiting anglers enjoyed success on the Lake, including Brian Butler, England, who boated a fine salmon of 10.5lbs, Phil Cobhan, England, had one of 8lbs while David Sandford, also of England, caught one of 6lbs. Brian Hope, Westport, boated one of 10lbs, as did Ronnie Mayock, Dublin. The best fish of the week on Carrowmore was taken by John McBride, N.Ireland, who landed a fine 13lbs salmon.


Trout Angling
Lough Arrow
Good hatches of Mayfly have now been observed on Lough Arrow, with several fish reported to have been caught by anglers dapping natural flies and others catching fish on the spent gnat. Late evening buzzer fishing remains productive, with the best fish of the week taken by Peter Dunne on a Buzzer, a fine 5.5lbs trout; in addition Peter had another four trout to the Buzzer averaging 3lbs. While dapping green Mayflies, David Frazer had one trout of 2lbs, Jonathan Frazer had five in total, with his best 2.5lbs while Ken Murray boated four trout. Gerry Martin had great success on the spent gnat, boating five trout. Lough Arrow Fish Preservation Association and District Angling Club will host its annual Mayfly Competition on Sunday the 15th May, for entry or further details please contact J.Frazer on 087 2670768.


Loughs Conn and Cullin
Lough Conn and Cullin Anglers Association hosted Dublin City Anglers over the weekend in the annual competition for the Millennium Cup. A total of 36 anglers participated in the competition which ran for two days. On Saturday, the competition was held on a catch and release basis, with the Conn and Cullin anglers winning the day with a catch of 14 trout compared to 9 for the Dublin Anglers. In first place was Joe Quinn, Cloghans who released three trout, John O'Neill, Dublin took second with two trout while Joe Moffett, Crossmolina took third with one trout. On Sunday, numerous trout were caught; however, few were over the minimum size. Winning first place in the Sunday competition was Joe Ferguson with two trout for 2.5lbs, second was Padraig Traynor with one of 2.05lbs and third was Fran Nugent, Dublin, with a trout of 1.75lbs. Elsewhere on Lough Conn, fishing out of the Cloonamoyne Fishery, Enniscoe, Paul Simpson and Douglas Cloverdale, England had three trout each, Ian Wyse, Crossmolina, had two and Paul Dans, Dublin, had three while trolling. Fishing in the Bog Bay area, P.Traynor had two trout for 3lbs on Olive Emergers while John Burke had two to spent Mayflies.

 

Ballin Lough

Good angling was had again on the lake throughout the week, but bright and sunny weather discouraged many anglers from fishing. Eleven rods fished for the week, which caught a total of 41 Rainbow trout, 27 of these were released. J Richardson and boat partner had 4 trout and released all fish with their best fish at 3 lbs. Jim Waldron, Kildare, had 9 trout with all released. Pat McNamara, Newport, caught 4 trout and released 3 with his best fish at 2lbs. The most successful flies were the Green Peter, the Butcher and the Montana.

Sea Angling

Sligo Sea Shore Fishing School is commencing Shore Angling Classes throughout the summer months. Classes will begin on Saturday the 7th and Sunday 8th May at Culleenamore Strand, Co. Sligo. The school can cater for juveniles as young as 7 years old who will receive expert tuition on fish species, gathering local live baits, making fishing rigs and angling methods. Rods and reels are supplied, with advanced evening classes available on request. For further details and to book a shore angling session contact Vincent Reynolds on 087 2480299.

 

Pike Angling

Peter Fleck and friend Charles Ashe, London, enjoyed a good morning session fly fishing for pike recently with Salmon/Pike Angling Guide Kenny Sloan. They caught 5 pike ranging from 5lbs to 10lbs, where the Popper proved to be the most successful, fished close to the reeds. Boats for pike or trout fishing are available for hire from Kenny Sloan, Foxford, contact 087 96 70 310 094 9256501.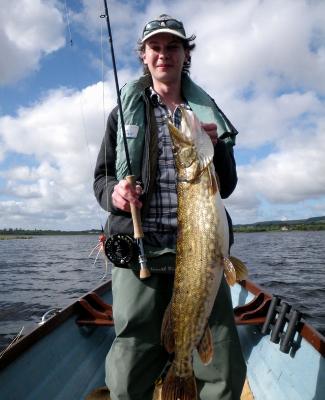 Charles Ashe, London and a fine fly caught pike.