Fisheries Awareness Week 2011 was launched on Saturday 7th May with a Juvenile Angling Day on the Cathedral Beat on the River Moy. Conditions were good throughout the day, with several fresh springers showing on the beat, unfortunately no salmon were caught. A total of 27 juveniles ranging from four to sixteen years old availed of the opportunity to learn about salmon angling on one of Ireland's premier fisheries, hosted by Inland Fisheries Ireland - Ballina. Further Fisheries Awareness Week events will take place this coming weekend, including an introduction to fly fishing at Lough na Liebe and introductions to coarse angling at Finlough, Ballymote and Derrykin Lough, Ballyhaunis. For further details see www.faw.ie or contact Ardnaree House on 096 22788.

Salmon Angling
River Moy
The true spring run has arrived on the River Moy, with angling greatly improved over the past week. The upper beats fished particularly well, with Rinanney, Cloongee and the East Mayo Anglers water producing good numbers of fish, many of those in double figures. The Moy system produced an excellent 107 salmon for the week.
On the Moy Fishery, the Ridge Pool has begun to produce greater numbers, with five salmon caught, including two in two days for Paul McCrory, Co. Louth who landed one of 10.44lbs and a fine fish of 12.77lbs to the fly. Garrett Ruigrok, Co. Dublin also had success on the fly, landing one of 8.36lbs and releasing a second of 7lbs, as did Antione Mitterand, France who had one of 8.66lbs.
Ballina Salmon Anglers' water produced several fish, with the Knockmore water and Byrne's also yielding a few. Armstrongs, Gannons and the Foxford Fishery also produced their share, where Emmett Ryan, Co.Offaly landed one of 13lbs at Armstrongs with the worm and Ciaran Sudway, Co. Longford having success at the Foxford Fishery on a spinner. Rinanney fished very well for the week, producing large numbers of salmon, and at the Foxford Salmon Anglers' water, nine were caught including one for Deirdre McCafferty.
Cloongee produced 21 salmon for the week, caught by the fly, spinner and worm. Neil Spellacy, Co. Galway caught and released a fine salmon of approximately 12lbs, taken on the fly, with Brendan Lowney, Co. Wexford landing one of 8lbs with the worm. Anthony Desbruslais, U.K had success catching two on the fly, weighing 9lbs and 10lbs respectively. Thiery Coulm, France, had two to the spinner as did fellow French angler Bernard Caloni, who had two of 7lbs and 12lbs on the bubble and fly.
East Mayo Anglers Association water again proved the most productive beat for the week, with a total of 23 salmon caught, five of which were released. Among those to have success were Reto Coutalides, Switzerland, who had one of 6.5lbs, Pierre Foutneau, Belgium, landed one of 8.5lbs while Louis LeCoure, France, banked one of 9lbs. Loughs Conn and Cullin also produced a few salmon.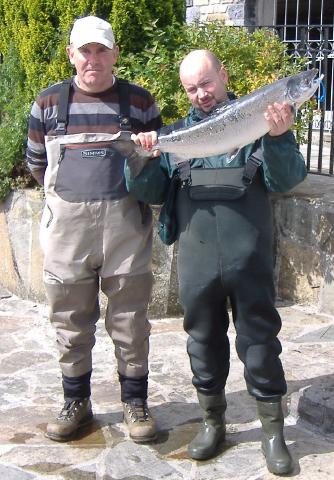 Ridge Pool Ghillie John Howley and Paul McCrory, Co.Louth and his fine 12.77lbs salmon, recently caught on the Ridge Pool.
Ballisodare Fishery
With fresh water now in the system, greater numbers of salmon have been observed running at Ballisodare, resulting in greater catches at the fishery where 44 salmon were caught for the week, 21 of which were released. Paddy Byrne had success on the Ally Shrimp fly, landing one of 8lbs and releasing a second of 6lbs. T O'Donovan had one of 5lbs to the prawn, as did Tommy O'Donovan Jr. who landed one of 6lbs.Visiting anglers Tom Mulholland and Clive O'Neill each had luck fishing the fly, catching salmon of 8lbs and 8.5lbs respectively. James McGuire had one of 6lbs to the fly which was released, as did Tom Grylls, England who released one of 8lbs. Kevin Glynn also landed one of 10lbs to the fly, as did Tom Creanor. The fly also proved successful for visiting angler David Marres, who had one of 9lbs and for Gerry Merrick, who caught one of 10lbs. With rising water levels, the prospects are very positive at Ballisodare for the coming week.
Lough Beltra
Heavy blustery winds somewhat hampered angling on Beltra of late; however it did produce a few fish early in the week. Jackie Deffley had one of 8lbs at Walsh's while Ben Baynes had success boating a great 13lbs fish at Morrison's. Lough Beltra will host its annual salmon angling competition on Friday, 13th May. Limited places are still available for the morning session, for details contact Michael Cunningham on 087 7620245.
Moy Estuary Sea Trout
Sea Trout guide Judd Ruane reported excellent sea trout angling in the Estuary over the past two weeks, with water clarity in the estuary reported to be very good. Angling with Judd, visitors Pete Hannon and son Richard enjoyed two successful days, boating a total of 34 sea trout to the mackerel strip. Dr. Tom Kiernan and Rachal Kiernan, Co. Cork also had success catching five fine sea trout. Paul and Michael Dunne, Co. Derry and John and Martin McLaughlin, UK also enjoyed success while fishing with Judd, catching approximately 30 sea trout using sand eel and mackerel strips.
Angling guide Malcolm McPhearson who operates out of Killala also reported excellent conditions in the estuary of late. Fishing with a party of 7 visiting anglers from France, the group enjoyed great fishing, boating approximately 50 sea trout for two and a half days fishing. The average size of trout caught was good, at 36.9cm length.
For guided sea trout angling in the Moy estuary please contact Judd Ruane on 096 22183 or Malcolm Mc Phearson on 087 9315712.
Trout Angling
Lough Arrow
Despite the recent breezy conditions experienced over the past week, mayfly hatches continue to occur in large numbers, with trout caught on the dap, wet and dry mayflies. Local anglers Francie White and Philip Candon had great success for their day out, catching 8 trout on wet mayflies, averaging 1.5lbs. Visiting angler Mark Linton, Belfast, also enjoyed success with three trout for a day on dry mayflies, his fish weighing between 1.5lbs and 2.5lbs. Local angler and guide John Hargadon had five for a day, 2 taken on the dap and 3 on dry mayfly, with his best 3lbs. Muriel Frazer had two dapping, at 1.75lbs and 2lbs, with David Frazer also catching 3 on the dap, his best 4lbs. Gerry Martin had one fine fish of 4.5lbs, taken on a spent gnat. Lough Arrow Fish Preservation Association and District Angling Club will host its annual Mayfly Competition on Sunday the 15th May, for entry or further details please contact J.Frazer on 087 2670768.

Loughs Conn and Cullin
The loughs have been fishing relatively well over the week, with good hatches of mayfly observed in most areas. However, high winds and heavy swells have severely hampered angling efforts. Lough Cullin hosted the annual Albert Berry Cup competition, fished over Saturday and Sunday with 67 anglers participating. A total of 27 trout were recorded, with prizes being awarded on the basis of best catch per boat. Winning first place were Colin and Jimmy Cahill, Mullingar, who had five trout for 7.5lbs, second was Gerry Hughes and Pat Foyley, Monaghan who had four trout for 4.10lbs and third was Mick Kelly and Gary McKiernan, Dublin who had four trout for 4.04lbs. The winner of the heaviest fish prize was Walter Byrne, Edenderry with his 2.9lbs trout.
Fishing out of Pontoon Bridge Hotel, Alex Bond, U.K. had two trout on the Claret Dabbler. Good catches have been reported out of Kelly's of Cloghans Bay, where Padraig Kelly and Dermot Dunne had five fish for a day, their best weighing 2lbs from Cloghans Bay. Regular visitors to Cloghans, Damien Willis and party of three enjoyed good angling over five days in trying conditions. They caught approximately 100 trout during their stay, all caught on the mayfly. Peter Roche also had trout up to 2lbs to the mayfly, while Brian Rutledge, Ardagh, had three trout while trolling the northern end of Lough Conn.
Angling out of Murphy's Bay, Massbrooke, Vincent Roche had success with three trout for 4lbs, caught in Coleman's Shallows area. Angling out of the Cloonamoyne Fishery, Enniscoe, John Duffy and Stephen Flynn, Co.Kildare had five trout over two days to mayflies, their best weighing 3lbs. Angling in the Castlehill area and Ned's Bay, Barry Seagrave had nine trout to the mayfly, his best 2.5lbs. Finally, Ian Wise had two trout for an evenings fishing on the Claret Buzzer.

Pike Angling
On Easter Sunday, Foxford Angling Club in conjunction with the O'Neill family, Blacktrench, Co.Kildare, hosted the third annual Martin O'Neill memorial Charity Pike Fishing Competition on Derryhick Lake. Over one hundred visitors from Kildare, made up of competing anglers and O'Neill family members travelled to Foxford for the event and the prize giving, which took place in Bourke's Bar, Foxford. In conjunction with the competition, a raffle and auction were held to raise funds for the Foxford Branch of the Irish Red Cross, who are seeking to purchase a new ambulance. In total €1,165 was raised for the Charity, which was presented to them by Kathleen O'Neill, sister of the late Martin O'Neill.
The competition was won by Tommy Winder, Naas, Co. Kildare who caught a 15.75lbs pike on just his second cast, in second place was Brendan Jarvis, Co. Dublin, who had three fish totaling 18.85lbs, third place went to Tom Conlon, Blacktrench, Co.Kildare , fourth was Christy McClelland, Co. Dublin and in fifth place was Ian Mitchell, Portarlington, Co. Laois.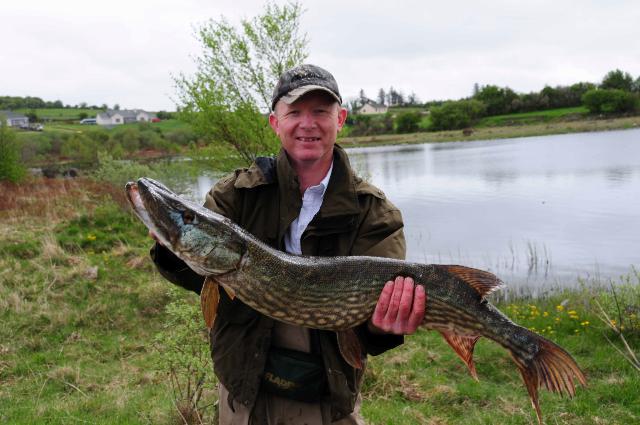 Tommy Winder, Co. Kildare who won the Martin O'Neill Memorial Cup competition recently at Derryhick Lake with this 15.75lbs pike.
Sea Angling
Killala Bay
Skipper of the Leah, Donal Kennedy reported a few good angling trips recently on Killala Bay. Day one saw a group of Polish and Brazilian anglers departing from Killala Pier, facing a fresh north easterly breeze. Many small pollock and coalfish were caught, which were returned alive. Mackerel were few on this occasion; however, the catch of the day was undoubtedly three fine cod ranging from 5lbs to 7lbs, as well as pollock up to 8lbs. A number of coalfish up to 4lbs were also boated, as well as numerous pouting.
Later in the week the Leah hosted a group of Romanian anglers, based in Dublin. They departed to a strong east to south easterly wind, with heavy showers ever present. Many fine mackerel were caught early in the day, with several cod up to 7lbs, and four fine ling up to 8lbs. A fine grey gurnard of 38cm length was also boated by the party; unfortunately it fell just shy of the specimen weight. Overall, a productive day taking into account the harsh conditions.