Salmon Angling
River Moy
Despite the recent blustery weather, fresh water in the system has encouraged not only the salmon to move, but also has brought an increased number of anglers to the area of late, resulting in an excellent weeks angling, with over 200 salmon reported! Water levels are relatively high at present; however, prospects look very encouraging for the coming days as levels recede. The Moy Fishery again produced salmon, with six caught on the Ridge Pool and the first two fish caught on the Cathedral Beat. On the Ridge, Antoine Mitterrand, France released one fly caught fish, with Gerard Muelas, France also releasing one and retaining a fine fish of 11.05lbs. Monaghan angler, Brendan Doyle also had success, landing one of 7.23lbs on the spinner. On the Cathedral Beat, the first and second salmon of the season were caught by Alex Cruickshank, Scotland. Alex caught one of 4.23lbs and one of 7.46lbs on the worm.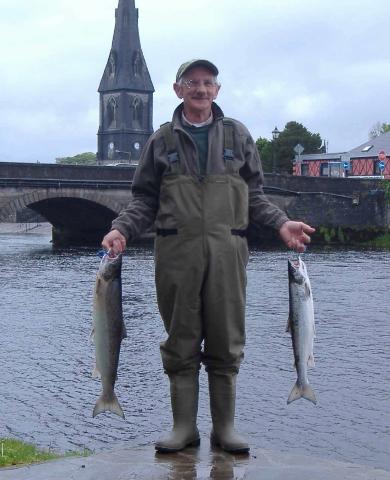 Alex Cruickshank, Scotland and the first and second salmon of the season from the Cathedral Beat.
Further upstream, the Ballina Salmon Anglers' water fished well, producing fish for local anglers Mark Beattie, Steve Rushworth and Tommy Egan Jr., with N.Ireland angler Dominic Loughran also having success. At Mount Falcon, Conor Keffer, Co. Wexford had success with a 7.5lbs salmon. Armstrongs' Fishery produced good returns, including one of 6lbs for Anthony Murphy, Co. Dublin and a fine fish of 13lbs for Co. Meath angler John Clarke. Gannons Fishery also produced great catches including one of 11.75lbs for Declan Delaney, Co. Offaly to the worm and one of 10.75lbs for Brian Marshal, N.Ireland caught on the prawn. At the Foxford Fishery, John Price had success with two salmon of 11lbs taken on the worm, while nine year old James Darby, Co. Meath, had great success catching his first ever salmon, weighing 6lbs.
Rinanney fished very well, where father and son Barry and John Rogerson, U.K. had four salmon for their trip, weighing 8lbs, 10.5lbs, 11lbs and 12lbs. Over 20 salmon were reported from Cloongee, including one for David White, Co. Dublin who caught a 10lbs salmon while spinning and one for Fintan O'Toole, Co. Wicklow of 8lbs. Mick McCormack, Co. Wexford also landed one of 10lbs while Damien Rooney, N.Ireland, caught one of 9lbs while spinning. Jez Leech, U.K. enjoyed great success at Cloongee over the week, catching 4 salmon to the worm, his best fish a fine salmon of 13.5lbs.
The East Mayo Anglers' once again out performed all other fisheries on the Moy over the past week, with an excess of sixty salmon reported for the week, the majority of those caught on the spinner and fly. Visiting anglers enjoyed success on the East Mayo Fishery, with Vincent Prior, France landing three salmon of 7lbs, 8lbs and 9lbs to the spinner, while Frank Sommer, Germany, had one of 8.5lbs on the fly. Gerrard Portes, France also had success with the fly banking one of 8lbs, while Belgian anglers Claude Grosjean and Marcel Jackqiem also enjoyed success. Claude had two salmon of 7lbs and 9lbs on a spinner, while Marcel had success on the worm; catching three salmon between 9lbs and 12lbs. Michael Pallister, Knock, had good fortune fishing the fly, landing a fine salmon of 12lbs.

Lough Beltra
Lough Beltra continued to fish very well for the week, with many salmon reported. Early in the week, Ben Baynes had success once again boating a 10lbs fish at Morrison's and an 11lbs salmon at the Boathouse, with Colin McClean also having success at the Boathouse. Didier Letourmy had success at Morrison's also, where he caught an 8lbs salmon. Saturday and Sunday produced the catches of the week, with Declan Dooley having success on Saturday with a 9lbs salmon and a fresh run 7lbs fish. Four salmon were reported on Sunday, with Declan Dooley again having success with a salmon of 8lbs, David Nevin boated one of 7lbs while Michael Dolan had two of 9lbs and 10lbs.
The Annual Salmon Angling competition was held on Friday, 13th May and was won by local angler Frank Dooley with a salmon weighing 8.5lbs. Four other fish were hooked and lost, with several salmon rose during the competition.

Ballisodare
Ballisodare Fishery continued to produce great numbers of salmon, with a total of 87 being caught for the week. Visiting angler, Damien Barron had one of 6lbs on the fly, with Roy Cooper also having success with one of 7lbs on the fly. Noel Barbor also had success with the Willie Gunn, landing two salmon of 6lbs and 8lbs. Chris Kitchen had success on the prawn, banking a nice salmon of 11lbs. Visiting anglers Pablo and Miguel, Spain, enjoyed success at Ballisodare, where they caught salmon of 5lbs, 7lbs and 8lbs. Michael Munnelly had success with the Ally Shrimp, catching a fine fish of 9lbs. Local angler James Maguire also had success with the Willie Gunn, landing a fine fish of 12lbs, with Jimmy Cuffe also landing two on the fly.



Trout Angling
River Moy
A river trout fly angling competition was held on Saturday last for the Connaught Cup at the Ballintemple Fishery on the River Moy. Those angling were competing for the Connaught Cup, and for their chance to represent Connaught in the Rivers National competition on the River Liffey, Newbridge Co. Kildare. The catch and release competition saw 57 trout recorded and released. Winning first place was Noel Loughnane, Ballina, second was Joe Quinn, Cloghans, Barius Sinkus, Loughrea took third, Brian Doolin, Castlebar took fourth while Richard Jordan took fifth place. Well done to those who were placed in the top five, who now go on to represent Connaught in the National Competition.
Lough Arrow
Lough Arrow Fish Preservation Association and District Angling Club hosted the Annual Mayfly fishing competition on Sunday past, where 40 anglers, including 14 juveniles participated. A total of 20 trout were weighed in, with numerous others under the 12 inch limit returned. Winning first place with the heaviest trout of the day was Hillary Mitchell, with his catch of 4.11lbs, in second was Sarah Frazer with her catch of 3.15lbs and in third was Oliver Hargadon with his catch of 2.15lbs. Winning the heaviest bag competition was David Frazer who had four trout for 5.24lbs. In the juvenile section, Danielle Hughes won first with her catch of 1.98lbs with Cillian Walsh taking second with his trout of 1.06lbs.
Francie White also enjoyed success on Arrow throughout the week, catching a total of nine trout for three days fishing, totaling 22.75lbs. Francies best catch was a fine trout of 5.25lbs. Brian Kelly, Boyle also had success on the dry mayfly, with two trout of 3lbs and 4lbs.

Lough Muck
David and Eileen McGill enjoyed a successful afternoon fly fishing on Lough Muck on Saturday 14th, despite strong north-westerly winds. David boated 8 brown trout and one sea trout, while Eileen had ten brown trout in total. Boats are available for hire on Lough Muck from Kenny Sloan, Foxford who can be contacted on 094 9256501 or 087 9670310.

Ballin Lough
Few anglers ventured out on the Lough throughout the week, however, the six rods which did fish accounted for a total of 37 rainbow trout, 24 of which were returned. Michael Zabat and boat partner, Co. Galway had 20 trout, released 13 with their best fish 1.5lbs. Mattie Foley and boat partner had 9 trout, releasing 5 with their best 2lbs. Visitors to the area Mr. McMillan and Mr. Tomilson, Scotland enjoyed good angling, catching 8 in total, with their best fish weighing 3.5lbs. The best flies for the week were the Green Peter, Olives and Muddlers.