Salmon Angling
River Moy
High water severely impacted upon angling on the lower Moy in the early part of last week, with the lower fisheries only becoming fishable towards the latter part of the week. The mid and upper fisheries did benefit from this flood, with many good catches reported throughout the length of the system. Over 800 salmon have been reported for the week, despite the apparent lack of a major grilse run. The grilse appear to be moving into the system in small, but steady waves and have been caught in good numbers in most fisheries.
The Moy Fishery produced 29 salmon, 11 of which were caught on the Ridge Pool. James Cartwright, England, had success spinning on the Ridge, with a 5.2lbs salmon for his efforts. Eric Williams, Wales, had two to the worm on the Ridge, while fly anglers from Co. Dublin, Jim Doody and Paul Brady both had a grilse each.
The Cathedral Beat yielded ten for the week, where Harry Kavanagh, Co. Dublin had two grilse to the worm and Paul Brady once again had success with the fly, landing one of 4.7lbs. The Spring Wells produced one for Phelin Donohue, Co. Cavan to the fly while on the Fresh Water beat, John Winthrop, England, had two salmon of 4.5lbs and 7.5lbs on the worm.
The Ballina Salmon Anglers' water fished well, with over 20 salmon reported, and at the Mount Falcon Fishery, over 30 salmon were reported. Among those to enjoy good sport at Mount Falcon were David Byfield and John Price, U.K., who had a total of 13 salmon for their week's fishing, 8 of those were released. The Knockmore, Attymass and Coolcronan Fisheries all experienced a good week, with Peter Holden, U.K., among those to land salmon at Coolcronan.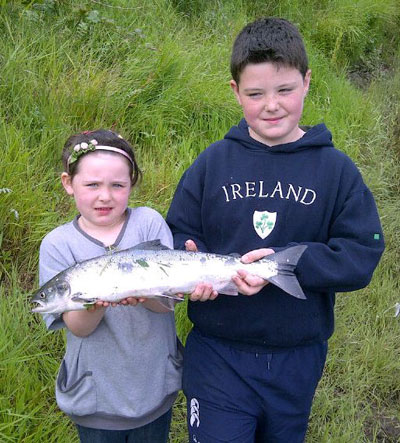 Rhianna and Kaylum Murphy, pictured with their first ever Moy grilse, caught following tuition received at the Moy Fisheries Juvenile Angling Day.
Byrne's, Armstrong's and Gannon's Fisheries also enjoyed good sport, each fishery produced approximately 50 salmon for the week. The Foxford Fishery and Rinanney both had a great week, with over 100 salmon reported for each. At the Foxford Fishery, Howard Bayliss, Wales and party of five anglers had a remarkable four days, catching a total of 48 salmon to the spinner and worm. Rinanney produced great fishing, with one of the most notable catches of the week, taken by Jimmy Brandon, who landed a 12.5lbs salmon with the worm.
The Cloongee Fishery recorded 31 salmon, including three for Eoin Brown, Co. Laois, his best was 9lbs and was taken on the worm. Uwe Steffan, Germany, had three to the bubble and fly, his best 5lbs, while Luc Herve, France, had two grilse, one spinning and the other to the bubble and fly.
The East Mayo Anglers' water continued to fish well, with the fly accounting for some good catches towards the end of the week. Rene Köings, Germany, had a fine 12lbs salmon to the fly, while fellow German, Frank Sommge, also had a 9.5lbs salmon to the fly. In addition, Henry Spring, Co. Dublin, had a large grilse, also on the fly. Spinning proved to be the effective method for Eamon Walsh, Co. Sligo, who had two grilse and a 12lbs salmon on the East Mayo waters.


Ballisodare River
Angling continued to improve on the Ballisodare Fishery, despite Monday the 18th being unfishable due to heavy flood conditions. Following from this event, conditions were very suitable for angling and catches continued to increase throughout the week, with around 10 caught on the 19th, over 20 per day on the 20th and 21st and a great catch of over 40 salmon reported on the 22nd. The grilse have now entered the system in good numbers, with the majority of catches reported in the 3lbs to 6lbs range, with some larger fish also caught. The total catch for the week on the Ballisodare system was 129 salmon, with approximately 45% of those released.

Burrishoole
The fishery continued to produce good angling throughout its open period, with 11 salmon caught over the four days, including two wild fish which were released. Seamus O'Neill, Co. Cavan, enjoyed the greatest success, boating 3 salmon for his day, the best of which weighed 4.6lbs. Jonathan O'Grady, Westport, and Luke Murphy, Fermanagh, had two salmon each while David Nevin and Joe Cooney, Newport, each had one salmon. Reports indicate that a lot of fresh grilse are still being observed entering the system.

Newport River
Four salmon in total were reported to be caught on the Newport River over the past week, with David McClune accounting for three of them. The Goats Tail proved to be the effective fly for David, who had two grilse of 3lbs each and one 10lbs salmon. The Jaffa proved successful for Eamon Kennedy, who landed a 9lbs salmon.

Owenduff River
Roy Craigie of the Shean Fishery provides an insight into conditions on the Owenduff of late. The first two weeks of July were mostly dry with little fishing, although there was a good show of fish despite low water, but they were sluggish to take. It rained on 15th giving good water over the next few days, resulting in some exciting fishing, with 16 salmon and 24 sea trout landed, most of which were released. A lovely hen fish of 12lbs was caught and released at the tail end of the Junction Pool on Beat 2. The grilse run has, so far, been slow but those landed averaged almost 4lbs and sea trout of up to 3.5lbs have been caught. One angler landed and released a beautiful fresh 13lb salmon, a grilse and 6 sea trout during a morning session on the Tharsaughan River, the main tributary of the Owenduff. Prospects for the remainder of the season look excellent, as there is a very good number of both salmon and sea trout showing. A limited number of days are still available in mid August on Beat 2, for further information contact +353 (0)86 6075958.

Trout Angling
Loughs Conn and Cullin
Fishing out of Kelly's Boat Hire, Cloghans, John Cooney, U.S.A. enjoyed great sport while angling with Padraic Kelly, boating one salmon and four fine trout, all on the dry fly. Patrick Rutledge, Ballinaghlish, had one trout of 2.5lbs while spinning, with Hugh McCardle landing 3 trout, his biggest 2lbs. Seamus Kelly, Cloghans, and boat partner accounted for 4 trout, average size 1.25lbs.
Fishing out of Pontoon Bridge Hotel, Richard Cullen had 3 trout to the Olive Bumble on Lough Cullin. Rory McNulty, Swinford, had two trout while trolling, with Dominic Gibbings, England/Egypt, boating two trout off Lough Conn.
In the northern end of the lake, fishing out of Crossmolina, Jon Penet and Andre Courdard, Belgium, had 5 trout over two days, to Golden and Claret Dabblers. John Corcoran, Crossmolina, had one trout while trolling with Steven Brown, Cloghans, boating two up to 1.5lbs. Fishing from Enniscoe, Ian Wise and John Warren had 3 trout up to 1.5lbs taken on dry flies.
Lough Arrow
Late evening remains the most productive time on Lough Arrow, with many anglers having great sport, with many notable catches. The Murrough and Green Peter fishing have been excellent, with Peter Dunn boating five fish in the 2lbs to 5.25lbs range. Michael Gunning also had good sport, with 3 trout averaging 2lbs, while John Hargadon accounted for 4 trout between 2lbs and 3.25lbs. Gerry Martin also enjoyed success, with 4 trout to the boat, average size 3lbs.

Ballin Lough
Most rods which took to Ballin Lough of late enjoyed good sport, with John Freestone and partner boating 5 rainbow trout, the best of these weighing 4lbs and was taken on a Buzzer. Pat Murphy and boat partner caught 7 trout and released the best 4. The heaviest they landed was 3Ibs and their most successful fly was the Peter Ross.
Lough Bo
Riverstown Young Anglers enjoyed a successful day angling on Lough Bo recently, with 37 juveniles taking part throughout the day. In total 11 trout were caught, the best of which was caught by Gerry Flynn and weighed 1lbs 14oz.