Salmon Angling

Carrowmore Lake

Another excellent week was had on Carrowmore Lake, with many anglers boating fine catches and returning salmon during excursions. The lakes total catch has more than doubled in the past week, with over 20 salmon caught in the past seven days. Visiting angler Dave Elliot, Enniskillen, enjoyed great sport, retaining one salmon of 12lbs and returning three others. Tony Gibbons had two for his day, including one of 8lbs which was retained, while John Cosgrove had one of 10lbs and returned a second. Mr P. Doherty boated a fine fish of 13.2lbs, Andy Latimer caught one of 12lbs while both Martin McCoy and Vincent Rigney had a salmon of 9lbs. Mr C. Long had one of 8.5lbs, while Ken Henry, Sligo, captured a fish of 8lbs.

Lough Beltra
Lough Beltra opened on the 20th March and it was Vincent Rigney who claimed the honors for first salmon of the season, landing a salmon estimated at 6lbs on opening day. This was followed by Ben Baynes who boated one of 8lbs on the 21st March. Jonathan Murray enjoyed good fishing on the weekend of the 24th/25th March, boating three fresh salmon, all estimated at over 10lbs. The past week has seen little angling activity on the lake as weather conditions have not been suitable. Anglers fishing Lough Beltra from the Glenisland Co-op side are reminded to flush their engines before angling in the newly installed bio-security tanks.

Ballisodare Fishery
Ballisodare Fishery opened for the season on Sunday 1st April and enjoyed great success, with 12 salmon in total landed, three of which were released. The first fish of the season on the fishery was caught by local angler John Connolly, weighing 6lbs 9oz and was taken on a worm. The first fish caught on the fly was hooked by visiting angler Dennis Barrett, N.Ireland, who took the fish of 6lbs 6oz on a Willie Gunn. The heaviest catch of the day was a fine 13lbs 1oz salmon caught by Francis Kearns, while the second heaviest was taken by Richie Watters and weighed 12lbs. For information on fishing at Ballisodare, please contact Dermott Glennon on +353 (0)86 2515064.

River Moy
There have been few fish of late of the River Moy, only three in total for the past week. However, angling effort on the river has been low, although water levels are suitable for all methods. It has been the mid and upper Moy which produced this week's sport, with the Foxford Fishery reporting their first salmon of the season, a 10lbs springer caught by Padraig Corrigan, Navan, taken on a spinner. The East Mayo Anglers' water produced a further two fish, with Aiden Sheridan, Kiltimagh, landing one of 8.5lbs on worm, and Declan Mc Nulty, Swinford, (his second of the season) also having success with the worm.


Trout Angling

Lough Conn
Angling on Lough Conn remains slow but steady, although recent changes in weather conditions have hampered efforts some what. Once again Ronnie Chambers, Belfast had success while fishing Massbrook, with four trout to the buzzer. Mick McNeeley, Mullingar had one of 1.5lbs on a Bibio with Brendan Breslin also landing one of 1.5lbs off Brankwansha shore.
Peter Roche, Cloghans, had three to wet flies, his best1.5lbs and fishing out of Pontoon Bridge Hotel, Jonathan Glennon, Ennis, had three to an octopus. Jack Mellet, also fishing out of Pontoon Bridge had one to a Green Peter off Glass Island, while at Enniscoe, Ian Wise had one trout of 1.5lbs to a buzzer.

Ballina and Cloghans Angling Club are hosting the Jack McNeely Perpetual Cup competition on Easter Saturday, from Cloghans Shore with fishing allowed between 11am and 6pm. Food and weigh-in at the Lodge Bar, Cloghans from 6.30pm. Entry fee is €50.00 per boat for two anglers. To confirm entry, please contact +353 (0)871802636 via text message.

Lough na Leibe
The dropping temperature of the past few days did not hamper anglers fishing on Lough na Leibe and many were well rewarded with great sport for their efforts. In total sixty trout were reported by 10 Club anglers (57 returned). Tommy Lynch had nine trout on the 26th and 27th, the best fishing however, was had over the weekend. Bernard McDermott banked thirteen between Saturday and Sunday, including a few fine over-wintered fish, a rainbow of 2.5lbs and resident brown trout of 3.5lbs. Francis Brady caught fourteen trout on Sunday past, including a brown trout of about 2.5lbs. Martin Lawrence also had a good day, landing eight trout including three over-wintered rainbows of 2lbs and 2.5lbs, all on dry flies. Other anglers to report catches were Anthony Walsh, Eddie Harte, Dave Cadman, Pat Milmoe and Peter Walsh. Successful fly patterns included the Palomino Midge, the F-fly, small midge pupae patterns, small nymph patterns, buzzer patterns, emerging duckfly and various lure patterns.

Sea Angling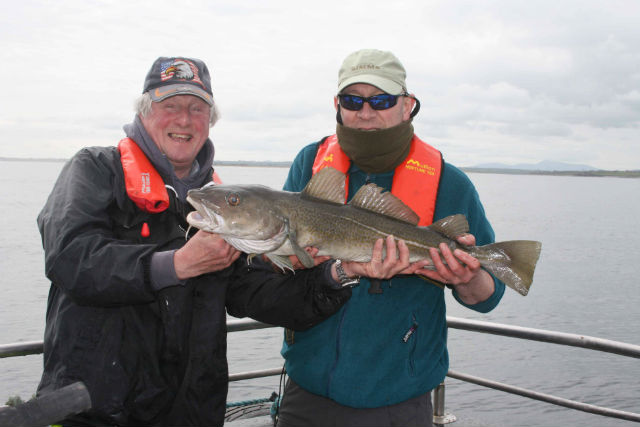 Skipper of the Leah, Donal Kennedy, pictured with the captor of this fine cod, taken in Killala Bay on Sunday, 1st April.




Killala Bay
Skipper of the 'Leah', Donal Kennedy reported an excellent start to the season, with his first Charter trip of the year producing some great sport. The party, made up of a group from Dunleer and some from Foxford, departed Killala Harbor at 09.30am on Sunday, 1st April in very favorable conditions, calm seas and overcast with light northerly winds. From the first drift the anglers had success, boating some good cod and ling. This was followed with a successful day, as 15 cod up to 10lbs were boated, several ling up to 8lbs, and pollack up to 9lbs, with many around the 6lbs mark being hooked. Several fine coalfish up to 5lbs were also taken, with many smaller specimens returned. Pouting were in plentiful supply, as were some rather large mackerel and several fine cuckoo wrasse were also caught. For further information on angling in Killala Bay on board the "Leah" contact Donal Kennedy on Tel: +353 (0)96 36644, Mobile: +353(0) 868174509 or Email: dak@eircom.net.