Salmon Angling

River Moy
The River Moy has produced some great fishing for anglers of late, with the catch of the week on the system undoubtedly going to Mark Parry, U.K., who hooked and landed a cracking 16.7lbs fresh run springer on the fly in the East Mayo waters.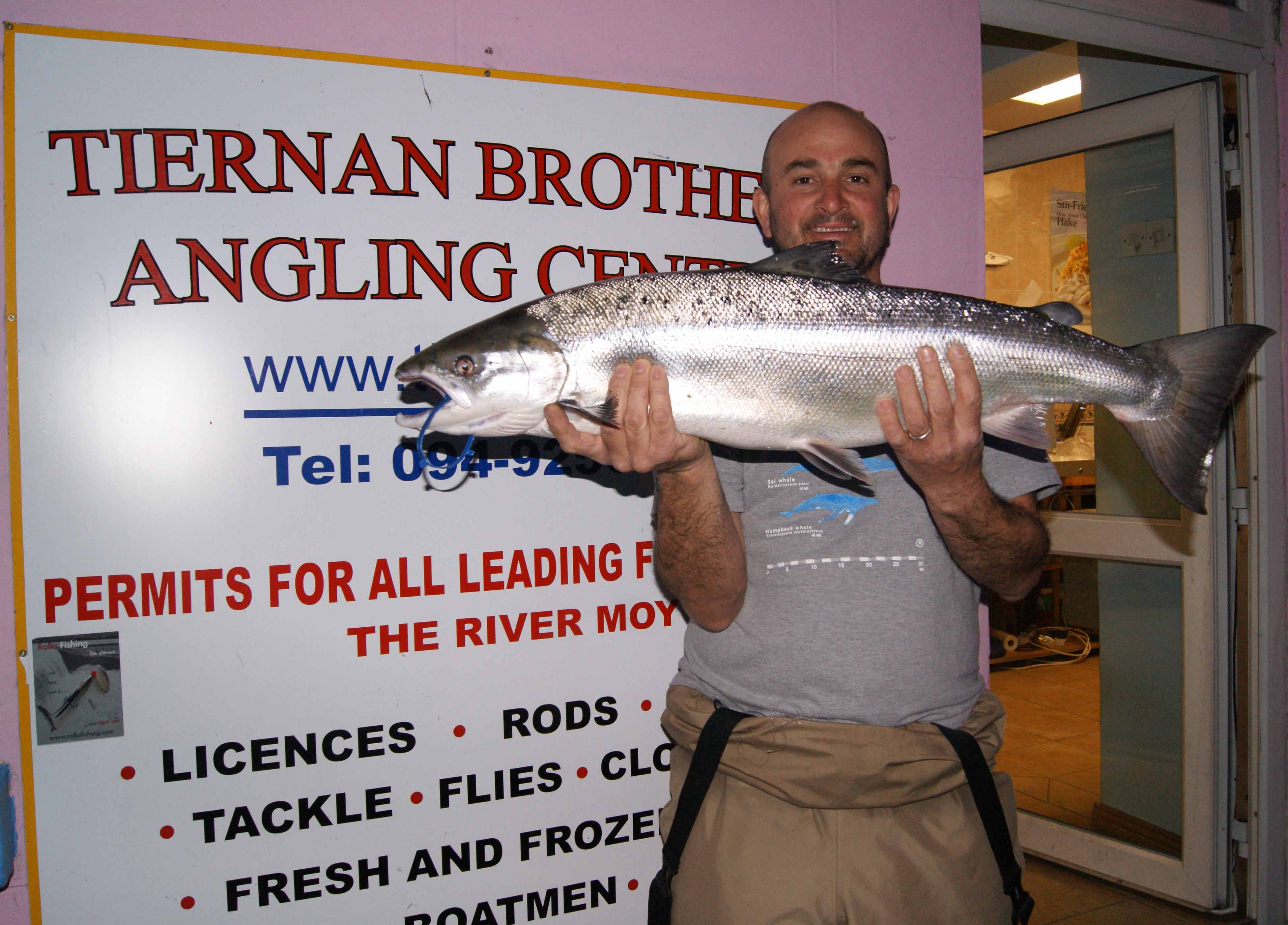 Mark Parry with his fine catch which weighed 16.7lbs, the largest salmon caught on the River Moy this season to date.

Downstream, the worm proved successful on the Ballina Salmon Anglers' water, with Michael Egan Jr. landing one of 5lbs, Tommy Egan Sr. had one of 8lbs while Noel Slowey caught one of 9lbs. At Gannons' Fishery, it was the prawn which provided sport for Trevor Stewart, N.Ireland, who had one of 7lbs with John Marshall Jr. also landing one of 11lbs to the prawn.

The Foxford Salmon Anglers' water yielded over five salmon for the week, with Cloongee producing just one. However, it was the East Mayo Anglers' water which produced the best fishing, with nineteen salmon reported for the week. Both visiting and local anglers enjoyed the sport at East Mayo, with Patrick Cadiergues, France, landing one of 6.5lbs to a spinner, Thomas Wiss, Germany, had one of 6lbs to the fly, with Laurent Ping-Canton, France landing a fine 10lbs salmon to a spinner. Garet Riugrok, Dublin, caught one of 7lbs on worm with John Binns, Foxford, Tom Kavanagh, Castlebar, and Michael Pallister, Knock, all landing salmon of 10lbs to the worm.

Carrowmore Lake
Carrowmore Lake continued to produce good sport for anglers, with numerous salmon caught by both local and visiting fishermen. Michael Righton, England, had one of 6lbs, John Mc Donnell had one of 6.5lbs with Robert Rodgers, Lisburn, boating one of 8lbs. Martin Reuland, Belmullet, had of 6.5lbs, as did Noel Napier, Belfast. Tony Baynes, Castlebar, caught one of 9lbs, as did Tony Regan, Dublin, and Mervyn Corway. Simon Heenan and Brian Moore, Co. Down, also enjoyed success, catching salmon of 7lbs and 8lbs respectively.


Trout Angling

Lough Conn and Cullin
Foxford Anglers hosted their annual Devenny Cup Competition on Saturday and despite the poor weather and April showers, over twenty anglers participated. Over 40 trout were boated on the day, however, only six were weighed in as they exceeded the 13 inch size limit. Michael Tiernan, Foxford, took first place in the competition, with Peter Roche, Cloghans, taking second place and Stephen Brown, Brankwansha, in third.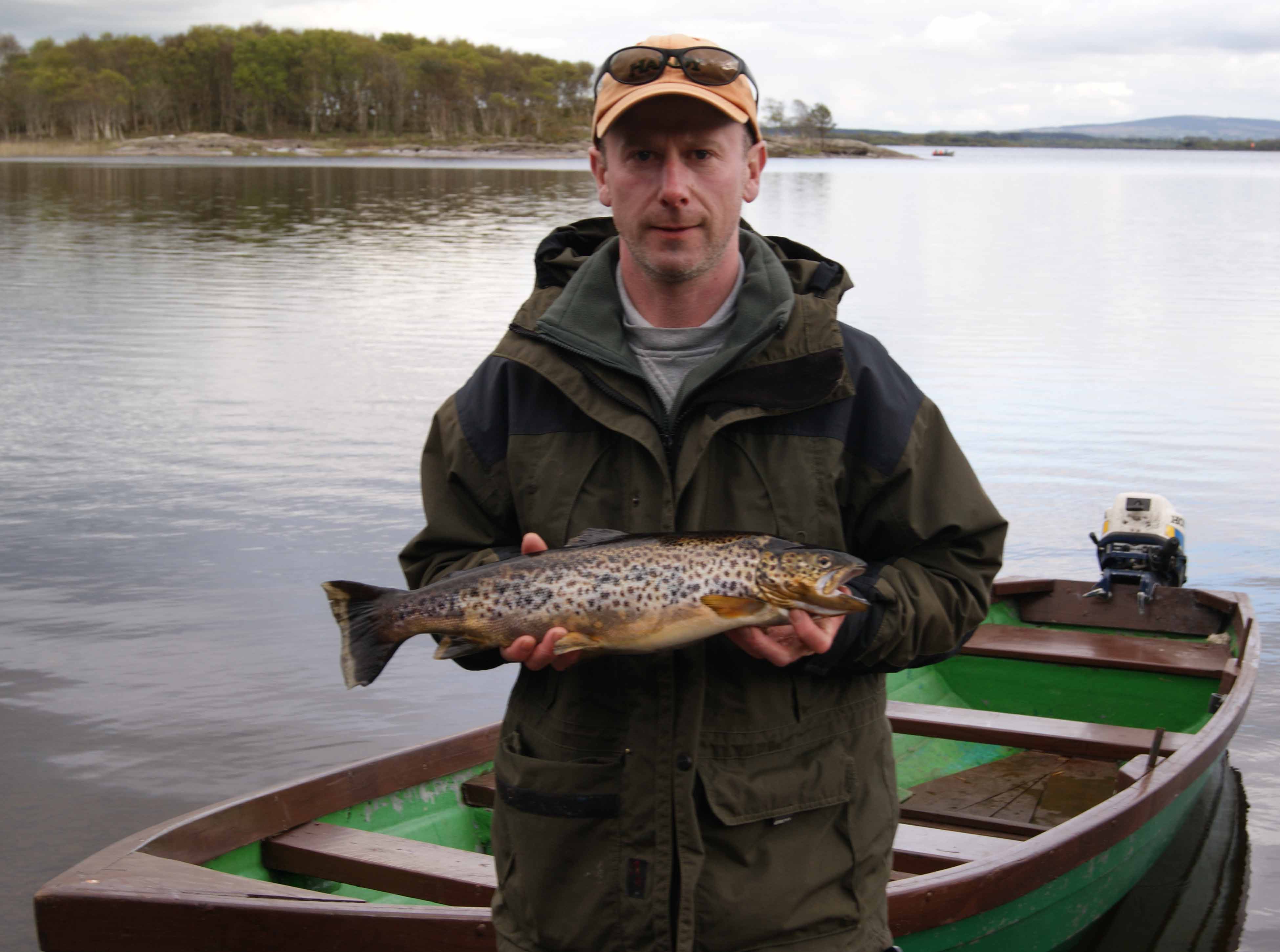 Paul Caslin with his catch from Lough Cullin.

Billy McGhee, participating in the competition hooked and boated a 6lbs salmon on Lough Cullen. Also on Cullin, Paul Caslin caught a fine trout of approximately 3.5lbs. Patrick Cosgrave also boated a fine salmon of 10lbs while trolling Lough Conn.

Lough Arrow
Anglers venturing on Lough Arrow have enjoyed good sport, with David Nelson boating two, one of 1.8lbs, the other a great fish of 4lbs. Colin Dodd boated two, retaining one of 2.2lbs. Visiting angler Jim Conlon, Manchester, had three trout, retaining one of 1lbs while Darrell Haslam had five over three days, his best 2.6lbs. Finian Dodd had 6 trout, his best 3lbs. Anglers are waiting in anticipation of the arrival of the true Mayfly hatch.

Moy Estuary
The sea trout season on the Moy Estuary has been open since April 17th, although weather conditions have not been ideal for angling. Sea trout angling guide Judd Ruane reported on three days angling, where good sport was had. Guiding anglers Pierre, Patrice and Lucien, the group enjoyed good sport with numerous trout landed, their best was 1.5lbs. All trout were taken on mackerel strip as water temperature remains too cool for the fly and the trout are feeding deep. For guided sea trout angling on the Moy Estuary, contact Judd Ruane on +353 (0)87 6736969.

Anglers are reminded that a new national bye-law is in place, reducing the daily bag limit to three sea trout per day and that all trout over 40cm which are retained must be tagged and logged in the anglers log book.


Sea Angling

Killala Bay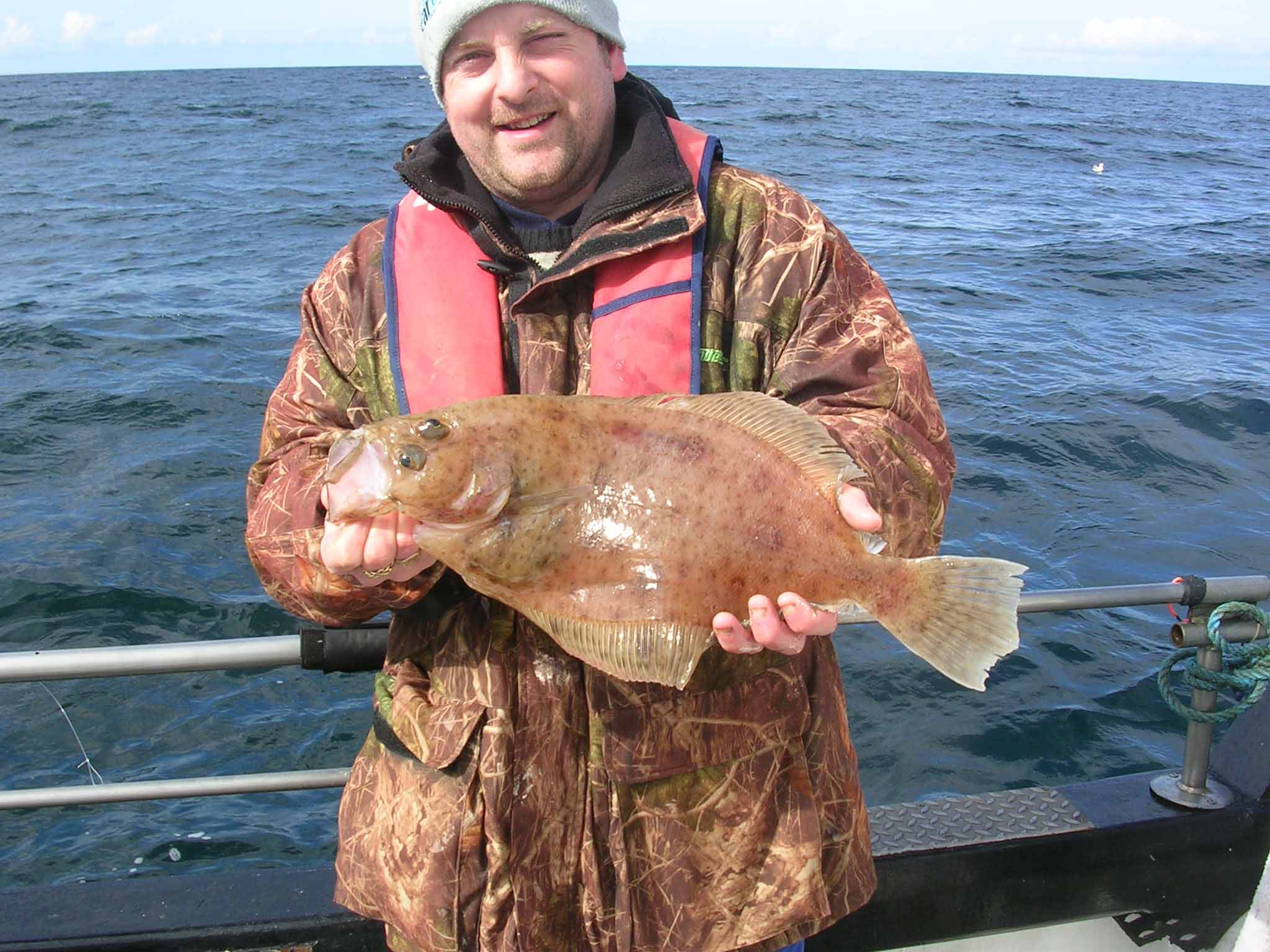 Benny Carolan, Drumlish, and his fine specimen sized megrim, weighing 1kg 6g.

Donal Kennedy reported on another successful day onboard the Leah in Killala Bay. The party of anglers from County Longford departed Killala Harbour at 9am; weather conditions were dull and showery with winds light and northwesterly. Mackerel were difficult to locate compared to previous trips but, despite this, over twenty good sized pollack, many weighing 6lbs - 8lbs were boated, coalfish to 4lbs and ling to 5lbs as well as numerous pouting. However, catch of the day went to Benny Carolan, Drumlish, County Longford, who landed a surprise catch of a lovely megrim. The fish was weighed on certified scales once on land registering 1kg 6grms (2lbs 4oz approx). This fish well exceeded the specimen size of 0.794kg and a specimen claim form has been submitted. The Irish Specimen Committee will ratify this catch in due time and Benny will receive his first ever specimen award. Congratulations to Benny. For further information on angling in Killala Bay on board the "Leah" contact Donal Kennedy on Tel: +353 (0)96 36644, Mobile: +353(0) 868174509 or Email: dak@eircom.net.