Salmon Angling

River Moy
Another excellent week of spring salmon fishing on the River Moy, with over 80 salmon reported and fish being taken on almost all of the Moy fisheries. The Moy Fishery in Ballina town produced 7 salmon, with 6 from the Weir Pool and one off the Cathedral Beat. On the Weir Pool, Manuel Lopez, Spain, had one to the fly of 5lbs, while Michael Wymes, Dublin, also had one on the fly of 5.5lbs. The Ballina Salmon Anglers waters produced 11, with one of 10lbs for Donal McCurtan, Foxford, on the worm.

The Knockmore water yielded two and Armstrongs had one of 10lbs for Anthony Murphy. Gannons reported 3 salmon for the week, while the Foxford Fishery had 4, including two for U.K. angler Ron May of 8lbs and 10lbs. Pat McManus also had one on spinner which was released. Rinanney reported 5 for the week, with the Foxford Salmon Anglers waters producing 6, including a fine fish of 12.5lbs.

The Cloongee Fishery enjoyed a good week with 13 salmon recorded. Donal Shanahan, Dublin, landed one of 10lbs on worm, Pat Mc Manus again had success with one of 7lbs to the spinner, with Martin Van Seenus and Willem De Vos, both from the Netherlands, landing fish of 5lbs each to the spinner.

However, it was the East Mayo Anglers water which produced the best results, with 25 salmon reported. Local angling guide and casting instructor Paddy McDonnell, Swinford, enjoyed a good week, with 5 salmon to the fly including fish of 10lbs and 9lbs. Ian Guegan, Callow, had one of 12lbs spinning, with Mike Dench, U.K., landing one of 10lbs to the fly. Louis Daniele, Italy, had two of 6lbs, Roberto Danille, also Italy, had one of 8lbs on worm. Visiting French anglers also enjoyed good sport at East Mayo, with Gerard Portes landing one of 7lbs, Louis Lecueur had one while John Lefere had two of 4lbs and 5lbs on the fly.

Carrowmore Lake
Rough weather over the past week has disrupted some days angling on Carrowmore; however, those who fished the calmer days have been rewarded for their efforts. Navan Anglers had two days on the lake, resulting in 13 salmon over the two days for the party. Among those in the group to have success were Reg O'Keefe, Peter O'Connell, Peter O'Reilly, Duirmuid McGuire, Martin Connell, Seamus Carney, Robert Farelly, Seamus Lennon and Liam Ford.

Other anglers who captured salmon over the past week were David Kidd and Stephen McCabe, who had fish of 8lbs and 9lbs respectively, and visiting angler Didier Latormie, France, who had a nice fish of 10lbs. Joe Martin landed one of 5lbs, Liam Murtagh, N.Ireland, also caught one as did James Clarke, England.

Ballisodare
Ballisodare Fishery produced 36 salmon for the week, 21 of those being released. Among those to capture fish were Vincent Hillary, who landed one of 7.5lbs to the prawn, James Keeney and John Corcoran both had success with the fly, with salmon of 7lbs and 6lbs respectively. Visiting angler Clive O'Neill also had one of 8lbs to the fly, with local anglers Stephen Cafoles and Keith Gilmartin also landing fish. Another visitor to the Fishery, Ian Martin, had one of 9.5lbs to the worm, with Jeff Wilson, H. Mitchell and P. McGroary all hooking salmon.

Lough Beltra
Lough Beltra has continued to produce some good fish of late, with Rocky Moran, Castlebar returning one 1 salmon of 9lbs. Guest of Newport House, Mr. Kelgedon, Norway, released one salmon of 6lbs while Ronnie Boyd, Co. Derry, released one of 10lbs. Ben Barnes had one of 7lbs off the lough, while Jackie Diffley boated one of 9lbs.


Trout Angling

Lough Conn and Cullin
The loughs have been busy over the past week, hosting three competitions over the weekend, with many anglers enjoying good sport and success on the water.
Fishing out of Gerry Murphy's, Massbrooke Bay, Martin Foley and Billy Hannan, Co. Wicklow, had 8 trout for a day, with their best weighing 2.5lbs, while Ronnie Chambers, Belfast, boated 6 in total, his best 2lbs.

Angling out of Pontoon Bridge Hotel, Roland Abalison, U.K., enjoyed a great week, with 18 trout caught on Cullin and 7 off Lough Conn. Robbie Scott, Co. Wicklow, had 3 trout while Donal Hurley, Dublin, had 23 trout for 6 days on a wet mayfly, his best weighing 1.5lbs.

Mick McNeely, Mullingar, and Brendan Breslin, Knockmore, had 12 trout for a day off Rinmore Point, L.Conn, all taken on Sooty Olives and various Olive patterns. Padraig Traynor, fishing with Gary Coakley, Co. Dublin, had 4 trout for 6lbs, while Gary had one. John Burke had two trout off Cullin to a Royal Wulff, both weighing 1.25lbs.

The 21st Annual Albert Berry Cup competition was held on L.Cullin over the weekend and raised €567 for M.S. Ireland. This catch and kill boat competition, with the weigh in of fish taking place in Healy's Restaurant and Fishing Lodge, Pontoon, had a 12 inch size limit, and saw 50 anglers participate, who boated a total of 62 fish over the limit. In 1st place was Colin Chambers and Dave Elliott, Co. Fermanagh, with 11 trout, Colin and Jimmy Cahill, Mullingar, came 2nd with 8 trout while Ian and Aran Pollock, Co. Monaghan, took 3rd with 7 trout. Winning the best catch of the competition was Sean McKenna, Co. Monaghan, who won the Sean Ross Memorial Cup for his trout of 2.75lbs.

Saturday saw the Conn and Cullin Anglers host the 40th Annual Conn and Cullin Vs Dublin Trout Anglers competition. This catch and release competition, with an 11inch size limit, saw 40 anglers participate, who recorded a total of 88 trout over the limit on the day. The Conn and Cullin Anglers won the day, with a catch of 45 compared to the Dublin Anglers 43 trout. In the individual competition, Noel Shields, Co. Dublin won 1st place, Michael Rutledge, Lahardaun took 2nd, while Noel O'Neill, Dublin, came 3rd.

Sunday saw Conn and Cullin Anglers host the Pratt Cup Competition. 44 anglers took part, with 13 trout over the 13 inch limit weighed in. Winning first place was Noel Shields, Dublin,with two trout for 2.25kg, Padraig Traynor took second place with 3 trout for 1.5kg and Joe Quinn, Ballina, came 3rd with one trout of 1kg.

Lough Arrow
The may fly season is in full swing on Arrow with large numbers of anglers out of late. Simon Steel had 3 trout on Saturday morning weighing 3lbs and 3.5lbs (both returned) and one of 3lbs 6ozs. They were all taken on the Grey Wulff. Brian Kelly, Boyle, had 5 trout up to 2.75lbs on dry fly. Lough Arrow Fish Preservation Association & District Anglers are holding their annual may fly competition on Sunday 13th May 2012. Enquiries to Alison Frazer on +353 (0) 87 9541835 or to any club member.

Ballin Lough
A total of eight rods fished for the week, catching a total of 20 trout, 4 of these were released. Peter Grey, Castlebar, had 13 trout, 8 brown and 5 rainbow trout (11 of which were released). His best fish was 2lbs. Pat Murphy, also of Castlebar, had 4 brown trout (with 2 returned) his best fish was 2 lbs. Donal Chambers and boat partner, Co. Kildare, had 3 rainbow trout, their best fish was 1.5 lbs. The most successful flies throughout the week were the Montana Nymph, Hare's Ear and Buzzer patterns.


Pike Angling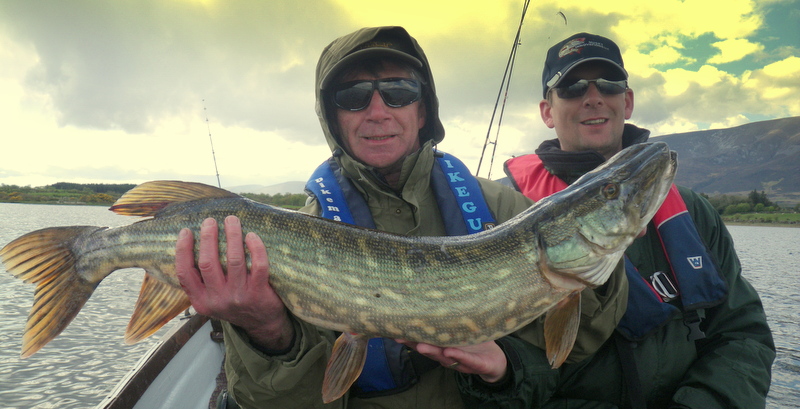 Angling Guide Kenny Sloan reported on an excursion of late with Scottish pike anglers Simon Lawson along with his father. They had 4 days fishing in the Foxford area, although conditions were not good with North East winds and bright sunshine. However, they managed to catch a few good pike, trolling and jerk bait fishing were the best methods. To book a day's guided fishing or boat rental contact Kenny on Tel: +353(0)949256501 Mob: +353 (0)879670310.


Sea Angling

Killala Bay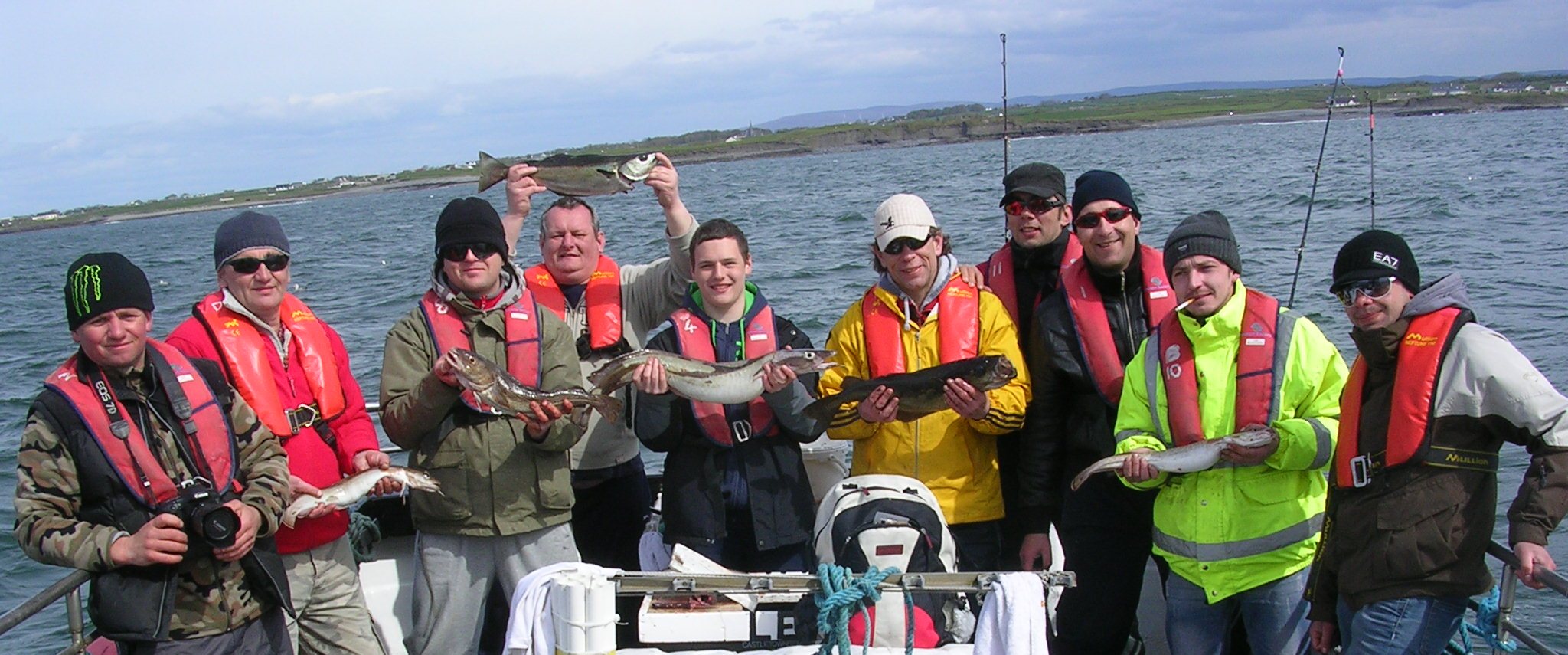 A party of happy anglers onboard the 'Leah' on Killala Bay, Sunday 6th May.

Donal Kennedy, Skipper of the 'Leah', reported on a fishing charter on Killala Bay on Sunday 6th May, with a party of anglers from Ballina, Co. Mayo. The winds were light East North East with a slow drift but the weather changed again in late afternoon for the worst. They set out early in the morning to get the best of the day and the party was not disappointed. Mackerel were coming to the boat, but not in huge numbers, although they were big. Some fine coalfish were caught along with many pouting. About 25 pollock were caught up to 7lbs and some nice ling, the best of which was approximately 8lbs. A couple of cod were also caught, weighing approximately 4lbs. As the weather changed they decided that they had an enjoyable day of fishing and headed back to harbour, docking at around 5pm.