Salmon & Sea Trout Angling

River Moy
Despite some rain towards the weekend water levels remained low during most part of the week. However, the Moy had its best week of the season, so far, with a reported catch of 242 salmon.

Angling on the Moy Fishery continued to improve somewhat with a total of 17 salmon caught by anglers. On the Ridge Pool, fly anglers Jean Christophe Chanteloube, France and Sean Maye, Sligo had salmon of 8 lbs. and 8.5 lbs. respectively, while Rene Gehringer, Germany was successful on the Cathedral Beat with a fine nine pounder also on fly.

Upriver, on Armstrong's, Anthony Murphy, Dublin, had two fine salmon on worm, while Gannon's produced a ten pounder for Swiss angler Erwin Kunz on prawn. On the Foxford Fishery, Paul O'Malley, Navan enjoyed good fishing with a 10 lbs. salmon on worm.

Further up the system, the Cloongee Fishery produced four salmon (three released) for Thiery Colum, France. Thiery fished the bubble & fly and his best fish weighed in at 8.5 lbs. Anglers also enjoyed good sport on the East Mayo Association water where John McGuinn, Northern Ireland, caught a cracking fish of 13 lbs. on the fly. Other successful anglers included Marcel Jacquemin, Belgium who had fish of 4.5, 5 and 10 lbs. and Claude Grosjean, also Belgium who landed a 10 lbs. salmon (all on worm).


Moy Estuary
There was still a good show of sea trout in the lower estuary with some nice fish around the two pound mark. Judd Ruane reported excellent fishing including 19 sea trout for NI angler, Stewert Rogers and 8 fish for Steve & Sandy Chandler, USA, best at 1.9 lbs. Baits were mackerel strips and sand eels. Further information on fishing for sea trout with Judd Ruane is available at www.fishingireland.ie.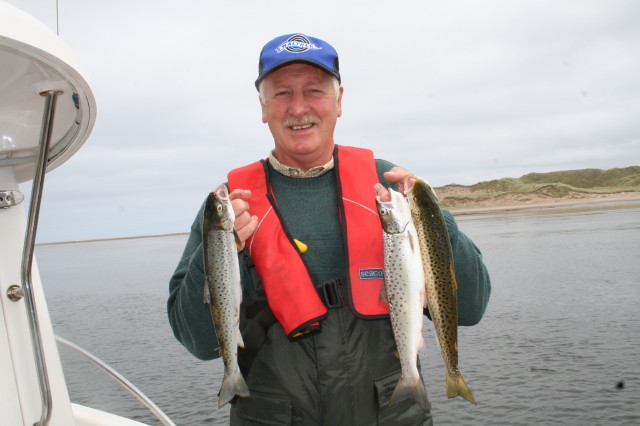 Stewert Rogers, Northern Ireland, enjoying his day out sea trout fishing on Killala Bay.



Carrowmore Lake
Carrowmore Lake had its best week of the season so far! Fishing was excellent and many anglers enjoyed "red letter" days during the week. Several boats had bags of 4 salmon and more.

Davy Elliot & Andy Latimer, both Northern Ireland, had the best bag of the week with a total of 8 salmon (6 released) for a day's fishing. Most fish averaged five to six lbs. However, there were also some nice double figure fish caught including a 10.5 lbs. salmon for Gary Lloyd, Westport and a cracking thirteen pounder (released) for Mark Corps, Enniskillen. Other successful anglers included Vincent Rigney, Westport with a nine pounder and Ronny Mayock, Monaghan who had fish of 8 and 10 lbs.

Most successful flies included Black Dabbler, Clan Chief, Golden Olive Bumble, Green Peter and various Shrimp patterns. Fishing on Carrowmore Lake can be booked on www.bangorerrisangling.com


Lough Beltra & Newport River
Fishing was somewhat slow for the week with only two salmon caught on the Newport House side of Lough Beltra. David Eddis had an 8 lbs. salmon, while Cameron Brant caught one at 7.5 lbs. David Eddis was also successful on the Newport River, where he landed a 6.5 lbs. fish. Also on the river, Ian Conn had a five pounder. Most successful flies were Green Peter and Cascade Shrimp.


Ballisodare River
Despite extremely low water levels anglers still enjoyed good sport on the Ballisodare Fishery, with a total of 67 salmon caught and 35 of these being released. Most of the fish averaged 5 lbs. Amongst the successful anglers were local angler, Dermot Glennon (7 lbs. on prawn, released), Tom Mulholland, Northern Ireland (7 lbs. on an Ally's Shrimp), and John Corcoran, Roscommon (7 lbs. on a Willie Gunn).

Trout Angling

Loughs Conn & Cullin
At Pontoon Bridge Hotel, Mary F, Newman, USA, had 5 trout, best at 1.5 lbs., while Harry Rechtfeld, Switzerland boated 11 fish, best at 2 lbs. From Murphy's Boat Hire, Cloghans, Barry Graham and Ned Tyrell, Offaly had four trout each, best at 2 lbs.

Fishing out of Cloghans, Roy Jones, Wales caught 2 trout on dry Wulffs, best at 1.5 lbs. Cloonamoyne Fishery also reported some good results: Chris and Amy Kenny-Riches, USA had 28 trout over 3 days, best at 1.75 lbs. all on dry Grey and Yellow Wullfs. Reverend John Flynn & family, Knockmore boated 44 fish over 5 days, best at 1.25 lbs. all on dry Olives, while John McAleese and Michael Gill, Dublin caught 32 trout over 3 days, best at 2 lbs. on wet flies and the dap.

During the week the Annual Garda Competition was fished with 40 anglers taking part in the event. Results were as follows:


1st Declan Conlon, Kildare, 3 trout, 3.21 lbs.

2nd Stephen Neylon, Dublin, 3 trout, 3.12 lbs.

3rd Jim Caden, Ballina, 3 trout, 3.01 lbs.

Best retired angler: Tom McMahon, Dublin, 3 trout 3.12 lbs.

Heaviest fish: Declan Conlon, Kildare, 2.3 lbs.

Lough Conn & Cullin Anglers Association held their two day Whit Weekend Competition. Eighty-five anglers caught 62 trout totalling 32.46 kg. Results were as follows:


1st Martin Ferrick, Ballinrobe, 6 trout, 3.030 kg

2nd John Purtill, Tipperary, 3 trout, 1.710 kg

3rd Martin Cooper, Dundalk, 3 trout, 1.460 kg

4th Willie Burke, Tipperary, 3 trout, 1.440 kg

5th John Walsh, Cloghans, 2 trout, 1.360 kg

Heaviest fish: Gary Dawson, NI, 1.045 kg

Lough Arrow
Anglers who ventured out on Lough Arrow during the week were rewarded with some fine catches. Most of the action took place late in the evenings. Maurice Whiteman, Northern Ireland, had four trout, heaviest at 4.5 lbs., while local angler Brian Kelly reported a fine 3.5 lbs. fish. All fish were caught on Murrough patterns.

Sea Angling
Belmullet Sea Angling Club Competition results:
Over 20 anglers took part in this year's Open Boat International, a two day competition held over the 2nd and 3rd of June. Weather conditions were favourable and most anglers enjoyed excellent fishing over both days. There were over sixteen different species of fish landed, including pollack, coalfish, cod, haddock, dogfish, ballan wrasse, cuckoo wrasse, grey gurnard, red gurnard, tub gurnard, whiting, dab, flounder, ling and thornback ray.

Results were as follows:
1st Greatest Variety Over 2 Days: Anthony Masterson, Belmullet S.A.C.

2nd Greatest Variety Over 2 Days: Peter Coyne, Killala Bay S.A.C.

3rd Greatest Variety Over 2 Days Out Of State: Paul Slater, NI

1st & 2nd Greatest Variety Junior Anglers: Matthew Walsh & Robert Barrett, Belmullet

Heaviest Fish Saturday: Paul Slater, NI (Ling 14.75 lbs.)
Heaviest Fish Sunday: Josie Barrett, Killala (Pollack 7.65lbs.)