Salmon Angling

River Moy
The Moy Fishery was very honoured and privileged to welcome his Excellency, Mr Loyola Hearns, Canadian Ambassador to Ireland, to the Ridge Pool during his recent trip to Ballina. Ambassador Hearns, a very keen Atlantic salmon fly fisherman, has led a distinguished career in Canadian politics, culminating in his position as Minister for Fisheries. Despite his valiant efforts, the Moy salmon would not succumb to his efforts. However, he has vowed to return again for another throw later in the season.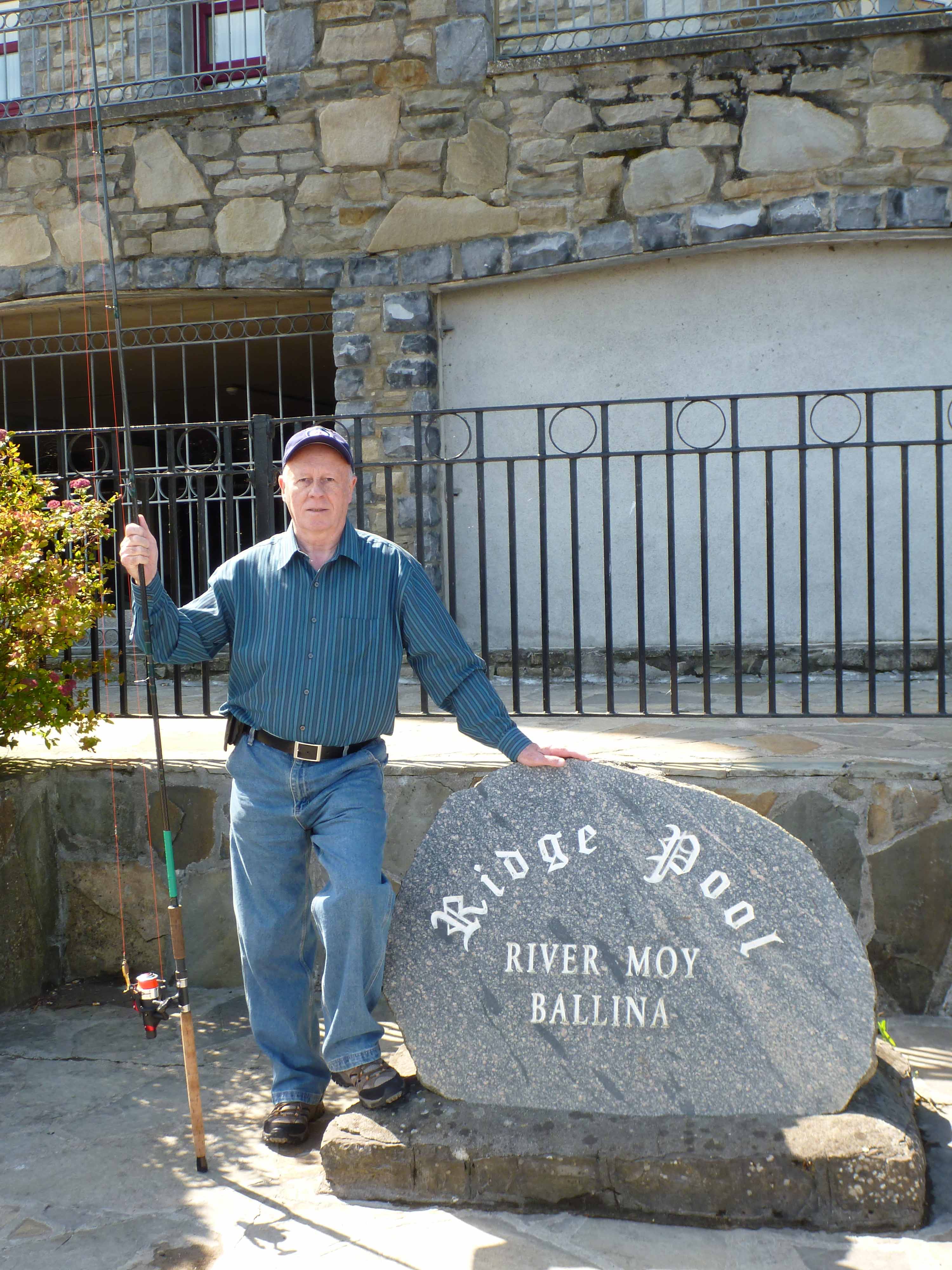 His Excellency, Canadian Ambassador to Ireland, Mr Loyola Hearns.

Another exceptional week on the River Moy, as the Grilse continue to migrate in their thousands into the system. Over 700 salmon were reported for the week, with many angers stating that they have not enjoyed a run as good as this since the mid-1990's! The abundance of freshwater of late has no doubt enticed these fish to enter the Moy, with many fresh salmon in the 6lbs to 14lbs range being caught, throughout the length of the system.

The Ridge Pool produced five grilse, with Alan Hanna, Kenneth Millsopp (both N.Ireland) and Tom Toner, Castlebar recording fish. There have been no catches reported of late from the Cathedral Beat, Springwells or Ash Tree Pool, as water conditions have not been conducive to angling in these lower fisheries. In contrast, the Ballina Salmon Anglers' water did produce good angling, and at Mount Falcon, Cathy and Tom Good enjoyed good sport, landing six of the 16 recorded at the fishery, their best weighing 6lbs.

The mid-Moy fisheries, Knockmore, Attymass, Coolcronan, Byrne's, Armstrong's and Gannon's all yielded very good numbers of fish. At Coolcronan, Ronnie Douglas, N.Ireland had three, Ray Jarvis (also N.Ireland) had two from Armstrong's and Pat Healy, Co. Roscommon, banked one of 8lbs with the worm at Gannon's.

The Foxford Fishery also enjoyed good sport, and Rinanney fished very well, producing excellent numbers of fish. Among those to have success at Rinanney, was Marcel Selous, France who landed a fine 13.5lbs salmon. Once again Cloongee and the East Mayo Anglers' water had excellent fishing.
At Cloongee, Edward Murphy, Co. Cork and Peter Moylan, Co. Dublin both had fish of 5lbs to the spinner, and fellow Dubliners George Partridge and Michael Conway had catches of 7lbs and 7.5lbs respectively.

Of the 77 salmon reported on the East Mayo Anglers' water, Lothar Waldeck, Germany had one of 9.5lbs, Robert Ducandas, France landed one of 7lbs and Des Edwards, N.Ireland had one of 6lbs on the fly.

Carrowmore Lake
The Lake continues to fish very well, with many anglers enjoying great sport. Michael McAlinden boated two salmon early in the week, with Larry Ryder recording one. John Gorman had two grilse for his trip, while Peter Gray and J.J. Sullivan had one each.

Later in the week Larry Ryder recorded two more, John Cassidy also had two while Eamon Giblin, Ronnie Mayock and Henry Jameson each caught one each. Declan O'Donnell and Jack Spratt had one each, as did John O'Connor and Gary Lloyd, who boated one of 8.5lbs. Finally, members of the Dargle Angler's recorded two grilse and many sea trout have been caught and released throughout the past week.

Ballisodare
The past two weeks have produced some very sport for anglers on the Ballsodare Fishery, with the week ending the 24th June producing over 200 salmon, 108 of which were released. During this week Tommy O'Donovan retunred a nice fish of 8lbs, as did visiting angler Mark Graham, who released a salmon of 9lbs caught on the fly. Noel Barbour released two fly caught fish of 7lbs and 10lbs while Ian Thompson, N.Ireland retained one of 8lbs, also caught on fly.

The week ending the 1st July produced a further 232 salmon on the Fishery, 96 of those being released. Local angler Dennis Crawley had one of 9lbs to the fly, John Connolly had one of 10lbs to the fly while visiting angler Colm Lynch landed two of 7lbs and 8lbs. Brian Connolly (visiting) caught one of 7lbs while local angler Bill Clinton also had one of 7lbs to the fly. David Marren and Seanie May both had success on the fly, with fish of 7lbs, while Kevin Cushlawn had one of 8lbs, also one fly.

Newport River and Lough Beltra
The Glenisland Co-op reported that few rods were out on Beltra over the past week, despite numerous sea trout and fresh salmon being observed in the lake. On the Glenisland side, Davy Patton, Co. Roscommon, recorded four sea trout to 1lbs. Fishing from Newport House, Dr. Joe Cahill had one sea trout of 2lbs, John Bussey had one of 1.75lbs while Brian Lovering had one sea trout.

On the Newport River Darragh Farrell had one grilse and a sea trout, Jimmy Laffin had one salmon of 8.5lbs, as did Fergus Rothwell, while Brian Lovering recorded four sea trout, ranging from .25lbs to 1.75lbs.

Sligo District update Garavogue, Bonet and Drumcliffe
Due to the quota system in place on these systems at present, many fish caught have been released, and as such, have not been reported. However, we have received some reports of good fish being released in these rivers. On the Drumcliffe, Paul Mulligan released two grilse on the 16th of June, and retained one of 6lbs which was taken on the worm. On the Garavogue, Adam Kelly released one of 4lbs which was taken on the fly on the 4th June. Anthony Walsh landed a fine 10.5lbs salmon, taken on an Alexandra fly on the 19th June in Sligo Town centre, much to the delight of onlookers, as the fish took a considerable time to land.

On the River Bonet, some anglers have enjoyed very good sport, with Ryan McGoldrick, Dromahair, returning six salmon ranging from 8lbs to 11lbs all caught on the fly. In the Cloonlougher area, a Mr. Parkinson, Manorhamilton, caught one of 10lbs, while Drew Lang, Grange also landed one of 10lbs which was released. Francis Keaney, Newtonmanor, released a fine 12lbs salmon in the Cloonaquin area. Due to the quota system in operation in these systems, anglers are reminded that they must fish catch and release methods unless they are in procession of a brown carcass tag.

Burrishoole Fishery
Many fresh run fish have been observed in Lough Furnace of late, and to date, 55 salmon have been caught, with all wild fish returned and the ranched salmon retained. Seamus O'Neill, Co. Cavan, caught and released five wild and two ranched grilse of 4lbs and 6lbs. Stephen Bird and Fred Lockhart, Lisburn, boated five ranched fish over two days, weighing between 3.5lbs and 5lbs. Paul Sherrington and John McCallion, Co. Galway, took four ranched salmon, between 3lbs and 5lbs. John McGuire, Navan, accounted for four ranched and one wild fish, while David Malps and Russell Symons, U.K. had two ranched and one wild salmon. John O'Connor and Dieter Kramer, Foxford, took four ranched weighing between 3lbs and 5lbs.
Newport Anglers Club reported eight salmon caught by members, including two wild fish which were released. Successful club members were Charles Murray, with two ranched and two wild, Sean O'Malley, two ranched, John Campbell and Toby Gibbons, one salmon each. Successful flies included the Ally's Cascade, Red Arse Green Peter, Black Shrimp and a small Collie Dog Tube.

Owenduff River
Shean Lodge Fishery reported from the Owenduff that with good conditions of late and nice water levels the week ending June 30th produced some excellent fishing. In total 12 salmon, 9 grilse, and 23 sea trout were landed. Without exception all fish were in beautiful condition with salmon up to 11lbs, grilse from 3.5lbs to 6lbs and sea-trout up to 3.5lbs. In addition there were an unusually high number of fish lost. The sea trout run appears to be the best for many years with several around 3lbs recorded. With weather forecasted to be unsettled for the next week, prospects are excellent. There are limited rods available from the Lodge, contact +353 (0) 866075958 or Email: www.sheanlodgefishery.com for further details.


Trout Angling
Lough Doon
Dromahair Angler's Association hosted a Juvenile Angling Competition on Lough Doon on Saturday 30th June. Eighteen juveniles competed, all from local Schools. The day was won by 13 year old Darren Kelly, Ballintogher, who landed a 1.5lbs trout to a Green Peter. All those who competed received prizes from Dromahair Anglers.

Other catch reports from Lough Doon include Cormac Clancy, who had four trout for a day and Dr. Reid, and party, Sligo, who accounted for eight trout, weighing 8lbs in total, with their best 1.5lbs. Permits to fish Doon Lough can be obtained from The Blue Devon, Dromahair, Co.Leitrim (Tel: +353 (0)71 9164134) and cost €20 for a day permit and boat for two anglers, or €5 for an evening permit.

Bilberry and Lannagh
The 2012 McConville Cup competition will take place on the 13th to the 15th July on Bilberry/Lannagh Lakes in Islandeady, Co. Mayo. This fly fishing only competition is now in its 19th year. First prize for this year's winner is a 19ft Sheelin lake boat, with prizes awarded to 9th place, including electric out-board engines, fly rods, reels and chest waders. To enter this years competition contact Matt Fahey on Tel: +353 (0)87 2982717 or Email: bilberrylannagh@gmail.com. Cost of entry is €100 which includes dinner each evening.