Salmon Angling
River Moy
All reports from the River Moy for the past week indicate that conditions have been difficult for angers, with water levels fluctuating and fish reluctant to take. Despite this and the substantial drop in angling effort, the system still yielded an impressive 250 salmon for the week, with some fisheries reporting a substantial release rate.
The Moy Fishery had an unproductive week, not surprising as the angling effort was extremely low. The lower river fisheries, Ballina Salmon Anglers' water and Mount Falcon fished relatively well, accounting for just over 25% of the system's reported catch. The mid Moy fisheries had a relatively quiet week, where Keith Harbison, N.Ireland, had one salmon of 5lbs to worm at Coolcronan, while at Armstrong's, Tom Murray, Co. Offaly, had a nice fish of 11lbs. Visiting angler Micha Schweinsberg, Colorado, U.S.A. caught his first ever Atlantic salmon while angling on the Knockmore waters.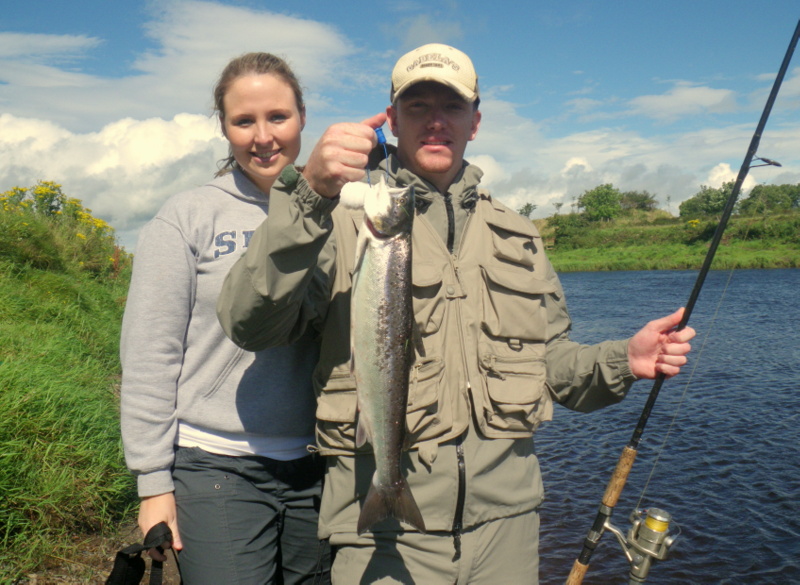 Micha Schweisberg, USA, with his first ever Atlantic salmon taken on the Knockmore waters recently.

The waters in and around Foxford town were also relatively quiet, although angling effort here was also low. Upstream at Cloongee 18 salmon were recorded, where Andrew Craig, N.Ireland, landed four over two days. Wayne Byrne, Co. Offaly, released two which were taken on a spinner, while Billy Molloy, Co. Kilkenny, also enjoyed great sport spinning, releasing a total of eight salmon.

Visiting anglers to the East Mayo waters also enjoyed success, with Andy Ball, U.S.A. landing one grilse on fly. Callum Rudd, U.K., had one of 6lbs while spinning, with fellow U.K. angler Owen Bishop banking one small grilse using worm.


Newport River and Lough Beltra
Conditions have been challenging of late on the river and lake, however, with the fluctuating water level, Newport House reported some good sport for anglers. Early in the week local angler, Eamon Kennedy, fishing with Gardiner Mitchell, boated 20 sea trout and one grilse for a day on Beltra. The pair were accompanied by Chris McCully the following day and had a total of 14 sea trout, up to 2lbs.

One the Newport River, Max Marti had a 6lbs grilse on a shrimp pattern, Tony Murtagh had a grilse of 4.5lbs and Jimmy Laffin landed one grilse and three sea trout, his best sea trout weighing 2bs.


Ballisodare Fishery
Angling effort has dropped somewhat of late, combined with fluctuating water levels, the fishery has experienced in a drop in catch numbers. For the past two weeks (6th - 19th August) the fishery has recorded a catch of 68 salmon, 28 of those were released.

Among those to catch fish at Ballisodare were local angler John Connolly, who released a nice 8lbs fly caught salmon. Visiting angler Albert Berry also had one of 7lbs to the fly while another visitor to the fishery, C. McKeown, landed a good 11lbs salmon to worm.


Sea Angling
Belmullet

Belmullet Sea Angling Club hosted its 41st Annual two day International Boat Angling Competition on Saturday 18th and Sunday 19th August. Over 40 anglers took part, with participants from England, Northern Ireland and the length and breadth of Ireland. Species caught during the competition included pollack, coalfish, dogfish, ballan wrasse, cuckoo wrasse, red, tub and grey gurnard, whiting, dab, flounder, megrim, ling, thornback ray, pouting and cod. Belmullet S.A.C. would like to thank all those who took part in this year's competition, as well as the numerous sponsors who generously provided prizes.

The greatest variety over two days was won by Pat Ruddy, Belmullet S.A.C., 2nd place went to Sylvy Sweeney, Belmullet S.A.C. and in 3rd place was Anthony Matterson, Belmullet S.A.C. The greatest variety for the out of state section was won by Billy Turtle, East Belfast S.A.C. The juvenile section for greatest variety was a tie, with Liam Carey and Diarmuid O'Donnell taking the honors. The Ladies section also had joint winners, with Lorraine Devlin, Killala Bay S.A.C. and Cora Talbot, Belmullet S.A.C. sharing first place.

The heaviest fish on Saturday was caught by Kevin Conway, Belmullet S.A.C. and on the Sunday this award went to Chris McEleay, East Belfast S.A.C.

Finally, the best specimen fish over the two days was caught by Gavin Dorrain, Donegal, who had a nice 5.85lbs tub gurnard.