Salmon Angling

River Moy

With water levels finally settling on the Moy, anglers enjoyed an improvement in conditions and catches in the past week resulting in a weekly reported catch of 221 salmon, bringing the season's total to date to 8,099. Water levels are now suitable for all methods, and anglers are reminded that as of the 1st September, if the daily bag limit of one salmon is reached, angling is only permitted using catch and release methods.

The Ballina Salmon Anglers' water saw a marked improvement in catches, while the Mount Falcon Fishery has remained consistently productive. Young angler's Owen and brother Harry Jackson, (aged 12 and 11) enjoyed an excellent weeks fishing on the Ballina Salmon Anglers' water and Byrne's Fishery. Owen caught six for his week, releasing two of those while Harry landed four, returning one. Their best fish was 7lbs which was released, and all fish were taken on the spinner or worm.

The Knockmore water and Armstrong's both had a reasonably good week, while at Coolcronan, Harold Retch, Germany, enjoyed success, capturing four salmon, three to the spinner and one to the worm. Angling at Cloongee, Klaus Wolf Friebertshäeuser, Germany, had three to the worm, while his son Lars caught one. The fly proved successful for Hans Ulrich Bender, Germany, at the East Mayo waters' where he landed a salmon of 5lbs. Upstream at the Ballintemple Fishery, Dominique Lemoine, France had one.

Finally, the Mayfly Hotel, Foxford, recently held their annual charity fishing competition, in aid of the Foxford Alzheimer's Day Care Centre. First place in the adult men's section was won by Guillaume Schreiner, with second going to John McDermott. The ladies section was won by Bridie Nolan, while Tony Lyness took the honours in the juvenile section.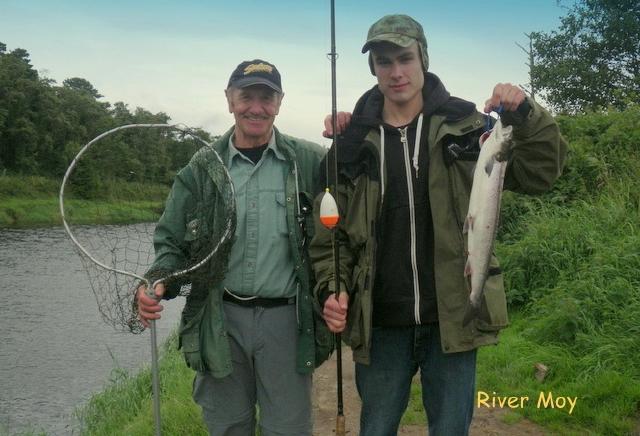 Charles Schreiner, Luxembourg, pictured with his second Moy salmon and guide Kenny Sloan.


Charles Schreiner, Luxembourg, pictured with his second Moy salmon and guide Kenny Sloan.


Trout Angling

River Deel

For the second week in a row, the Moy system has shown that those elusive double figure trout are there to be pursued. While fishing the River Deel before its closed season, Gerhard Seck hooked into a good sized fish, while spinning with his own version of a solid brass spoon. The fish was a large male brown trout, weighing an impressive 11lbs 3oz, and measuring 77cm length and 56cm girth.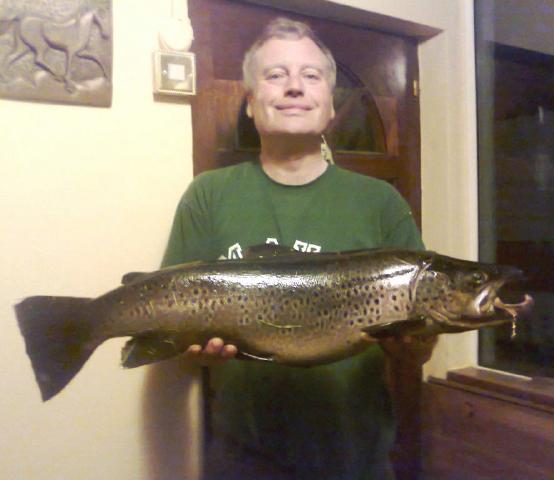 Gerhard Seck proudly displays his excellent catch.
Sea Angling

Mayo Shores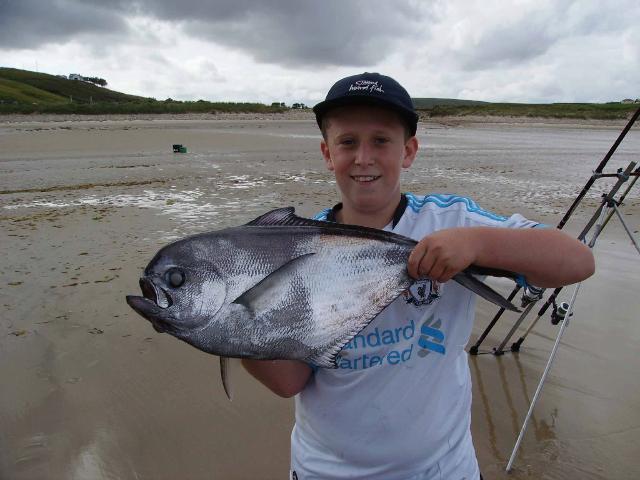 Jordan Colwell with his specimen Ray's Bream.


An excellent catch to report for a young Belfast angler, Jordan Colwell, who fished a north west Mayo beach recently. While angling for turbot with his father and members of the Galway Buccaneers S.A.C., Jordan got a great surprise, when a powerful fish took his whole sand eel bait. Once landed it was apparent it was quite a remarkable fish, a specimen sized ray's bream, which weighed 6lbs 1oz, just 3.25oz short of the Irish record. After a quick photograph with its delighted captor, the fish was sportingly released.