Salmon Angling
River Moy
The new moon of last week heralded a welcome change in wind direction and temperature in the region, which brought rain and increased enthusiasm to salmon anglers. This resulted in a surge in catch reports from the Moy, with twelve salmon reported for the week.
The previous week (ending 7th April) also yielded some good catches, with three reported from the Ballina Salmon Anglers' water in Ballina Town. Here, Peter McHugh landed one of 9lbs; Anthony McHale recorded a good fish of 12lbs while Kevin Langdon took a great 15lbs springer upstream of the Salmon Weirs (all on worm).
Three fish were reported from Gannons' Fishery including one of 9lbs taken on a spinner by Geoff Wiles. At the Cloongee Fishery, Brendan McCusker landed one of 10lbs on worm. The East Mayo Anglers' water yielded one for Paul McGrath on the fly, weighing 8.5lbs.
In the past week, Ballina Salmon Anglers' water again yielded three, where Declan Gannon had success, as did John Fitzpatrick, who landed one of 8lbs to the worm. Gannons' Fishery reported one for the week as did Armstrongs', where Tom Kane, N. Ireland, had a salmon of 6.5lbs on worm.
The East Mayo Anglers' water recorded 5 fish for the week, one of which was released. Visiting angler Vincent Prior, France, had success while spinning, landing two fish of 9lbs and 11.5lbs. Aiden Sheridan, Kiltimagh, took one of 7lbs on fly. However, Declan Mc Nulty, Swinford, recorded the best catch of the week, a great fish of 15.5lbs, caught on worm.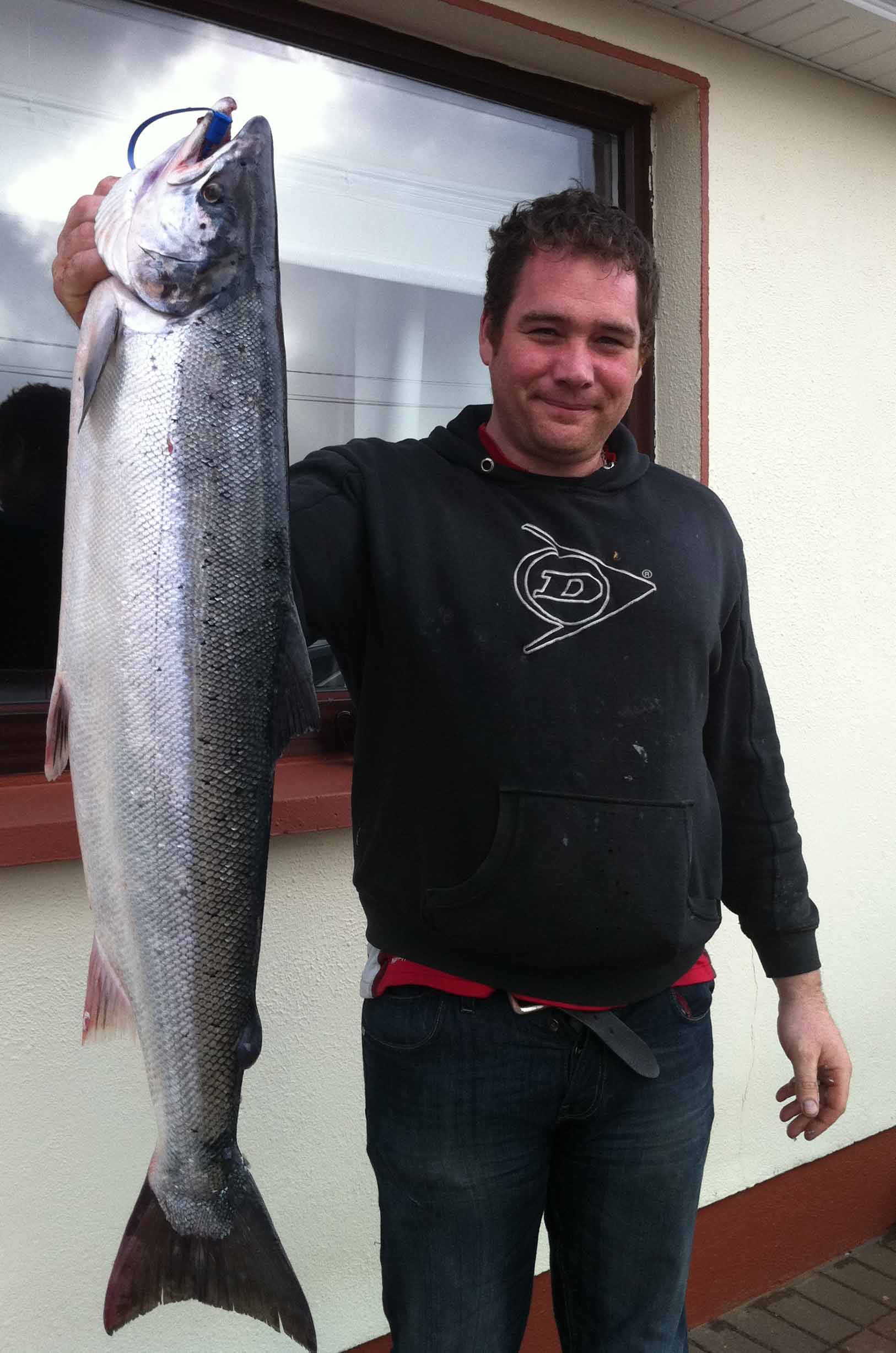 Declan McNulty, Swinford, with his fine 15.5lbs salmon caught recently on the East Mayo Anglers Association waters.
Lough Beltra
The major change in weather has also greatly improved angling on Lough Beltra, where eight salmon were caught recently. On Thursday past, Beltra West produced two salmon of 6lbs and 7lbs while the following day, three weighing 6lbs, 11lbs and 12lbs were recorded. At Beltra East on Friday 12th, David Edis boated one of 11lbs at the 'Strand' and moved three others. Vincent Rigney had success with the Green Peter, landing one of 9lbs at the 'Forestry' while Jackie Deffley took one of 10lbs at the corner of Walsh's.
Trout Angling
Lough Conn
Lough Conn and Cullin Anglers hosted the Joe Moffatt Memorial Cup on Lough Conn recently. Twenty-seven participated in the competition which saw 12 trout measured in total. In first place on the day with three trout for 1.98kg was Michael Monaghan, in second was Mick Dunne with two for 1.69kg and third was Joe Ferguson with one of 1.45kg.