Salmon Angling
River Moy
The prospects of a good spring fish on the Moy are increasing every day as we move towards mid-May, with a very respectable 63 salmon reported for the week. A few good fish were lost on the fly on the Moy Fishery of late, as of yet nothing has been landed.

Juvenile Anglers have great prospects of landing the first fish of the season on the Ridge Pool this Saturday the 11th, as IFI hosts a Juvenile Angling Day as part of National Fisheries Awareness Week. There are plenty of places available for this free event, please see www.faw.ie for full event details or contact +353 (0)96 22788 to reserve a place.

The Ballina Salmon Anglers' water yielded 10 fish over the week, including one of 10lbs for Gerry Seck, and a great fish of 16lbs for Peter McHugh.
The mid-river Fisheries have been relatively quiet in comparison, with just a few from Armstrong's and Gannon's, the Foxford Fishery and Rinanney.

Cloongee recorded 10 fish for the week, including a nice catch for Thierry Colum on bubble and fly, weighing 12.5lbs. However, it was again the East Mayo Anglers Association water which provided the best sport, with 21 fish in total reported, five of those released. Paul McGrath, Swinford had two of 9lbs and 11lbs on the fly, with John Buckley having success on the spinner with a fish of 10.5lbs. Thomas Weiss, Germany had a nice fish of 9.5lbs on fly, while Steven Brown, Knockmore, landed a 9lbs salmon, also on fly (pictured).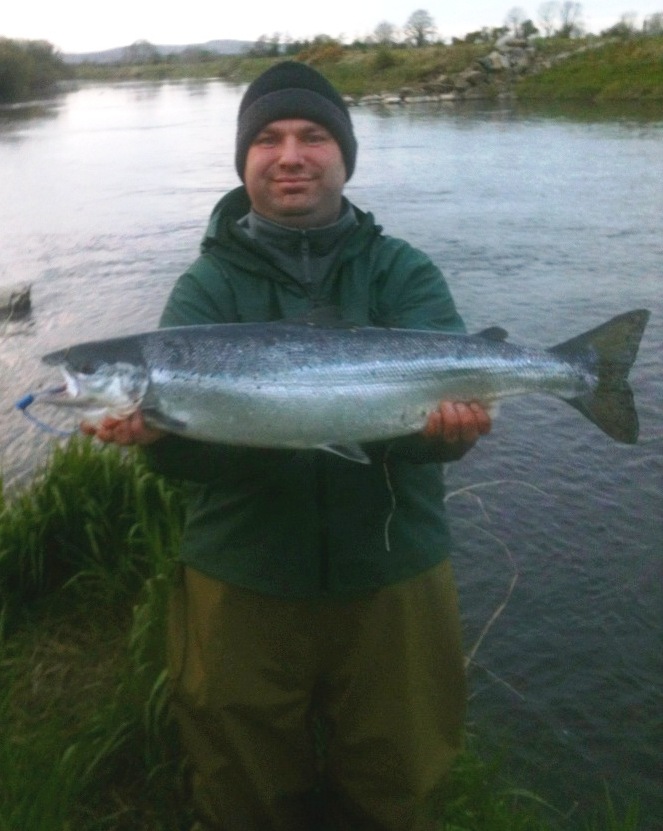 Steven Brown with his fine 9lbs salmon caught on the East Mayo Anglers Association water.



Ballisodare Fishery
Yet another very productive week for the Ballisodare Fishery, with 40 salmon caught and many of those released safely. Conditions were not favorable at the start of the week. However, despite this, Monday saw six salmon landed including fish for J.P. Chenoux, John Murray, Michael Mullaney and Paul McMahon, with all fish ranging from 6lbs - 9lbs.

The following day conditions had improved and six were caught on fly with one to the worm. Both Sean Maye and John Donohoe had salmon of 8lbs; Fechin Mc Morrow Jr. had one of 7lbs while Vincent Henry and James McGuire landed fine fish of 10lbs each.

Ten in total were landed between Wednesday and Thursday, all caught on fly. Luke O'Connell had a fine fish of 13.2lbs, with Thomas O'Donovan Jr., Dermot Glennon, James McGuire and Hilary Mitchell also scoring on Wednesday. Visiting French angler Mr. Dubois had two of 8lbs and 7lbs on Thursday, while Hubert Henry and Denis Crawley also enjoyed success.

Cold temperatures and strong winds made conditions tough throughout Friday and Saturday, despite this eight salmon were landed. Ronan Watters, Christy O'Gara, Adrian Kelly, K. Wilson and Richard Todd were among those who landed fish, with most taken on fly and a few falling to the worm.

Sunday was a much better day for fishing, slightly overcast with a small breeze and not quite as cold as previous days. Nine salmon were caught on Sunday, five of those were released. Anglers who landed fish were Kevin Flynn (8.5lbs), Albert Shaw (6lbs and 7lbs with one released), Dennis Barrett (8lbs), Clive O'Neill (8lbs), Sean Gallagher (7lbs and 5lbs, both released), James McGuire (6lbs) and Vincent Henry (5lbs), with most taken on fly.

Lough Beltra
Good sport was had by many on Lough Beltra on Thursday past (2nd May), with six salmon reported for the day from the Glenisland Co-op side of the Lake. Here, both Ben Baynes and Jackie Deffley boated fish of 8lbs, Pat Burns had one of 9lbs, Danny McAllister recorded one of 11lbs while Rocky Moran landed one of 12lbs.


Trout Angling

Lough Conn and Cullin
Three competitions were fished on the Lakes over the weekend, with Dabblers and Green Peters proving the most productive fly choice at present. Saturday the 4th saw the Annual Competition take place between Dublin Anglers and Lough Conn and Cullen Anglers. This was a catch and release competition, with fish over 11 inches being counted. In total 38 anglers fished, with 53 trout above the limit measured. In first place was Joe Quinn, Cloghans, who had seven trout in total. Second place went to Karol Murren, Sligo, (also with seven trout) and in third was Joe Ferguson, Knockmore, with four trout.

Conn and Cullen Anglers also hosted the Annual Pratt Cup Competition on Sunday. The competition was fished by 42 anglers, who boated 27 trout over the 13 inch size limit. Once again Joe Quinn, Cloghans took top honors, with four trout totaling 2.49kg. Michael Rutledge, Lahardaun took second with three for 2.419kg and in third was Sean Goulding, Dublin, with three for 2.019kg.

Lough Cullen was the venue for the Annual Albert Berry Cup Competition which was hosted over the weekend. There was a 12 inch limit in this event, and the 46 anglers who participated presented 46 trout for the weigh in. In first place were Stan McArt and Jack Spratt, Coleraine, with six trout for 9.68lbs. Second place went to Gerry McCarthy and Paul McArdle, Castleblaney, with five trout for 6.2lbs and in third was Susan and Walter Byrne, Co. Offaly, with four trout for 5.25lbs.

Elsewhere on the lakes, anglers have been experiencing varied degrees of success, with duckfly and olives surfacing intermittently. Fishing out of Gerry Murphy's, Massbrooke, Barry Grehan, Edenderry and Liam McHugh and Mick Sweeney, Loughrea, averaged four trout per angler per day while fishing over the weekend, these fish averaged 1.25lbs and were all released.

In the Cloghans area, Peter Roche had five trout, his best weighed 2lbs and were all taken on wet flies. Out of Pontoon Bridge Hotel, Nicholas O'Kelly, Dallas, U.S.A. reported one trout of 1.5lbs, taken on a Silver Dabbler. James Man, London, also had one of 1.5lbs taken on a Green Peter while Pierre Bernard, Switzerland and one of 1.25lbs. Finally, Dublin duo Robert Scott and Donal Hurley recorded six trout for 7lbs all taken on wets.

Lough Arrow
Many anglers are enjoying very good sport on Lough Arrow, yet as of our latest report no Mayfly have appeared. Notable catches in recent weeks included a trout of 4lbs for Ciaran Cullen and four over two days for David Nelson, his best weighed 3lbs.

In the past week Colin Dodd boated three, with the best weighing 3.25lbs and 5lbs. Daryl Haslan had one of 1.25lbs as did Sammy Burnett. Pat Eyres reported four ranging from 1.5lbs to 2.5lbs while Martin McDaid had two of 1.75lbs and 1.5lbs. Finally Peter Dunne caught four good trout, ranging from 1.75lbs to 4.25lbs.