Salmon Angling
River Moy
Yet another excellent week of spring fishing on the Moy, with a total of 184 salmon reported. Grilse are also making an appearance in the catches, however, many of those reported remain in the double figures, with fish in excess of 19lbs reported for the week. The upper Moy Fisheries, in particular Cloongee and the East Mayo Anglers' Association waters are accounting for the vast majority of catches. However, those fisheries in the lower beats have been producing more fish than of late.
The Ballina Salmon Anglers' water recorded 10 fish for the week, while Knockmore had three, including one of 13.75lbs for Jimmy Geraghty. The Attymass water also had a few, as did Byrne's, Armstrong's and Gannon's. At the Foxford Fishery Willie Behr recorded one of 11.5lbs on spinner, while at Rinanney three were reported.
The Cloongee Fishery yielded an impressive 48 salmon for the week, including two of 11lbs and 12lbs on bubble and fly for Thiery Colum, France. Fellow French angler Manuel Lacocquerie had a good week with four ranging from 7lbs to 11lbs on spinner, with Bernard Pinion, (also France) landing a cracking fish of approximately 20lbs.
However, it was the East Mayo Anglers' water once again which out fished all other fisheries (although it has had an increased angling effort), with 90 salmon reported, 10 of which were released. Daniel Irvine had two nice fish on fly weighing 11.5lbs and 12lbs while Christian Sceiur, France had one of 12.75lbs on spinner. Visiting German anglers also enjoyed success at East Mayo, with Julies Goldberg, Andre Grossmann, and Rene Koenigs all landing salmon of 12lbs, 13lbs and 8lbs respectively.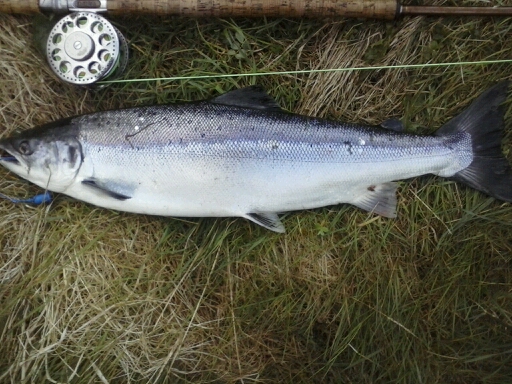 A fine 12lbs springer caught by Daniel Irvine on the East Mayo Anglers' Association water

Ballisodare Fishery
A great week was had at the Ballisodare Fishery, with more grilse starting to appear and conditions suitable for angling for most of the week. This resulted in a total catch of over 100 salmon for the week.
Following from the weekend's heavy rains, the river dropped on Monday to produce 19 salmon, ranging from 5lbs to 13lbs. The best fish of the day was taken by John Murray, on the fly and weighed 13lbs. Tuesday yielded a further 26 salmon, with many taken on fly and nine of those released. Among those to have success were Ms. Una Mullaney, F. Kerins, Paddy Loughlin, Albert Shaw, Pat Hagan and Gunter Hommer, with all fish weighing between 4lbs and 10lbs.
A further 19 salmon were landed on the 15th, with 10 caught on fly and nine on worm. Fish ranged from 5lbs at 12lbs, with seven released. Thursday produced the best sport at Ballisodare for anglers, with 27 salmon caught. More small grilse were making an appearance in catches, although the majority of fish caught weighed between 7lbs and 10lbs. Among those to catch were Chris Kitchen, Michael Wymes, Peter Henry, Brendan Dowley, Uel Wallace, Michael Dixon and Frank Adams.
There were 14 salmon taken on Friday, ranging from 3lbs to 12lbs. Six of these were caught on the worm, 8 on the fly. Anglers who landed fish on the day were Hugh McGuiver, Hugh Cushnahan, Kevin Cushnahan, Stephen Richardson, visiting anglers Miguel and Julio, Michael Dixon, Paddy Loughlin, James Cuffe, Fechin McMorrow and Bill Clinton.
Very heavy rain on Saturday saw the river rise slightly, despite this; nine were caught for the day. By late evening the river was in heavy flood.

Lough Beltra
Beltra continued to produce the goods for anglers over the past week, where anglers fishing the Glenisland Co-op side had good success. Early in the week Michael Dolan had a good fish of 11lbs off Clarke's Point, this was followed the next day with one of 9lbs for Dave Patton, caught at the Quarry. The 18th produced six including one of 6lbs for Manfued Bunzel at Morrisons, an 11lbs fish for Richard McDowell as the Quarry, two of 7lbs and 8lbs at Fahy's for Jonathan Murray and one for Sean Dolan of 7lbs, also at Fahy's. Charles Murray landed one of 8lbs from Morrisons the following day, and on the 20th, Ben Baynes had two of 7lbs and 11lbs on a Claret Bumble.

Trout Angling
Lough Conn and Cullin
Scattered hatches of Mayfly have been observed on Conn over the past weekend, particularly in the sheltered bays of the western shore. However, Olive patterns and Buzzers are still yielding good catches for anglers. Fishing out of Gerry Murphy's, Massbrook, Dieter Muller, Germany spent a week fishing Lough Cullen, and averaged six trout per day, his best 1.5lbs on an Olive. Ronnie Chambers, Belfast, had five trout over two days, his best 4.5lbs from Victoria Bay. Also out of Massbrook were Trevor Doherty and party of six anglers who averaged six trout over four days, with their best weighing 1.5lbs. Tipperary angler Chris Coleman also had success with Olives, averaging three per day over three days, with his best 2lbs.
Out of Pontoon Bridge Hotel, Tom Waslander and Gert Sluis, the Netherlands, boated six trout to 2lbs, all taken on the Georgous George. Jack Mellet and Tom Monaghan, South Africa had four trout while Alan Whelan, Co. Dublin, had one of 2lbs. Ludwig and Armin Pohle, Germany, averaged four trout per day over four days, with their best 2lbs.
Fishing the northern part of Lough Conn, Gordon Wells and Brad Giles, U.K. averaged three trout each over three days, weighing up to 1.5lbs. Stuart King, London landed one trout of 2lbs on a Golden Olive, while Colm Griffin and Pat McNulty, Crossmolina had two each up to 1.5lbs.
Finally fishing out of Brackwansha, Declan Cooke, had two on a dry Buzzer, Harry McCafferty accounted for 14 trout up to 1.5lbs and Peter Roche, Cloghans, had two for 2lbs.
Lough Arrow
The Mayfly has finally begun to make an appearance on Lough Arrow, with ever increasing numbers sported over recent days. It is hoped this trend will continue and anglers can look forward to some exciting dry fly fishing in coming weeks. Among those to report catches in recent days was John Twomey, who had three trout ranging from 1.25lbs to 2lbs. Visiting French angler to the area Cedric Ducouret, landed one of 1.25lbs, taken on the dap while Yvonne Frazer also had one on the dap, weighing 1.5lbs. Finally Simon Steele reported one of 2lbs taken on a Gray Wulff.
Reminder: The Lough Arrow Fish Preservation Association and District Anglers Mayfly Competition has been rescheduled to Sunday 26th May from 10am to 7pm. Entries accepted between 9am and 10am at Flynn's Pier, or by texting your details before start time to Alison on 087 9541835, Karl on 086 8343584 or David on 086 3825376. Entry cost €20 or €10 for Juveniles. No entries will be accepted after this time.
Ballin Lough
Ballin Lough has produced good sport of late, a total of 18 rods fished between 1st - 19th May, accounting for 51 trout, 22 of which were released. Among those to score on Ballin Lough were Mr. McMillan and Mr. Tomlinson, Scotland who fished the 16th May and boated five rainbow and five brown trout, their best fish weighing an impressive 4.5lbs. Castlebar pair Paul Cashlin and Peter Grey caught three rainbow and three brown trout, their best weighed 3.75lbs, with all fish caught on Olive and Damsel patterns. Finally Matt Foley and boat partner, Co. Roscommon had nine trout (six brown) for their day, the best weighing 2.5lbs with all trout taken on Muddlers and Bibios. Boats and permits are available for evening or day fishing and can be obtained from Tom Gill by contacting +353 (0)86 6096514.