Salmon Angling
River Moy
Yet another impressive week for spring salmon on the Moy, with grilse now also appearing in greater numbers. The total reported catch for the week was 221 salmon, including the first of the season for the Moy Fisheries Ridge Pool, a 6lbs salmon caught on the fly and released by visiting Spanish angler Enric Salvans. The Ballina Salmon Anglers' water produced 12 salmon, while at Mount Falcon, David Martin, England, had one of 10lbs on a spinner.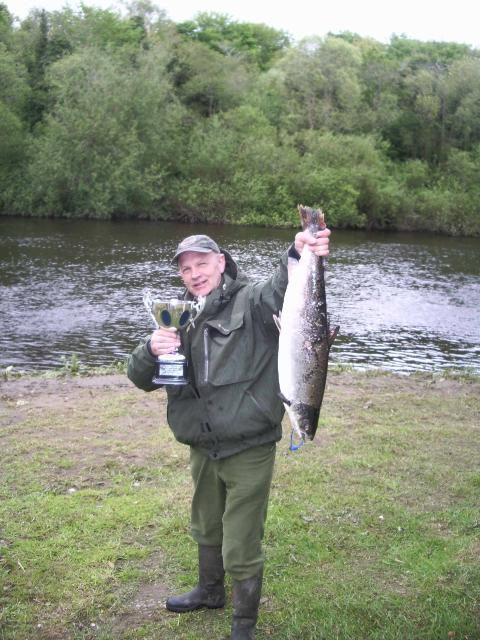 Brian Moore, Co. Down, 9.75lbs, on the Bubble and Fly. First fish of the season on the Coolcroonan Fishery.
The mid river fisheries have begun to experience better fishing, including Coolcroonan, where Brian Moore, Co. Down, caught one of 9.75lbs on the bubble and fly. Armstrong's and Gannon's yielded more fish than on previous weeks, and at the Foxford Fishery, 14 were caught. Among those to have success at the Foxford Fishery were Paul Tibbits, U.K. who had two of 5lbs and 10lbs on spinner and his son Christopher who also had one.
Rinanney and the Foxford Town fisheries also had a fair number of fish and at Cloongee, 30 were recorded. Jez Leech, U.K. had two of 11lbs and 9lbs, Daniel Duguin, France had two of 8lbs and 6lbs, Phillippe Dezitreer, (also France) had two of 11lbs and 12lbs while fellow French angler Nanard Bozec also had two of 9lbs and 11lbs.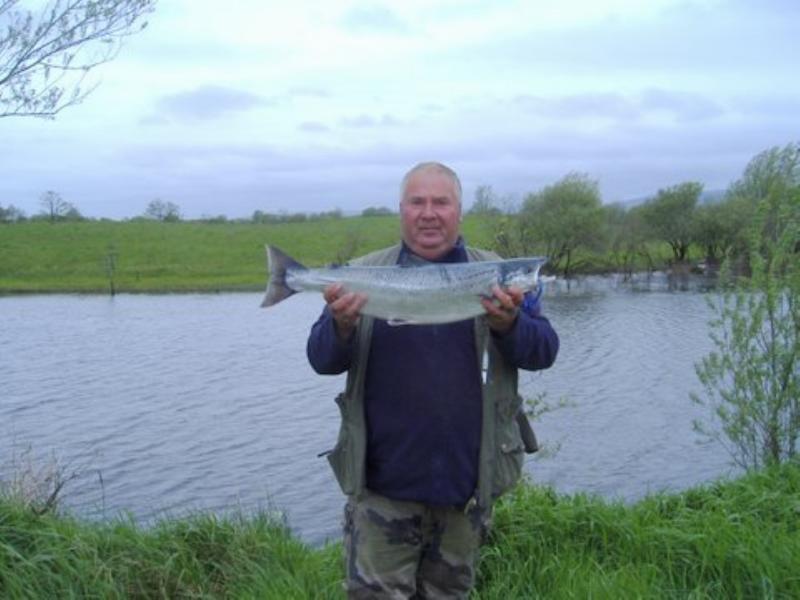 Daniel Duguin, France, with one of two fine fish he landed at Cloongee.
The East Mayo Anglers Association has continued to yield great catches, where 74 were recorded for the week. Among those to capture fish at East Mayo were Claud Grosjean, Belgium, who had one of 12lbs on worm, Garret Rugrock, Dublin, had two on the fly of 5lbs and 7lbs, Marco Feltais, Germany, had one of 9lbs while Jurgen Kutesche, Germany had one of 11lbs (both fish on fly).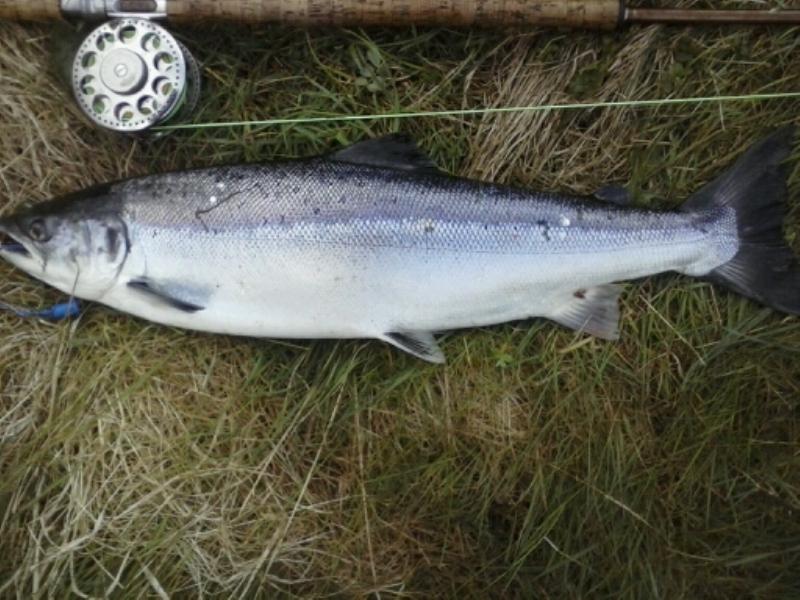 Daniel Irvine: Salmon 12lb caught on East Mayo Anglers water on fly
Ballisodare Fishery
A total of 87 fish were caught for the week at Ballisodare, with conditions more suitable for anglers than in the previous week. Sixteen salmon were caught on Monday, with seven of those released. Tuesday saw 15 landed, 11 of which fell to the fly. Among those to capture salmon were P. Scallan (10lbs), Michael Henry and Liam Rainey (who had two grilse each), Hugo Marren who had two of 12lbs and 10lbs and Dermot Glennon who also had two weighing 7lbs and 9lbs.
Wednesday was slightly quieter at the Fishery than the previous two days, with 10 salmon caught. Five of these fell to the worm with 5 taken on the fly. All fish were between 4lbs to 9lbs in weight. Anglers caught twelve fish on Thursday, 8 on fly while 4 were caught on worm, with 4 released. Anglers who caught on the day were Larry Mitchell, Paul McGrory, Stephen Cassols, John Connolly, F. Kerins, Eamonn Ruddy, F. McMorrow, Sean Maye, Hugo Marren, Vincent Henry and Dermot Glennon. Fish ranged from 3lbs to 10lbs.
Seven were caught on Friday, with four of those caught on fly and released while Saturday saw 11 fish caught, the majority on the fly, 5 of which were released. Sixteen were landed on Sunday, ranging between 4lbs and 9.5lbs. Sean Gallagher, John Connolly, Vincent Brady, Tom Colgan, Albert Shaw, Clive O'Neill and David Marron were among those to have success, as well as two visiting anglers.
Lough Beltra
Glenisland Angling Co-op on Lough Beltra have reported some great spring fishing on the lake, with many fresh run fish caught this week.
On Monday, Ben Baynes had two salmon at Morrison's of 7lbs and 11lbs on a Claret Bumble. The following day Paul Norman landed an impressive 14lbs salmon after an epic struggle. Wednesday produced better returns, when Andy Bowman had one of 9lbs at the Buoy, Ian Dunderbell took one of 7lbs at Fahy's, James Burns landed one of 8.5lbs at Flanagans Bridge and released one of 10.5lbs at the Dock.
Most of those fish caught the following day were reported to be very fresh, when Frank and Declan Dooley had one each of 9lbs and 8lbs respectively, Jackie Deffley boated one of 11lbs at the Dock. Larry McAlindin scored with a Dunkeld, as he landed a 12lbs fish at the Dock while Manfued Bunzel had one of 8lbs at Morrisons.
Many fish have also been landed from the Newport House side of Beltra, and the Newport River has also been producing some good sport of late.
Carrowmore Lake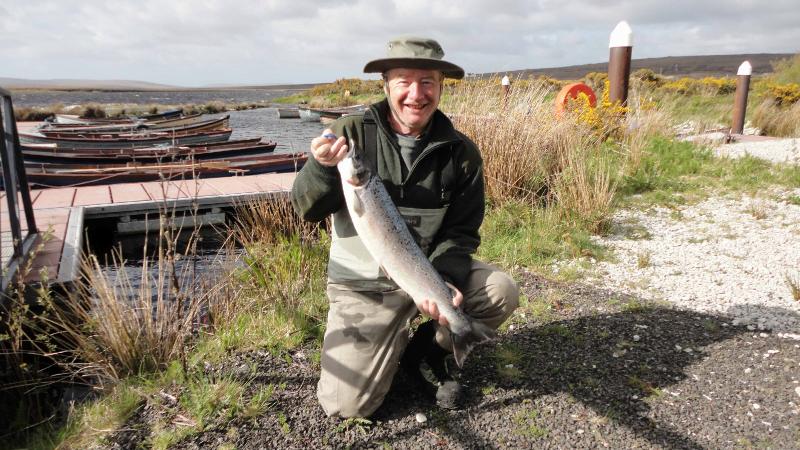 Dr. George Oswald, with his fish of 6.15lbs, caught on Carrowmore on Thursday 23rd May in very testing conditions.
River Bonet
The Dromahair area has produced some fish on the River Bonet, where Martin Curley had one in early May of 13.5lbs and a second of 9lbs, both on worm. John McHugh also had one of 7lbs to the worm with Kevin McDonnell, Cavan, landing one upstream of Dromahair village of 9lbs on a 'Flying-C'. A remarkable catch on the river has also been reported: Liam O'Donnell landed a fine trout of 7lbs 1oz while spinning.
Garavogue River
The Garavogue River has produced good sport for some anglers in the past few weeks. Basil Harte, Sligo reported three salmon, all caught on the spinner, including one nice fish of 14lbs and two of 9lbs. Adam Kelly caught one of 8lbs with Noel McCafferty landing one of similar size. Ollie Conlon had one of 9lbs, also spinning while M. Monaghan landed one of 4lbs.
Trout Angling
Lough Conn and Cullin
The mixed and changeable winds on the Loughs over the past week have led to very changeable conditions, resulting in mixed results for anglers. Small Olives have still been hatching in relatively large numbers in some parts, while Mayfly hatches remain rather localised. Anglers have been having success on both wet and dry flies, depending on conditions with dry Mayflies, Wulffs, Olives, Dabblers and Green Peters all accounting for fish.
The Annual Crossmolina Angling Club Competition was held on Sunday 26th, where 21 anglers weighed in 17 trout over the size limit. In first place with five trout for a total weight of 3.7kg was Michael Rutledge, Lahardaun. Martin Mulhern, Errew, Crossmolina came second with three trout for 2.8kg, Michael Monaghan. Knockmore, was third with four trout for 1.9kg while Sean Goulding, Dublin was fourth with one for 1.7kgs.
Fishing from the Cloonamoyne Fishery, Canon John Flynn and son had over 40 trout for six days fishing, all taken on small dry Olives, and averaged 1lbs. Peter McAlan, U.K. and John Warren, Errew, averaged ten trout over two days, with their best 2lbs. Ian Wise, Crossmolina averaged three trout a day over the week, all on the Fiery Brown and Sooty Olive.
On the Cloghans / Brackwansha side, Peter Roche reported boating seven trout his best 2lbs with the Olive proving his most successful fly. John Burke, Toomore had four trout, his best 3lbs all on a Bibio. Padraic Traynor had seven up to 1.5lbs, all on dry Mayfly while Mick McNeely, Mullingar, averaged four per evening up to 1.5lbs. Harry McCafferty, Ballina averaged three per evening over the past week, and Michael Ruttledge fishing with Sean Goulding had eight trout each on Saturday past all on Mayflies, up to 2lbs.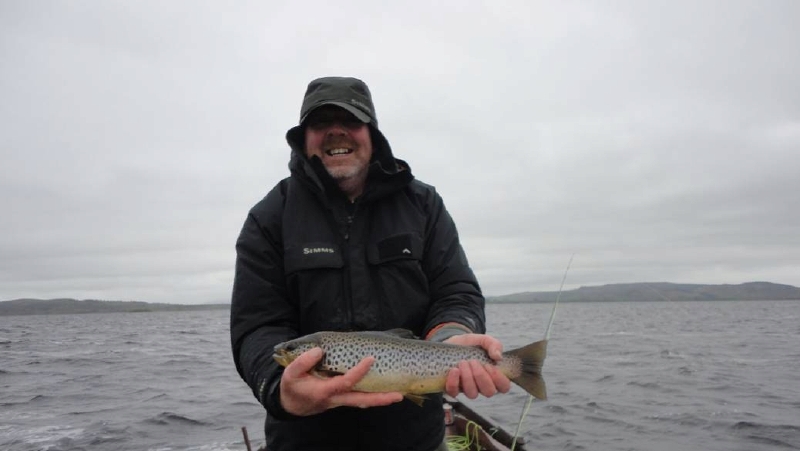 Rab Richardson with a fine trout of 3.5lbs taken on Lough Cullen recently.

Fishing from Pontoon Bridge Hotel, Edward Allen and David Orsler, U.K., recorded ten trout to 2lbs with most falling to the Claret Dabbler. Geoffery Cooke, U.K., averaged six per day for the week with the Green Peter and Olives proving successful. Jack Mellet and Tom Jordan, Castlebar averaged five each per day over two days, with fish up to 2lbs and the Royal Wulff proving successful. Vinnie O'Boyle fishing with Richard Molloy, U.K., reported four trout, up to 2.5lbs all on a Green Peter.

Fishing out of Gerry Murphy boat hire, Massbrook, Paul Connolly and Ray Stewart had six trout on Lough Cullen with their best 2.5lbs on a Grey Wulff. Ronnie Chambers, Belfast had three trout to 2lbs in Castlehill and Victoria Bays. Norman Weil, Austria returned ten trout and retained two while Mike Sweeney and Barry Greham, Co. Offaly, had four each to 1.5lbs. Finally Chris Coonan, Co. Tipperary, boated ten trout, his best 3lbs.

Chris Massey reported on fishing Cullen over two days with Rab Richardson on the 20th and 21st. They had 18 trout over the two days, with fish up to 3.5lbs, despite conditions being difficult in a strong northerly wind.

 

Lough Arrow
Angling on Arrow has improved somewhat in recent days, with much better hatches of Mayfly and the prospect of Spent Gnat fishing looming in coming days. The Lough Arrow Fish Preservation Society and Angling Association hosted their Annual Mayfly competition on the 26th May. This was a heaviest fish competition, and winning top honors was Sarah Frazer with a fine trout of 3.04lbs. Karl Murrin was second with one of 2.69lbs, Robert Saddler came third with one of 2.33lbs, Rory Hughes was fourth with Francie White coming fifth. Mark Hughes won the Juvenile Competition, with his catch which weighed 1.74lbs. Many fish were caught and released during the competition, with anglers reporting a productive day on the lake.

Sea Angling

Killala Bay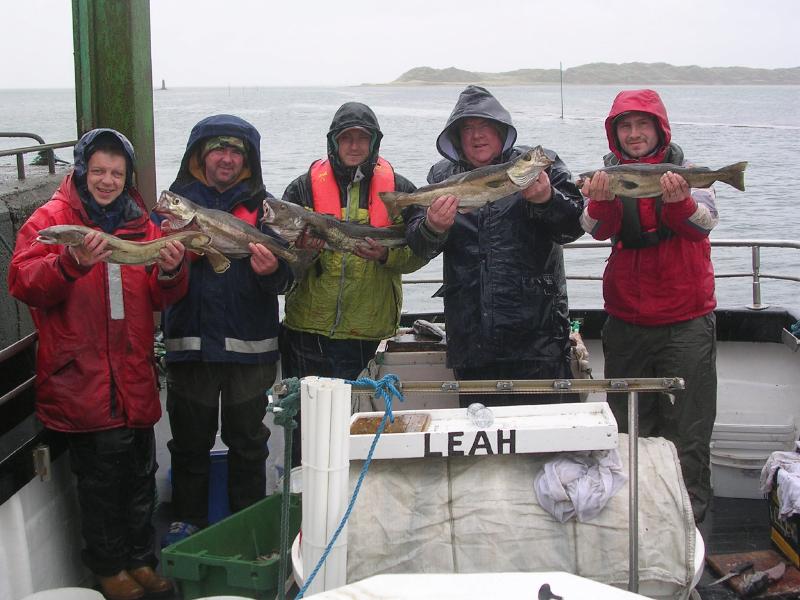 Wet but contented anglers display some of their catch onboard the Leah.

On Saturday, 25th May a party of anglers from Drogheda set out from Killala Harbour aboard the "LEAH" for a days fishing in the Bay. The weather was reasonable, winds were moderate south west with overcast skies and rain predicted for later. The anglers were not deterred by this and were not disappointed with the fishing which got better hour by hour. Among the days catch was six fine cod with the best approximately 8lbs. The party covered a shoal of coalfish too with many fine fish landed up to 5lbs. Up to 60 were landed with many more released. The next drift produced some fine ling (up to 8lbs) and pouting. Mackerel were also in plentiful supply with some fine big ones caught. Another bonus for the anglers was the appearance of herring with about 30 being caught to the surprise to most onboard. To charter the Leah for a days angling on Killala Bay, contact Skipper Donal Kennedy on +353 (0)868174509.

 

Broad Haven Bay
Belmullet Sea Angling Club, in conjunction with the Broad Haven Bay Hotel and IFI hosted their Juvenile Sea Angling day on the 26th onboard An Gearoídín. This day was postponed during Fisheries Awareness Week due to the weather. The morning started dull and overcast, with some strong gusts, despite this the sea swell was very small. Three trips in total were held, with juveniles fishing around Erris Head, Kidd Island and the Stags. Mackerel were difficult to find in the morning but the afternoon trips yielded better catches. Other species caught were coalfish, pollack, ling, gurnard and wrasse.

To book fishing on An Gearoídín, please contact the Broad Haven Bay Hotel on +353 (0)97 20600.