Salmon Angling
River Moy
Lower water levels have assisted efforts on the Moy Fishery, where 29 salmon were recorded for the week, 26 from the Ridge Pool and three from the Weir Pool. More fish are now holding in the Ridge, now that conditions have stabilized. Peter Conmy had success on the Weir Pool, with two salmon, including one of 11lbs taken on the fly (see image below).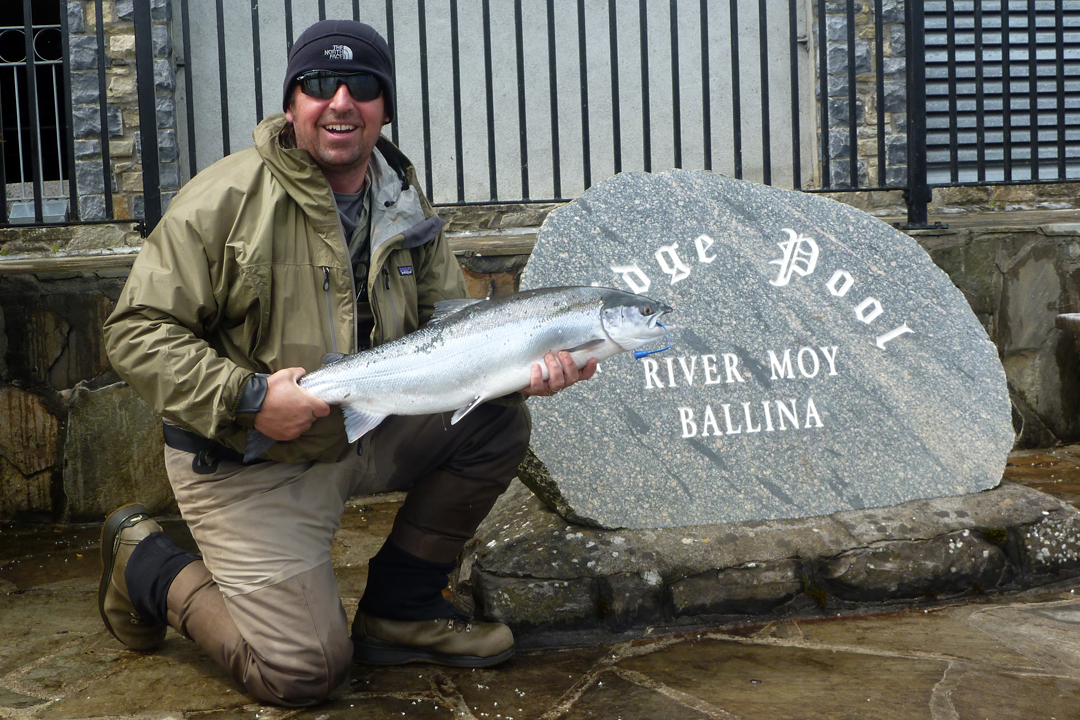 Peter Conmy, with a fine 11lbs fresh run salmon taken on the Weir Pool.
On the Ridge Pool, U.K. anglers John Cobb and Lynda Rickett both enjoyed success, with John recording two grilse on fly, Lynda landed three also on fly, two of 4lbs and one of 5lbs. Philip Donoghue also had three, between 4lbs and 4.5lbs.
The Ballina Salmon Anglers' water has been yielding fish following each tide, with over 90 reported for the week. The Mid River Fisheries, Mount Falcon, Knockmore, Attymass, Coolcronan, Byrne's, Armstrong's all enjoyed limited success, however, these fisheries should begin to produce much greater numbers, now that conditions have improved. Among those anglers to have success at these fisheries were Hugh Marshall, N.Ireland, who had one of 6.5lbs on prawn at Coolcronan, and John Marshall, also N.Ireland, who had one of 8lbs from Gannon's.
The Foxford Fishery recorded just over 20 for the week, including a first for Steven Doman, U.K., who went on the catch five in total for his two days at Foxford, his best weighing 7lbs. The Foxford Salmon Anglers' waters also produced good sport, as did Rinanney. The Cloongee Fishery yielded over 50 salmon for the week, where Jean Michel Dinhut, France, had five for the week spinning, Stephen Brennen, had a nice fish of 11lbs on worm, while Peter Clough, U.K. had three on the worm, his best was 5lbs. The East Mayo Anglers' water once again enjoyed some great sport, with over 80 reported for the week, 17 of those released. Fly anglers enjoyed some exciting fishing, with Wayne Byrne, N.Ireland landing two of 4lbs and 10lbs to the fly, Deitmar Janeau, Germany, had one grilse also on fly, John Lefere, France, had two grilse with Kevin Wilder also landing two of 6lbs and 8lbs (all on fly).
With little rain forecast for the coming days, the river should continue to fall with the prospects looking very good for the coming weeks. The Moy Fishery is hosting its annual Juvenile Angling Day on the Cathedral Beat in Ballina on Monday, 8th July. Rods, tackle and tuition are available free on the day with the event open to anyone 17 years or younger. Angling will commence at 9.00am and finish at 6.00pm. Those wishing to participate should call Inland Fisheries Ireland - Ballina on +353 (0)96 22788 to book their place.
Ballisodare Fishery
Another very successful week at the Ballisodare Fishery, were 188 salmon were recorded for the week, 55 of those were released. The week got off to a good start with 35 salmon landed on Monday, ranging in size from 3lbs to 6lbs, with most taken on fly and prawn. Among those to have success were Roy Simpson, Clive O'Neill, David Kiernan, Frank Kelly, David McCaffery and Jim Curran.
There were 30 in total on Tuesday, with the majority caught on prawn and worm. Dom Moran, Paul Lee, Joey Lee, Liam Gilsenan, Marcus Kennedy, Jim Keenaghan, Noel Burns and Niall Taylor were among those to land fish. Wednesday produced 41 fish, 16 of which were released. Most fish were caught on the fly while some were caught using prawns and worms. Some of the successful anglers were John Savage, Jonathan Kennedy, Pat O'Sullivan, Tony Doherty, Roy Cooper, James Cuffe and Luke O'Connell.
Thursday was a much quieter day on the river, with fewer anglers fishing. In total 15 fish were caught, with half of those released. Fourteen fish were caught on Friday, 6 of which were released. Anglers who had success were Philip Sode, Christy O'Gara, Hillary Mitchell, Noel Corrigan, John Connolly, Michael Henry, Noel McGowan, Alexander Mills and John Connolly.
Saturday produced 26 fish, 14 of which were released, again, the majority taken on the fly with several others falling to the prawn. Fish were in the range of 4lbs to 6lbs, with Noel Fairbanks, Eamonn Ruddy, Ricky Fabozi, J.J. Sullivan, Kevin Flynn, B. Walsh, Jim Connell, Seamus Brogan, Noel Burns, Trevor Goulden, Louis Bowden, Francie Kerins, Larry Mitchell and Marcus Kennedy among the successful anglers.
Anglers had 27 fish on Sunday, mostly caught on the fly with 10 released and all fish ranging between 3lbs to 5lbs. Anglers who had success were John Scanlon, Anna Davey, Graham Tuck, Thomas O'Donovan, Paul Costello, Michael Canova, Simon Canova, Albert Shaw, Tony Scallan, Fechin McMorrow, Denis Barrett, Bernard Harte, Jim Connell, Tom Sharkey and James Cuffe. To fish the Ballisodare Fishery, please contact Dermot Glennon on +353 (0)862515064.
Trout Angling
Lough Conn and Cullen
Conn has gotten a little quieter in recent weeks, however, some anglers continue to have good sport fishing a variety of patterns, including Buzzers, Dry Olives, Green Peters, Dabblers, Wulff's and Spent Gnat Patterns.
Fishing the Crossmolina end of the lake, Brian Melvin, Co. Cavan, had six trout, his best 3lbs in the Bog Bay area, on dry flies. Gerry Durcan, Tomas O'Neill and son Ryan boated 10 trout, up to 1.5lbs, all on wet flies. On the Brackwansha and Cloghans side, Patrick Ward and Richard Murray averaged three trout each over two evenings, while Harry and Mick McNeeley also averaged three each per evening, up to 1.5lbs on Dabblers. Peter Roche had four trout for an evening off the Brackwansha shore while fishing wets.
Out of Pontoon Bridge Hotel, fishing Lough Cullen, Sonya Rainey, Sligo/Belfast had good success fishing the Olive Bumble, where she boated two trout for 2lbs, a sea trout of 1.25lbs and also landed a salmon while trolling. Stephen and Richard Lusty, Belfast, had three trout averaging 1lbs on dry Olives, while Damien McInerny had two for 3lbs, also on dry Olives. Ian Fox, Co. Dublin, accounted for 6 trout, average size 1.5lbs, on various dry patterns. Michelle Leidi, London, fishing with Jack Mellet averaged seven trout per day over two days, again on dry patterns.
Pat Moores and Pat Kearins, Manchester, boated seven trout on Buzzers, up to 2lbs weight.
Fishing from Gerry Murphy's boat hire, Nigel Williams and David Uff, U.K. recorded five trout and a grilse on dry Olives. Trevor Doherty and boat partner landed four trout each while Bill Stewart, Pontoon, had five, average size was 1.5lbs. Jack Lynch and Graham Williams, had four trout each on Cullen, on wets, Green Peters and Dabblers.