Salmon Angling
River Moy
A change of conditions would be very welcomed by most anglers the Moy system now, following another spell of 'unseasonably' dry and hot weather. The river is at an extremely low level at present, and perhaps for the first time this season, the Moy Fishery has produced considerably more fish than the East Mayo Anglers' waters which are in serious need of fresh water to liven things up. Fresh fish continue to enter the river despite of the low water, although once they move up the system they appear unwilling to take.
The Moy Fishery recorded 43 salmon for the week, 25 of these from the Ridge Pool, a further 12 from the Cathedral Beat and two off the Weir Pool. On the Weir Pool, Brendan Garland, N.Ireland released two, while on the Ridge Pool Walter Norton, U.K. and Alan McClure, N.Ireland, had one each weighing 4lbs, with Michael Mills, U.K., also landing a grilse weighing 4lbs.
On the Cathedral Beat Michael Mills had a further two grilse on fly, with Eddie Good, N. Ireland, and Garrweth Byrne also landing two fish apiece. Both the Ballina Salmon Anglers' water and the Mount Falcon Fishery enjoyed a reasonable week, while Knockmore, Attymass, Coolcronan, Byrnes, Armstrong's and Gannon's reported low numbers for the time of year, as the hot weather is affecting even these lower fisheries.
The Foxford Fishery had a good week, with a group of German anglers among those to have success, the Fishery recording 29 salmon in total for the week. Rinanney also had a relatively productive week, with over 20 fish reported, including one for Thomos Murtagh, Germany, on the prawn.
Upstream of Rinanney, most fisheries reported a very poor week (considering the time of season), including Cloongee and the East Mayo Anglers Water. At East Mayo, Ron Rovhurst and Clive Richards (both U.K.) were among the very luck few to score, both landing grilse taken on fly.
Ballisodare Fishery
Ballisodare Fishing Club hosted its annual Juvenile Angling Competition on Sunday July 14th, with over 80 young anglers participating. Unfortunately water levels and weather conditions were not great on the day, being very warm bright and dry. Despite this however, an extremely successful day was still had at the fishery, with over 70 salmon caught for the day! Those caught were in the range of 1.05lbs to 13.53lbs, with most taken on the fly. Overall winner of the competition was Luke Colgan, Ratoath, Co. Meath with a great fish of 13.53lbs caught on the fly, well done to Luke!
Individual category winners on the day were:
Heaviest salmon on the worm - Cathal Gordon (8.52lbs)
Heaviest salmon on the fly - Sean O'Hehir (5.78lbs)
Best Visiting Angler - Finn Gallagher (5.57lbs)
Best Club Angler - Owen Gallagher (4.96lbs)
Youngest Angler - Jack Burns (4.88lbs)
Best Lady Angler - Brianna Brady (4.76lbs)
Heaviest on the prawn - Kyle Conway (4.07lbs)
Smallest Fish - Arron Stewart (1.04lbs)
Ballisodare Fishing Club would like to say a big thanks to all who participated on the day and who helped make the day such a big success including club and river members, all sponsors, kids who took part, parents and Inland Fisheries Ireland, without whom this great event would not have been possible.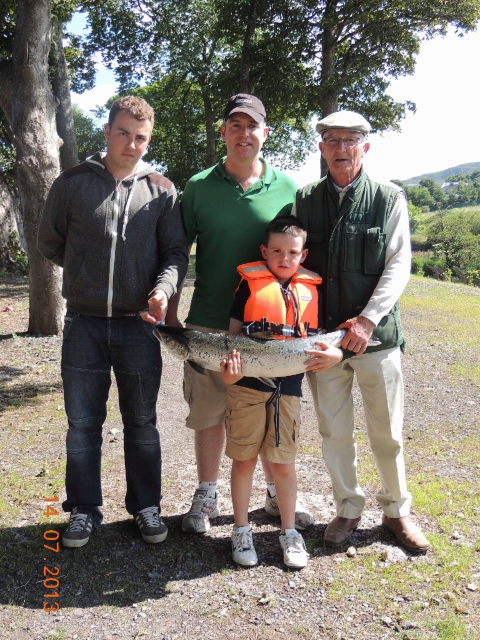 Young Luke Colgan, Co. Meath, pictured with his excellent catch, which won him first place at the Ballisodare Fishery Annual Juvenile Angling Competition.
Throughout the week the Fishery has been much quieter than of late. Due to the conditions and warm weather, many anglers have not fished during what would normally be a very productive fishery. Despite this, the Fishery enjoyed a great Juvenile day, although earlier in the week the numbers of fish caught reflected the low angling effort and conditions. Monday 8th saw 12 salmon recorded, all between 3lbs and 6lbs, most taken on worm. Seventeen were caught on Tuesday, seven of which were released. Most of these were taken on the prawn however, some anglers had success on fly, with the average fish size just 4lbs.
Wednesday was very bright and warm, very unsuitable for fishing and as a result only 8 were caught, which, considering water levels and weather was still a reasonable day.
A further 11 were caught on Thursday, 10 of which were released, mainly on fly and prawn, with just one on worm. Anglers landed 10 fish on Friday, ranging from 3lbs to 8lbs, all taken on fly and prawn. Saturday saw 14 landed, nine of which took the fly, with eight released. Five were caught on the worm. James Cuffe was among those to score, with a fine fish of 10lbs taken on the fly and safely released.
Sea Angling
Killala Bay
Skipper of the Leah, Donal Kennedy reported that a party of anglers from Drogheda, Tuam and England set out from Killala Harbor in near perfect
Conditions on Thursday 12th past. Expectations were high among the anglers as conditions would allow the group to explore further out in the bay in deeper waters. They were not disappointed as drift after drift produced some fine ray of many different varieties; blonde, spotted, cuckoo and thornback. Seventeen in total were boated, with 14 of those safely returned to the water.
As the group moved further out the bay a drift produced good pollock up to 8lbs, with some 30 being caught with many returned. Pouting were also caught along with coalfish. Mackerel were also taken at a steady rate, with some fine sized fish landed.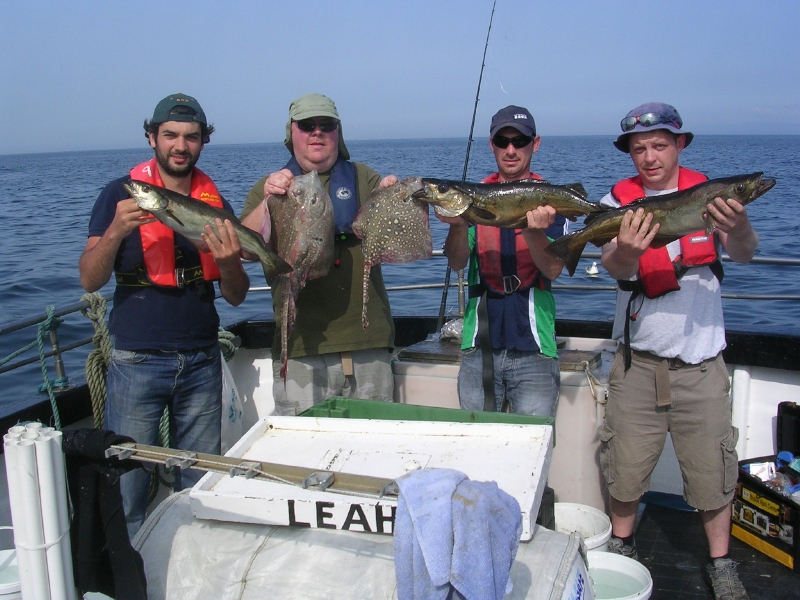 Some fine catches upon the Leah on Killala Bay.