Salmon Angling
River Moy
A great improvement in fortunes on the River Moy over the past week, as prolonged rains and frequent rises in water levels freshened the system. In total just over 400 salmon were reported for the week, with all fisheries enjoying good sport.
On the Moy Fishery, there were 14 landed, with eight of those from the Ridge Pool. Among those to score on the Ridge were Franz Lohmar, Germany with one of 6.1lbs on fly, and Rudolf Schweissthal, also Germany who had four on the fly. There were also five caught on the Cathedral Beat and one from the Point.
The Ballina Salmon Anglers' water enjoyed a good week with 38 recorded while at Mount Falcon, 22 were caught, 17 of which were released. The Knockmore waters' through to Gannon's all enjoyed a good week, with recorded catches ranging from 12 to 60 per fishery. At Coolcroonan, Eugene Farrell and son Evan had one each on the worm.
The Foxford Fishery too enjoyed a successful week, with 26 recorded while Rinanney produced over 50 salmon. There were also reasonable catches reported from around Foxford town, while upstream at Cloongee there were eight caught, seven of those released. Visiting French angler Stephane Legentilhomme, had two on spinner at Cloongee, both released.
Finally the East Mayo Anglers' water produced very good sport, with 57 recorded for the week, 38 of those released. Visiting anglers to the area were among those to have success at Cloongee, with Walter Mielke, Germany landing two grilse on fly, and Miguel Sanz, Spain, accounting for four grilse, also on fly.
Photographed below is former Scotland Rugby International and British & Irish Lions member Rob Wainwright, who took a break from the saddle to fish the Moy Fishery, during the CROSS Rugby Legends Malin to Mizen Head Charity Cycle which passed through Ballina.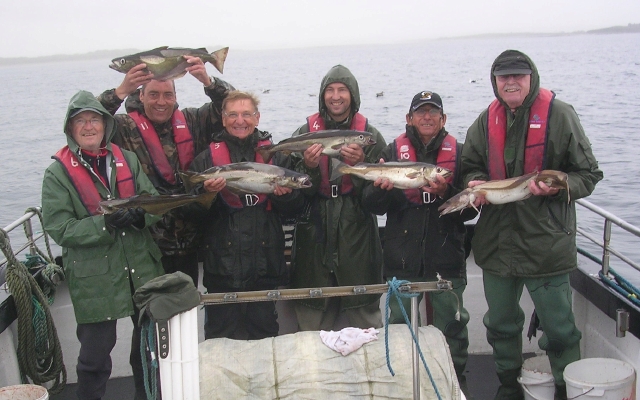 A happy party of French anglers who were enjoying a fishing holiday in North Mayo recently.
Burrishoole
Another relatively poor week for angling at Furnace, with a total of just three salmon and three sea trout caught for approximately 100 rod hours fished. Bernard Wojnar and Des Barker, Co. Dublin caught all three salmon and the sea trout. Conditions towards the weekend were very windy making angling extremely difficult if not almost impossible.
Glenamoy
Angling on the Glenamoy River has picked up considerably of late, with numerous catches recorded over the past few weeks. Among those to have success were Mel Fitzpatrick, 7lbs, Edward Murphy, 8lbs and Brian Fitzgerald who had one of 10lbs and a sea trout. Mark O'Connor and John Meenock also enjoyed good sport, both landing salmon, as did Pat Conway, 5lbs, Frank Rafter, 7lbs, Mervyn Conway who had a grilse and a sea trout and Tom Gallagher who also had a sea trout and a 7.5lbs salmon.
Owenmore
With the recent rains, fish and indeed the fishermen have become active on the Owenmore system once again. However, there have been no reports of fresh run fish of late. Among those to release fish over the past week were Martin Mason, Jim Mills, Mick Noone and M. Müller.
Garavogue
Some anglers have enjoyed good sport on the Garavogue of late, with some nice catches reported. Early in the month, Ciaran McLaughlin had a very nice fish of 14lbs while spinning. Paddy Connelly had a grilse to the fly, with Adam Kelly also landing a grilse of 5lbs while spinning. Finally, Michael Mc Morrow landed a grilse of 4lbs on fly.
Drumcliff
Reports of catches from the Drumcliff system have been sparse of late; however, some anglers are enjoying success. Tony O'Donnell landed two 5lbs grilse on the worm in the past week, while Darren O'Malley had one of 6lbs on the prawn. Jim Fox also recorded a grilse of 5lbs.
Ballisodare
Things have slowed down considerably at Ballisodare during September, however, a flood did hit the river during the first week of the month. Following this, as the river dropped some good fishing was reported, with several anglers releasing a number of fish (approximately 14) over the space of a few days, all on the fly. Some good fish of 6lbs and 7lbs were recorded. All fish were released. Angling effort has been low since then, yet the water level remains a suitable height for angling at present, with some good fish observed each day coming in on the tides.
Trout Angling
Lough Conn
Wind badly affected conditions on Conn at the end of the week, but many hardy anglers found shelter and continued to fish. Others enjoyed good success in the early part of the week, with the Octopus and Green Peter again proving to be highly successful flies. The southern portion of the lake appears to be fishing better than the northern half at present.
Fishing out of Pontoon, Derek Murphy, Co. Dublin and Celia Mc Bride, Co. Kildare boated four trout up to 1.5lbs on wet flies. John Cagney, New York, had good sport fishing dry Wulff's, with three trout, his best 2.25lbs with all released. James and son Shaun Sheridan, New Jersey, enjoyed good sport over three days when they had 11 trout, the best 2 lbs, all on Octopus and Daddies, four perch and a pike weighing 6 lbs.
Regular visitors to Murphy's Boat Hire, Liam Mc Hugh and Michael Sweeney, Co. Offaly and Co. Galway had six trout between them over two days, all returned, in the Massbrook area on wet flies. Also fishing out of Murphy's, Martin Foley, Co. Dublin had two trout for 3 lbs on the Green Peter. Thomas Reape and James Browne, Co. Galway, recorded seven small trout taken on Daddies, averaging 1lbs.
Fishing the Crossmolina side of Conn, Shaun Concannon, Manchester, had one trout for 1.5 lbs on a dry Daddy in Bog Bay. Will Ryan and Aidan Harper, Co. Limerick had four trout and four perch, their best weighing 1.5 lbs on wet patterns.
The Kieran Lynn Memorial Cup Competition was hosted recently on Lough Conn out of Murphy's Boat Hire, Massbrook. Winning first place and a prize of 500 was Michael Noone, Lahardane with one trout for 838g, in second was John Sherdian, Foxford, with one of 674g and in third place was Derek McBride, Dublin, with one of 520g.
Sea Angling - Killala Bay
Donal Kennedy, skipper of the Leah, reported on another recent outing on Killala Bay. On Wednesday, 11th September, a party of anglers visiting from France set out from Killala Harbour for a days fishing in the bay. The party were holidaying in the Mayo area, enjoying the variety of lake, river and sea fishing available. Conditions at the offset would have deterred many the holiday maker, with the very day was dull, raining and a moderate north westerly wind which produced choppy sea conditions. This did not deter these keen anglers who were well prepared and protected from the weather.
On the first drift they caught plenty of mackerel for fresh bait and then moved onto a sandy area in search of ray, only to tempt many LSD'S to the baits. Moving away from this area and further out to deeper waters, a drift over rocky ground produced gurnard, pouting and small pollock. Our second drift here however, did not disappoint as the party were into some fine Pollock, the best up to 7lbs. As the day progressed more fine fish were caught including cod, ling, pouting and more LSD. The best ling weighed approximately 7lbs. The party returned to harbour, happy with their day and looking forward to a fine fish supper with some of the days catch.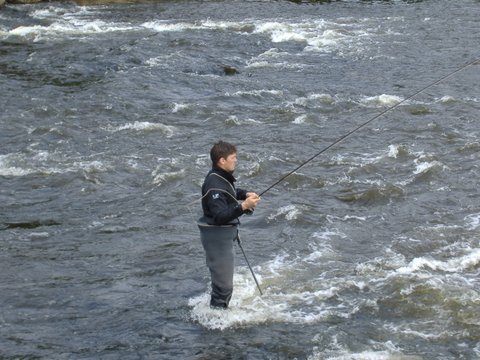 Rugby Legend Rob Wainwright trying his luck on the world famous Ridge Pool.