Sea Angling
Killala Bay
On Saturday morning, 5th October 2013 a party of anglers from the Tubbercurry area gathered to head out for a days fishing in Killala Bay. The party comprised was a gathering together of friends who had just returned from distance lands after the summer. As they set out the day was a little dull with some outbreaks of sunshine. The only concern was the stiff south easterly breeze, which made for a fast drift, and on the change of tide, choppy seas.
In the initial drifts the group came upon a good shoal of mackerel, ensuring a ready supply of fresh bait. A variety of feathers and baited traces were deployed, and soon the group was into Pollock, the best up to 5lbs with pouting also featuring. The surprise came when one of the anglers using mackerel feathers hooked into a large fish only to have it break free. A second angler then hooked a fine fish still using feathers and managed to bring it to the side of the boat and identified it as a large spurdog, only to have it break the line. The next few hours there was good sport around the boat, with many spurdogs being caught and released.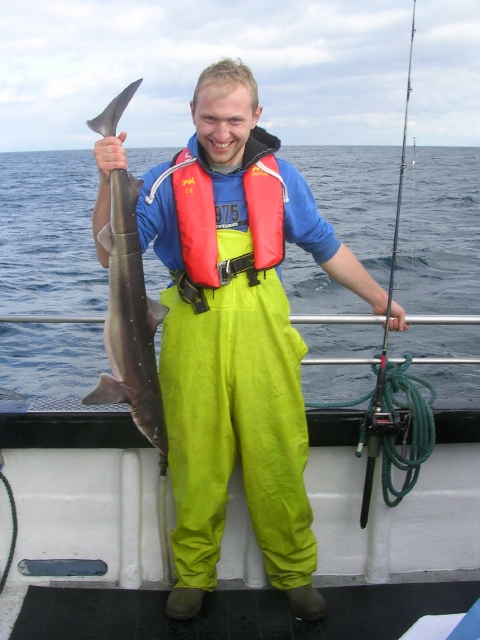 The next fish hooked was by Lorcan O'Connor and seeing the rod bend double, they knew it was a good one. After a strenuous fight the fish was landed, a fine spurdog, a potential specimen fish contender. The fish was taken back to the quay and weighed in, on registered scales at 7.135kgs / 15.6 lbs a cracking fish. Details of the capture are being forwarded to the Irish Specimen Fish Committee for ratification, well done to Lorcan for his catch.
Pike Angling
Lough Conn
On his first ever day fishing in Ireland, Fin Kasper from Flensburg, Germany, landed 4 pike on the fly on Lough Conn. Not only did he break the magic 1 meter mark twice he also broke his personal best four times during the day with pike measuring 93cm, 97cm, 102cm and 108cm! Later in the week he had another cracking pike measuring 98cm. Fin was part of a group of anglers from www.bissclips.tv, Germany's most popular online angling channel. The group stayed in Foxford, Co. Mayo, and concentrated on the area's many prolific pike waters but also fished for sea trout in the nearby Moy Estuary. Angling journalist, Holger Bente, who was leading the group also had a personal best with a 101cm fly-caught pike and described the pike fishing in the Foxford area as outstanding.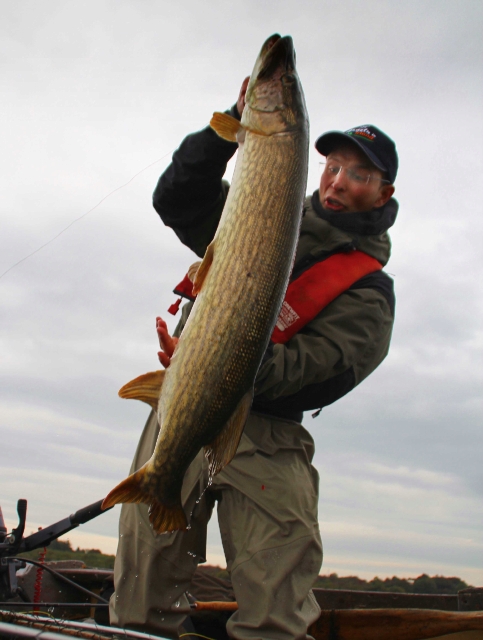 Fin Kasper, Flensburg, Germany, and his personal best pike of 108cm in length, caught recently on the fly in Lough Conn.