Salmon Angling
River Moy
The Moy system has been heavily affected by the severe rainfall and flooding of last week. Despite this, there has been some excellent fishing, both before and following the high water, with almost 400 salmon reported for the week. Welcomed news for the system is the return of the grilse which are now appearing in good numbers, as well as many late spring fish which continue to be caught.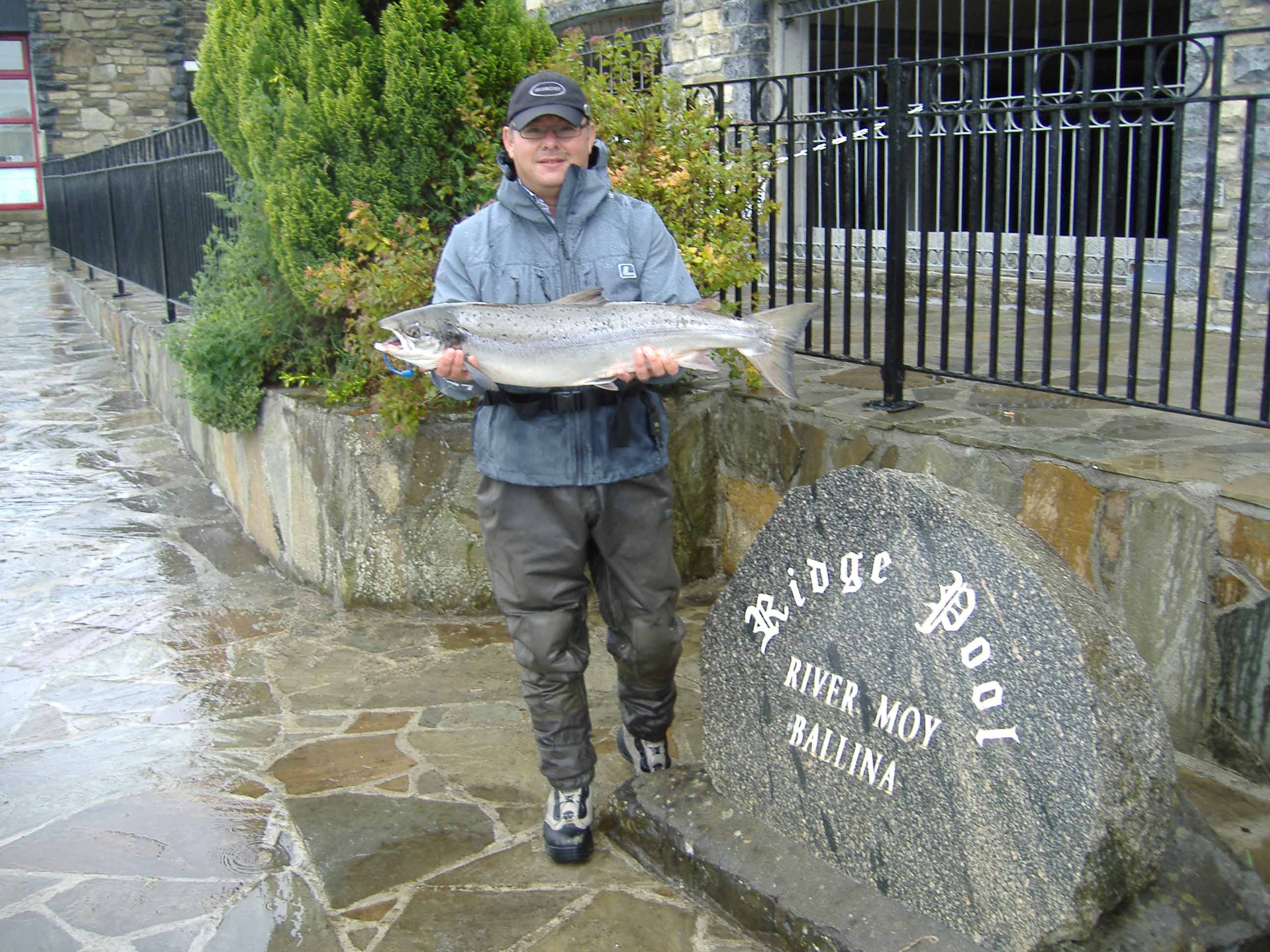 Irish angler, Laurence Kirwan, now residing in Germany with his excellent catch weighing 13.5lbs taken on the fly.
The Ridge Pool produced sixteen salmon before the flood, many falling to the fly. Laurence Kirwan enjoyed success with a fine 13.5lbs salmon and another of 5lbs, both on the fly, while U.K. anglers Paul Dixon, Roger Saunders and Ben Dixon all had their first salmon to the fly weighing 3lbs, 4lbs and 8.5lbs respectively.
Three salmon were caught on the Cathedral Beat, including one of 3.5lbs for visiting angler Ernst Gründel. The Point produced just two salmon, with the Ballina Salmon Anglers' water yielding over twenty fish.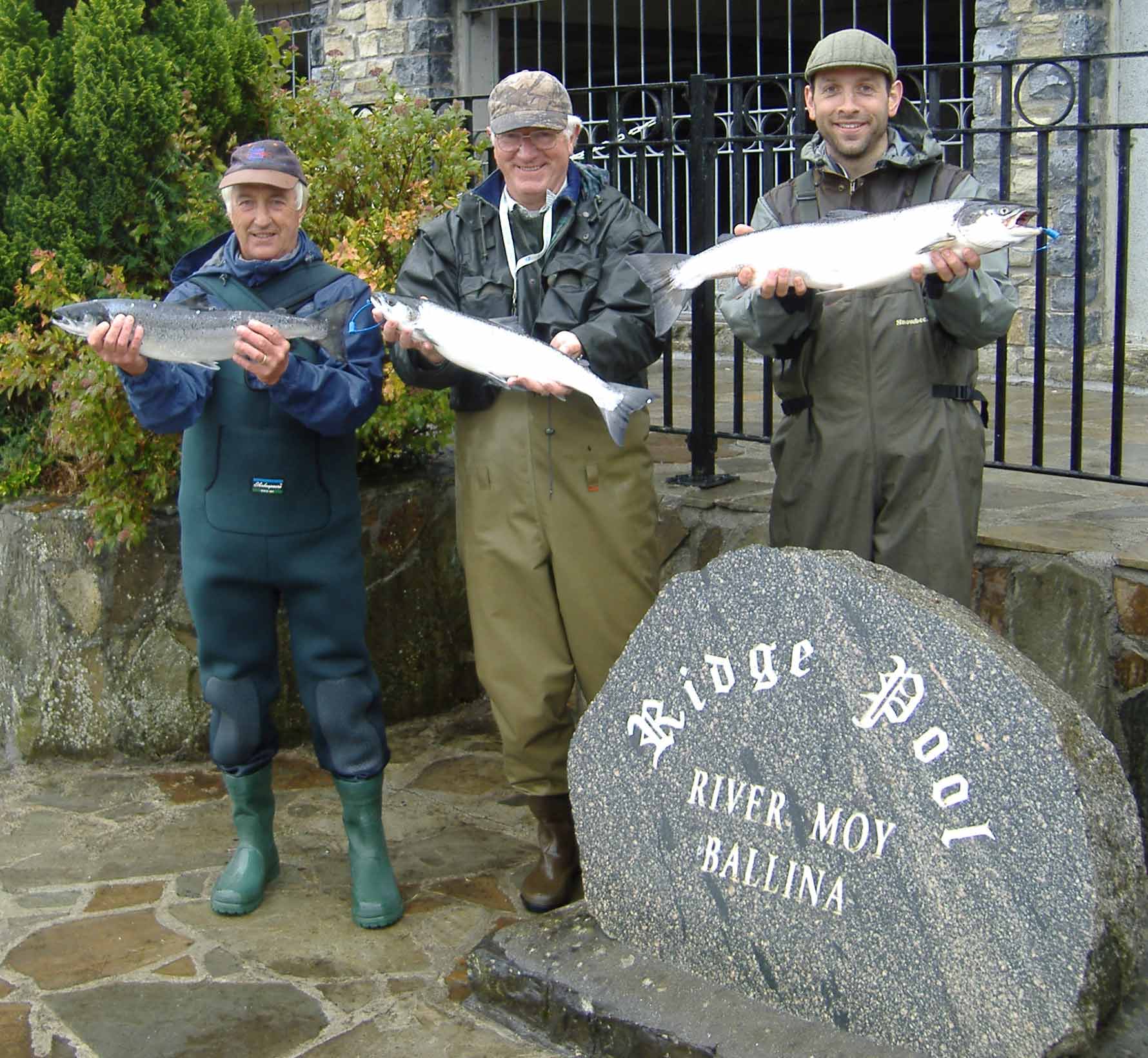 Happy visiting anglers from the U.K., Paul Dixon, Roger Saunders and Ben Dixon display their first ever fly caught salmon.
The lower and mid Moy fisheries continue to produce sport, at Coolcronan Harold Retch, Germany, had one of 6lbs on prawn and a second of 6lbs on worm. At Byrne's, fifteen were reported including two for Walter Schuster, Austria. Armstrong's had twelve salmon and Gannon's enjoyed a good week with thirty-eight recorded, including one of 11lbs for Eric Faber, France. The Foxford Fishery yielded seventeen salmon, with two for Declan Mahoney, Co. Cork, of 8lbs and 10lbs to the spinner.
Rinanney also fished very well, with over fifty reported, with Günter Geib, Germany landing one of 10lbs. The Foxford town also produced numerous fish and at Cloongee, thirty-five were recorded. Thiery Colum hosting a party of French anglers landed eight, five of which were released. Veteran angler Jimmy Scotson, Co. Monaghan also enjoyed success at Cloongee, capturing two salmon on his 75th birthday!
Finally the East Mayo Angers' water yielded thirty-five for the week, where Jimmy Maloney, Straide, banked one of 12lbs and Martin Wörz, Austria, landed three grilse to the worm.
Ballisodare Fishery
Ballisodare fished well early in the week, but like many other fisheries was hampered by high water at the end of the week. In total it produced sixty-four salmon, thirty-two of which were released, with the fly, worm and prawn all accounting for fish. David McCann had one of 7lbs on fly with Nigel Wilson, N.Ireland, landing one of 6lbs with the prawn. Visiting angler Jim Garvey had one of 9lbs to the worm while John Savage and Steven Cafoles both released fly caught fish. The worm proved successful for Joan Bowen-Walsh and James Kennedy, who had salmon of 8lbs and 9lbs respectively. U.K. angler Sean Baldway also had success with the worm, landing one of 5lbs, as did Dennis Barrett who caught one of 7lbs.
Carrowmore Lake
High winds made the lake unfishable during Friday, Saturday and Sunday, however angers enjoyed good sport prior to then. Jim Ruane and Brian Connolly boated one salmon each, as did Gary Lloyd and Paddy Byrne, who had one of 7lbs. John Mc Bride and Francis Rafferty also captured one apiece while Walter Cosgrove, Lisburn, boated two. Vincent Rigney and Toby Gibbons had two each, with Paul Caslin landing one. Sea trout are starting to make an appearance in Carrowmore again, with fish to 2lbs reported, however they have only been taking sporadically.
Newport River and Lough Beltra
Newport House reported some good salmon angling on the river, where ten salmon were caught of late. David Eddis had two of 6.5lbs and 8.5lbs to the fly, with Nick Craigs also banking two of 4.5lbs and 7.5lbs. Nick also had success on Lough Beltra, boating one of 7.5lbs.
Pete Scarott landed one of 11lbs on the river, with Martin McCoy captured three and releasing two, weighing 6lbs, 7lbs and 8lbs while Oliver Corcoran had one of 5.5lbs. The Beltra Badger, Allys Shrimp and Green Peter all proved productive.
Trout Angling
Moy Estuary - Sea trout
Prior to the flood water entering the estuary, sea trout angling remained very good, with angling guide Judd Ruane reporting forty-one trout. Visiting U.K. anglers Steve Tagg and his eight year old daughter had an enjoyable trip recording eight trout. Fedrick Monteil, France, angling with his two sons also had good sport, landing a total of twenty-two trout for their visit to the estuary.
Sea Angling
Killala Bay
A party of anglers based in Tullaghmore, Co. Offaly, ventured out with Skipper Donal Kennedy on board the Leah on Wednesday 8th June. Their day started somewhat slow with pouting and gurnard coming onboard. However, later in the day numerous mackerel came to the boat, followed by 15 ling up to 8lbs. Numerous pollack and several cod were also boated, weighing up to 7lbs.
Sligo Shore Angling
Vincent Reynolds of Sligo Sea Shore Angling School reported some good angling of late from shore marks around the Sligo Bay area, where sea trout up to 5lbs, flounder to 450mm, pollock, turbot and dogfish have been caught. Sligo Sea Shore Angling School will be hosting summer shore angling workshops during July and August, five days a week between 10.30am and 3.30pm, designed for those aged eleven and upwards. The workshops will cover shore ecology; bait gathering, shore angling techniques, rig assembly, equipment and safety while fishing. The workshops will be held at various locations to introduce a variety of angling techniques. They will also be hosting their normal weekend and evening fishing classes for the beginner and advanced angler. For further information or to book a session contact Tel: +353 (0)87 2480299 Email: sligossfishingschool@gmail.com or visit www.sligoseashorefishingschool.com.
Pike Angling
A group of professional pike anglers from England, guided by Kenny Sloan had a few good days fly fishing for pike in the Foxford area recently. Conditions were not ideal with an easterly air flow and bright sunshine most days. Many pike were caught although the bigger specimens remained elusive. The group intend to return again in October for another venture after Irish pike. For guided pike angling in the Foxford area contact Kenny Sloan on Tel: +353 (0)94 9256501 or Mobile: +353 (0)87 9670310.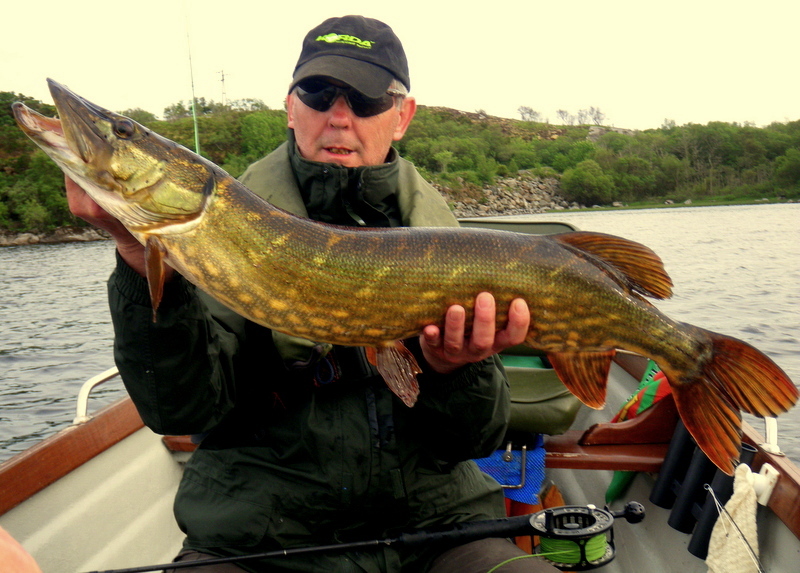 One of many pike caught recently by members of the Piketrek Company while angling in Foxford Area.