Lough Mask
The long cold spell is well and truly broken now, with gale force southwesterlies and much milder conditions prevailing this week. Duckfly hatches have been in full swing and are probably almost finished now, with the olives set to start hatching shortly.
On Mask, Ronan Cusack reports that the lake rose quickly following last week's rain, and is at least a foot higher at the moment than it has been recently. The duckfly hatch has petered out, but there are plenty of sedges hatching off. No olives have been observed yet, but these should start hatching any day now. Hugh Jamieson brought a party of 13 to Hall's Angling Centre for 2 days fishing, and they recorded 14 trout to 2.5lbs, all to wetfly. David Hall himself fished on Friday for 2 fish to 2lbs, and brought Frank Doyle and his son out on another day, where they landed 5 trout to 1.75lbs. To book fishing or accommodation at Hall's, contact David or Helen on 094 9541389 or check www.lakeshoreholidays.com
Damien Walsh from Castlebar fished on Sunday, recording 4 trout to 1.75lbs, and Peter Byrne, also from Castlebar landed 2 trout to 1.5lbs. Johnjo Sullivan from Fermoy landed 4 trout, including a fish of 2.5lbs, while Gerry O'Brien and his son John, from Ballinrobe, had 4 trout to 2lbs. David Nevin and Martin McCoy fished on Tuesday and landed 6 trout, best fish 2lbs. Philip McGoldrick and Anthony Baggott from Ballyhaunis landed 3 fish on Saturday to 3lbs, and Danny Joyce from Ballinrobe landed 4 fish to 2lbs on Sunday.
Ronan also guides on Mask and can be contacted at 087 2869487 or by email at cusackronan@gmail.com
Lough Corrib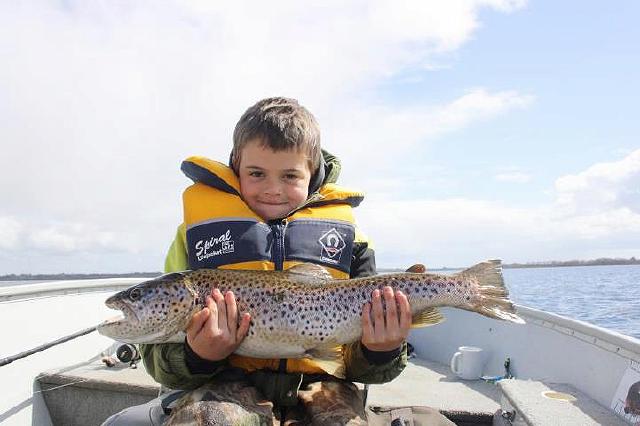 Conor Ward with his 8lb ferox trout which he caught and released back into Lough Corrib.


Duckfly are still hatching on Corrib, with no sign of olives in any numbers yet, which means that spring is at least a month behind schedule this year. Normally the olives would be in full swing, with the first hatches of mayfly appearing this week!

In the Greenfields area Frank Reilly reports that 13 anglers recorded 18 trout for 22 rod-days over the week, with Friday the best day. Frank Guilfoyle and his son Frank Jr., from Ennis, fished 3 days landing 6 trout to wet fly, including 2 cracking trout of 5.5lbs and 5.2lbs. Peter and David McGuinness from Milltown landed 7 trout for approx. 13lbs for one day's fishing wetfly and buzzer, all fish returned alive. Most other anglers had one fish each, with several more undersized fish recorded.

Angling guide Tomasz Kurman reported on a fine trout for a younger angler last week. "The week wasn't too good for fishing with high winds making some days really difficult. We got one chance for comfortable fishing on Friday, with nicer weather and quieter winds. I fished with my regular guest Nicholas Ward and his son Conor. Luckily we had a good take just before lunch time and Conor was soon playing his first Corrib Ferox. From the very start we didn't have to touch the rod, this 8 year old angler did it all himself. I just netted the trout for him. It was a beautiful 8lbs trout in top condition. After a few pictures the fish was released, leaving a big smile on Conor's face.

To book fishing with Tomasz, contact him on 085 7318541 or check his FB profile at https://www.facebook.com/tomi.guidedfishing


Joseph Keena sent in a great report on the Connacht Cup, which was fished last weekend from Collinamuck. Although angling conditions were very difficult with a cold and blustery wind, Lough Corrib lived up to its reputation and produced some of the finest brown trout in the world. 50 anglers weighed in 30 trout over the limit, with many more smaller fish returned.

Congratulations go to Declan O'Grady of Tuam Anglers on winning the Connacht Cup with two fabulous trout for 6.25lb. This was Declan's second time to compete in this competition and on both occasions he has qualified for the Connacht Team. Second place went to Seamus Kelly (Ballina and Cloghans), with 2 trout for 6lbs while third was Patrick Kelly (Ballina and Cloghans), who had 2 trout for 5.5lbs.

The trophy for the heaviest fish went to Mike Coyne of Culfin Anglers with a fantastic trout of 4.25lbs, whilst other successful anglers Mark Deavin (Kinlough Anglers), Sean Crean (Ballina and Cloghans), Eddie Harte (Collooney/Ballisodare), Mark Regan (Moycullen Anglers), Dorrie Gibbons (Ballina and Cloghans), Stephen Browne (Ballina and Cloghans), Michael Monaghan (Conn and Cullin), Joe Creane (Culfin Anglers), Gareth Foley (Rossinver/Melvin), Padraic Fahy (Collinamuck) and Mary Harkin (Ballina and Cloghans). These anglers will join Peter Byrne (Ballina and Cloghans), Francie White (Lough Arrow) and Francis McSharry (Rossinver/Melvin), who retained their places from the 2012 Connacht Team, in representing Connacht at the 2013 ITFFA Interprovincial Championship which will be held at Lough Mask on 6th September 2013. We congratulate those who have qualified to represent Connacht and we wish them the very best in their efforts to regain the Interprovincial Championship trophy.

The Bartley McGauley Cup was fished from Oughterard on Sunday last, with 25 anglers recording 15 trout over the limit for approx. 20lbs. The overall winner was Eamon Molloy, with 2 trout for 3lbs 13oz. Second was Kevin Molloy, with 2 trout for 3lbs 10z, and third was Philip O'Connell, with 2 trout for 3lbs 5oz.

The current unsettled conditions and milder weather would normally be expected to bring on olive hatches, which should get going shortly, and anglers will be getting out more now that the colder weather is (hopefully) behind us. I would expect fishing to pick up once the olives start coming off, with the mayfly season not that far away either.




Galway Fishery

Heavy rain in the middle of last week caused a small increase in lake levels, and downstream the OPW opened 14 sluice gates on the weir to compensate. The huge flood resulting has wiped out fishing for the week, and consequently there are no fish to report. 10 gates have been closed today, and with 4 open gates conditions are much more fishable. Normally the spring run is getting well underway at this time, and given the good reports of spring salmon from elsewhere I would expect to have some good fishing to report from Galway soon.

Erriff

Fishery manager Jim Stafford reports from the Erriff on the first salmon of the season. There was no angling on the Erriff until the weather changed at the weekend. Following heavy rain on Wednesday and Thursday, the river had been in a spate at 2.5 meters, and the levels dropped to a fishable height at the weekend.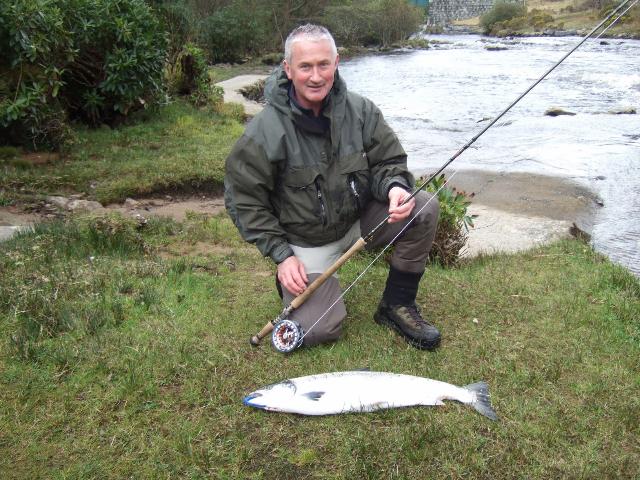 Conor O'Leary - first salmon of the year from the Erriff River - an 11.25 lb salmon taken on 13 April 2013.
Conor O'Leary, from Dublin, who had been trying for the first salmon of the season for a number of years, finally succeeded and caught the first fish of the season in the Gauge Pool on Beat 9 on Saturday the 20th. The fish weighing 11.25lbs was caught on a Yellow & Black Shrimp pattern that Connor dressed himself. Another angler had hooked and lost a good fish on Beat 4 the previous day.

The first fish was followed quickly by the second, as John Bresnihan from Oughterard, home from London on holidays, landed a nice salmon of 9.5lbs on a Willie Gunn in the Sea Pool, with the river at a height of 1.4 metres on the gauge. This was John's first ever salmon, so congratulations to him! John also caught and released one small sea trout.
Donavin Brinklow caught 12 brown trout on wet fly in an afternoon session on Tawnyard Lough, and Delphi Rods accounted for 4 brown trout as well.
With the weather set to continue unsettled for the remainder of this week, water levels should keep the river in good condition for flyfishing, and prospects for a springer are good. Water temperatures have finally risen over 10 degrees as well, which should encourage fish to run the river.
To book fishing contact Jim at Aasleagh Lodge on 095 42252, or email erriff.fish@iol.ie