Erriff
Fishery manager Jim Stafford reports on fishing for the last two weeks of September. The last two weeks of the season were extremely wet with almost 6 inches of rain falling in the catchment during the period. Water levels in the river never dropped below 0.8 meters on the Aasleagh Gauge. Heavy rains on the night of the 29th resulted in a massive spate of 2.42 meters on the last day of the season which rendered the river impossible to fish.
Stuart Woodhead, Scarborough, Yorkshire, released a fish estimated at 7lbs caught on a Cascade in the Horseshoe Pool on Beat 3. Frieder Hompesch, Germany released a fish of 6lbs caught on a Black & Silver in the Yellow Banks on Beat 5. Robert Devriese, Belgium caught one of 6lbs on a Silver Stoat in Island Rock on Beat 8.
Michel Winthrop, France caught one in Nee's Run on Beat 6. Kevin Attride from the Netherlands caught 2 good sea trout on a Foxford Shrimp and Thunder & Lightning. Graham Dinner, U.K. fishing the Erriff for the first time caught 2 in the Quarry Pool on Beat 2 on an Orange Tube fly. Mary Harkin, Dublin caught 5 in the one day on Beat 5 - with 4 in the Boat Pool and another in Jenkin's - best fish estimated at 10lbs. Fishing the Erriff for the first time Haum Hoehstra from the Netherlands caught a fish of 13.25 lbs in the Broken Bridge Pool on Beat 5.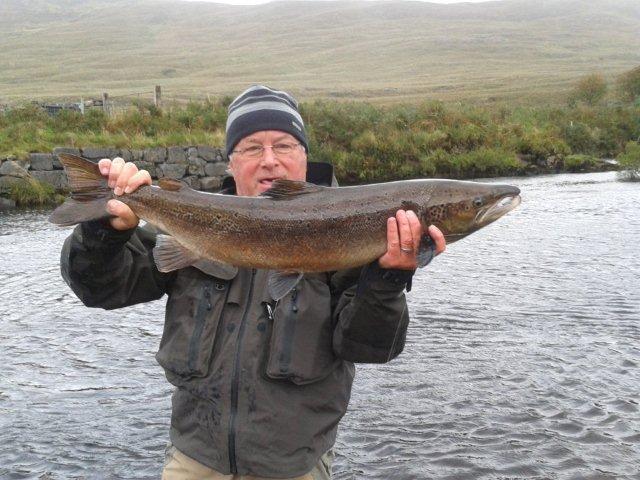 Martin Davison with a fine Erriff salmon.


Martin Davison, a Mount Falcon rod fishing the Erriff, caught and released a fine double-figure fish taken on a Faughan Shrimp. The following day Martin released another salmon estimated at 6lbs which was caught on a Park Shrimp in Toad's Pool on Beat 4. Joe McGuigan, N. Ireland, released 2 salmon estimated at 6lbs and 8lbs which were caught on an Ally's Shrimp in the Gauge Pool on Beat 9. Richard and Hugh Maguire released 2 grilse and 7 sea trout which were caught on a Claret Bumble on Beat 3.

Albert Caffrey's Party from Athy, Co. Kildare, caught 9 salmon and 26 sea trout for the week - this included 2 salmon for Albert Caffrey, 4 salmon for Donal Chambers and 3 for Michael Vincent - most successful flies were Cascades, Shrimp Flies and Black Pennell.

Total catch for the period was 28 salmon and 44 sea trout of which 12 salmon and all 44 sea trout were released again.

The total for the season was 320 salmon and 284 sea trout, down on 20111 but this was reflected in most fisheries in the country as the grilse run, especially in August and September, was disappointing everywhere.

Lough Inagh

Fishery manager Colin Folan reports that 2012 has been a season to remember. Sea trout have returned in the greatest numbers since the collapse in 1989, and we landed 1,146 this year compared to 263 in 2011. In fact the last two good years in the 1980s produced 900 each year. There were also some fine sized sea trout, with 20 fish between 3lbs and 4.5lbs. There were 16 charr recorded (I am sure it is more). Although the salmon numbers were down on last year, we still recorded 92 fish. Six specimen brown trout were landed this year, two from the lake (11lbs and 12lbs), and four from the river to 7lbs. Michael Connellan (Dublin) landed the biggest salmon of 2012, weighing 13lbs+. The 2012 totals, (2011 in brackets), were as follows:

Salmon 92 (133)
Sea Trout 1146 (263)
Brown Trout 171 (81)
Charr 16 (4)

September 30th saw our annual competition for the Michael Staunton Trophy. The weather was dreadful as there was a storm on Sept 29 and the lake had risen 2 feet overnight and the river was a wash out. 14 anglers braved the elements and had a total catch of 2 salmon, 15 sea trout and 27 brown trout. First place went to Michael Heery with 4 sea trout and 5 browns, second was John Connolly with a 5lbs salmon and 1 brown, third place was filled by Mervyn Bell with 1 salmon of 4lbs and 1 sea trout, fourth went to Dennis Murphy with 9 browns, fifth place went to Dick Kelly with 4 sea trout and finally Brian Regan filled sixth position with 1 sea trout and 4 browns.

Lough Inagh Lodge Hotel has won the Gold medal for the second year running in the Top Country House Category in the Hotel and Catering Review.

We at Inagh would like to thank all our customers and friends for making 2012 a memorable year, and we look forward to seeing you all next season, and don't forget to return your Salmon Licences!




Delphi

Fishery manager David McEvoy rounds off the season in his report.

Between the last update and the close of play on the 29th we landed 7 salmon. Mike Shortt being on a roll and heading towards his double century had one of three fish landed on the 25th. It was taken in Fin Stream on a Shrimp fly and weighed in at 3lbs 13oz. Mark Corps had a fish of approx. 2.5lbs from the Quarry pool on a Collie Dog and finally Lenart Konvalin had one from Fin Stream of approx. 4.5lbs. On the 26th Mary Miller landed her first ever salmon of approx. 7lbs from the Turn pool on a Red Cascade. There were another 3 fish landed before Sunday. On the 27th Mike Shortt had another from Finlough on a Red Shrimp fly of 3lbs 13oz. Ian Carroll had a nice fish of approx. 6lbs from Fin on the 28th and Mark Shields had one of 3lbs 8oz from Fin on an Octopus on the 29th.

Then we had the last day, which is basically a free for all for staff, locals and invited guests. There is also a BBQ thrown in at lunchtime for good measure. A great day was had by all and there were many happy people at the end of the day. There were 21 first ever salmon which included the following; Kevin O'Leary, Anna Watkins, Aisling Lydon, Tara Lydon, Maura Prendergast, Danny Heraty, Dylan Wallace, Lorraine Wallace, Avia Lynn Kane, Patrick Berry, Millicent Marinot, Alice Marinot, Rebecca Middleton, Oisin Moran, Laura Moran, Danny Gibbons, Robert Wallace, Lucy Wallace, Jimmy Heneghan, Micheal Heneghan and Daragh Heneghan. Most of these were children and they were all over the moon to put it mildly.

This brings the season total for salmon to 323, made up of approximately 146 2SW and 177 1SW.

Sea trout for September were quite disappointing with only 94 for the month bringing the season total to 445.

Kylemore

Fishery manager Nigel Rush reported that there were 12 fish landed for the final week of the season, giving a final tally of 138 for the season, 5 short of last year's 143. Heavy overnight rain on the Saturday night prior to the final day on Sunday put the river out of condition and led us to cancel regular anglers for the final days sport. We might well have equalled last year had we decent and favourable conditions for the final day but safety comes first.

Of the 12 fish Seamus O'Neil landed 3 for his half day, John Dardiff his first Kylemore grilse of 5lbs from Tullywee Bridge, Pat Burns the heaviest at 7lbs from Waterdog on the Lower River, and the final fish of the year fell to Seamus O'Neil, a fresh run 5lbs fish from Lavelles Pool.

Lough Mask

There were no reports for the last week of the season, but it was a memorable one to look back on. After a couple of lean years, Mask returned to form, producing large numbers of small trout this year. While the average size of the fish was small, their sheer numbers and willingness to take a fly bodes well for the next couple of years on the lake, and is testament to the great work carried out on spawning streams by IFI staff, in particular local assistant inspector Liam Gavin and his staff - Ronan Cusack, John Campbell, Padraic Kerrigan and Declan Gibbons. My thanks are also due to Ronan for his regular updates on the fishing throughout the season.

Lough Corrib

A stock survey early in the season showed a slight decline in trout numbers on Corrib, but this was certainly not the experience of anglers during the year, particularly for the mayfly season. The mayfly this year was a special one, with the best hatches observed for many years, and trout feeding heavily on these and offering great sport. Corrib usually goes very quiet during the warmer summer months, and while the number of anglers out on the lake during this time certainly dropped to very low numbers, those who fished at this time enjoyed very good sport, with no apparent summer lull. The late season was tougher, not helped by wet and windy conditions for much of the time, but overall it proved one of the best seasons in recent years.

Many anglers remarked to me over the season on the numbers of fish being killed, particularly large trout taken on buzzer. While there is a catch limit of 4 trout per day on Corrib, anglers are reminded that this is not a target, and are asked to please use common sense and restraint - only take home what fish you are going to eat yourself. Many anglers would love to see catch-and-release being introduced to competition fishing also, and this would be a welcome step.

In the meantime, with the rods hung up in the shed, its time to get the tying vice out and stock up on the killer patterns for next year.

Sea Angling

The Connacht Closed Shore Gold Medal competition was held over the weekend, based in the Killala area and hosted by Killala Boat Club. This competition was a 2-day format, with 3 sessions held over Saturday and Sunday. On Saturday morning competitors assembled bright and early at Enniscrone to be greeted by a big surf, with thankfully no sign of weed. The big surf resulted in a huge surge, which made fishing difficult, competitors having to wade out and cast long distance, trying to make it back ashore before the next big surge came in. Several anglers were caught out, with tackle boxes washed up the beach and tripods knocked over, but everyone quickly learned how to cope!

The morning session ended with Mike Curtin and Yanto Jones both on 20 points with wins in their respective zones. Mike had 8 fish for 275 points, while Yanto had 9 fish for 171 points. Stephen O'Sullivan and Fiachra McKenna made up the places in Zone A, while Shane Gilvarry and Josie Barrett were 2nd and 3rd in Zone B.

The evening session was due to be fished in Killala, but due to heavy weed was moved back to Enniscrone. Fishing was good the first 2 hours as the tide dropped from high, but as the beach flattened on the lower part of the tide it died off a bit as darkness fell. Mike Varley took the 20 points in Zone A, with 8 fish for 207 points, followed by Ed Kilroy and Shane Gilvarry, while Fiachra McKenna took top honours in Zone B, also with 8 fish for 207 points. He was followed by Brian Reidy and Frank Rixon.

The third leg on Sunday morning was fished on Lacken beach, with a much smaller surf than Enniscrone, and only the odd bit of weed to contend with. Fishing was very good, with great numbers of fish recorded by some anglers.

Zone A was won by Mike Curtin, with an incredible 19 fish for 419 points. Shane Gilvarry took 2nd, with 17 fish for 375 points, and Jamie Devers was 3rd, with 10 fish for 322 points. Owen Gilvarry was top rod in Zone B, with 9 fish for 220 points, followed by Stephen O'Sullivan with 8 fish for 183 points, and Peter Atkins with 9 fish for 181 points.

All assembled back in Gilvarry's pub in Killala to hear the results, and to great acclaim Shane Gilvarry from Newport SAC was declared the winner of the Gold Medal for 2012, with a total of 86 points, and he was presented with the Ray Toner Memorial Cup. The other 4 qualifiers for the 2013 Connacht Inter-Provincial Team were Mike Curtin (Galway Bay SAC) on 50 points, Fiachra McKenna (Corrane SAC) also on 50 points, Owen Gilvarry (Killala BC) on 44 points, and Peter Atkins (Galway Bay SAC) also on 44 points. The longest fish was caught by Kevin Crowley (Galway Bay), a flounder of 37cm.

The next outing for Connacht anglers (and open to all provinces) is the Connacht Open Shore Gold Medal, to be held on Enniscrone on Sunday October 14th from 10am-3pm. Check-in is from 8.30am. This competition is pre-entry only, details available from Peter Atkins at ptratkins@hotmail.com