Galway Fishery
Water levels remained perfect this week for flyfishing, with just one gate open on the weir. There were 83 salmon landed, with good runs of fish all week, many running straight through and on up into Corrib. I know a lot of salmon are showing up in the tributary rivers too, so salmon fishing in Galway has been very good everywhere this week.
He best salmon of the year so far was landed by Simon Lenihan, a local angler, who took a cracking 18lbs fish on fly last Friday. The fish took a Hairy Mary fly, and was landed in about 20 minutes after a great fight. Simon also landed 3 grilse on fly, not a bad return for his morning session.
Mark Kirwan from Clane, Co. Kildare landed his first salmon on a fly, a nice grilse of 4.5lbs, while Kenny Hill, visiting from Vancouver Island, took a 4.5lbs fish on shrimp - his first ever Atlantic salmon.
Peter Butler from the UK landed 2 grilse on sly and shrimp, while there were also doubles for Marc de Veletian (France), Gerry Dooley (Dublin, Ashley Matthews (Clifden) and Paul Gallagher (Donegal). Nigel Moynihan from Kildare landed 3 grilse to 6lbs on fly and shrimp, while Peter Bacon from Wexford took 2 grilse on fly, as did Frank O'Hara from Laois. Wolfram Hoppe from Germany landed 4 grilse on fly, while Erriff fishery manager Jim Stafford landed 3 grilse, also on fly, as did local angler John Anderson. Noel McManamon from Kildare took 2 grilse on shrimp.
The Galway Fishery is enjoying a great run of grilse at the moment, and with settled water levels it should continue to fish very well over the coming week.


Connemara
Unsettled weather and rain last week brought a welcome rise in water levels in Connemara, encouraging fish to run upstream, and fishing has really picked up here. This week has been more settled, with bright sunshine affecting catches, but a forecast for more unsettled weather should improve fishing again.

Inagh
Fishery manager Colin Folan reports from Lough Inagh:
The weather has proved difficult for anglers this week. Most of the days were calm with sunny spells, however 18 hours of rain last Tuesday brought levels up to a good level. A lot of fresh grilse and some very large salmon are entering the lough. 6 Grilse and 16 sea trout were landed for the week. Patrick Molloy (Dublin) had a 7.25lbs fresh grilse from the Derryclare Butts on a size 12 Blue Mirage. Paul Cran fished The Derryclare Butts and landed a grilse of 6lbs. Although the sea trout fishing has not been great, the fish caught this week were belters. Tom O Brien had a 3-pounder from Lough Inagh, as did Paddy Walsh. Kevin Crowley (IFI) had a 3lbs brown trout and a 2lbs sea trout from Greenpoint on a dry sedge. Prospects look good for the coming week or so.
To book fishing or accommodation, call Lough Inagh Lodge Hotel at 095 34706 or check their website at www.loughinaghlodgehotel.ie

Ballynahinch
Fishery manager Simon Ashe reports on fishing at Ballynahinch Castle:
The good summer fishing continues at Ballynahinch Castle with steady numbers of fish running the river on every high tide. Judging from fishing reports countrywide the grilse are as late as they have ever been in recent years. Our run has certainly started but has yet to peak. It would seem that they are definitely two weeks later than last year and certainly five weeks later than a decade ago. This recent trend tends to concentrate the grilse run at Ballynahinch into a six week period rather than a steady stream of fish arriving throughout the summer.
The weather today is beautifully sunny making fishing a bit more challenging, however, the water is at a perfect level. With a week of fairly unsettled weather forecast, the prospects could not be better.

26 salmon have been landed so far this summer, and we have caught fish every day this past week. Regular anglers Nicky and Derek Strauss have been leading the charge with 3 fish from Sna Beg, Beat 1 and Beat 2. All of these fish were fresh and between 5 and 6.5lbs. The Killeen family have also been having a fabulous year at Ballynahinch. Conor Killeen has 3 fish in the book whilst his two sons, Leo and Tomás, landed their first ever salmon in the past week, both from Beat 1. Ann Corcoran, Stephen Cullinane, Colm Murphy and David Browne have also taken fresh grilse.
Most of the sea trout have moved up through the system at this stage and the best fishing for them is late in the evening around the hotel. Nick Ashe, whilst fishing for sea trout last Friday evening, landed a 3.75lbs brown trout from the mouth of the river above the footbridge. Such large fish are a rarity from this part of the catchment; however, we seem to be getting more of them this year. Scale readings will give us a better indication of the age of this fish and whether it ever spent any time at sea.
Fishing beats are busily getting booked up for the rest of the season. There are fantastic fishing and accommodation special offers on the website (www.ballynahinch-castle.com). For those who are interested in reserving fishing please contact fishery manager, Simon Ashe (simon@ballynahinch-castle.com) or the hotel reception on +353 95 31006.

Delphi
David McEvoy at Delphi Lodge has some great fishing to report, including two of the heaviest salmon for many years. Mark Corps, angling advisor with IFI, landed a magnificent 18lbs 10oz salmon last week, the heaviest salmon landed at Delphi since 1986. However, this mark didn't last for long, as yesterday Urs Leibundgut landed another massive fish, this time a salmon of 19lbs 7oz! The killer fly was indeed rather unusual. It was a tungsten beaded nymph tied on a size 10 single with hair from his neighbour's cat in Zurich. The fly is aptly called the "Neighbours Cat" - I'm reliably told by Urs that there is a patent on the fly and the cat!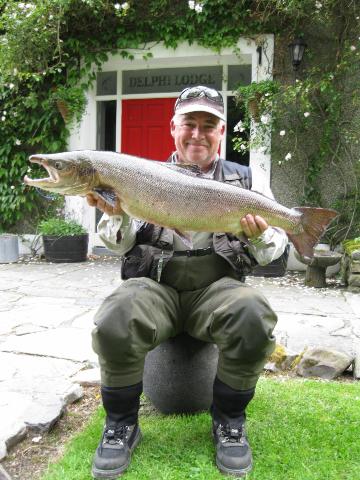 This fish now replaces Nigel Saxby-Soffe's fish of 19lbs 1oz on 26th August 1986 as the biggest of the modern era. As far as I'm aware the biggest before that was a 21lbs fish.
Elsewhere, German angling journalist Andrea Beerlage landed his first salmon on the fly, a beautiful 5lbs12.5ozs sea liced fish from the Whin Pool on a Cascade. Werner Fasching had a sea-liced fish of 4lbs 1oz on a Cascade.
Giovanni Mazzoleni also had one off the Turn Pool of 3lbs12oz on a Shrimp fly.
On the 9th John Casey from Clifden landed two fish, both sea-liced, the first in the Rock Pool of 3lbs 11oz on an Executioner, the second in the Grilse Pool of 7lbs 8oz on a Silver Doctor. Ted Maxted, who is well into his 80's, had a 3lbs 8oz fish in Cooleens on a Yellow Shrimp.
To book fishing or accommodation at Delphi, contact the lodge at 095 42222, or check www.delphi-salmon.com

Erriff
Fishery manager Jim Stafford reports from the River Erriff that water levels have dropped now after the big floods of last week. Fishing was very good during the higher water, and unsettled weather should bring about good conditions again this weekend.
Markus Muller caught a sea-liced grilse of 5lbs in the Pool on a Black Shrimp fly. David Gaffney caught 3 grilse in the Coronation Pool on Shrimp Fly. Mr. J. Holden, Dublin had 3 grilse taken on Cascades, all from Beat 9. Sea trout in good condition were also caught.
Michael Vincent, Athy caught a 9.5lbs fish at Altamont's Dam on Beat 6 on a Black Shrimp. Thomas Dolan, all the way from the USA and fishing the Erriff for the first time, reported one of the best days salmon fishing in his life, hooking 4 salmon and 2 sea trout on Beat 6 and landing 2 salmon and sea trout which he sportingly released. Ian Keating from Partry, Ballinrobe caught and returned 2 fish, one of 8lbs taken in the Cottage Pool, and a 10lbs hen fish in King's Pool on Beat 4. Both were taken on Cascades. Ian also had a fresh grilse in the Coronation Pool on a Cascade.
The Fishery hosted the Erriff & District Anglers for an outing on Sunday last, and local angler Peter Coyne landed 2 grilse off Beat 9. Brian Graham also landed his first ever salmon, again off Beat 9.
With rain forecast this weekend and great runs of fish at the moment, fishing prospects here are very good for the coming week.
To book fishing or accommodation, contact Jim at Aasleagh Lodge on 095 42252, or email erriff.fish@iol.ie

Kylemore
Nigel Rush reported that Kylemore Abbey experienced excellent sea trout fishing last week, as well as some salmon once the rain arrived on the 7th. Brian Davy, Andrew Kavanagh and PJ Lydon all landed grilse before the flood became unfishable. Over the following days large numbers of sea trout entered the fishery, and the lakes started to fish very well. Saturday was a bumper day, with one boat recording 18 sea trout to over 3lbs. Another boat had 12 for the day to over 2lbs, and the fishery recorded 44 sea trout to 5 rods in total. The hot calm weather since then has impacted on the fishing, but young Henry Strawson landed his first Kylemore salmon, and only his second ever, landing a nice grilse of 5lbs on the 12th.
The unsettled weather forecast should improve fishing here as well, and prospects here are good, especially for sea trout fishing.
To book fishing, contact Nigel at 095 41178 (office) or 095 41161 (home), or email nigelrush@eircom.net