Galway Fishery
Conditions seemed to be coming just right at the start of last week, with 4 gates open, but heavy rain over the following couple of nights saw levels quickly rise, and by Wednesday 12 gates were open on the weir, which is still the case this week. Consequently fishing effort is very low and no fish were reported this week. Prior to the rain, 3 more springers were landed, including a 9.5lbs fish for Gary Kilroy from Westmeath, caught on a spinner. Bert Lynch from Galway had a fine 12lbs fish, taken on shrimp, and JJ Hannon from Craughwell landed a fish of 8.5lbs on shrimp. With water levels still very high, prospects for this week are not great, but fish are sure to be running through in the high water and anglers upstream should have a good chance of meeting spring salmon this week.

Western Lakes
Lough Mask
Fishing on Mask was described this week as fantastic by several local anglers, who report the best fishing in several years to wet fly.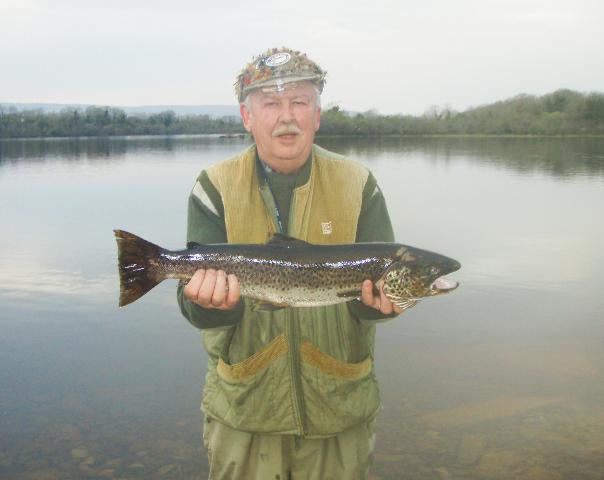 Pat Smith from Trim, Co Meath had a super day's sport on Saturday last with 5 good trout. Pat's best fish was 6.37lbs, taken on a traditional Black Pennell. Pat is a strong believer in catch and release, but unfortunately after a gruelling 40 minute battle with this monster Pat was unable to revive the fish and return it to the water. Ronan Cusack and Padraig Kerrigan from Ballinrobe also fished on Saturday and landed 12 trout (best fish 2.5lbs, and all very sportingly returned).
Kevin Egan from Partry had some wonderful sport in the evenings with a total of 8 fish for 3 outings. Kevin's fish were all taken on buzzer just before dusk and again all returned. Ger Linehan from Cork fished the early part of the week and had a total of 16 fish over 3 rod days (best fish 2.25lbs). Well known wet fly angler Adrian Gorman from Dringeen Bay had what he described as one of his best day's wet fly fishing ever, with 10 trout on Sunday last for approximately 15lbs (all returned).
Hall's Angling Centre also reported good catches during the week. Sam Wilson from Northern Ireland had 12 trout on Sunday (best fish 2.5lbs, all returned). A party of 5 anglers from the North of Ireland, also staying at Hall's, had 15 trout on Sunday for approximately 27lbs.
To book accommodation or fishing from Hall's, contact David Hall at: tel. +353 (0) 94 9541389 or email info@lakeshoreholidays.com .
Tourmakeady angling club hosted a Macroom v Tourmakeady friendly competition on Saturday. It was won by Mattie Lally of Partry Angling Club, with 3 fish weighing 4.67lbs.
There were also numerous reports of excellent fly hatches and large numbers of small trout seen freely rising in the calm water across the lake all week.
After a slow start to the season, Mask is starting to fish really well, and this bodes well for the rest of the season. Hopefully we will have more good fishing to report on next week.

Lough Corrib

Lough Corrib, is not faring as well, with fishing still regarded as somewhat slow for the time of year, despite massive hatches of duckfly in some areas over the last 2 weeks. A group of Welsh anglers, who visit Corrib every year and stay at Lakelands Angling Centre in Oughterard, described the fishing as tough, but still landed some nice fish. George Barron landed 11 fish over 5 days, best 3lbs. Dewi Rees landed 9 fish, averaging 2.5lbs. Dai Williams landed 10 trout, including a 3.5lbs fish, while John Roberts had fish of 3lbs and 4lbs. All fish were taken on fly. Conor McFadden from Dublin took 3 trout on wetfly for his day's fishing, best 1.5lbs. To book fishing or accommodation at Lakelands, contact Anne Faherty at +353 (0)91 552121
The Moycullen club held a competition that was won by Mark Regan, with a fine trout of 5lbs. Second was Tony Tighe with 1 trout for 1.75lbs, and 3rd was Robert Pitman with a trout of 1.5lbs.
John Jacobs from Dublin fished out of Basil Shields' Ardnasillagh Lodge, and reported 6 trout for approx.10lbs, while John Fitzgerald from Shannon had 4 fish for approx. 8.5lbs. Basil Shields can be contacted for boat hire, guiding or accommodation at +353 (0)91 552550.

On the Cornamona-Greenfields side, fishing was described as slow, despite very large hatches of duckfly. Some anglers still reported decent catches, however, including Peter Curran, who landed 3 trout for 5.25lbs for his day out. David Egan had 5 trout over 2 days for approx. 8.5lbs, and Pat Day landed 2 trout in an evening for 2.75lbs. All fish were taken on wet fly and buzzer.
Eugene McGuinness from Cavan fished over 9 days, and reported 12 trout, best 3.5lbs. T. Grehan from Tuam landed 2 fish for 3.5lbs over 2 days, while Tom Ormond had a nice 3.5lbs fish on buzzer. Frank Reilly had 2 fish for a half day for 3.5lbs.
Trollers also reported some good ferox trout, with David Ryan taking a French angler out one day and landing a 12lbs fish on roach, while Barry Molloy landed a 15-pounder, also on roach.
The duckfly is now pretty much petered out, with olives starting to hatch in some bays, and hopefully the fishing will pick up with the rise in temperatures and the appearance of the olives.

Another report from fishing guide Tomi Kurman from the Corrib Predator Team, who fished with his fellow guide Jack on a windy day last week.
Tough weather conditions didn't prevent a good day's pike fishing, but strong winds made some "hot spots" impossible to explore. Despite this, they had plenty of fish between 80-95cm (approx. 10-15lbs). Their 3 best fish were measured at 100.5cm, 104cm and 112cm - a 25lb spawned out beauty who would surely weigh a lot more prior to spawning.
To book a day on the lake with Tomi contact him by email at corribadvice@gmail.com or check his website at www.guidedfishing.info .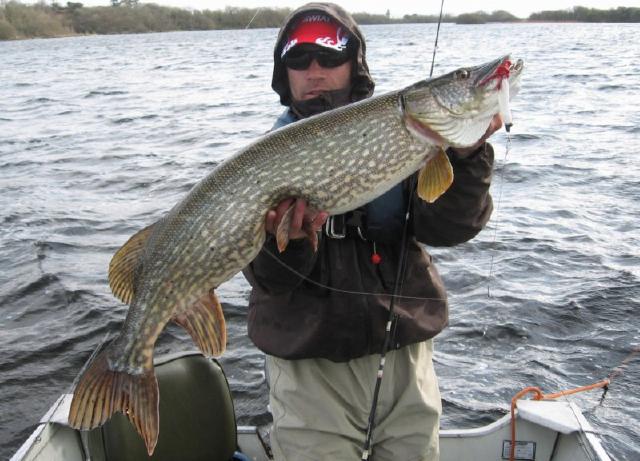 A Polish angler with a fine pike caught on Lough Corrib.




Delphi
Delphi is fishing very well at the minute, according to fishery manager David McEvoy, with 18 salmon reported for the first 11 days of April, following a prolific March, with 18 reported for the month.

Ross O'Mullane had a fish of 6lbs 4oz off Doo Lough, only to be outdone by his companion Emma Vaughan, who had one of 7lbs 2oz. Needless to say they were happy campers. Ellen Fromm from Frankfurt had her first off Doo Lough which weighed in at 8lbs 15oz.
Delphi regular Hugh Brennan had one off Finlough on a Sunray Shadow. The fish weighed 7lbs 9oz, while Andrew Lyall, another regular, had a sea-liced 7lbs 10oz fish off Finlough. This was taken on a Collie Dog variant.

Micheal McLaughlin from Enniskillen managed to land and return a sea-liced 6lbs fish in Heneghans Run on a Willie Gunn, and Stephen Bolton and John Hargreaves landed the first fish off Doolough for the year. Stephen had a sea-liced fish of about 5lbs and John had one of 7.5lbs approx. Stephen also landed a lovely sea-liced 7lbs fish off Finlough in very rough condtions on a Collie Dog.

We had a rare feat by wife and husband (in that order) Kate and Howard Kilguss who both landed springers on Finlough. Kate had a sea-liced fish of 8lbs 15oz on a Collie Dog. This was duly followed by Howard who landed a 6lbs 6oz fish on a Shrimp Fly. Needless to say to put it mildly they were over the moon.

Yvonne Zirngibl also had a lovely 9lbs 13oz sea-liced fish off the Grilse Pool on a Collie Dog. She did have the advantage of being guided by her husband who has got a few in his time!


Pat Molloy from Dublin also had a beautiful 14lbs sea-liced fish off Finlough on a Cascade. His boat partner Willie Cotter suggested later that we install an onboard library when fish take such a long time to land!

Rebecca Keating, who last caught a salmon when she was 15 (about 5 years ago), landed and returned an 11lbs fish, which for someone who has done so little angling is a remarkable feat. The fish was taken on a Tosh.

For fishing or accommodation, full details and booking info are available on the website at www.delphilodge.ie , or contact the lodge at +353 (0)95 42222.