Galway Fishery
Water levels have dropped away again in Galway, with just 2 gates now open, and conditions ideal for spring salmon fishing. As water levels have dropped, salmon fishing has picked up, with some fine salmon landed this week. Jim Barry from Cork had a 7.5lbs fish on fly, while shrimp accounted for fish for Peter Hannon from Northern Ireland, who landed a fine 13.5-pounder, and Philip Waterworth (also NI) who had an 8lbs fish. Jonathan Kerr (NI) had an 11lbs fish on shrimp, while local man Donal Hegarty also took an 11lbs fish, again on shrimp. Eoin Warner from Dublin had a 7.5lbs fish on shrimp, and Northern angler and regular visitor to Galway Jimmy Davison took a cracking 14.5lbs spring salmon on spinner. Fintan Murphy from Galway had an 11lbs fish on shrimp, and Sean McManamon from Kildare had a brace of fish on different days, an 8lbs fish and a sparkling silver 12.5-pounder, both taken on fly.
One of the regular visitors to the fishery, who shall remain nameless, hooked a very large salmon on Tuesday morning, and enjoyed a tremendous fight, only to lose the fish close to the net. Witnesses estimated the fish at over 20lbs, which would surely have been a source of great joy to the angler concerned. Hard luck Sean!

With two gates open and spring salmon running the river in good numbers, prospects for the coming weeks of spring fishing are looking very good indeed.

Western Lakes
Ronan Cusack reports that Lough Mask proved a bit tough over this Easter weekend, despite reasonable conditions and good fly hatches being reported from all across the lake. Pat Winning (Cork) fished Mask on Thursday and landed 4 fish (best fish 1.75lbs). Martin McCoy and two friends from Northern Ireland fished on Good Friday for 4 fish (best fish 2lbs). Tommy Foley and Sean Maloney (Ballinrobe) fished Mask on three occasions during the past week and landed 7 trout for their efforts (best fish 3lbs). Tommy, who is the current chairman of Ballinrobe & District Anglers, said the number of small fish he has encountered this season so far is almost unbelievable, but very encouraging for the future of the lake. Tourmakeady Angling Club held the Churchfield Cup sompetition on Sunday. There was a small field on the day with 14 anglers landing 6 fish over the size limit. The competition was run on catch-and-release rules and the winner on the day was John Murray (Sligo) with 3 fish for a total of 130cm. Dublin anglers Eddy Roe and Mark Rogan fished Mask on Easter Saturday and had 3 trout for their day (best fish 2lbs). Two Northern Ireland anglers staying at Halls Angling Centre fished Mask during the week and landed 4 fish for a day (best fish 1.75lbs). Brian Hall and Greg O'Donoghue spent a few late evenings in Ballahalla on the buzzer and had fish up to 4lbs for their efforts.
Arnold Donnelly from Athlone fished with Jonathan Crevan, from Lecarrow, Co. Roscommon, and Jonathan landed a fine 7lbs 2oz trout on an imitiation rainbow trout Rapala. The 2 lads had 5 trout for their day.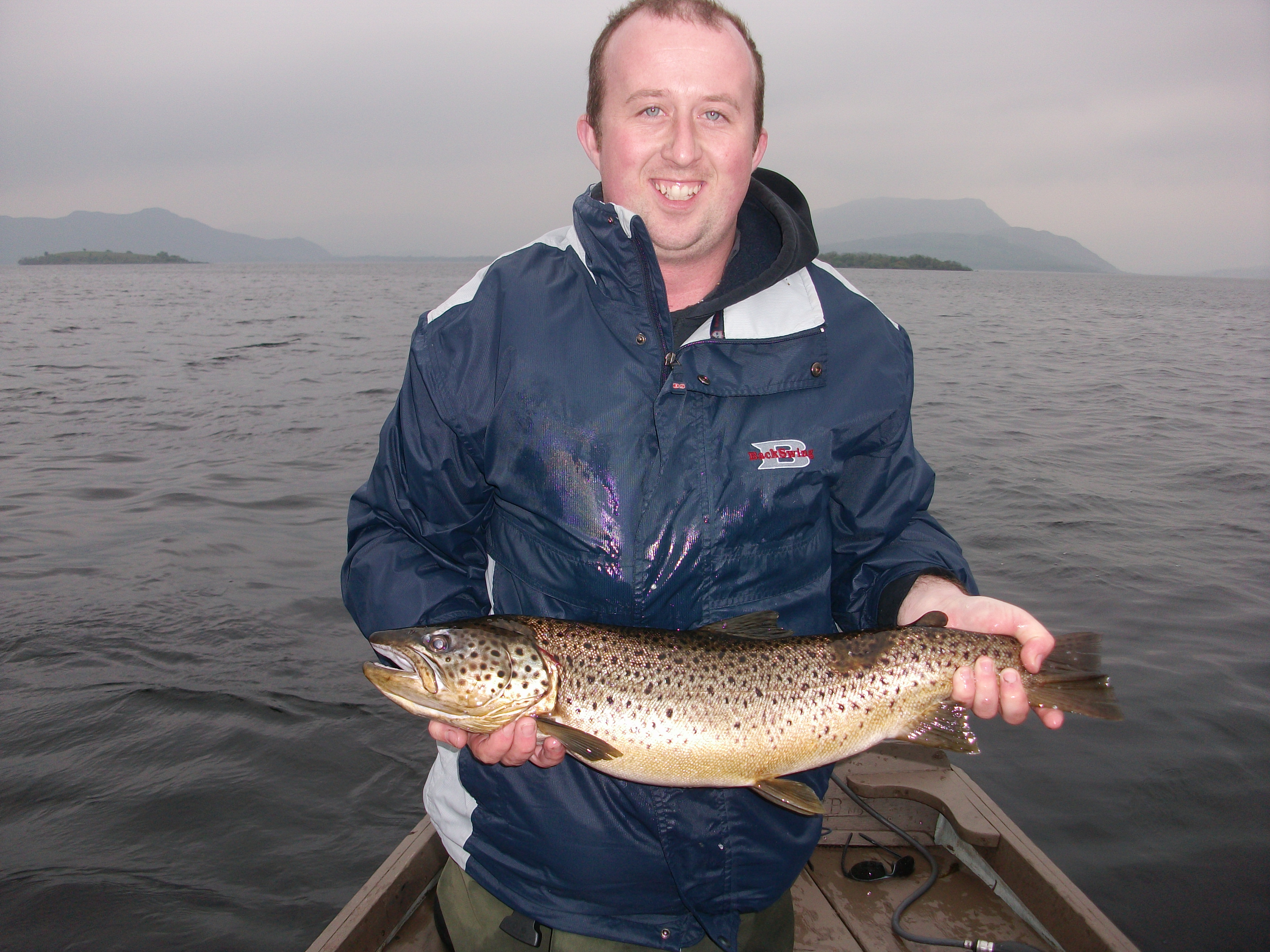 Jonathan Crevan with his 7lb 2oz fish



Mayfly have already started hatching on Lough Corrib, unexpectedly early given the long cold winter and freezing conditions of last December. I have reports of good hatches both from the eastern and western shores of the lake, although trout don't seem to be on the mayfly yet. There are also good hatches of olives at the moment, as well as some chironomids, but most trout seem to be feeding sub-surface, and buzzer and nymph fishing is still accounting for most fish caught. A change in weather might bring on the fishing a bit, with experienced anglers hoping for a spot of rain to get things moving.

In the Cornamona-Greenfields area, 41 anglers reported 55 trout in 49 rod-days, with most fish coming to wetfly and nymphs. Enda Browne landed the best fish on fly, a cracking trout of 5.5lbs taken on wetfly. Tom Ormond and Paul Geraghty from Meath had 2 fish each for approx. 8lbs for their day out, all on wetfly. Peter Curran from Cornamona had 4 trout over 2 days for 6.5lbs on wetfly. Jimmy Molloy had 4 trout for a day to wetfly, while John Harrington and John Quilligan from Cork had 11 trout over 5 days for approx.. 27lbs, all released. Eugene McGuinness from Cavan had 4 trout over 2 days for 6lbs on fly, and Dara Walsh from Ballycurrin had 3 fish for 5lbs for his day. Riche St. Ledger from Cork trolled for a day and landed a fine 9.2lbs trout. Roy Pierce took a French guest fishing for pike and they landed a monster 17.25lbs trout while trolling.


Sea Angling

The second leg of the 2011 West Coast Shore League takes place this Saturday, the 30th of April. The venue is Trawee beach, Co. Sligo, with check-in from 10am, and fishing from 12-4pm. The host club is Western Vikings SAC, a new club based in Co. Sligo, and with approx. 50 entries so far looks set to be one of the biggest competitions on the west coast for some time.

The West Coast league is in its second year, and already gaining a reputation among top competition anglers, attracting entries from all over the country. With a large prize fund and lots of smaller prizes, competition is sure to be intense over the next few months. As there are 8 legs, with 6 scores to count, entries can still be taken on Saturday.

For more info contact Sean Ivory on 087 7869289 or Kevin Barber 087 9247288 from the Western Vikings club.