Galway Fishery
Despite the bright sunny conditions, salmon fishing was pretty good in Galway over the last week, with 12 spring salmon landed, and quite a few more hooked and lost. Fish were landed on shrimp, spinner and fly in almost equal numbers, keeping anglers of all preferences happy. Local anglers Dave Lenihan and Henry Cosgrove both landed springers of 7lbs and 6.5lbs, while another local, Fintan Murphy took a 9lbs fish on shrimp. Ber Gilsenan from Mullingar landed a fine 12lbs fish on spinner, while brother Frank landed a 9.5lbs fish, also on spinner. Salthill man Simon Lenigan landed a magnificent 15.5lbs silver salmon on spinner, which he said was better than taking a holiday! JJ Sullivan fished the fly, and had a fine 10.5lbs fish, as did James Quinn, who had a 9lbs fish on fly. John Liddy also took a 9lbs fish on fly, while Tony Kavanagh had the best fish on fly for the week, a 12.5lbs fish taken while fishing an evening session. Local man Sean O'Tolle had a cracking 13lbs salmon on shrimp, and John McCarthy had an 8lbs fish on spinner.
With 2 gates open, and more broken weather this week, conditions are looking very good, and with fresh salmon coming in every day, fishing prospects are excellent for the coming weeks.

Western Lakes
Ronan Cusack reports that blue skies and strong easterly winds over the May bank holiday weekend on Lough Mask meant anglers had to be on top of their game in order to succeed.
Ballinrobe and District Anglers held their annual development competition on Sunday last. In first place was Kevin Egan (Ballinrobe) and Irvine Marshall (Northern Ireland) with 3 trout for 2.15kg. Second was Eddie Shannagher (Ennis) and Pat Noone (Kildare) with 2 fish for 1.37kg. Third was John Barrett (Ballinrobe) and Aidan Heffernan (Dublin) with 2 trout for 1.34kg. Heaviest fish went to Tommy Foley (Ballinrobe) with a trout of 0.76kg.
Gerry O'Brien (Ballinrobe) and son John reported excellent fishing on buzzer in the late evenings once the wind dropped. Greg O'Donoghue and Peter Byrne (Ballinrobe) also had similar reports on buzzer once darkness fell. Pat Winning (Cork) fished Mask on Monday and landed 4 fish on buzzer (best fish 2lbs). Five Northern Ireland anglers staying at Halls Angling Centre fished Mask in the early part of the week and landed 7 fish for a day (best fish 2.25lbs). As for hatches, there are not many mayfly on Mask as yet, but traditionally the whitethorn needs to be gone off the trees before you get a worthwhile hatch here.

Meanwhile, the mayfly is well and truly up on Lough Corrib, with large hatches reported from a number of areas over the last few daysm while olives are also hatching in good numbers. Trout seem to be feeding on them now, and fishing has really picked up at last, although not many anglers are out yet. The pattern over the last few years has been for later hatches, and the early hatch this year may have taken many people by surprise.
In the Oughterard area, Tom Kelly reports that a party of French anglers had 12 trout for a day to wetfly and dapped naturals. James Caulfield from Trim had 7 trout on wetfly over 2 days. Some Welsh anglers had good fishing on buzzer patterns, with John Davies reporting 3 fish to 3lbs, Brian Hugher taking 2 fish of 3.75 and 3lbs, and Jeff Churton landing 2 fish of 2 and 2.75lbs. Bernard Craven from Dublin had 2 for 3.5lbs on wetfly, and John Davis from Cork landed 6 trout over 2 days on olive patterns.
Trollers are also having good sport, with some big fish coming to the troll. Dr. Orthuber Georg landed a magnificent trout of 18lbs, while Mair Johannes from Bavaria had a trout of 9lbs. Richard St. Ledger from Wicklow had a trout of 9lbs 11oz.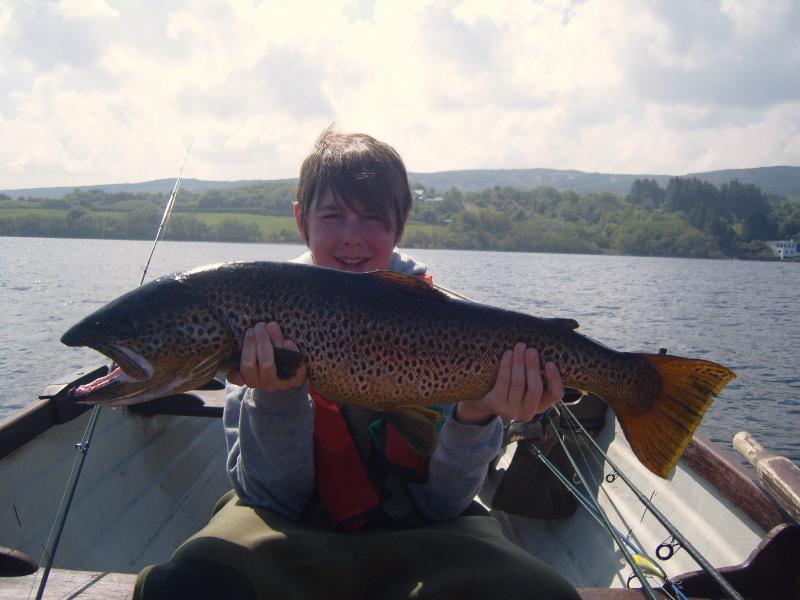 Tristan Morrow with his 12.5lbs ferox trout from Lough Corrib.

Fishing guide Donal Connolly reported on great fishing for some of his guests. Tristan and Johnny Morrow from Banbridge in Co. Down, having caught 2 trout (best 2.5lbs which was released) on wet fly in bright, calm, sunny conditions, decided to troll for a few hours and landed 2 ferox trout of 12.5lbs and 11.5lbs. As it was 13-year-old Tristan's first specimen trout they kept one trout to be mounted, whiel the other was released. This is the first trout that Johnny and Tristan have ever killed on Lough Corrib. Well done and great fishing! Phillip Knecht from Switzerland had 3 trout for 6.5lbs on the dapped mayfly, while David Carlisle from Hexham in the UK had 2 trout for 3.25lbs on wetfly. To book fishing or accommodation with Donal, contact Connie & Donal Connolly, Nonaim Lodge Accommodation & Angling, Shannawagh, Glann Road, Oughterard, Co. Galway. Tel: +353.(0)85.7364830, email info@fishingcorrib.com or follow them on facebook at www.facebook.com/LoughCorribFishingIreland

Over on the Cornamona-Greenfields side, John Walsh reports that 70 anglers recorded 104 trout in 118 rod-days, with a lot more smaller fish not recorded also. Wetfly is most effective at the moment, with mayfly and olive patterns taking most fish. Trout are on the mayfly in the Greenfields area, while further north in the Cong-Cornamona area they have yet to switch on the mayfly, preferring olives so far. Anglers are also reporting a lot of small trout coming to the dap.

The Cornamona Anglers held a wetfly competition on Sunday, with 26 anglers landing 25 fish averaging 1.66lbs. The winner was Eamon Gavin, with 3 trout for 6.5lbs. Second was Peter Curran, with 4 trout for 5.75lbs, and third was Jimmy Molloy, with 3 trout for 5.25lbs. In the last report I omitted the results from last week's annual hospice competition, which the Cornamona club held also, and Tom Doc Sullivan kindly forwarded on the results. Once again the event was a great success, (the previous 3 events have raised almost €7,000 for Galway Hospice). It is a pairs competition, run on a catch-and-release basis.
Conditions of bright sun and very little wind meant that buzzer and nymph tactics were the order of the day. This year's winners were World Cup champion of 2010, Mike Keady from Moycullen and partner Kevin Kerrigan from Clochbreac, they had 7 fish between them with Kevin's catch including the largest fish of the day at 51 cm.
In second place with 5 fish were Seamus Kelly, Oughterard and Joe Crane Roundstone, this is their 3rd time finishing in runner's up position. Third place went to Andrew Boyd, Caherlistrane and John Somerville Jr., Dooras with 6 fish just piping last year's winners, Stephen Lydon and Jimmy Molloy of Cong. 46 rods measured in 40 fish on the day.

A Garda competition was held in Greenfields on Sunday also, with Bob Bradley taking the honours with 1 trout of 0.97kg. Phil Donohue was second, with a trout of 0.84kg, and Barry Carolan was third with a trout of 0.8kg. The Garda Siochana are hosting the European Police Fly Fishing Championships on Lough Corrib next week, and I hope to report from the event on great fishing.

Elsewhere, fishing guide Larry McCarthy from Glencorrib reported 28 trout for 8 anglers over 30 rod-days, with Vaughan Ruckley and John Cash from England enjoying some very good fishing, landing 22 trout over 5 days fishing. To book fishing or accommodation with Larry, check www.corribangling.com/ or call Larry on +353 (0)93 31718 or mobile: +353 87 9135222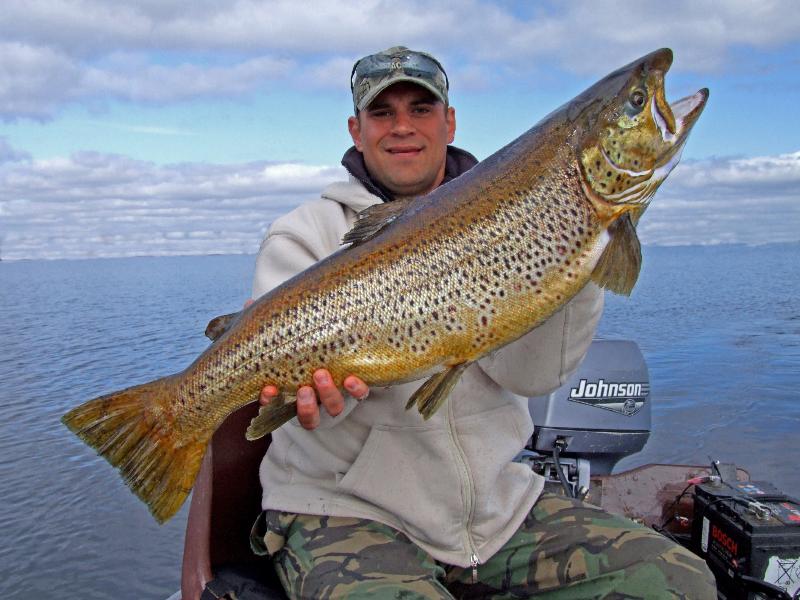 Emil Bucko with his huge 22lbs ferox trout caught on Lough Corrib.

Last year I reported on a monster 25lbs trout for Czech visitor Karel Sourek, who was guided by his friend who lives here, Emil Bucko. Karel has kept in touch with me since, and has been looking forward to a return visit ever since. He was back over the last couple of weeks, and while he didn't catch a monster of the same size himself, Emil almost equalled his feat, landing a huge trout of 22lbs and 88cm on a trolled homemade lure. They had many other ferox during their trip, and Corrib is surely becoming a mecca for Karel and many other trophy fish hunters. Congratulations to Emil and Karel on their magnificent capture, and for releasing all the trout they caught back to the lake again - sportsmen they certainly are!