Galway Fishery
Water levels were perfect for flyfishing this week, but very bright and humid conditions, coupled with water temperatures of 20C, made fishing difficult. There were 47 salmon landed for the week, with catches picking up a lot over the last couple of days. Very good numbers of salmon are still entering on every tide.
Local angler John Anderson had 3 grilse on fly, as did Paul McNamee from Dublin. Henry Cosgrove landed a fine grilse of 7.5lbs, while son Michael took 3 fish over 2 visits. Jack and Lawrence Flood from the UK had a grilse each on shrimp, as did Brendan Doyle from Monaghan, while Galway man Phil Donoghue took a nice 6lbs fish on fly. Peadar Duffy from Monaghan had 2 grilse of 5 and 7lbs on shrimp, while Eamon Power and Paul Whelan from Waterford had 2 grilse each on fly. Denise Curran from Clonmel landed 2 grilse on shrimp, while annual visitor from Denmark, Per Balle, landed 4 nice grilse on fly. John Reidy had a 7lbs grilse on fly, while young JP Convery from Co. Down landed 3 fish today on fly and shrimp.
A change in weather conditions this weekend would be welcome news for anglers, and with so many fresh fish in the river, should improve fishing prospects for the week ahead.

Connemara
The very warm and dry weather of the last week has resulted in low water levels in the Connemara rivers, and consequently catches are suffering this week, however the good water of last week produced excellent fishing.

Erriff
Fishery manager Jim Stafford reports from the River Erriff that Water levels and angling conditions were excellent during the week beginning the 18th July with great cloud cover and strong winds. Water levels were recorded at 1.6 meters on the Aasleagh Gauge and with regular very heavy showers the river held up well for several days and fresh grilse entered the river on every tide. Stephen Ward, Tony Uttley, D. Bailey, all from the U.K. and fishing the Erriff for the first time had a good week catching 9 sparkling fresh grilse and 5 sea trout mainly on Cascades.

G. Garnier, France fishing the Erriff for 25 years had his best day ever on the river with 3 fish from Beat 1 in a morning session and 7 fish from Beat 9 in the afternoon - all fish were taken on Cascades and 8 were sportingly released, best fish 11.25lbs. Andrew Beattie continued his week beating last years personal best (11) having 13 grilse and 6 Sea Trout for the week - once again a Cascade was the most successful fly pattern - 10 grilse were sportingly released. A Red Shrimp fly was successful for Wilfred Foster, N.I. taking a fresh run grilse from the top Square Pool. A. Caffrey, Athy caught a grilse of almost 5lbs in the Falls Pool on a Willie Gunn and another of 7lbs in the Bridge Pool on Beat 9.

Nigel Larke, Tipperary caught 2 grilse on Cascades on his first day salmon fishing - both fish were sportingly released. Dessie Edwards, N. Irl. had 3 fish -one from Kelly's Bend on Beat 4 and two more from the Bridge Pool and the Falls Pool on Beat 9. Jimmy Keogh, Dublin had 4 fish from Poleen on Beat 4 and the Falls Pool on Beat 9 - best fish weighed 6lbs - Jimmy also released a 6lbs coloured fish taken in Poleen.

Gael Kerschbaumer, France had 2 from the Hawthorn Run on Beat 7 and the Sea Pool on Beat 9, and another fish from the Meadow Flats on beat 1 (released). Mike Carpino, U.K. had a sparkling fresh grilse fishing the Bridge Pool from the left bank. D. Byfield, U.K. fishing the Erriff for the first time had one from Deadman's on Beat 2 and another from Joyce's Sand Hill on Beat 5. Black Banks on Beat 6 produced a 6.75lbs fish for David Gaffney. Fergus Crawford released two grilse from the Garden Pool and Sea Pool on Beat 9.

A total of 48 salmon and 34 sea trout were taken during the week. At the time of writing the report water levels have dropped off to 0.7 meters and water temperatures have reached 18C. Grilse and sea trout can be seen splashing on the tide and fresh grilse are still entering the river.
To book fishing or accommodation, contact Jim at Aasleagh Lodge on 095 42252, or email erriff.fish@iol.ie


Inagh
Fishery manager Colin Folan reports from Lough Inagh on the week up to July 24th: The week started off with high water and good conditions, however the wind and water disappeared pretty soon and made conditions difficult for the lake. The Derryclare Butts is holding numerous fresh fish and is fishing very well, with most anglers encountering grilse. There is also a good show of sea trout in the last few days on the lake and at the Butts. At present the water is just high enough for fish to enter the lake. Rain is forecast for Wednesday, but the winds would want to increase a bit.
Total catch for the week was 9 salmon and 20 sea trout.
Colm Murphy (Galway) fished Inagh and had a lovely fresh grilse of 6lbs on a Silver Doctor. Tony Giles (UK) fished Corloo and caught his first ever salmon on a Cascade. The fish weighed 4.5lbs. Richard McMahon (Westmeath) caught a 5lbs grilse from The Derryclare Butts on a Cascade. Andy Walsh (Galway) had grilse of 5.5lbs and 6lbs from Inagh on a Stoats Tail. Tom McManus (Dublin) had a sea-liced fish of 5.5lbs on a Badger. Brian Regan (Galway) had a 6.5lbs fish on a Cascade from the Butts. Andrew and Peter Killeen (Dublin) fished the Derryclare Butts for a morning with ghillie Ronan Creane and both lads caught their first ever salmon of 6lbs and 4.75lbs on Silver Rat and Silver Badger. John O Malley (Galway) fished Inagh and had 4 sea trout to a Bibio and Seamas Nee had 3 sea trout to dries from Greenpoint beat.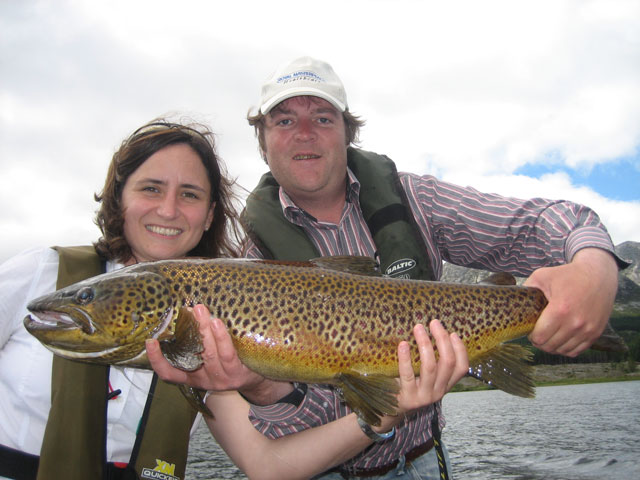 Colin also emailed to update me on a fine trout caught by a lady angler yesterday. Anke Kondla (Germany) fished Lough Inagh and caught and released a cracking brown trout of 11lbs. The fish took a Black Woolly Bugger fished on a sinking line. There were 2 other brownies of 2 and 4lbs landed in the same boat
To book fishing or accommodation, call Lough Inagh Lodge Hotel at 095 34706 or check their website at www.loughinaghlodgehotel.ie

Ballynahinch
Fishery manager Simon Ashe reports on fishing at Ballynahinch Castle up to the 22nd of July. Sustained rain over the previous weekend brought water levels up on the Ballynahinch River. Coupled with timely spring tides, large numbers of salmon entered the catchment. The grilse run was getting so late we were beginning to wonder if it would materialise to any great degree in 2011. Thankfully we are confident that the remaining two and a half months of fishing at Ballynahinch will be everything it was hoped it would be, with big runs of salmon coming off every tide.

Our record of not having had a blank day in the past couple of weeks continues. Jack Meredith was top rod for the week taking 3 salmon from the Castle Stretch as well as 2 others from the Lough Inagh Fishery during his 3 days fishing. His haul included a fabulous 8.25lbs grilse from the stream of Beat 4/5, a 5.5lbs fish from Sna Beg and a 6lbs fresh grilse from The Wood on Beat 1.

Further fish have been taken by David Harris, Cyril Biggins, Eamon Mannion and Nicky Strauss to name a few. We have also lost unusually large numbers of fish this week. There were certainly 4-6 fish that I can think of which were ready for the net but lived to fight another day! Many other anglers (including your frustrated author!) have hit more fish than they can count but are struggling to properly connect.

The water level is quite high today but has started dropping at this stage. There is no rain worth talking about over the coming week so the river will be in great condition for the foreseeable. Our resident fish have started to take up their usual spots; however, I would expect many more of the "Ballynahinch" fish to arrive over the next 7 days. Fishing beats are busily getting booked up for the rest of the season. There are fantastic fishing and accommodation special offers on the website (www.ballynahinch-castle.com). For those who are interested in reserving fishing please contact fishery manager, Simon Ashe (simon@ballynahinch-castle.com) or the hotel reception on +353 95 31006.

Delphi
David McEvoy at Delphi Lodge reports on fishing up to 23rd July: We have had 13 fish over the last few days, bringing the total for the week to 39. It has been a little disappointing in that we have seen lots of fish but they just don't seem to be in the mood to take. Having said that the weather has become a bit sultry even though the water has not yet fallen below 25.
Chris Jarman had 2 fish off the Turn Pool on Tuesday evening, one of 6lbs8ozs and one of 6lbs 4oz, both on a Stoats Tail. We had 4 fish on Wednesday. Rupert MacAuley had a sea-liced fish off the Deadmans of 4lbs11ozs on an Allie while his son Archie had one off Finlough of 4lbs 8oz on a Sunrae Shadow.
Alan Boyd also had one off Fin of 2lbs 13oz on a Cascade while Peter Bowles had one off the Horseshoe of exactly the same weight.
Thursday we had 5 with Alan Boyd landing 2, one off the Grilse Pool of 3lbs 11oz and one off the Deadmans of 3lbs 8oz, both on Cascades.
Ken McMillan had an old fish off the Turn Pool of 9lbs 10oz on a Cascade, while George Westropp had one of 4lbs off Duck Run on a Willie Gunn.
Finally Rupert MacAuley had one off Doolough of 3lbs on a Cascade.
Yesterday we had two, both off the river. Chris Jarman had one off the Turn Pool of 6lbs 8oz on a Mayfly nymph while Ken McMillan had one from Poker Pot of 4lbs 8oz on a Clan Chief.
It's hard to know at what stage the run is at. The only thing we can hope is that it picks up to what it was at the beginning of the week
To book fishing or accommodation at Delphi, contact the lodge at 095 42222, or check www.delphi-salmon.com


Kylemore
Nigel Rush reported that Kylemore Abbey fished well last week for the few anglers who were out. A return of 11 salmon and 26 sea trout for just 12.5 rod-days is certainly proof that the fish are there, if not the anglers. John Irwin landed the best salmon, a nice fish of 6.75lbs. I have heard reports of fish off the coast waiting to run the river, so watch this space as soon as we get a bit of rain.
To book fishing, contact Nigel at 095 41178 (office) or 095 41161 (home), or email nigelrush@eircom.net