Western Lakes
Tom Kelly reports from Oughterard that mayfly are still hatching in reasonable numbers, as well as good numbers of sedges, and fishing has been quite good when conditions are suitable. Dapping, dry fly and wetfly are all productive at times. Noel Kerins and Paddy Curran from Banagher, Co. Offaly, stayed at Lakelands B&B and reported 5 trout for 9.75lbs for their day. Sean McPhillips landed 3 for 5.5lbs. Seamus Kelly and Joe Creane had 5 for their day to 3lbs, while Joe and Tom Byrne fished another day and landed 3 trout.

Galway Fishery
Water levels remained perfect in Galway this week, with only wind direction affecting water levels by a few inches at most. There were 69 salmon landed for the week, including a cracking 17lbs summer salmon taken on a shrimp by Shane McNamee from Dublin. Shane also had a grilse the same day, while brother Paul landed 2 grilse. John Anderson from Galway landed 4 grilse on fly, all released, while Paul Wymes from Dublin had 2 grilse on fly and shrimp. Local angler Dave Lenihan caught and released 2 grilse on fly, while another local but no relation, Simon Lenihan, landed 3 grilse to 6lbs on fly.
Martin Kiely landed 3 grilse on fly and shrimp, releasing 2, while Limerick native Neil Spellacy had a nice 6lbs grilse on fly, and Greg Forde also took a grilse on the fly. Eamon Power from Waterford caught and released 2 grilse on fly, and local angler Karl Reynolds took a nice 5lbs fish on shrimp. Gordon Sheedy from Limerick had 2 grilse on shrimp, and Owen Jackman had a bumper day, landing 5 grilse on the fly, and sportingly releasing 4 of these. Ted Murphy landed his first salmon, swiftly followed by his second, one each on fly and shrimp, while young Amy O'Reilly was thrilled with her first ever salmon - a beautiful 6.5lbs fish caught on shrimp, which I netted myself, accompanied by a shriek of delight from Amy!

Connemara
Water levels were very low for most of the week in Connemara, however some rain over the weekend gave a slight lift on Saturday and Sunday to some rivers, and a heavy deluge today has brought big floods everywhere. Fish that were backing up in estuaries and river mouths should be running hard now, and fishing will really pick up here over the next few days.

Erriff
Fishery manager Jim Stafford reports from the River Erriff on fishing up to Saturday last: There were high tides up to 4.5 meters in the Killary early in the week - salmon and sea trout were continually showing on the high tides. The high-water mark reached 1.45 meters and fresh fish continued to enter the lower river even though the river levels were recorded at 0.6 meters on the Aasleagh Gauge. Water levels remained constant at 0.6 meters from the 31st July to the 5th of August. Heavy showers on the 6th resulted in levels rising to 0.9 meters.

Mark Broughton caught 2 in the Falls Pool and Bridge Pool on a Silver Stoat. Mandy Broughton caught a sparkling fresh-run fish of 9lbs in the Falls Pool on a Stoat's Tail. John Nelson, NI, caught one of 5lbs on a Cascade in the Sea Pool. Margie Crawford had 3 on a Cascade and Allys Shrimp all from Beat 9. A Stoat's Tail was successful for Charles Lister, UK who caught his first ever salmon - the fish estimated at 10lbs was returned again to the water. Ian Morgan, UK caught a fresh-run grilse in the Falls Pool on a Cascade variant. Timothy Fairhurst had 4 grilse including 1 from Jenkins taken on a Jock Scott - all fish were released again. Dr. Bart & Liam Maloney had 4 - best fish 7.5 lbs taken on a Willie Gunn. Conor O'Leary, Dublin returned a fish taken on a Shrimp Fly in the Coronation Pool on Beat 8. Angling conditions were poor on Tawnyard Lough which produced a few sea trout and numerous numbers of small brown trout to half a pound.
Total catch for the week was 21 salmon and 14 sea trout . At the time of writing heavy rain has resulted in a big flood, and good fishing is expected this week.
To book fishing or accommodation, contact Jim at Aasleagh Lodge on 095 42252, or email erriff.fish@iol.ie

Inagh
Fishery manager Colin Folan reports from Lough Inagh on fishing up to Sunday: Well the rain that I hoped for didn't really materialise. We had some very heavy showers but nothing persistent. On Sunday morning Lough Inagh was up 8 inches, but in all honesty it needs another 12 inches for a good flood in the river. The good news however is that the bog is soaked and a good day of rain will give us the much needed lift in water levels. There is heavy rain forecast for Tuesday night and all Wednesday, so from Thursday on the river should fish.

Six salmon were landed for the week, which is very good considering that there was little or no wind. Inagh Ghillie, Ronan Creane (Galway) caught and released the best fish of the week. The fish weighed 9lbs and took a Daddy. Willie Kelly had 2 grilse from Inagh on a Bibio, weighing 3.5lbs and 5lbs. Paul Mason (Galway) fished Inagh for the first time and was rewarded with a 4.5lbs grilse. Kevin Kelly (Galway) landed a 7lbs fish on a Cascade on Lough Inagh. Finally Andy Walsh (Galway) once again had a grilse of 6lbs on a Green Peter on Lough Inagh, that is Andy's sixth this year on the lake!

The sea trout have been slow this week, although Andy Walsh had 3 good fish of 2-3lbs on a Bibio and Green Peter on Lough Inagh.


To book fishing or accommodation, call Lough Inagh Lodge Hotel at 095 34706 or check their website at www.loughinaghlodgehotel.ie


Delphi

David McEvoy reports that fishing has been tough but not totally unproductive in the low water of the last week.
When the river is at 20 and you think it's lovely water, you know you haven't seen good water in a while. On the 4th both Billy Marshall and Gareth Beattie managed to land a fish each. Billy had a fresh fish in the Turn Pool of 5lbs on a Red Cascade, while Gareth had a sea liced 5lbs 12oz fish also off the Turn Pool on a Silver and Yellow Cascade.

Friday was a good day for the Borrie's from New Zealand with father and son team of Ron and Scott both managing to land their first ever Atlantic Salmon. Ron landed a 9lbs 8.5oz fish from the Turn Pool on a Hairy Mary while Scott had one off Finlough of 9lbs 4.5oz on a Van Beck.
Martin Stokes landed a sea-liced 5lbs fish from the Quarry on a Thunder and Lightning. Finally Nicholas Laverty had his first ever on the fly, a sea-liced 3lbs 6oz fish off the Turn Pool on a Stoat's Tail. Nicholas should make a good angler as he is a grandson of John Mills who one could say has caught a few fish in his day.
William Beattie had a sea-liced 4lbs 11oz fish off the Quarry Flats on a Silver Grey. Markus Merz had a fresh 3lbs 8oz fish off Morrisons on an Allie Shrimp. Finally Liam Dunne had a fresh picture perfect 4lbs 11oz fish off the Turn Pool on a Cascade.
Stephen Buchanan landed a 4lbs fish in Quarry Flats on an Apache Shrimp.
Finally Urs landed a fresh 3lbs fish off Finlough on a Minky. I'm afraid he'll have to try a bit harder to break his new record of 19llbs 7ozs.
At the time of writing I'm sure Delphi is enjoying all the water they need, and I expect to see good reports of catches from here in the next few days.
To book fishing or accommodation at Delphi, contact the lodge on 095 42222, or check www.delphi-salmon.com

Sea Angling
Good reports are coming in from charter boats around the region this week. Ths increase in sea temperatures and more settled weather brought about a big improvement in catches, with the first blue shark catches of the season among them.
John Brittain, skipper of the Blue Water in Cleggan, reported that they had a great day out sharking on Sunday: "Frank Parsons from Galway had a group out on Bluewater, and after a lively hour or two on the Barret Shoals we headed out for a shark drift for the rest of the day. Within an hour we had a fish on but the hook came free after 10 minutes and we never saw it. A short while later we got another run and this time everything held and Bluewater's first blue of about 50lbs was tagged and released. With 30 minutes of the day left we had a third run which turned out to be a cracking fish, well over specimen weight, but she was also tagged and released.
All this was witnessed by a pod of whales who were feeding on the sprat shoals so a most enjoyable day for all.
To book fishing with John, or accommodation at their B&B near Clifden, contact John on 086 2779622, or call Sue at Sharamore house on 095 21073.

Max Couque, skipper of the Leaca Rua out of Spiddal, sent on a report from one of his clients, Tom Salked. Max had a good week targeting tope and other species, while his fellow skipper Kevin MacGabhann of the Maighdean Mara, also enjoyed good fishing, including a cracking spurdog estimated at 20lbs!

Tom reports:
I've just returned from another great trip in the magical place of Galway. I spent 3 days aboard Leaca Rua skippered by Max Couque catching a large variety of species.
Day One I decided to take the Mrs afloat on a 'half day' excursion, so Max thought it would be fun if we dropped her straight in at the deep end and we went to Greatmans Bay for tope, ray and bull huss with a few stops on the way to fish for mackerel and pollack. Fishign was very successful with all species apart from the tope. We got plenty of thornback ray (the Mrs bagging the biggest of around 4lb!). Can safely say the Mrs was hooked!
Day Two I took my three young children, with the Mrs tagging along for another 'half day' trip. With my youngest only being 7 years old I asked Max if we could take it easy, so again we went to Greatman's Bay and caught all the usual suspects in abundance again. The Mrs again caught the biggest Ray!
Now Day Three, a 'full day', with no kids or wife, just me, my stepdad Dave, Sean (on holiday from Dublin) and of course Max.
I'd asked Max to get me a nice tope, and he said he'd see what he could do. We got enough mackerel and we headed further out towards the Aran Islands. We drifted across one of Max's favourite marks and within 40 minutes my line took off. What resulted, after a bit of a battle was a beautiful 30-35lbs male tope, which was brought on board, tagged and released perfectly. My first ever tope and hopefully not my last. Magic!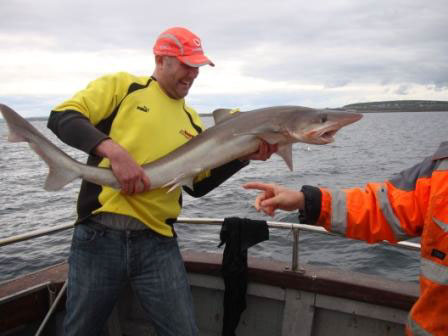 A 30lb Tope!
With the tide turning we decided to head off and have some fun pollack bashing on light spinning rods. We easily landed around 30 or 40 of these magnificent fighting fish ranging between 3lbs to 9lbs. Most were returned to fight another day with a few kept for the table. Dave was also pleased to see a nice cod come aboard.
It was now getting late so I asked Max if there was any chance on the way back of trying for spurdog, a shark I was very successful with over the last few years in Galway. Max obliged and off we went. Within 20 minutes I had landed a nice 10lbs male spurdog, but Dave had to outdo me with a beautiful 15lbs female a few minutes later. Sean unfortunately couldn't get one to take.
And that was it, another fantastic trip over. The highlight being my tope, for which I thanked Max with a few pints of the dark stuff, Guinness! Great trip, great boat and great skipper.

To book fishing with Max, contact him on 086 323 4638, or check www.galwayfishing.ie or contact Kevin on 086 8547890.