Galway Weir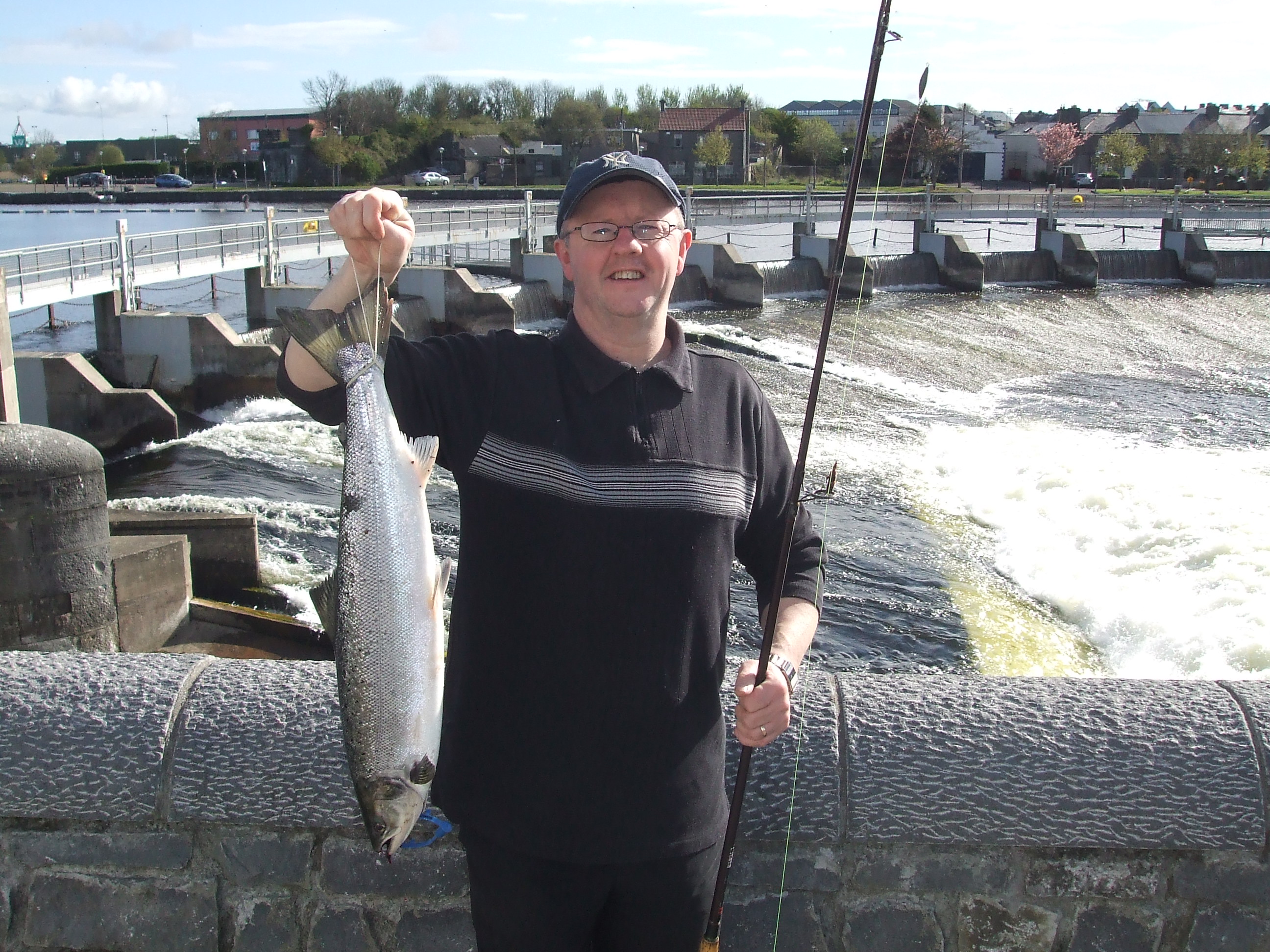 Brendan Doyle from Monaghan landed a 7lbs fish on spinner.

Fishing has picked up in Galway, with good numbers of spring salmon coming into the river now, and 13 fish were landed over the last couple of weeks. Water levels have dropped to a nice level for flyfishing, and Damien Nolan from Shannon landed the first fish on the fly, a nice 6lbs fish, while Sean O'Toole landed 2 fish, a 7lbs salmon taken on shrimp and a fine 10lbs fish on spinner. Brendan Doyle from Monaghan landed a 7lbs fish on spinner, and Michael Righton, a regular visitor from the UK, caught and released 2 good fish on fly, the best of them being 9lbs. Gerry Hartigan from Limerick took a 9.5lbs fish on shrimp, and Michael Rogers from Dublin had a 6-pounder on spinner. Local angler Declan Tuffy landed an 8.5lbs salmon on fly, while Clare man Eddie Corry took a 9.75lbs fish, also on fly. Regular angler Michael Leonard had a 7lbs fish on shrimp, while local man Simon Lenihan had a fine 10lbs fish on spinner, and retired fisheries manager Eamon Cusack landed an early grilse, taken on shrimp.

The unsettled weather this week may mean a rise in water levels, but there are plenty of fish showing in the river, and fishing prospects for the coming weeks are quite good.




Connemara
Fishing picked up at Delphi last week, as rain on Easter Sunday brought an end to the long dry spell. The first to capitalise was Arnold Crook, who had a fine fish off Finlough of 11lbs 3oz on a Sunray Shadow. It was indeed well earned as Arnold had fished hard in very difficult conditions up to that. Lennart Konvalin was next to strike, having spent over a week trying hard he finally got his reward in the stream on Finlough when he landed a sea-liced fish of 7lbs 4oz on a Black and Yellow tube. Martin Cellier had a sea liced fish of 9lbs 6oz off the Turn Pool on a Willie Gunn, and Jonathan Murray from Antrim had a sea-liced fish off the Rock Pool of approx. 8lbs., also on a Willie Gunn.

Others to score over the last week or so included Michael Wymes, who had a fish in the Whin Pool of approx. 7lbs on a Willie Gunn. Maxi Schiedt had one of approx. 7lbs off the shore of Doolough. Richard McDowell had a sea-liced fish from the Whin Pool of 9lbs 10oz on a Yellow Dick. (yes, it's not a joke). Andrew Lyall had a fish of approx. 8lbs from the Rock Pool on a Garry Dog, while Maxi Schiedt had another from the shore of Doolough of approx. 7lbs.

David Allcutt landed a sea-liced 6lbs 15oz fish off the Meadow Pool on a Delphi Collie, while on the 14th there were 2 double figure fish, one off the Whin taken by Barry Daniel on a Cascade and one of approx. 12.5lbs taken by Ronan Walsh on a Silver Shrimp on the Rock Pool.

On the 15th Angus Sutherland managed to take a sea-liced fish from the Whin Pool of 8lbs1oz on a Collie Dog.

To book fishing or accommodation, contact Delphi Lodge at 095 42222, or check www.delphilodge.ie

Fishery manager Nigel Rush reports from Kylemore Abbey Fishery that the first salmon of the season was landed yesterday, a nice fresh fish of 4.75lbs. The captor was fishery guide John Irwin, who was up early and landed the fish at Tullywee Bridge at 7.20 a.m., on a Pot-Bellied Black Shrimp fly. The average date of the first fish at Kylemore over the last 10 years has been the 18th of April, so it was one day early!

To book fishing with Kylemore Abbey, contact Nigel at 095 41178 or 087 9580702, and check the fishery website at www.kylemorefishery.ie




Lough Mask Still Fishing Well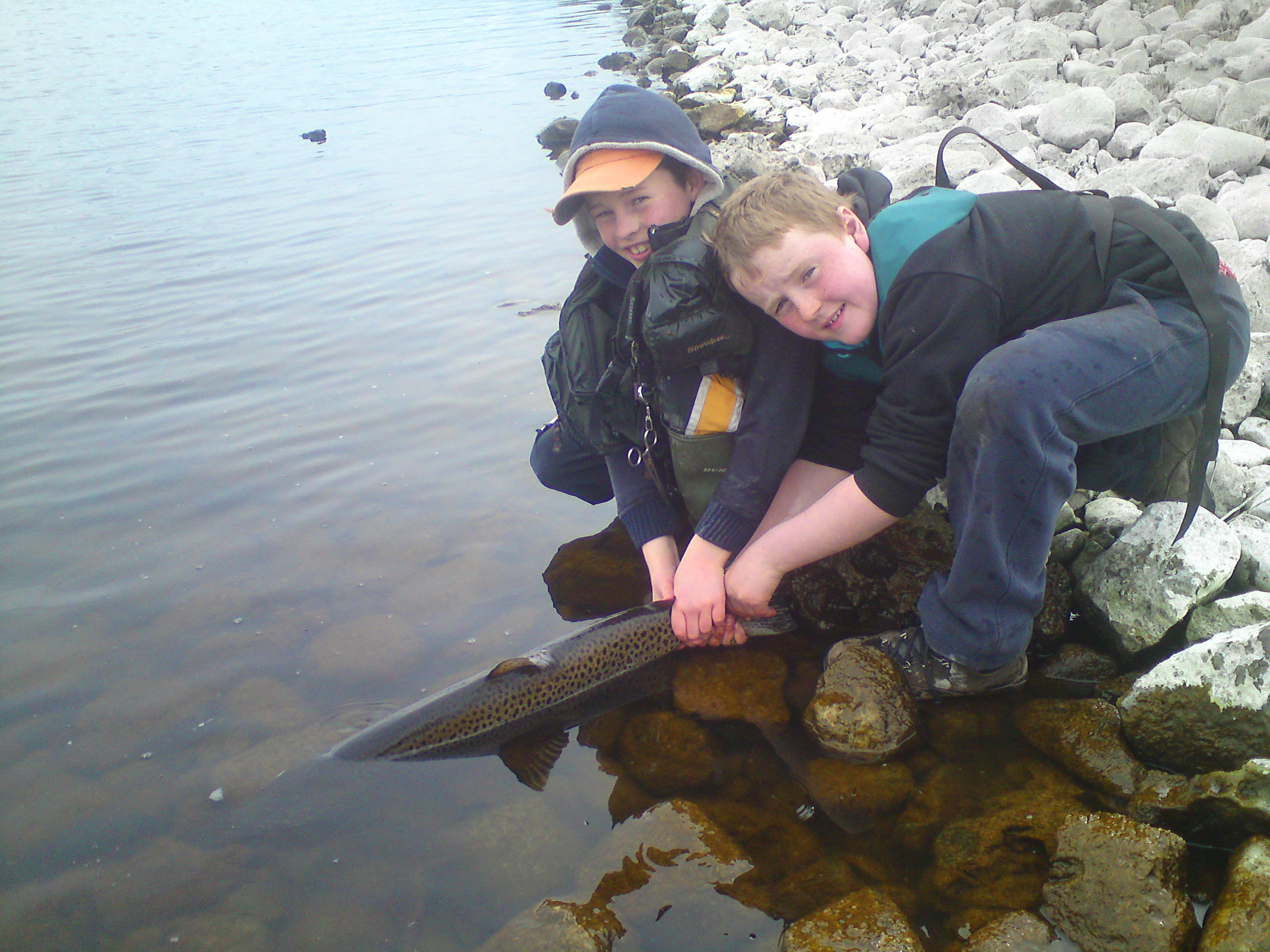 Cian Sheridan and Conor Cusack, out trolling on Sunday and they landed 3 fine fish.

Ronan Cusack reports that there was plenty of good fishing to report from Lough Mask again up to the cold spell over the weekend. The mild conditions and abundant fly-life meant trout were constantly on the move.
Local Ballinrobe angler Greg O'Donoghue had 7 fish on Tuesday last on a mixture of nymphs and buzzer (best fish 3lbs). Greg fished again on Sunday and had a further 4 fish (best fish 3.75lbs).
Erriff fishery manager Jim Stafford and his son Trevor spent an afternoon on Mask earlier this week and they had 8 trout on wetfly (best fish 1.75lbs).
Billy Graham, Fermanagh, fished with Sean Maloney during the week and they had some fantastic sport with fish up to 3lbs. Sean said the number of small fish they met and returned was unbelievable. Pat Feerick of Partry anglers fished on Wednesday last and he had 7 fish for his day (best fish 2lbs). Pat fished again on Sunday and he had a further 4 fish (best fish 2lbs). Joe Fitzharris and Ronan Baggott from Ballyhaunis fished buzzer on Monday of this week and they had 9 fish for the day (best fish 2lbs). Hall's Angling Centre also reported some excellent fishing during the week. Four Northern Ireland anglers staying at Hall's had 13 trout on wets over 2 rod-days (best fish 2.5lbs). John Walsh from Wexford also fished from Hall's on Sunday last and he had 3 fish for his day (best fish 3lbs).
Cornamona angler Padraig Kerrigan spent a few hours trolling on Friday last and he landed and returned a lovely ferox trout of 9.6lbs, while Ronan himself took a couple of young enthusiasts, Cian Sheridan and Conor Cusack, out trolling on Sunday and they landed 3 fine fish. The best fish went to Cian at 13.5lbs. It took approximately 20 minutes to get under control before Conor finally managed to get the net under it. The fish was taken ashore, photographed and returned to the water completely unharmed to fight another day.


Ronan also guides on Mask and can be contacted at cusackronan@gmail.com or on 087 2869487.




Lough Corrib
Corrib has really come alive over the last couple of weeks, with olive hatches starting and fish starting to feed at the surface. Even mayfly are starting to appear in numbers, and I spotted 15-20 mayfly in the course of a few hours fishing on Good Friday. Wetfly anglers are having good sport, with olive patterns doing best. Fishing conditions have improved in the Cornamona area with some anglers reporting excellent fishing to wet flies over the Easter period. Eamon Gavin landed 3 fish, the best at 2lbs, while Martin Kinneavy and his brother Stephen had 8 fish for 3 days fishing. Paddy Kinneavy had 4 fish over 2 days. Peter Curran landed 2 trout of 1.5lbs each on Sunday afternoon and released 3 more. Mike Shanks had a good weekend's fishing, with 7 fish on Saturday and 9 on Easter Sunday, all released. Reports are that trout are beginning to take to hatching mayfly as well as olives.

Frank Reilly reports that over the Easter period the best fishing was on the Saturday. Over the weekend a total of 19 anglers caught 30 fish for 25 rod-days. Sean Dixon and Gerry Mulroney from Ennis had 10 fish on Saturday, of which 8 were returned, best fish 2lbs 10oz. John Ronayne from Dungarvan had 2 fish, also on Saturday. David McGuinness had 4 fish for about 6lbs, keeping 1 of them. Former Fisheries Inspector Pat Day had 4 fish during one evenings fishing.

IFI Staff held a competition on Good Friday out of Derrymoyle. Declan Gibbons took 1st place with 3 fish for over 5lbs, the best being 2.5lbs. Second was Tommy Kelly who also had 3 fish, with Frank Reilly coming third with 2 fish.

Cong Anglers ran their Annual Wet fly competition on Easter Sunday. 18 Anglers took part, catching 11 fish. Paul Ramsey took first place with 2 fish for 3.5lbs. Jimmy Molloy was second also with 2 fish while Derek Madden and Michael McDermott from Castlerea came third and fourth respectively with 2 fish each.

Good fishing continued up to the when the colder weather landed, and has slowed down a bit since. There were 2 competitions fished out of Greenfields on Sunday the 15th, with many anglers fishing both and some figuring in the prizes on the double. The Ennis Anglers competition reported 14 trout for 22 rods, although the larger size limit of 14 inches may have affected returns. Gearoid Kirwan took top honours with 2 trout for 7.5lbs. Basil Shields was second, with 3 trout for 6.5lbs, and Paul Dignam was third, with 2 trout. Headford Anglers also fished a competition that day, with 17 anglers returning 11 trout. Paul Miller was first, with 2 trout for 6lbs 11oz. The other prizes were as in the Ennis competition, with Basil and Shane taking second and third respectively.

On the other side of the lake, Tom Kelly reports that there are plenty of large olives hatching at the moment, with some good hatches of mayfly also being observed. Some fish were observed taking olives very softly even on the windy days. The buzzer patterns are still catching some nice fish in many bays around the lake

15 anglers fished the Bartley McGauley Cup, with 12 trout caught in the bright sunshine of the weekend. The winner was Jim Glynn with 4 fish for 3.2kg, 2nd was Seamus Kelly from Glann with 3 trout for 1.66kg, and 3rd place went to Martin Butler with 2 trout for 1.22kg. Other catches of note were Larry Kelly and Scotsman John Jacques with an industrious 35 trout for 5 days fishing from Ardnasilla lodge, wetflies and buzzer patterns kept activity high and rods bent. Brian McLaddery fished on Monday in heavy wind and rain to good returns with his party of 4 anglers from Northern Ireland, they had 12 trout for the day which mainly took olive wetfly patterns. American Frank Carrelli fishing out of Lakelands Angling Center had 3 well-fed trout to dry mayflies, his best fish weighed approx 2.5lbs. A Welsh angling party fished for 4 days on Corrib with good catches for Dai Williams, who had 16 trout for his efforts, with some fish up to 4lbs. George Barron and Geoff Churton had 6 trout between them with best fish again weighing 4lbs. Brian Stewart continued the good catches with 6 trout for an estimated 12lbs. John Davies of the same party had 1 trout weighing a healthy 2.5lbs. Gavin Cronin from Belfast covered a lot of ground on Corrib and had 5 trout weighing 9lbs for 1 day's effort. Ger Cahill had 2 trout weighing 6lbs.

Paul Heaney from Corrib Anglers guiding service reported on great fishing for a couple of clients. Mr. John Sheridan of Ballina had 2 trout for almost 4lbs on Wednesday 11th April. Both fish caught on a Peter Ross and returned to the water safely. Mr. Aidan Collins of Athlone had 3 trout for 5.5lbs on Sunday 15th April. The trout were caught on olive patterns and all returned to the water safely. All trout caught were of superb quality and beautiful colour. To book fishing with Paul, check the website at www.corribanglers.com or call him on 086 0568385.

Very unsettled weather is predicted for the week with showers and cold gales, so ensure you have the right gear with you when out on the open lake which includes a serviced lifejacket.




Sea Angling
Conor Mountaine from the Galway Buccaneers club reported on their first boat competition of the year, which was fished in Galway Bay aboard the Maighdean Mara skippered by Kevin MacGabhann.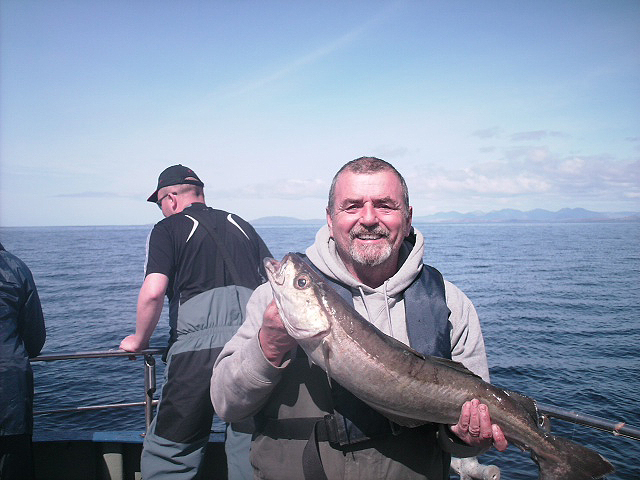 The heaviest pollack was landed by John Peel at 8.9lbs.

Congrats to Danny Sweeney on winning our first Boat Master Angler competition for 2012 with an impressive display. Danny got off to a good start, building up an early lead with pollack which he maintained throughout the day. He continued to add a few different species and ended any chance of being caught with a lovely thornback ray while anchored over sand on the last drop to win by 70 points . In second place was Steve Turner, just a point ahead of Noel Griffith, with Conor himself in 4th. The heaviest pollack was landed by John Peel at 8.9lbs, almost bigger than himself! Conor Mountaine had the heaviest ray at 6.2lbs.

Many thanks to skipper Kevin MacGabhann of Galway Bay Fishing and his crew for keeping us all well refreshed with tea and coffee and ensuring we were on fish for the day, with a good variety of fishing from drifting over reefs to anchored over rough ground, mixed ground and sand. Species landed included pollack, coalfish, poor cod, pouting, haddock, cuckoo wrasse, grey gurnard, dogfish, thornback ray, launce and mackerel.