Galway Weir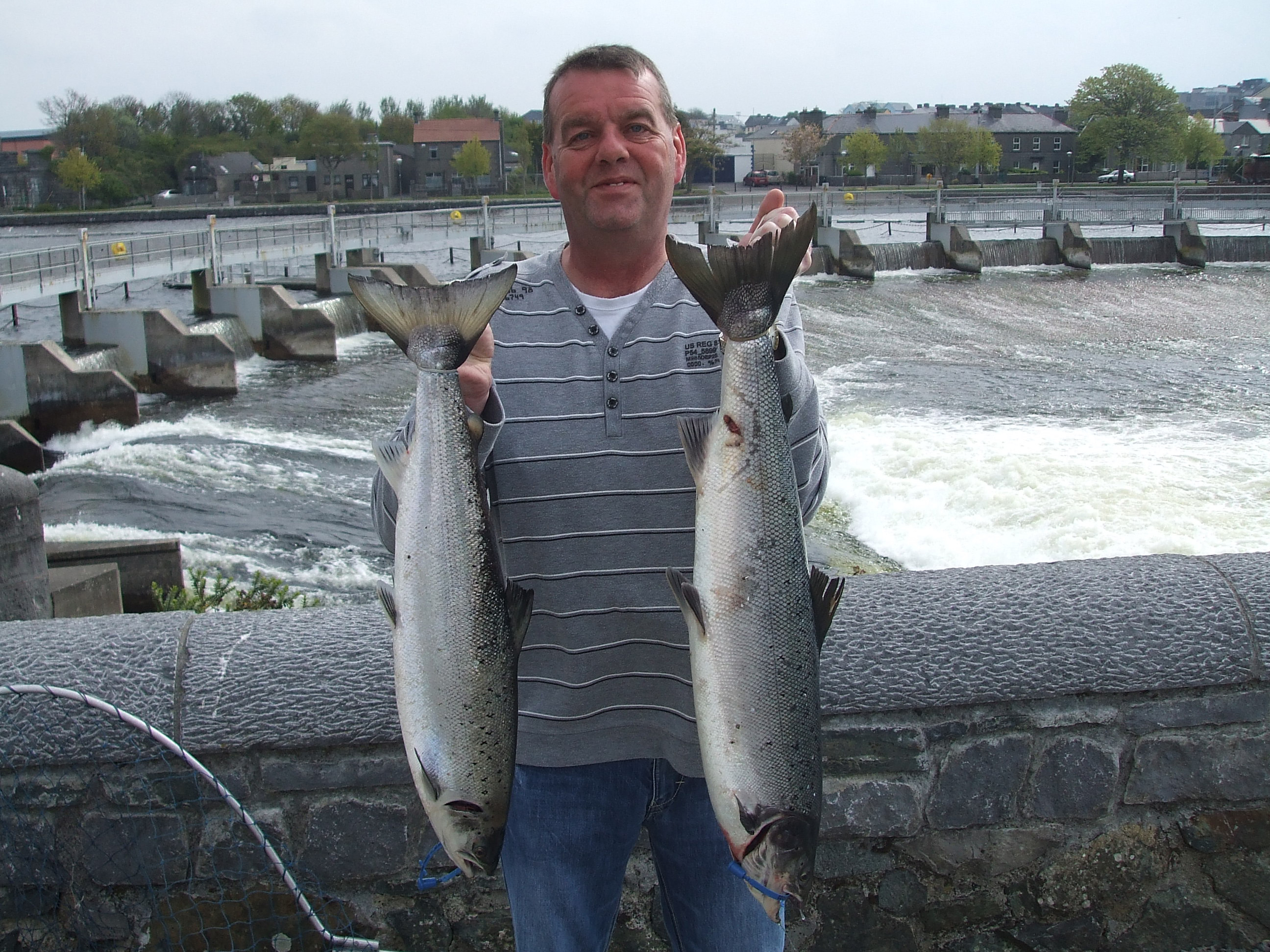 David McMurtry with 2 spring salmon landed in 2 days at the Galway Weir, one of 11lbs and the other 7lbs.

Spring salmon are running the river in Galway in increasing numbers all the time now, and fishing has provided good sport over the last few days. Most anglers are meeting fish, even if not all are landing them! 14 salmon were recorded for the week, and with water levels suitable for all methods, several were landed on the fly. Among those to catch fish were Eamon Power, who had an 8lbs fish on fly, Davy Hoy landed an 8.75lbs fish on fly, and Eoin Warner also took an 8.5lbs fish on fly. Declan Tuffy took a 10.5lbs salmon on fly, and Paul Whelan had an early grilse, also on the fly. Adrian Murphy fished the shrimp and landed an 8.5lbs fish, while John McGauran had a 7-pounder on shrimp, and Martin Kiely had one of 9lbs on spinner. First-timer visitor David McMurtry from Coleraine will surely be back, after landing 2 spring salmon in 2 days, one of 7lbs and the other 11lbs, both taken on spinner, while the fish of the week was landed by John Savage, who landed a fine springer of almost 15lbs on shrimp.
There are plenty of spring salmon showing in the river now, and fishing prospects for the coming weeks are very good indeed.

Connemara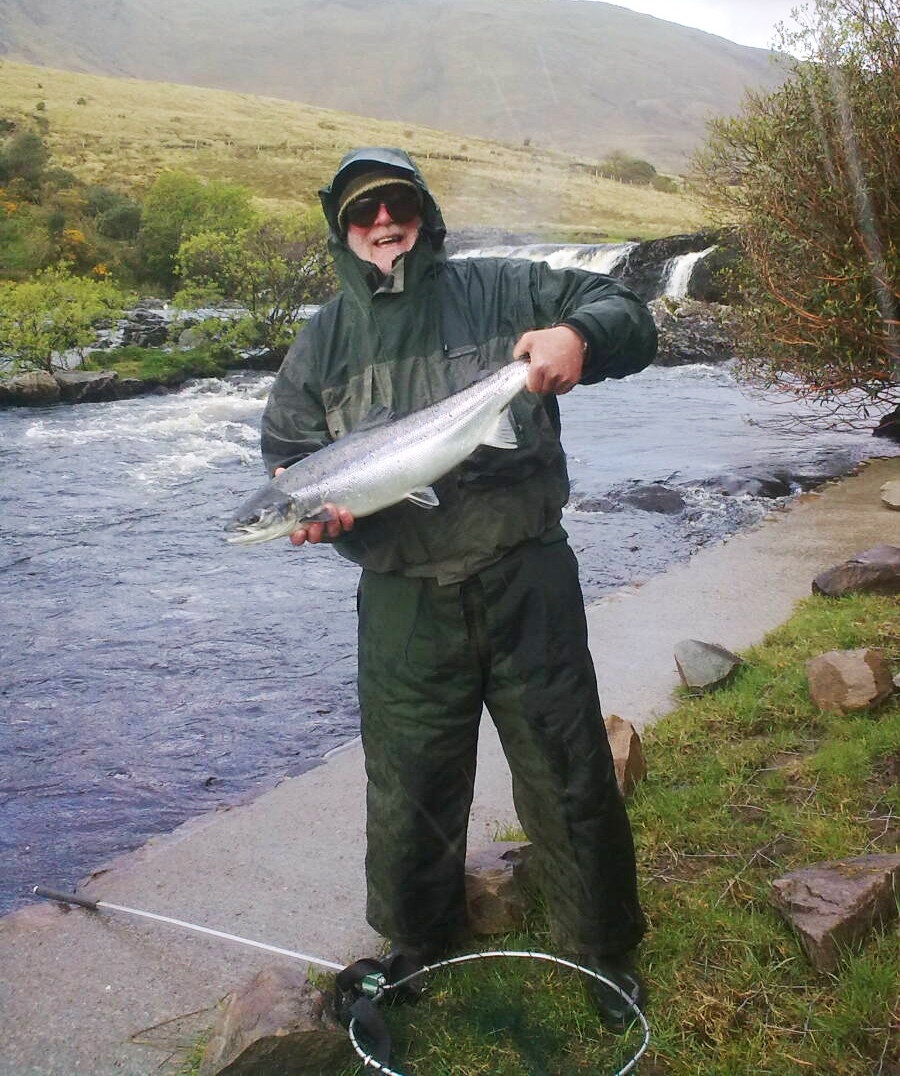 James Keogh with his 9lbs fish, the first of 2012 from the River Erriff.

The first salmon of the season on the River Erriff was landed on Saturday by regular visitor James Keogh from Dublin. Fishing the Garden Pool on Beat 9, James landed a fine 9lbs silver fish on a Cascade fly to kickstart the 2012 season on the Erriff. Not content with that, he returned on Monday and landed a further 2 springers, one of 8lbs and another of 9lbs, both released. One was taken in the Garden Pool again, and the other in the Sea Pool, and both fish took a Gold Cascade fly. Fishery manager Jim Stafford and his staff were delighted to see such good fish so early in the season, which bodes well for another great year at Aasleagh.
To book fishing or accommodation at Aasleagh Lodge contact Jim at the lodge on 095 42252, or email erriff.fish@iol.ie. The website is www.aasleaghlodge.ie, and there is also a Facebook page for regular updates at www.facebook.com/AasleaghLodge

Lough Mask Still Fishing Well
Ronan Cusack reports that fishing on Mask has been hampered a little this week by cold northerly winds and wintry showers. The Partry Angling Club held the Horan Cup competition on Sunday the 15th, which was won by local angler Pat Feerick, with 4 fish for 5.7lbs. In 2nd place was Martin Feerick with 3 fish for 4.3lbs. Alan Dowling took 3rd place with 1 fish for 1.25lbs.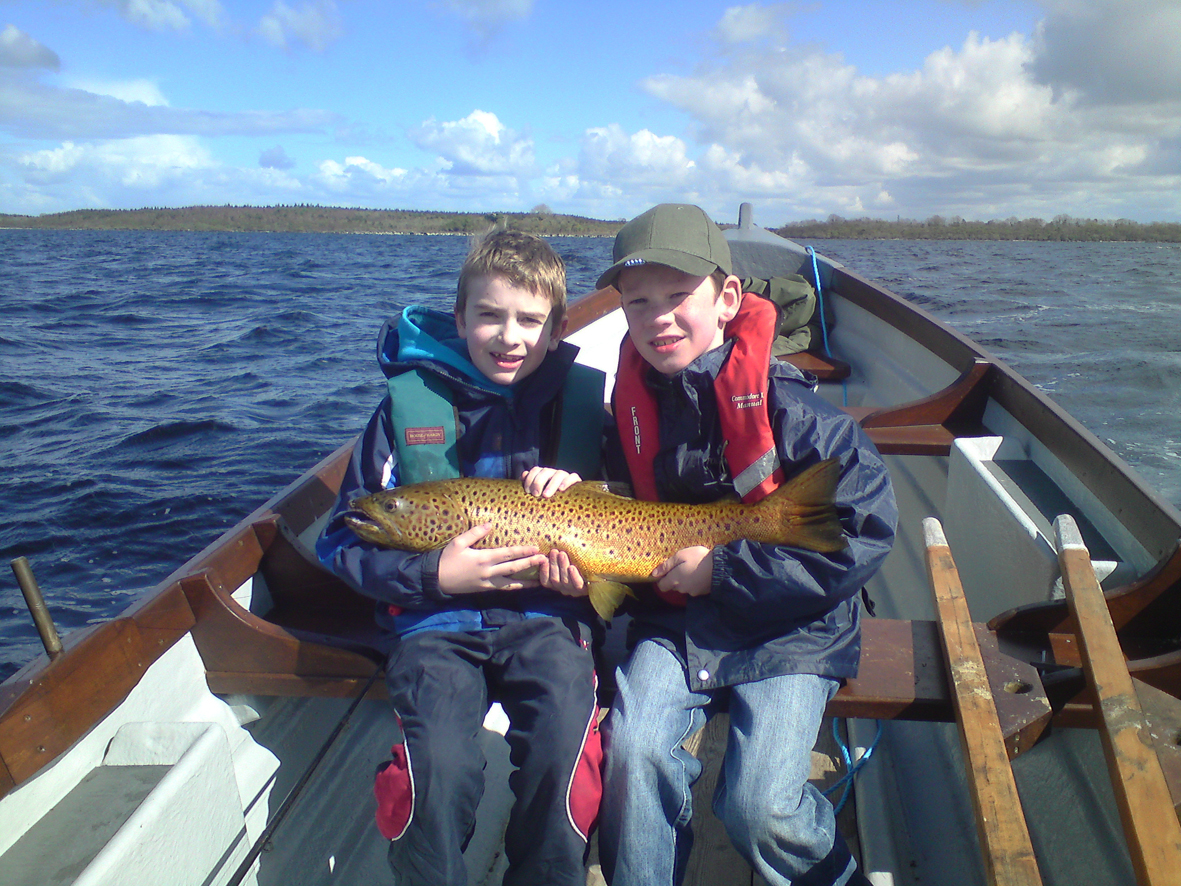 Young anglers PJ Feerick (left) and Sean Cusack, from Ballinrobe, with a fine 9lbs ferox trout they caught on Lough Mask. The fish was carefully weighed and returned to the water.

Tourmakeady anglers held the Churchfield Cup on Sunday last, which was run on a catch-and-release format. This won by local angler Eddy Gibbons with 5 fish measuring a total length of 178cm. Nigel Greene from Fermanagh took 2nd place with 4 fish for 153cm. John Murray, Sligo, took 3rd place with 4 fish for 139cm.

Joe Fitzharris and Derek Madden, Ballyhaunis, fished Mask on Monday last and they boated 22 trout with only 7 over the 13-inch limit (best fish 1.75lbs). Ballinrobe angler Kevin Sheridan reported 6 fish for 3 outings during the week (best fish 3lbs, all returned). Danny Joyce, Ballinrobe, fished on Sunday and he had 3 trout for his day (best fish 1.5lbs). Well known wetfly angler Adrian Gorman had 3 nice fish for a few hours on Sunday (best fish 2lbs). Adrian also reported returning numerous undersize fish during the afternoon. Billy Graham, Fermanagh, fished with Sean Maloney over the weekend and they had 4 keepable fish for two days (best fish 2lbs). Greg O'Donoghue, Ballinrobe, and fishing partner George Goodwin, Dublin, fished during the week and they had 4 nice fish for a day (best fish 2.5lbs all returned). Most anglers fishing on Mask this week said that is was not unusual to return up to 20 under-size fish for a day at the moment! So many small trout bodes well for angling in the next couple of years as they grow and mature.

Young anglers PJ Feerick and fishing buddy Sean Cusack had a nice ferox trout on Mask on Sunday last for 9lbs, and ferox fishing is reportedly quite good at the moment.

Ronan also guides on Mask and can be contacted at cusackronan@gmail.com or on 087 2869487.

Lough Corrib
The mayfly is up on some parts of Lough Corrib, with hatches coming in greater numbers every day, although the cold northerly wind of this week may slow things down again. Trout have started feeding on the mayfly in places, while elsewhere buzzer nymphs and olive patterns are still taking most fish. Donal Connolly from Nonaim Lodge reports that 2 anglers landed 9 trout on Monday the 23rd on the dap, while local tackle dealer Tommy Tuck landed 3 fish on wetfly for a couple of hours fishing in the evening, and also lost a very big trout that he had played for several minutes without showing any signs of tiring. Over the weekend 14-year-old Paul Joyce had 3 trout on wet fly, and his 11-year-old brother Shane lost a good fish while dapping when it broke his line.

Eamon Walsh reported on much increased activity on the lake in the Cornamona area, with many more anglers taking to the water mid-week, all commenting on the large numbers of olives and mayfly showing. John Walsh spent 2 hours fishing one morning, catching his limit of 4, releasing all but one. It seems that the best fishing was to be had in the early part of the week, with 3 Northern Ireland anglers fishing out of Molloy's in Carraig having some excellent fishing to wetfly. They returned all their catch with the best fish being just over 5lbs. As the weekend approached activity slowed with far less fly life on the water.

Frank Reilly reports that fishing in the Greenfields area has been slow to pick up. Over the weekend very few fishermen reported seeing any mayfly on the water. Jimmy Acton and a friend from Tuam had 3 fish for 5lbs for their day's fishing, while fellow Tuam angler Sean Naughton had 2 fish averaging 2lb each in a few hours over the weekend. Frank himself had 2 fish, with the best at 4lb, both returned.
Tommy Kelly reported some excellent fishing in the Oughterard area over the weekend. Northern Ireland angler Jim McAllister and a friend had 9 trout over 2 days, all to wet fly, most were returned. Mike Molloy and James Kelly had a great day, taking 8 fish for over 12lbs, while Tommy Tuck had an excellent fish of 6lbs over the weekend.

The Annual Collinamuck Cup was also run at the weekend. 43 anglers reported 23 fish over the limit. The winner was Tom Doc Sullivan with 4 trout weighing in at just over 15.5lbs. Both Eugene McCarthy and Harold O'Toole had 4 fish each, for a weight of 12.5lbs, with Eugene deemed to have come second as he had the heaviest single fish. Niall Collins had the heaviest overall fish of 6lbs. Buzzer nymphs took most of the fish.

It is wild and windy out there today, with broken showery weather forecast to continue for the rest of the week. It remains to be seen if mayfly hatches will be hampered, but if they continue to emerge then fishing should really improve, and prospects for the next couple of weeks are excellent.

Sea Angling
The Connacht Shore Committee of the Provincial Council hosted the IFSA World Championship Qualifiers over the weekend at various venues in the Mayo area, with anglers and stewards based at the Helm in Westport and very well looked after by owner Vinnie Keogh and his excellent staff. The beaches selected were Whitestrand on Saturday morning, Enniscrone on Saturday evening, and Keel on Achill Island on Sunday. 36 anglers of the country's top shore anglers qualified for this event, having either remained in the panel from last year's qualifier, or having finished in the top 10 in the Master Angler competition held late last year.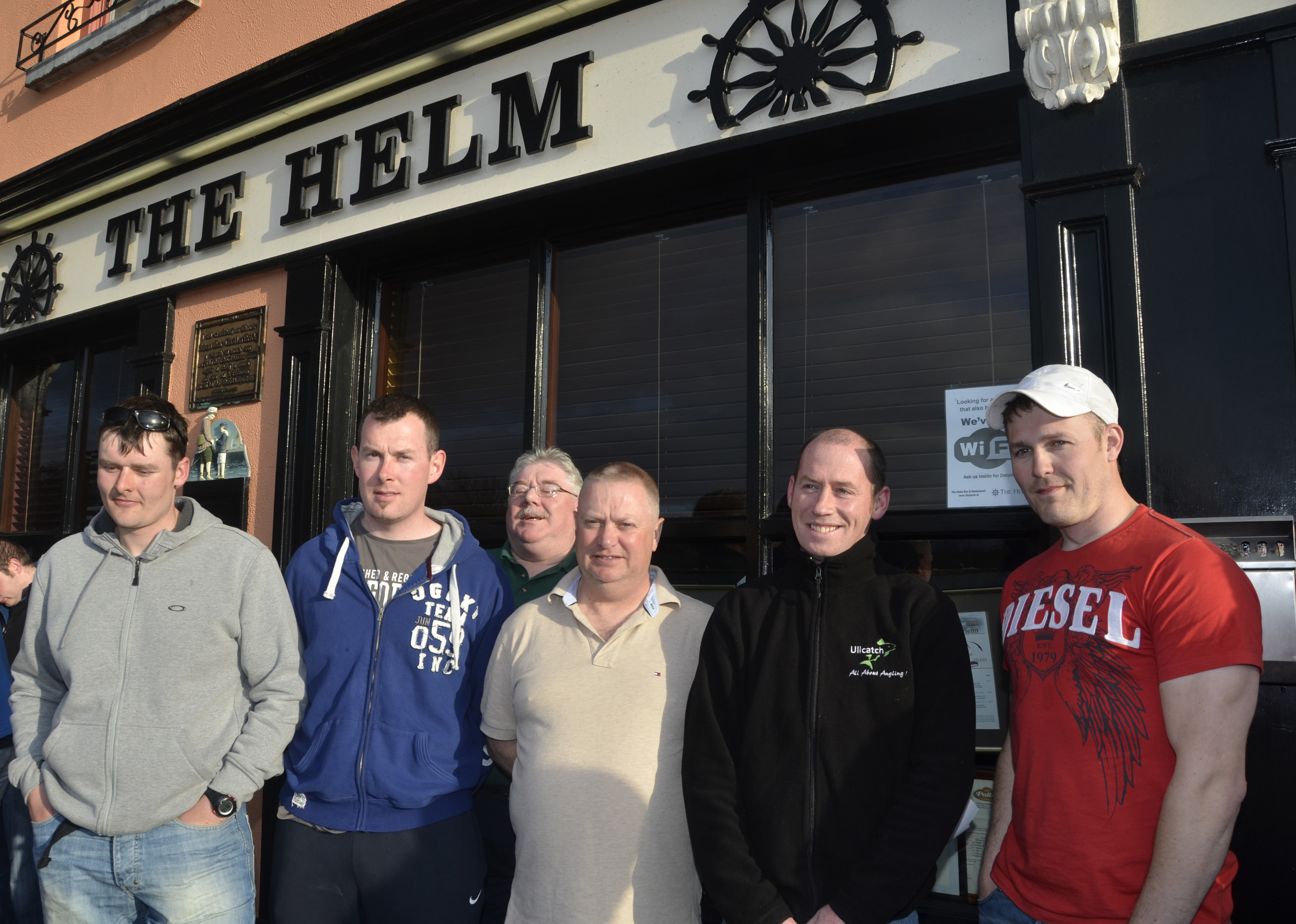 The anglers who qualified to represent Ireland at the World Championships in Holland later this year. L-R: Joe Duggan, Derek Kendrick, Tom Lillis (team manager), John O'Brien, Eugene Farrelly and Dave Roe. Missing from photo is team captain Martin Howlin, who was already qualified.

After 3 gruelling 4-hour sessions, interspersed with much driving, rain showers, and much appreciated food and refreshments in the Helm, the winning anglers were announced on Sunday evening back in Westport. Joining team captain Martin Howlin, who had already made the team by winning the Master Angler event, were John O'Brien, Eugene Farrelly, Dave Roe, Joe Duggan and Derek Hendrick, who is first reserve. The team will compete in the World Championships later this year in Holland, and will hope to emulate the team of 2010, who won the overall gold medal in South Africa.

Hearty congratulations to the successful group, and well done to the organisers, particularly Peter Atkins and Mike Curtin from the Connacht Shore Committee who put in Trojan work, and to the many stewards from various clubs around Connacht who gave up their free time to help out.