Galway Weir
Good numbers of spring salmon are running the river in Galway now, and with low water conditions fly anglers are enjoying good sport, as well as shrimp fishers. Athenry angler Declan Tuffy started the week off with a nice grilse, and ended it with a fine 13.5lbs salmon, both taken on fly. Tom Cogan from Monaghan landed a 7lbs fish on shrimp, and Dublin man Paul Wymes had a nice 11lbs springer on fly. Donegal angler Paul Gallagher took an 8lbs fish on shrimp, while German visitor Werner Meckle landed a 9.75lbs fish on fly. Martin Kiely had a red-letter day on the 12th, landing 3 salmon from 6.5 to 10.5lbs, including 2 on fly and 1 on shrimp. Father and son Fintan and Adrian Murphy had a fish each on shrimp, with Adrian's the better fish at 10lbs. Simon Lenihan had a fine 10lbs fish on fly, while Michael Griffin from Clare and Michael Rogers from Dublin both landed early grilse.
Water levels are perfect at the moment, and if the weather would just warm up a bit fishing conditions would be perfect. With plenty of fish running the river and such good conditions, angling prospects in Galway are very good for the coming week.
Connemara
Once again the heavy rain bypassed Connemara, and consequently rivers here have not risen much over the week, just small freshets caused by light rain. However, this didn't affect Ballynahinch Castle, where the first salmon of the season was landed by Tom McManus, guided by Michael van Murrick. The fresh fish weighed 9lbs, and was taken in the stream on Beat 1.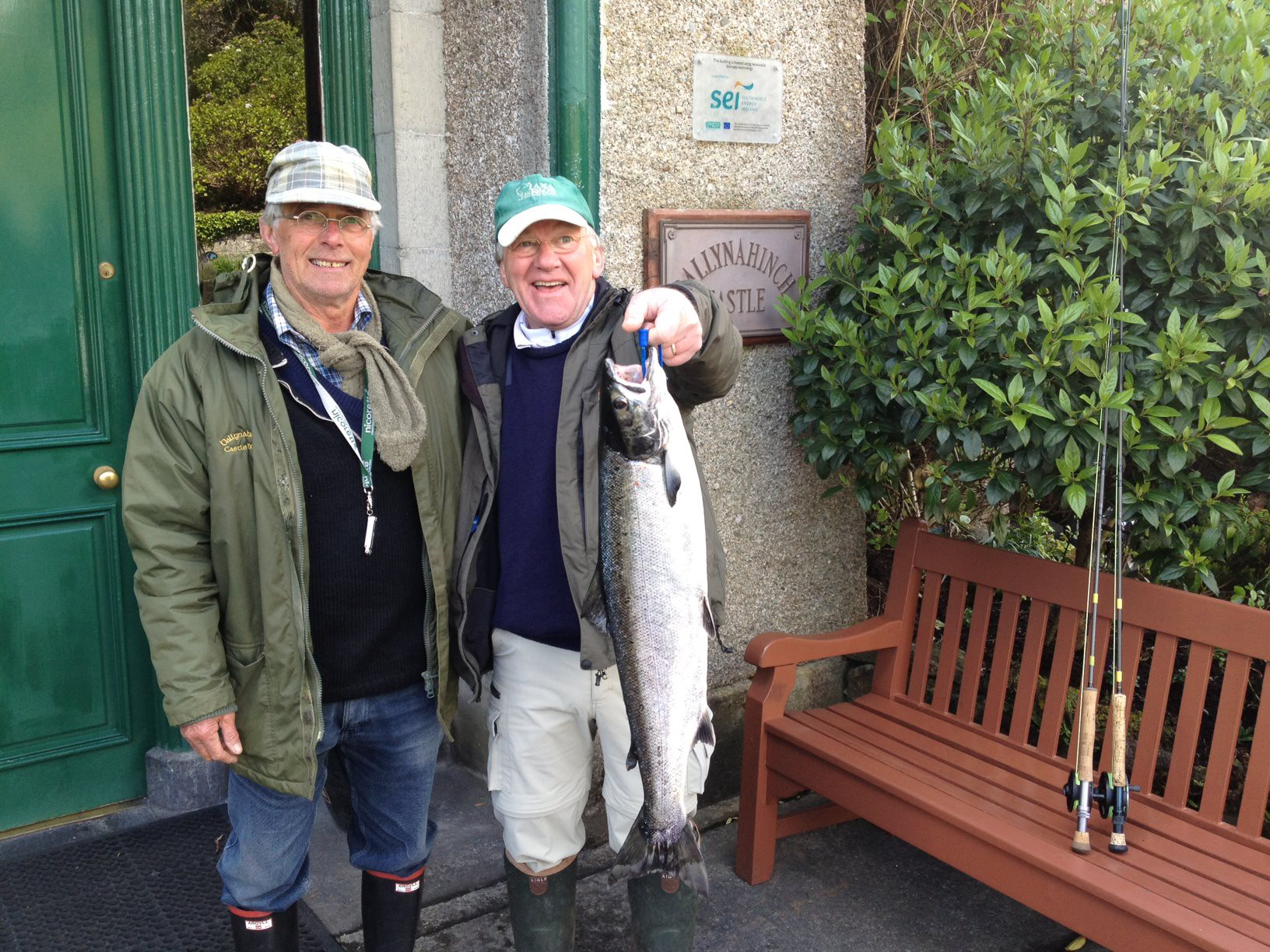 Tom McManus and Michael van Murrick with the first fish of the season from Ballynahinch Castle Fishery. The fish weighed 9lbs and was taken in the stream on Beat 1.
To book fishing or accommodation at Ballynahinch, call the castle on 095 31006, or visit www.ballynahinch-castle.com
Delphi was another river that didn't receive much rain over the last week, with occasional falls bringing the gauge up to 30 at its highest for the week. There were 3 fish landed despite the low water. On Tuesday Paul Smyth landed a 6lbs 12oz fish off the Turn Pool on a Shrimp fly. 16 year old Eoin Dunne managed to land his first ever on the fly. The fish was caught in the Turn Pool on a Cascade, weighed in at approx. 5lbs 8oz and was sea-liced. The fish was released after a quick photo.
On Wednesday Bernd Bieber managed to land a fish in the Whin Pool of 9lbs 4oz on a Collie Dog.
To book fishing or accommodation, contact Delphi Lodge at 095 42222, or check www.delphilodge.ie
Lough Mask Still Producing Excellent Sport
Ronan Cusack reports that fishing was difficult on Lough Mask this week, with strong winds and temperatures barely moving out of single figures. Despite this, anyone who decided to brave the elements was well rewarded.
Ivor Hazlet and Gareth Love, Northern Ireland, had 9 fish over 2 days (best fish 1.75lbs). Gerry O'Brien, Ballinrobe, had a total of 11 trout for the week on dries (best fish 4lbs, all returned). Gerry also returned countless undersize fish in the course of the week. John Moorhead and Alan Cogan, Cork, fished with Ronan on Saturday last, and they had 2 keepers plus several undersize fish (best fish 1.75lbs). Noel Fay, Kildare, fished with Oliver Wickam, Partry, on Tuesday and they had 5 fish for their day (best fish 2.5lbs). Frank O'Hara, Ballinrobe, had 2 fish on Tuesday (best fish 1.75lbs). Kevin Sheridan, Ballinrobe, had 23 fish for the week on a combination of wets and dries (best fish 2.5lbs, all returned). Kevin Beatty, Ballinrobe, had something to smile about on Thursday when he landed a cracking trout of 6.75lbs on a dry olive. Sam and Mark Proctor, Co Down, had 4 trout on Monday last (best fish 1.5lbs).
Ronan Cusack fished with two UK anglers on Monday and Tuesday, and they returned 14 fish over the 13 inch limit, plus numerous undersize fish.
Mayfly hatches are still very sparse on Mask, yet olives continue to hatch in large numbers all week
Ronan also guides on Mask and can be contacted at cusackronan@gmail.com or on 087 2869487.
Margaret Gorman from Isham Self Catering and Angling Centre at Dringeen Bay on Lough Mask, reports that guests endured difficult angling conditions during the week with north/north-easterly winds prevailing. However, they received surprisingly good returns this week from anglers fishing out of Dringeen Bay.
Jean Yves from Corsica and Christian Desgrippes from mainland France had a great day during the week and caught 5 trout, with their best fish weighing 4lbs. Isham guests, Des McDonough and friends from Carlow had another good day with 6 trout - all good fish. All of these anglers were fishing wetfly and most fish were returned to the water again.
Dr. Ian and Rosie Gordon, Northern Ireland, had a very enjoyable day's fishing with dry flies on Saturday, 12th May and had 3 trout and a lot of small fish. Their best fish was 3lbs and again, most of their trout were returned to the water.
Despite Sunday being a difficult day to fish with almost gale force southwesterly winds, Adrian Gorman and Martin O'Neill retreated from Lough Mask to the shelter of Dringeen Bay to be rewarded with a fine catch of 5 trout for 9.5lbs and numerous small fish, most of which were returned, best fish 2.5lbs. Adrian and his friend were fishing wetfly and all of their fish were caught on mayfly patterns.
Other anglers fishing from Isham during the week all reported good activity with lots of small fish showing.
For boat hire and angling information available on site see www.congselfcatering.com, phone 087 7908107 or email isham@eircom.net
Cong Canal Rescue Operation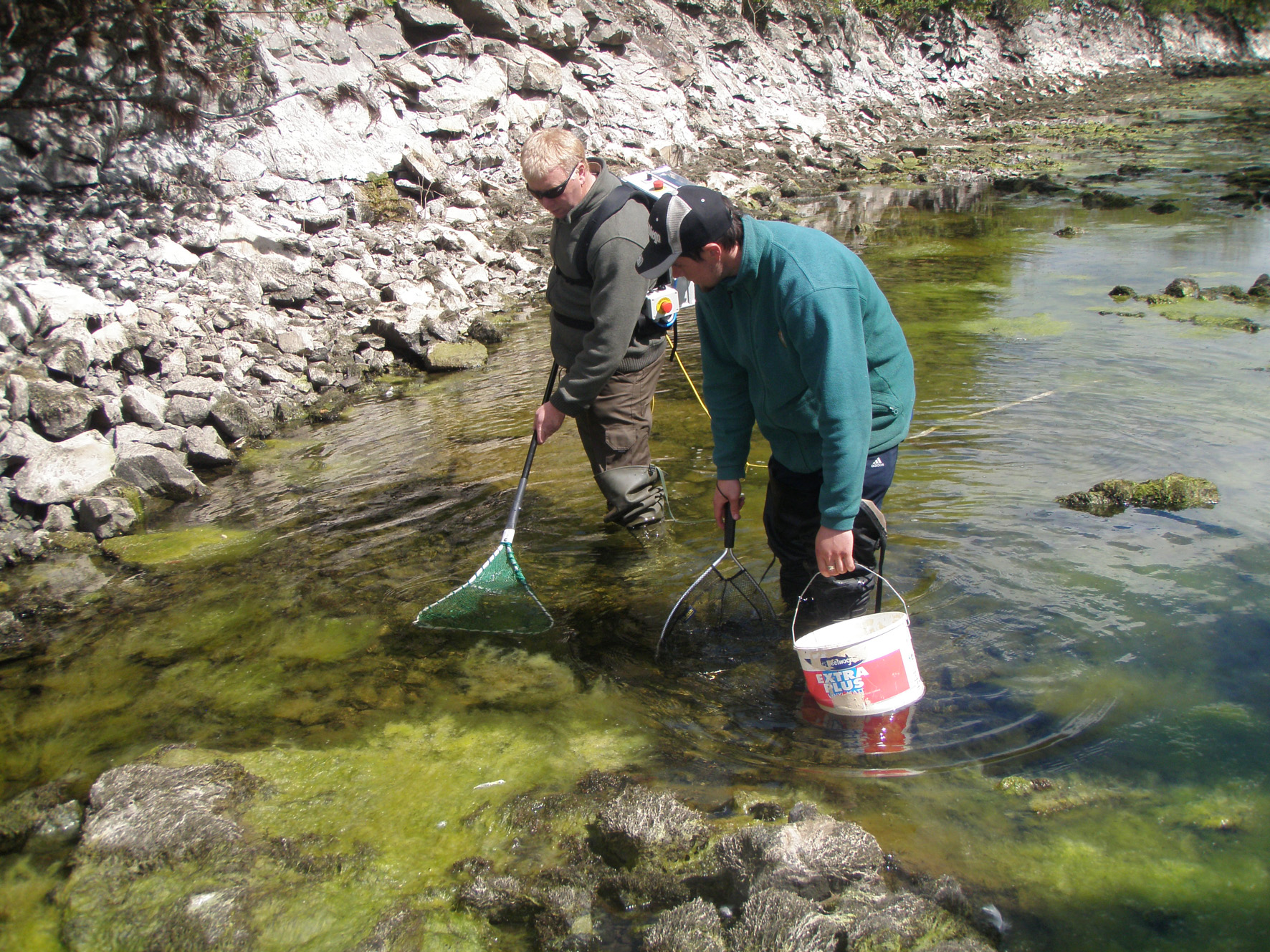 Rescuing trout from the Cong Canal.

Ronan also reported on trout salvage operations being carried out at the moment by Inland Fisheries Ireland staff, who are working tirelessly at the moment in an effort to remove the many fish which have become trapped in the Cong canal. The dry spell we have been experiencing of late has resulted in a significant drop in water levels, and given the porous nature of the limestone within the canal, this happens at an alarming rate. During this period fishery staff monitor water levels on a daily basis, watching for shoals of juvenile trout and pools to form within the canal. Once this happens the young trout are at their most vulnerable from herons and low oxygen levels. Only now is it possible for electrofishing to be carried out efficiently, allowing the greatest percentage of fish to be removed, causing the least amount of harm or stress. Once removed from the pools, fish are then placed in an oxygenated tank before been transported back to the lake and released into the wild.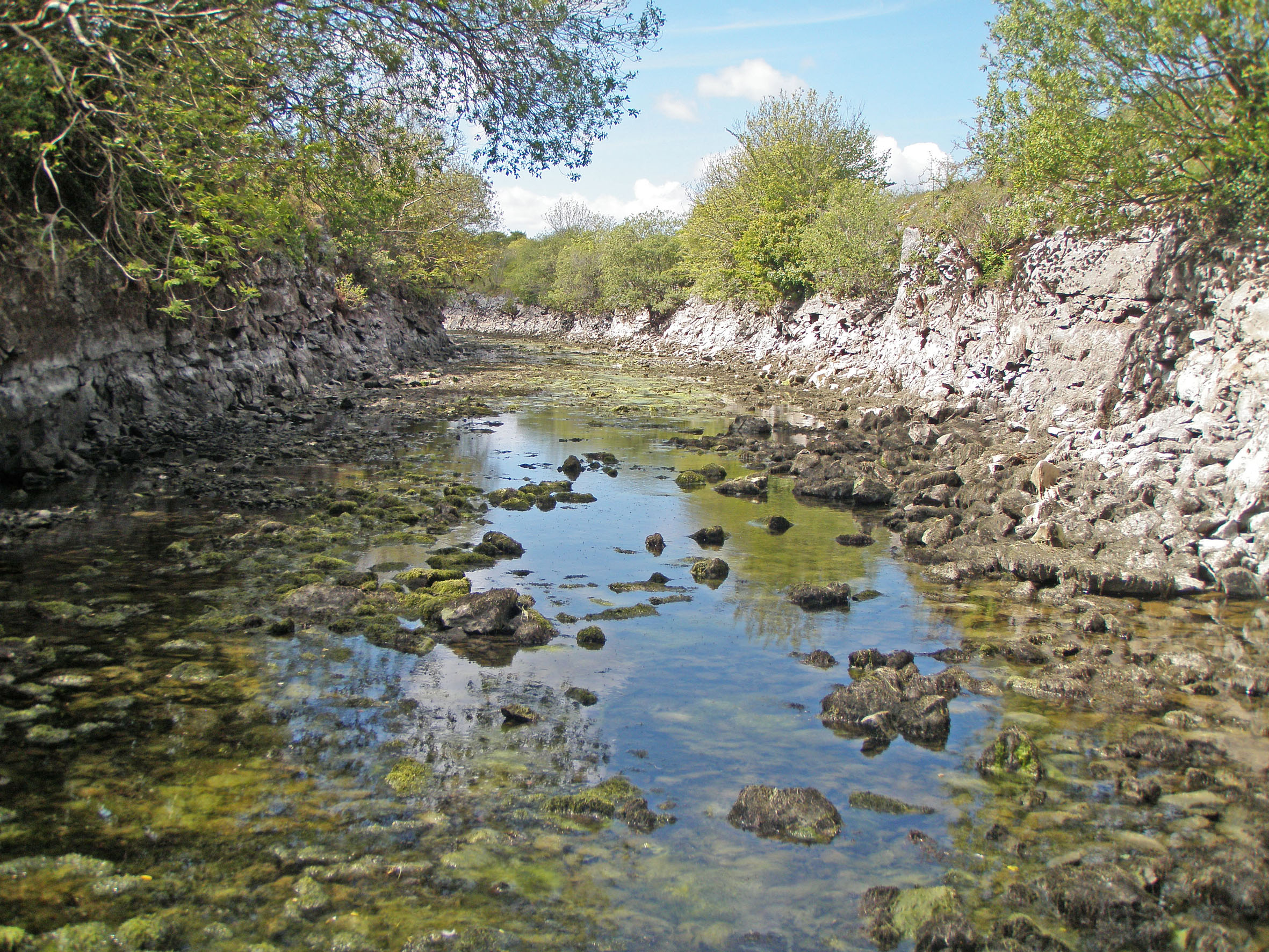 The Cong Canal at very low level, May 2012. When the water table drops in dry periods, the porous rock is not able to retain water, and fish are left stranded in shallow pools. IFI staff carry out salvage operations to rescue stranded fish and release them back in Lough Mask.
Previous surveys carried out by IFI have shown that the Cong canal is the main spawning channel for the much sought after ferox trout, and its survival for the future relies greatly on this type of work. In the past two weeks alone over 5,000 juvenile trout have been removed from shallow pools in the Cong canal and given a second chance of survival in the lake.
Difficult Conditions on Lough Corrib but Trout Still Feeding
Donal Connolly from Nonaim Lodge in Glann, Oughterard reported on fishing for his guests over the last week. Cold conditions and squally weather has made fishing difficult at times but there were still some good fish being caught. Roy Smyth, John McIlwaine, and Jai and Laurence Wilson, Antrim, had 10 trout on wet and dry fly, all returned, best was 1.75lbs.
Marc Sims, Lancashire, had a total of 21 trout over several days fishing - all on dry fly and all released - best was 3lbs with several more in the 2 to 2.5lbs bracket. Marc Boesch, France, had 3 trout for a day's fishing on wet fly. Samantha Benielli, France, had 2 trout for a day's fishing dry fly, a lovely 2-pounder and a smashing fish of 2.75lbs which was the biggest trout she has caught so far - she plans to break this record next year on Corrib!
Symon Brown and his 15 year old son Aaron, from Tipperary, had 5 trout on the dap for a day's fishing, all released. Roger Thompson had 2 trout of 1.25lbs and 3.5lbs in difficult windy and cold conditions.
To book fishing or accommodation with Donal and Connie, contact Nonaim Lodge at Tel: +353 (0)85 7364830, email info@fishingcorrib.com or check www.fishingcorrib.com
Guests staying at Camillaun B&B in Oughterard also enjoyed good fishing over the past week , with some excellent trout fishing on a variety of patterns as well as on the dap. Some of the more notable catches was that of father and son partnership Vic and Geoff Goddard, who collectively landed 37 trout to 4.5lbs, all of which were safely returned. James Campbell and Jim Seer had 21 fish to 3lbs and 17 of these were returned. Richard and Robert Kelly from Dublin had 7 excellent fish all to the dap. On Sunday there was a major competition in Oughterard - it was won in dreadful conditions by a trustworthy Welshman who has come fishing to Camillaun for the past 17 years - Alan had 2 fish one of 3.25lbs and the other 1.75lbs, both on wetfly.
Weather conditions continue to be unpredictable - but there are still boats available for the remainder of the Mayfly - to book fishing or accommodation visit www.camillaun.com or call Deirdre Forde at 091 552678.
Eamon Walsh reports that fishing in the Cornamona area has been sporadic during the week, with some anglers having good catches while others fared less well. The best of the fishing was to be had in the early part of the week with some excellent hatches of fly, as the wind was settled from the north. As the week progressed and the weather became more unsettled with squally winds, the fish became more elusive and hatches of fly dropped away a bit. Dapping the natural mayfly would appear the best method of enticing trout to the surface, especially the larger ones.
Regular visitor to Corrib, Keith Curtis and boatman Pat Egan took 2 excellent fish to the dap, one of 4lbs and another of 6lbs, while returning many more, early in the week. Martin Quinn from Limerick and local man Mike Flynn both had fine trout while fishing in Cornamona Bay.
A group of Welsh anglers were delighted with their week's fishing, claiming it was the best visit they had enjoyed in over 15 years. Des James estimates they boated in excess of 100 trout over the 13" limit during their 6 days, while also having many more smaller fish. Des himself landed a lovely fish of over 3.5lbs, his best to date off Corrib. All fish were sportingly released back to the lake.
The reports are much the same in the Headford/Greenfields area, with catches again patchy. Don Stiffe and 2 visiting anglers had 16 trout up to 4lbs over a number of days, all released. Brendan McGee had 2 fish for 5.5lbs on dry mayfly, both released. Bill Tully and a friend fishing for 2 days had 10 trout to the dap.
The best of the mayfly hatches may be over, but trout are still switched on to mayfly and are feeding hard, so when a few mayfly start hatching fish are still visible splashing at the surface and taking flies.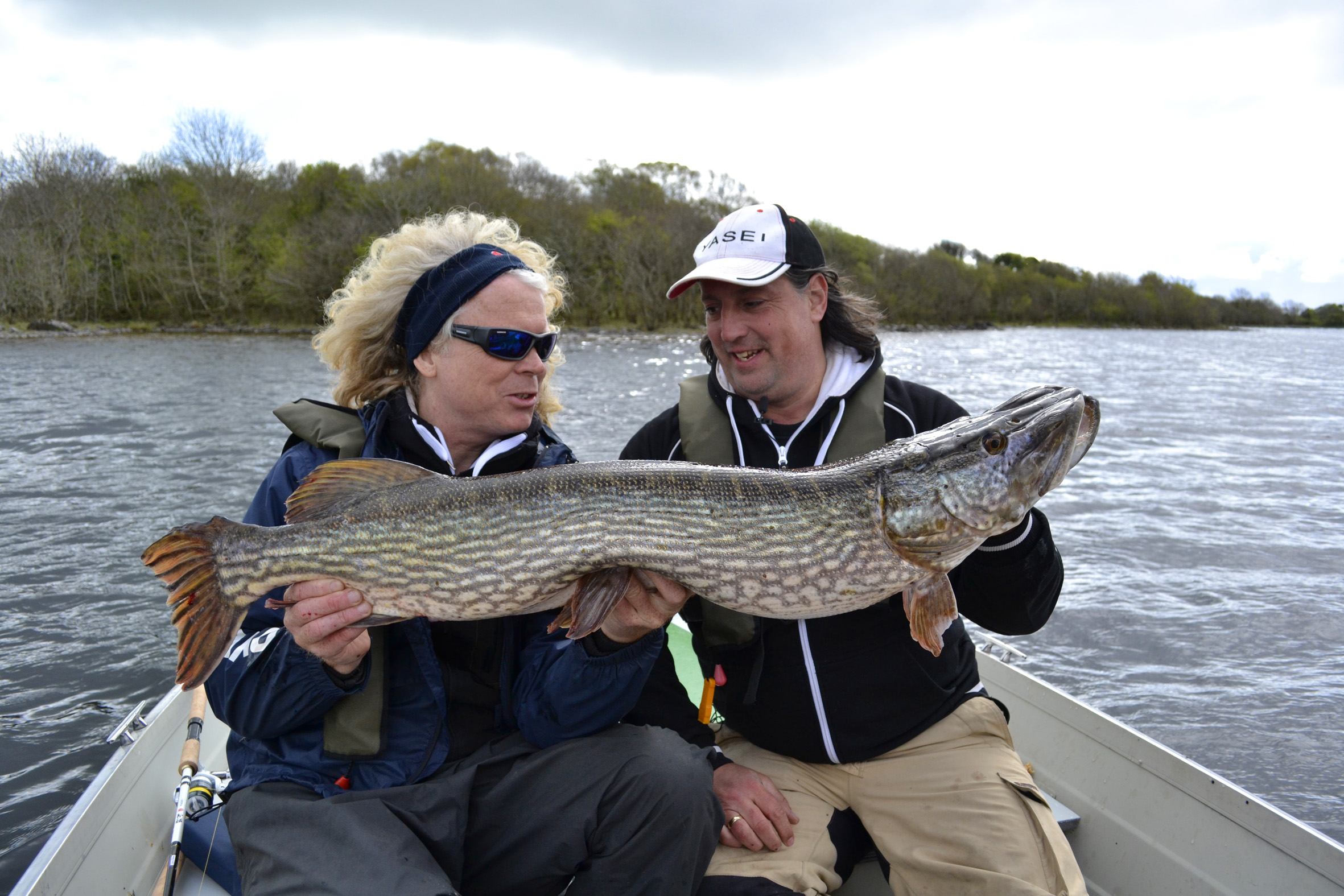 Willem Stolk (Netherlands) and Jurgen Haese (Germany) with a trophy pike from Lough Corrib. The pike measured 117cm and was weighed in at 27lb before being released again.

Tomi Kurman from the Corrib Predator Team emailed to say that himself and fellow guide Jack Gorny spent a few days recently guiding the Shimano Yasei Team in making a promotional video for the new range of Shiamo Yasei rods. They were fishing with world famous anglers Willem Stolk from the Netherlands, and Jurgen Haese and Dustin Shone, both from Germany. Irish waters were chosen by Shimano for their video, after Jurgen's visit last year, when he was guided by Jack, and they enjoyed great pike fishing on fly and lure.

The visit coincided with the spell of dry fine weather towards the end of April, which made for difficult conditions, but they enjoyed some fine sport, landing pike up to 27lbs and 117cm.

To book fishing with one of the Predator Team guides, contact them on 085 7318541 (Tomi) or 085 7741578 (Jack), check Jack's website at www.fishingireland.pl or find Tomi on Facebook at www.facebook.com/profile.php?id=100001817618251

Angling Bye-Laws and Regulations
Inland Fisheries Ireland would like to take this opportunity to remind anglers that fisheries officers are continually carrying out checks and patrols around Corrib, Mask and Carra to ensure that local bye-laws and regulations are being adhered to. Anglers should be mindful that since 2008 it is illegal to be in possession of any trout under 33cm (13 inches) and that there is a daily bag limit of 4 brown trout per angler per day. Contravention of any of these regulations may result in a prosecution or on-the-spot fine. People involved in the accommodation industry or in the hiring out of boats to visiting anglers are asked to advise all patrons of local fishing regulations. These regulations were introduced following consultation with the public and are designed to improve the conservation of wild trout stocks in the catchment.