Salmon Angling

River Moy
Angling on the River Moy continues to improve, with low water conditions beginning to suit the lower Moy Fisheries, which are now yielding bigger numbers of fish. The East Mayo Anglers' water and the Cloongee Fishery, continue to record the greatest numbers, partly due to the fact that the heaviest angling effort is occurring there.

In lower, Ballina Town fisheries, the Ridge Pool had nine salmon with the Weir Pool producing six. On the Ridge Pool, Brian McGlashan, Scotland, had two of 3.4lbs and 5.6lbs, Alex Cruikshank, also Scotland, had one of 5.11lbs to the worm, with John Bennett, N.Ireland, and Jonathan Smith, Co. Cavan, both landing two each to the fly. Loic Barc, France, landed one of 4.5lbs to the fly on the Ridge, and at the Weir Pool, John McKinley, Athlone, John Binns, Foxford and John Bennett each had two apiece on fly.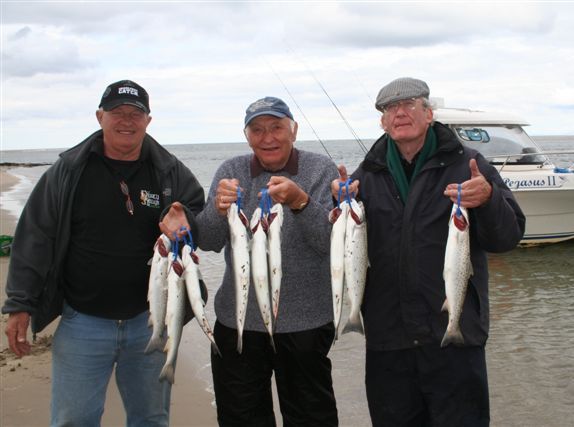 Pictured left to right are Bob Bell, U.K., Paddy Rice, Co. Dublin, and John Evans, Wales, who proudly display their catch of fine sea trout from the Moy Estuary.



The Ballina Salmon Anglers' water produced eighteen salmon, with the mid Moy Fisheries also yielding salmon, with John James, Wales, capturing one of 7lbs to the prawn at Coolcronan. Gilles Boindier, France had two from Armstrong's and Brian Larrigan and Geoff Wiles, both had success at Gannon's on the worm, landing fish of 8lbs and 11lbs respectively.

The fishing around the Foxford town area was also productive, with numerous catches being reported from all fisheries. At Cloongee, over thirty salmon were caught, including one of 8lbs for Beatrice Valaize, Brittany, to the spinner and one of 7lbs for Camille Martini also caught spinning. Andre Rolland, France banked one of 8.5lbs at Cloongee.

The East Mayo Anglers' water recorded over sixty salmon for the week, five of which were released. Herve LeNoach, France, enjoyed good sport here with two of 7lbs and 10lbs caught spinning, while John Price, U.K. also had success spinning, with three between 5lbs and 6lbs. Some nice fish were also taken on the fly at East Mayo, with Jügen Kutche, Germany (7lbs), Henry Spring, Dublin (9lbs) and Simon Cassidy, Co. Meath (11lbs) all landing good sized fish.

Ballisodare Fishery
The Ballisodare Fishery enjoyed another excellent week, with one hundred and eleven salmon caught, fifty-one of which were released. Local anglers Eddie Harte and Ken Hunter both had good catches early in the week, with salmon of 9lbs and 9.5lbs respectively. Visiting anglers Dennis Barrett, N.Ireland, and Eugene Carroll both caught fish, as did visitor Paddy Martin who had one of 8lbs to the fly. John Murray also landed a fish on the fly, weighing 9lbs, with Peter Kramer also hooking a 10lbs salmon on fly. Dublin angler Michael Wymes had one of 8lbs to a Willie Gunn while the best fish of the week was caught by club member and local angler Sean Gallagher, who landed a beautiful 16lbs salmon on a Green Highlander.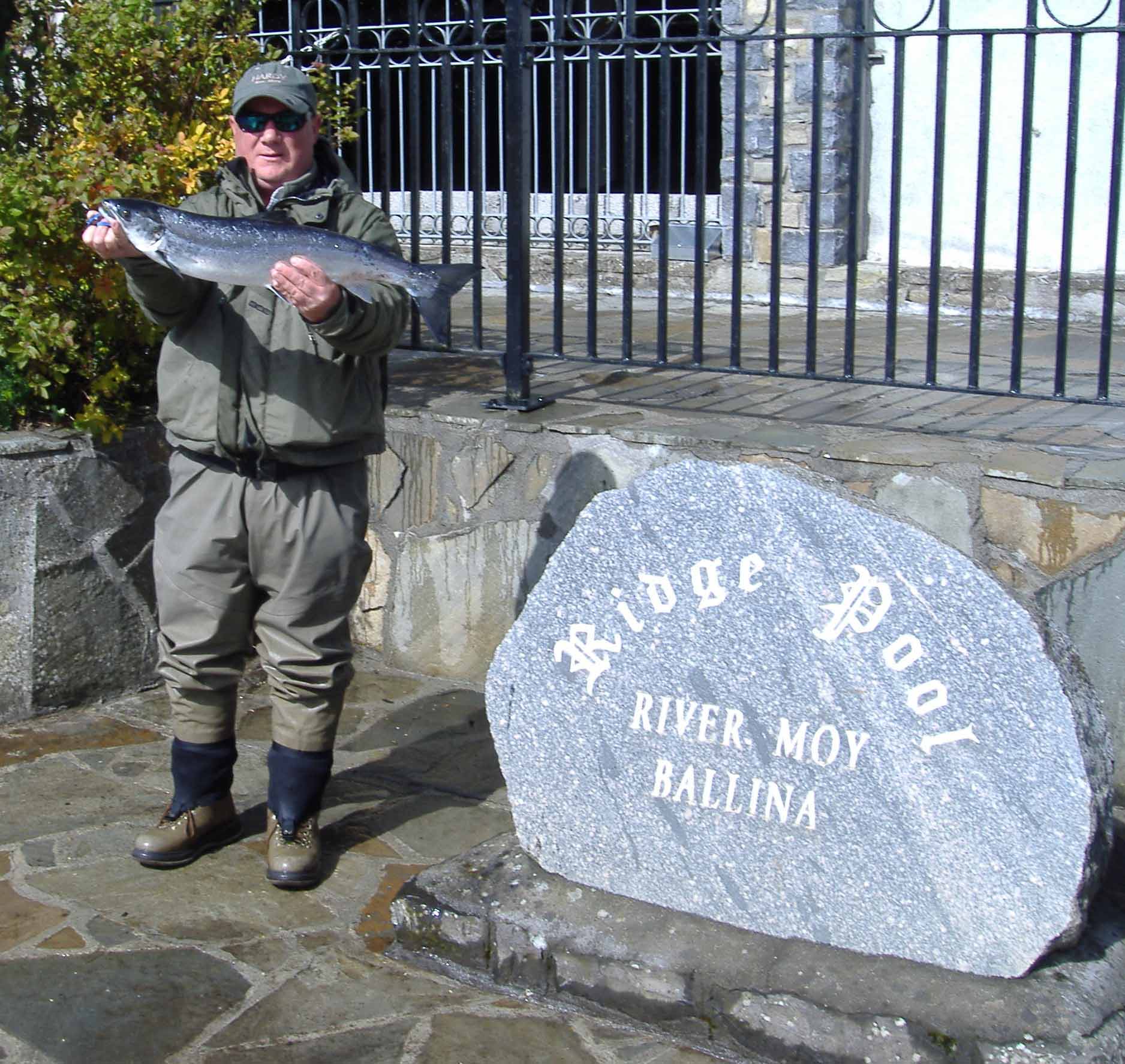 Brian McGlashan, Scotland, pictured with one of two salmon he caught on the Ridge Pool last week.




Lough Beltra
Six salmon were caught for the week on the Newport House side of Lough Beltra. Rocky Moran had one of 11.5lbs, Robert McDonald boated one of 5.5lbs while Dr. Cahill had two, of 7lbs and 7.5lbs. Later in the week Sean Dolan had one of 7lbs with his brother Michael landing one of 7.5lbs. The Green Peter continues to be the most successful fly.

Trout Angling

Loughs Conn and Cullin
Congratulations to the Irish Team on winning the I.T.F.A. Home International Angling Competition held on Lough Sheelin recently. The team was Captained by Cloghans angler Seamus Kelly, who was joined by fellow Cloghans anglers John Walsh and Patrick Kelly also Joe Quinn, now of Ballina. An excellent result for the National team and a great honour for the area to have four local team members who were instrumental in the victory at this prestigious competition.

On the Loughs, fishing out of Pontoon Bridge Hotel Steve Wright, Dublin, had five trout on the Grey Wulff, his best was 1.25lbs. Jean Regis Tarasewicz, France, also had five trout, all on dry mayfly with his best 1.5 lbs. Geoffrey Cooke, Lincolnshire, U.K., had a very successful week, boating fifty-four trout for six days fishing with Vinny O' Boyle, all on the dry Wulff, his best was 2.25 lbs. Michael O' Beirne, Co.Meath, had eight trout (his best at 2lbs) and also one salmon, all on dry flies on Lough Cullin over two days. Glen Allen and friend David Orsler, Cheshire, U.K., had 24 trout over a few days on Conn.

Stewart Lyons, Scotland, had six trout on his first day on Lough Conn, with numerous smaller fish returned, all taken on dries. Finally, from Pontoon Bridge Hotel, Chris Watten, London, had four on his first day, his best 2 lbs also all on dries.

Stephen Browne and Adrian Murphy, Cloghans, boated four trout each on south Conn, mostly around Cormorant Rocks on dry mayfly, their best was 2 lbs. Mick McNeely and Brendan Breslin, Cloghans, enjoyed a good week, averaging five trout each for each trip over the past week. Padraic and John McNeely, Brackwansha, had a few trout for an evening's fishing, their best weighed 1.5lbs.

The Lakelands Anglers had their annual day out on Lough Conn, with eighteen anglers taking part. They recorded eleven trout over 3 days. The overall winner of their competition was Sammy Smyth with three trout for 4 lbs. Nicky Shaw captured the heaviest fish, weighing 1.5 lbs.


Lough Arrow
Lough Arrow has seen great hatches of mayfly over the past week, with the appearance of a few spent gnats also. Unfortunately, dry fly fishing has been somewhat sporadic, with some anglers reporting better sport on wet flies and buzzers. The fish do not appear to have come on to the mayfly fully yet. However, some anglers did well on dries and reported good fishing on the dap. Dirk Zonnekein and Wim Schoors, Belgium, accounted for four trout, their heaviest weighing 2lbs, while Michael Gunning had six trout, his best 3.5lbs, all taken on dry mayflies. John Hargadon boated one of 2.5lbs on the dap while Tommy Noonan Sr. and Tommy Jr. had four, their best was 2.5lbs. Thomas Walsh and John Joe MacDermottroe fishing together had two great fish while dapping, one of 5.75lbs and one of 6.5lbs.


Moy Estuary - Sea trout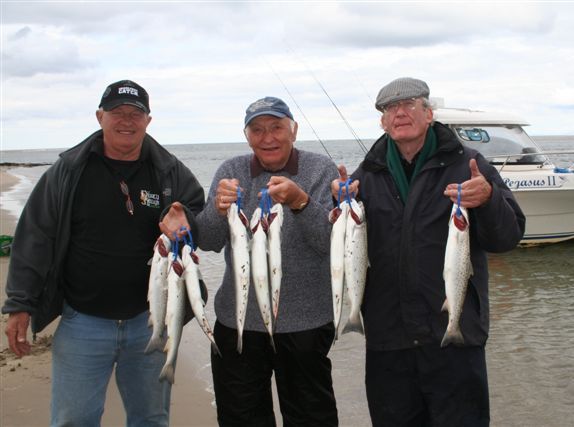 Local sea trout angling guide Judd Ruane reported on a great week on the Moy Estuary, where he recorded fifty-nine sea trout, seventeen on of which were retained. Water conditions were conducive for good angling, with weather predictions indicating that this should remain the case for the coming week. Des McDonagh and friend, Co. Kilkenny had 22 trout in total, retaining four, all caught on mackerel strips. Charles Campion, star of 'Master Chef' and three friends accounted for nineteen trout for two days angling, seven of which were retained. Again these were caught on mackerel strip. Anglers are reminded that all sea trout over 40cm in length must be tagged and logged in the anglers log book, and that Bye-Law no. 887, 2011, has been enforced since 1st January 2012, restricting the daily bag limit of sea trout to three fish on any given day.


Sea Angling

Killala Bay
Skipper of the Leah Donal Kennedy reported from Killala Bay that on Sunday 20th May, a group of anglers left Killala Harbour for a day's fishing. The weather was fine, slightly overcast with moderate southerly winds. The fishing was described as slow but steady. Many mackerel were taken initially, and set the trend for the day. Some fine pollack were caught up to 8lbs, along with many more averaging around 4 lbs. Coalfish up to 3lbs were also caught. Other species caught included turbot, flounder and lesser spotted dogfish.