Galway Weir
Once again this week it's a story of too much water in Galway, with 6 gates open on the weir at the moment making for difficult fishing. There are very good numbers of salmon running the river all the time, but in the high water most of these are heading straight upstream and not hanging around long enough to meet anglers.
There were 27 fish landed for the week, which is low for the time of year, but given the conditions is a great credit to the anglers who were fishing. Phil Donohue from Craughwell landed a 6.25lbs fish on fly, while Louth man Gearóid McSéan ha d a4.5lbs grilse on shrimp. Fellow Louth angler Kevin Finnegan had 3 fish between 4lbs and 6.5lbs on shrimp, while the third member of their party, Brian Gray, took 2 grilse, also on shrimp. Pat Kane from Donegal landed a 5.5lbs fish on fly, and Clare angler Brian King took 2 grilse on shrimp. Pappy Cotter from Clare had 2 salmon to 6.5lbs on shrimp, while fellow Clare man Michael Brown took 2 good fish of 7 and 8lbs on shrimp. Michael Rogers from Dublin also had an 8lbs fish on shrimp, while Galway angler Kenny O'Toole landed 2 grilse on shrimp, and Brian O'Rourke from Tuam took a 6lbs grilse on spinner.
Water levels are forecast to remain high for the next few days, so conditions are difficult, but there is a very good run of grilse at the moment, and as soon as the water drops a bit fishing should pick up significantly in Galway.

Delphi
David McEvoy reports that despite the good conditions, fishing has been disappointing over the last week. I venture, however, that this could change at any minute, as soon as the main run of grilse hits the river.
Mark Corps, an angling advisor with IFI, managed to put the rod aside for a change and guide his wife Elaine to catch her first ever salmon, a cracking sea-liced fish of 8lbs 6oz taken on Finlough on a Collie Dog. Well that's probably Mark's version of events, in reality Elaine completely outfished her husband on the day.
Reinhard Mittmann landed 2 salmon off Finlough, both on Delphi Collie's, weighing in at 4lbs and 4lbs 15oz. Angelika Krieg also managed to land her first ever salmon. The fish was taken on a Cascade off Finlough and weighed 3lbs 13oz.
Gerda Possinger landed two off Finlough on Collie Dogs weighing in at 8lbs 9oz and 4lbs 7oz.
Philip Fleming managed to land a sea-liced fish of approx. 4.5lbs from Finlough stream on a Collie Dog. It was Philip's first Delphi visit and he also lost a fine fish on the river in the afternoon. Mike Shortt also managed to land one from the Horseshoe pool. The fish was approx. 2lbs and was taken on a Cascade. Hans Majeron also landed a fish from Finlough on a Black and Yellow tube, the fish weighed 3lbs7oz.
To book fishing or accommodation at Delphi, contact the lodge at 095 42222, or check www.delphilodge.ie

Kylemore
Fishery manager Nigel Rush reports on a great early season at Kylemore, "where we have just achieved the fiftieth fish of the season. A small fish of just 1.75lbs from Tullywee Bridge Pool! For the fishery to have achieved the same feat last year, we had to wait until the 31st July. This is a clear indication of a strong grilse run and good spring run. It feels like we have had another four weeks added to our season. If this is the case then we should well clear last year's total of 137 providing weather conditions remain conducive.
We have just finished June on a high with 43 salmon for the month. The average for June over the past ten years has been a mere 11 fish with the best year, 2002, 27 salmon and 2010 just one fish.
The average weight of the first 50 fish tallies in at 5.75lbs compared to 5.25lbs last year which is clearly evident in the shape of the majority of the fish - fine deep well-fed specimens.
Sea trout runs really only started a week ago and so far with all our anglers fishing the river, we have only managed to secure 8 fish into our register. Last week last year we had 76 sea trout for the week, this year just 2. This is reflected by the angling effort last year with boats out nearly every day and good sea trout anglers occupying the same.
As I mentioned above... we have an extra four weeks added to our season, let's make the most of it."
To book fishing at Kylemore Abbey, contact Nigel on 095 41178, or mobile 087 9580702, and for latest news check the website at www.kylemorefishery.ie
To book fishing or accommodation at Ballynahinch, contact the castle at 095 31006, or check the website at www.ballynahinch-castle.com
Erriff (Week Ending 30th June 2012)
Favorable water conditions prevailed on the Erriff for most of the week with water levels staying above 0.8 meters on the Aasleagh Gauge. Levels were recorded at 1.5 meters on the 24th. The river fell gradually to 0.8 meters by the 27th. There were a further 3 small spates during the week with a big one of 1.6 meters on the last day of the month. The run of salmon and grilse continued on every spate. Sea trout also continued to return both in good numbers and also in excellent condition. However the sea trout did not feature to any great extent in the rod catches as the size of flies being fished were overall too large to attract the sea trout.
David Gaffney, Dublin, caught a good grilse of 6lbs in the School House on a Shrimp Fly. Jim Wilson, Mount Falcon, caught a grilse at The Hill on Beat 5. Colin Edwards, U.K. released a grilse taken in the Garden Pool on a Cascade and lost another in the Bridge Pool also on Beat 9. Fishing the Erriff for the first time, Sue Clarke from London caught her first Irish Salmon in the Falls Pool on Beat 9 on a Cascade. Tight lines continued for the following 2 days for Sue with 2 other good grilse of 5lbs from the Garden Pool on Beat 9 and from Joyce's Sand Hill on Beat 5 - all 3 fish were sportingly released.
Raphael Amat, France, also fishing the Erriff for the first time, caught and released grilse estimated at 5lbs and 7 lbs on Beat 9 and also returned 2 sea trout. David Kirk, Dublin caught a grilse of 4.5lbs in the Bridge Pool, and released 2 good sea trout of 1.5lbs each. Alistair Thorley, U.K., on an annual visit to the Erriff, caught 5 fish - with 3 in one day -Alistair retained one of 9.5lbs taken in the Colonels Pool on Beat 6 and released the other two - all 3 fish were taken on a Pot Bellied Shrimp. Mark Helmore, Clare, caught a grilse of 5lbs on a Shrimp pattern in The Straight on Beat 5. Jim Barry, Dublin, caught a grilse in the Gauge Pool on Beat 9 and lost another two at the net - Jim's son Kenneth, on a brief visit from London was unlucky to lose a good salmon in the Gauge Pool on his first visit to the Erriff. Overall angling pressure was light on the fishery for most of the week with a total catch of 16 salmon and 8 sea trout.
The overall catch for the month was 57 salmon and 30 sea trout which again was a big increase on the combined rod catch for previous 2 years. If the runs of salmon and sea trout which have as yet to peak continues it looks like being another very good season on the Erriff.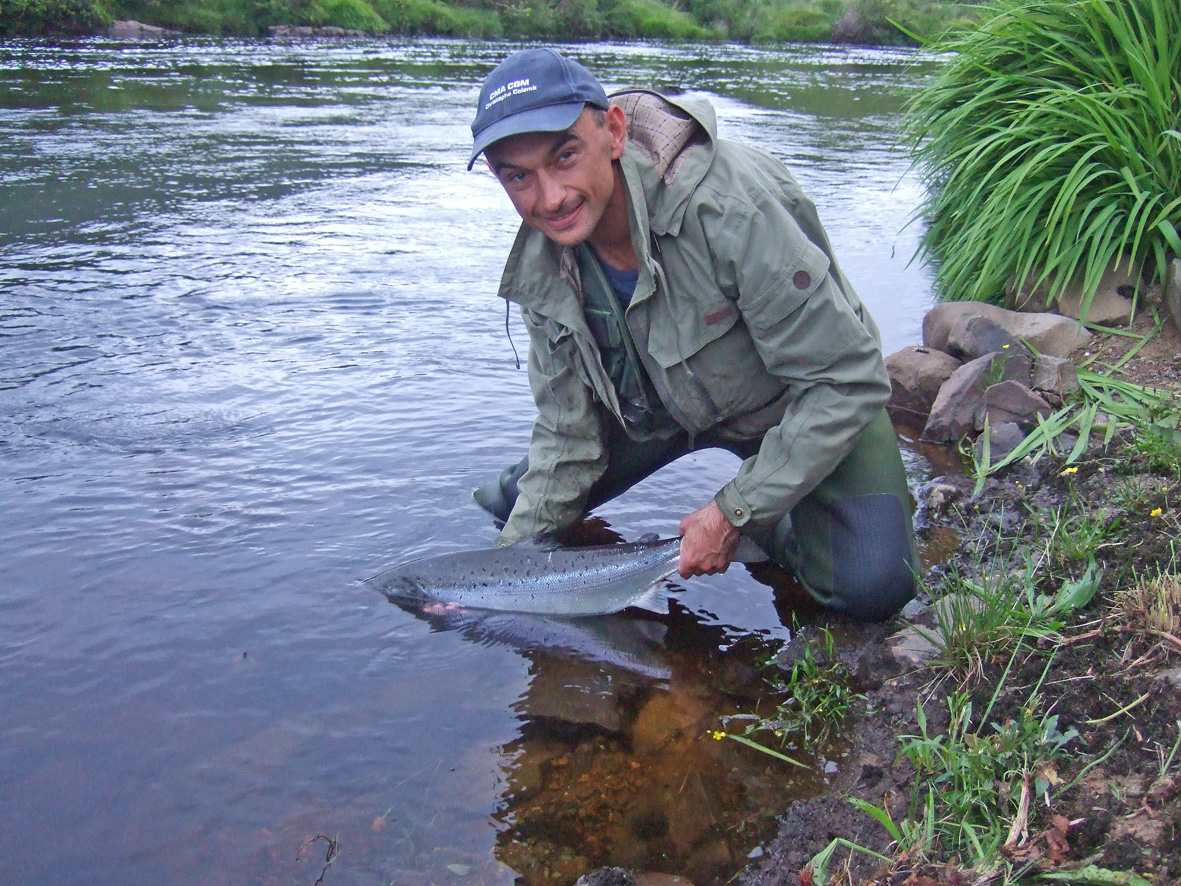 Raphael Amat from France releasing a nice grilse he caught on the River Erriff, June 2012.
Lough Mask
Ronan Cusack reports that water levels on Lough Mask are at a record high for this time of year. The constant rainfall has forced the lake to what is now almost autumn level. Despite this Mask is continuing to produce extremely high quality sport, as it has all season long.
The lake has been pretty quiet for the past few weeks with only local anglers venturing out. Kieran Biggins, Ballinrobe, fished on Saturday afternoon last and he landed 17 trout with only one exceeding the 13-inch limit. Frank and Dermot O'Hara, Ballinrobe, had 7 good fish for a day last week (best fish 1.75lbs). Tom Mulvey and Richie Cameron from Ballinrobe had 3 nice fish on Sunday last (best fish 2lbs). Tom also commented with delight on the large number of undersize trout they returned throughout the day. Kevin Sheridan had 35 fish on dries for the week, with 11 exceeding the 13-inch limit. Kevin's best fish was 3.5lbs taken on a dry sedge. Sean Maloney, Ballinrobe, fished for a day last week with Joe Fitzharris, and they had 7 fish between them (best fish 2.25lbs) and also returned large numbers of undersize trout. Ollie Wickam, Partry, fished for a day this week with Noel Fay from Kildare and they had 4 trout for the day (best fish 2lbs). Brendan Costello, Ballinrobe, had 3 nice fish for a half day last week (best fish 2lbs).
The majority of fish at the moment are still being caught in shallow water on wet and dry fly patterns.

Sea Angling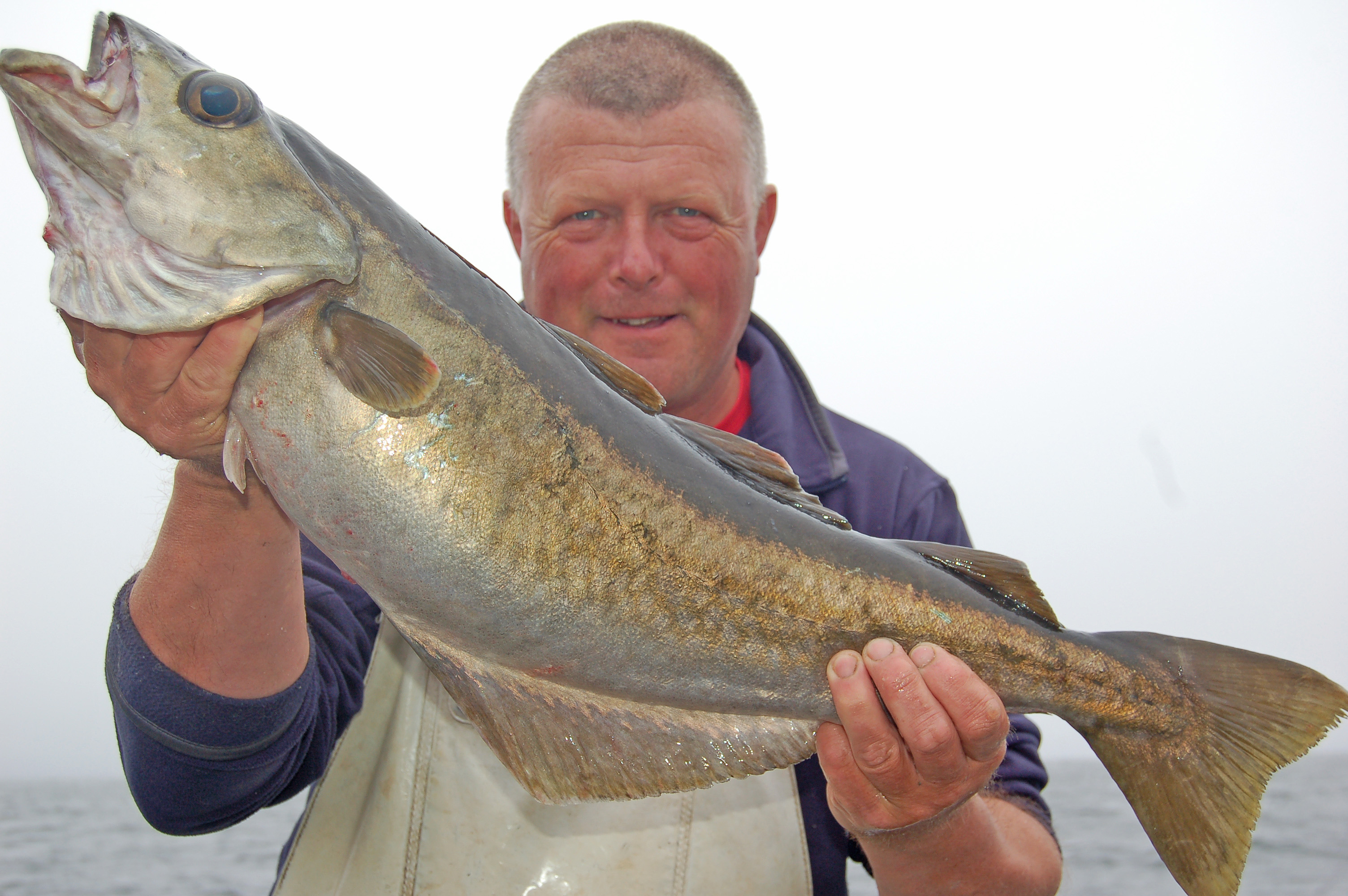 Charter skipper John Brittain with a fine 10lb pollack caught aboard John's boat, Bluewater, out of Cleggan in June 2012.

Charter skipper John Brittain reports that fishing on board Bluewater has been very good for the last few weeks. "The bad weather has mostly passed us by and we have had slack winds and can get to all the fishing spots in comfort. There are pollack in abundance so the light tackle anglers can really test their skills, plenty of ling and some cod for the heavier fish, and really good whiting, haddock and some nice tub gurnards for those that like species fishing.

Dave Mc Evoy, manager of Delphi Fishery, took a busman's holiday with a group from Louisburgh for a day out last week. A two mile drift lasting two hours saw 14 species in the boat with action all the way. By lunch time we were anchored in the shelter of Inisturk cooking some of the catch with a line over the side for a skate. No luck with the skate but young Seamus McEvoy topped the skippers 10 lbs pollack with a nice ling for catch of the day.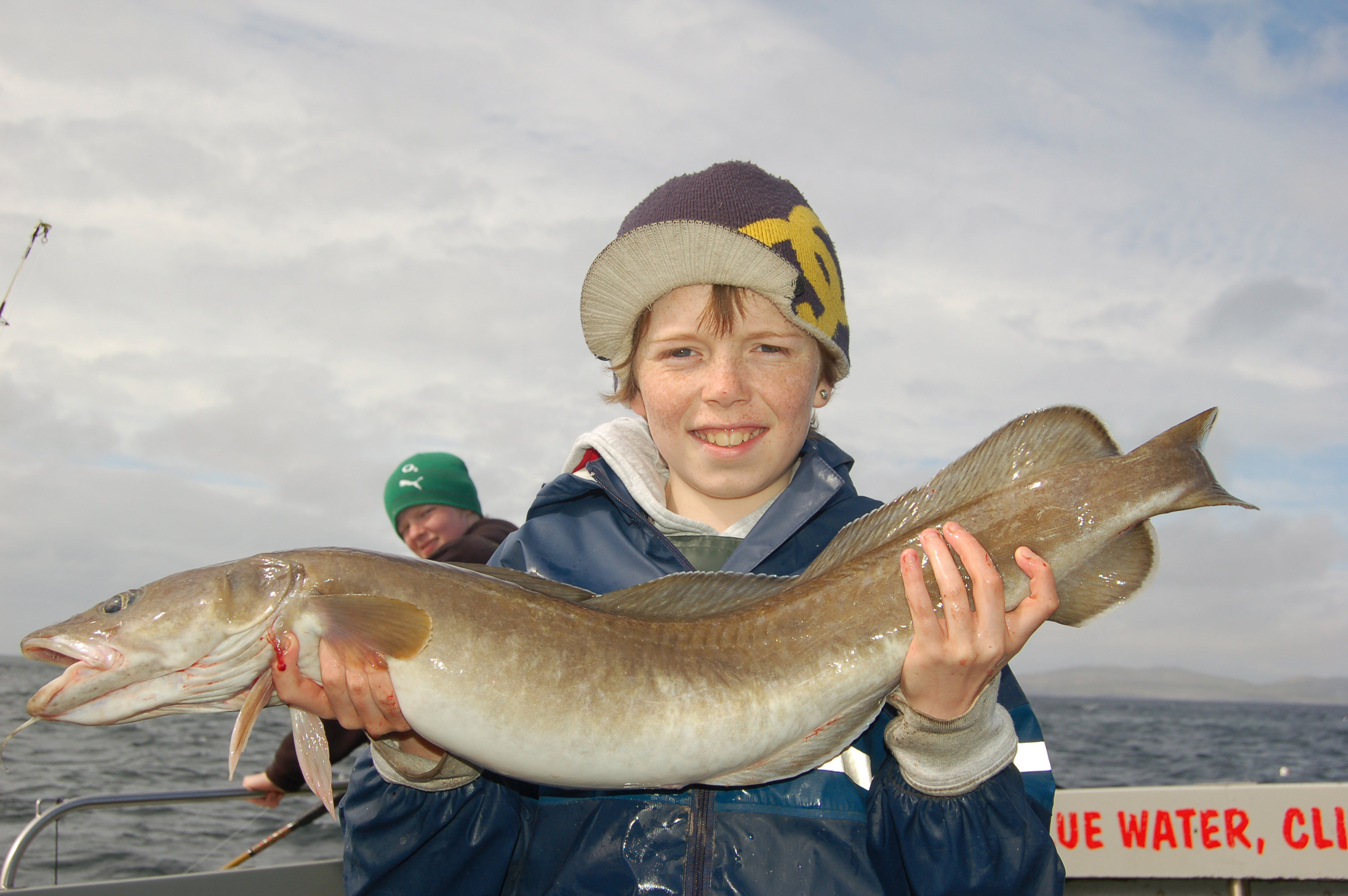 Young Seamus McEvoy from Louisburgh with a fine ling taken aboard Bluewater, charter boat, from Cleggan.