Galway Weir
Unfortunately this season is proving to be a washout in Galway, with heavy rain again resulting in a rise in water levels. There were 10 gates open for several days this week, with levels dropping briefly before heavy rain again reversed this, and there are now 8 gates open again.
With the unsuitable fishing conditions, it was tough going, and just 8 salmon were reported for the week, most caught when the level dropped and just 2 gates were open. Galway man Tom Power had a 4lbs grilse on shrimp, while David Clarke, visiting from Denmark, took 2 grilse to 5.5lbs on shrimp. Peadar Duffy from Monaghan landed a 5lbs grilse on shrimp, as did Henry Cosgrove from Tuam, and Donegal angler Joseph Ferry took a 4.5lbs fish on shrimp. Fellow Donegal angler Paul Gallagher took 2 grilse to 5.5lbs, including one on fly and one on shrimp.
With water levels so high, fishing is effectively curtailed at the moment, and the best of the fishing is to be found on the lake and upstream tributaries.
Erriff
Fishery manager Jim Stafford reports on fishing last week. Water levels were recorded at 0.7 metres on Sunday 22nd on the Aasleagh Gauge. Heavy rain increased levels to 1.55 meters by midday on the 23rd. Levels dropped to 1.1 meters on the 24th and increased to 1.4 meters on the 25th. Levels then dropped slowly to 0.75 meters by the 28th of the month.
Alan Shatter, Clifden, caught one of 4.75lbs on a Bibio in Jenkin's Pool on Beat 5. James Keogh, Dublin released a grilse in the School House Pool on Beat 3, taken on a Cascade. Robert Devriese, Dublin, had 2 grilse taken on Cascades in the Bridge Pool and Garden Pool on Beat 9. Margie Crawford, N.I. caught one of 9lbs in the Falls Pool on a Cascade. Mark and Mandy Broughton, UK, caught 4 on Beat 6 and Beat 9 - all fish were taken on Shrimp patterns.
Hervé Rodrigue, France, released a 5lbs grilse taken on a Hairy Mary in the Black River Run on Beat 1, and another taken on the same fly in the Coronation Pool on Beat 8. UK visitor Will Masterson caught 3 - with one from the Straight on Beat 5, another from Beat 6 and one from Beat 9. David Williams, UK, caught and released 5 sea trout and his brother Christopher Williams from Hong Kong, fishing the Erriff for the first time, caught his first 3 fly-caught salmon and 4 sea trout and returned all to the water again - all fish were taken on Cascades.
Kevin Attridge, originally from Achill but home on holidays from the Netherlands, had 3 in one day on Shrimp patterns. Ian Keating, Partry, released a grilse taken in the Wall Pool at the top of Beat 1. Trevor Champ, Dublin, caught one in the Quarry Pool on Beat 2 and another in Coronation Pool on Beat 8. Local angler Brian Graham caught one in the Black Banks on Beat 6 on a Shrimp Pattern. Annie and Robert Rusby, UK, had one each form Black Banks and Coronation Pool on a Purple Shrimp Fly and Gold Willie Gunn.
Gael Kerschbaumer, France released a fish estimated at 11lbs, taken on a GP in the School House Pool on Beat 3. Gerard Garnier and Paul Fariney both from France finished their second week on the Erriff with an additional 10 fish between them.
Fish of the Week goes to Will Masterson, with a fish of 12lbs caught on a Cascade in the Falls Pool on Beat 9.
Total catch for the week was 37 salmon and 15 Sea trout - 25 salmon and all 15 sea trout were released again.
To book fishing on the Erriff or accommodation in Aasleagh Lodge, contact fishery manager Jim Stafford on 095 42252, or visit www.aasleaghlodge.ie for details. The lodge and fishery also have a Facebook page at www.facebook.com/AasleaghLodge.
Delphi
David McEvoy described the fishing last week as "not bad" with 23 fish landed, bringing the season total for Delphi to 215.
Christopher Jarman started his week well with 3 fish. He had one off the Turn and one off the Quarry, both on a Black Dog and weighing in at approx. 3lbs. He then had a fish of 3lbs 12oz off the Waterfall on a Silver Stoat. Andrew Brough landed a 2lbs 13o fish off the Boat Pier on Finlough on a Badger and later on that evening David himself had a fish of 4lbs 14.5oz on a Delphi Collie.
David Desborough did well to land a fish of approx. 6lbs from the Rock pool on a Cascade. Bob Hadden was also on the score sheet with a fish of approx. 3lbs, also on a Cascade.
John Mills took 2 fish off Finlough, one of approx. 6lbs and the second of 4lbs 1.5oz, both on a Willie Gunn. Conor O'Leary had a fish off the Rock pool of 3lbs 2oz.
Christopher Jarman scored again with a fish of 8lbs 12oz off the Turn pool on a Beaded nymph.
Thursday was the best day with 6 fish landed. Christopher Jarman had 2, both on a Silver Stoat - one of approx. 6lbs off Finlough and one of 7lbs 11oz off Morrison's. He also lost a bigger one with he and the fish disappearing under Bundorragha bridge and tearing his new waders in the process!
Ivan Shenkman had 2, including his first ever salmon. Both were off Finlough weighing in at 3lbs 9oz and both on Collie Dogs. Peter Curling part of the Shenkman party also had a fish off the Rock pool of 4lbs 8oz on a Cascade.
Ciaran Boland had a fish on a tattered Gaula Temple Dog that has now caught 9 salmon. The fish weighed in at 5lbs 15oz.
Alexander Mills had a fish of 4lbs 7oz off the Rock pool on a Red and Gold shrimp and Barry Farrell had 2, one off Doolough of approx. 5lbs on a Golden Olive Bumble and one off the Whin on a Kingsmill, weighing in at 4lbs 7oz. His fishing partner Kevin Gill also had a fish off Doolough of approx. 4lbs on a Kingsmill.
David also reports that sea trout fishing is excellent at the moment, with good numbers of fish and all in fantastic condition. Two boats on Doolough concentrated solely on sea trout one of the days and ended up landing 24 fish up to 2lbs 8oz.
To book fishing or accommodation at Delphi, contact the lodge at 095 42222, or check www.delphilodge.ie
Kylemore
Fishery manager Nigel Rush reports that the fishery finished up with 7 salmon for last week, with the weather on the downward slide into brilliant sunshine and low water levels by the end of the week. The catch included 3 fish for Seamus O'Neil for one morning, 2 fish for Richard Stephens for one morning and one apiece for Francis Murray and Geoffrey Fitzjohn.
They have already had 5 fish for the first 3 days of this week and with yesterdays and last nights rains, hopefully many more over the next few days.
To book fishing at Kylemore Abbey, contact Nigel on 095 41178, or mobile 087 9580702, and for latest news check the website at www.kylemorefishery.ie
Lough Inagh
Fishery manager Colin Folan reports that the sea trout keep on coming at Lough Inagh! 177 sea trout to 2.5lbs and 7 salmon were reported for 54 rod days for the week up to the 29th. Nearly all the fish were taken from the lake, as there was medium to low water in the river beats for most of the week.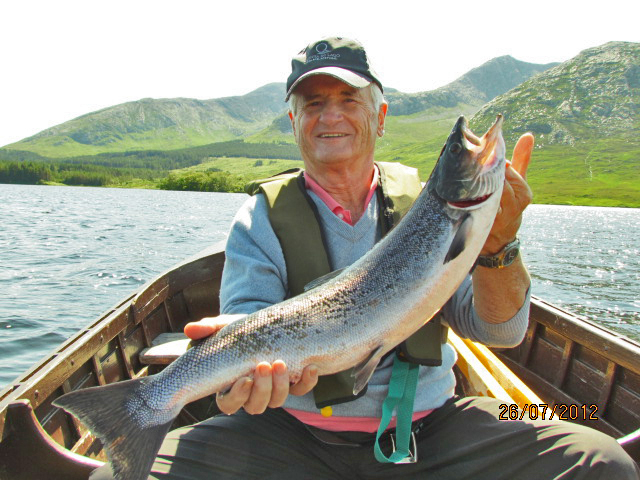 Frank Lavery with his a 5.75 lb grilse from Inagh taken on a Silver Doctor,
Notable catches for the week included Michael Heery and William Hamilton, who fished Inagh for a day and boated 29 sea trout and 2 Arctic char, on a Green Dabbler, Fr. Ronan and a Snow White. John Roche (Galway) and partner boated 16 sea trout on Green Peters. John Ryan (Clare) and Chuck Adams (USA) recorded 15 sea trout to 2.25lbs on Green Peters and Sean McEvoy (Mayo) landed 12 sea trout and a 5lbs grilse on a variety of patterns. Robert Kelly (Dublin) took a 4.5lbs grilse on a Fr. Ronan and 5 sea trout for a day on Inagh. There were first ever salmon for Dublin couple Frank and Svetlana Lavery, for their 2 days on Inagh. Frank had a 5lbs grilse on a Silver Doctor, and Svetlana had a 2.5lbs fish on a Bloody Butcher. One angler told me that he broke in a salmon in excess of 20lbs during the week on Inagh! Following heavy rain in Connemara, I would expect good water on the river beats this week and these should produce salmon.
Lough Inagh is delighted to announce that Peter O Reilly will be holding a Fly Fishing course in Lough Inagh Lodge on the weekend of 23-26 August. Full details from Inagh 09534706, inagh@iol.ie, places are limited to 6 persons.
To book fishing or accommodation at Lough Inagh Lodge, contact the hotel on 00353 95 34706, or view their website at www.loughinaghlodgehotel.ie
Lough Mask
Ronan Cusack reports that with the World cup just days away there is a noticeable tense atmosphere among anglers around the shores of Lough Mask. Last year's champion Aidan Hodgins from Loughrea was out scouting over the weekend with his son Mark. They had 6 fish on Saturday (best fish 2lbs, all released). Aidan fished again on Sunday with Loughrea club secretary Robbie Flaherty and they had 4 fish (best fish 1.5lbs, all released).
Ballinrobe & District Anglers held their annual club competition on Saturday last. There were 23 boats competing on the day with 33 fish weighed in. The top rod went to Mark Rogan from Waterford with 3 fish for 2.09kgs. Second place was John Brennan (Longford) with 2 fish for 1.56kgs. The third prize went to Stewart McGrane with 1 fish for 1.34kgs. Heaviest fish went to well-known Ballinrobe angler Robbie O'Grady which weighed in at 0.91kgs.
The Castlebar Anglers also held their club competition on Sunday last. 18 anglers weighed in 10 fish after a tough day of bright sunshine. First prize went to Peter Byrne, Castlebar, with 3 fish for 1.45kgs. Second was Jim Ruane, also from Castlebar, with 1 fish for 0.60kgs. Third place went to Joe Quinn, Ballina, with 1 fish for 0.59kgs.
Harold O'Toole and Stephen Greaney, Galway, fished together on Sunday last and they had 4 fish for the day (best fish 1.75lbs, all released). Kevin Egan and Michael Vahey from Ballinrobe also fished on Sunday and they had 4 fish from the deep on wet flies. Noel Fay from Kildare had 2 nice fish on wets for a few hours on Sunday afternoon (best fish 2lbs).
There has been a prolific hatch of sedge right across the lake over the past few days and trout have been seen freely rising. With the World Cup getting underway on Thursday the 2nd, there should be plenty to report on next week.
Ronan also guides on Mask and can be contacted on 087 2869487 or email cusackronan@gmail.com
Lough Carra
Joe Flanelly from Keel River Lodge reports that Lough Carra fished reasonably well last week. Trout moved readily to small hatches of sedge. It fished well in the early part of the days, but best times were between 5 and 8pm in the evening. Best patterns were Green Peter , Brown Sedge and best of all a Claret Bumble with legs. James McWalter from near Ballyhaunis fishing from Keel River Lodge had 4 keepers and returned several undersize fish.
To book angling or boat hire with Joe, contact Keel River Lodge at 094 9541706 or check www.keelriverlodge.com