Galway Weir
Water levels remained high during the last week with 8 sluice gates open on the Weir and as a consequence angling effort was minimal during that period with very few anglers venturing out to fish. However, local angler John McCarthy had a grilse spinning over the Bank Holiday Weekend despite the high water levels. Water levels have dropped since with now only two gates open and prospects for the coming days are more promising.
Erriff
Fishery Manager Jim Stafford reported on fishing last week. The week started off with water levels at 0.8 meters on the Aasleagh Gauge on Sunday 29th July. Extreme heavy rains resulted in a massive spate of 2.16 meters on the 3rd which rendered the river unfishable for most of the day. Although levels were very high the water was relatively clean and levels had dropped to 1.24 meters the following morning.
David Gaffney, Kilkenny, caught 2 grilse on Beat 5 and Beat 9. Anthony Holden, Dublin, caught 2 grilse in the Falls Pool and Upper Garden Pool.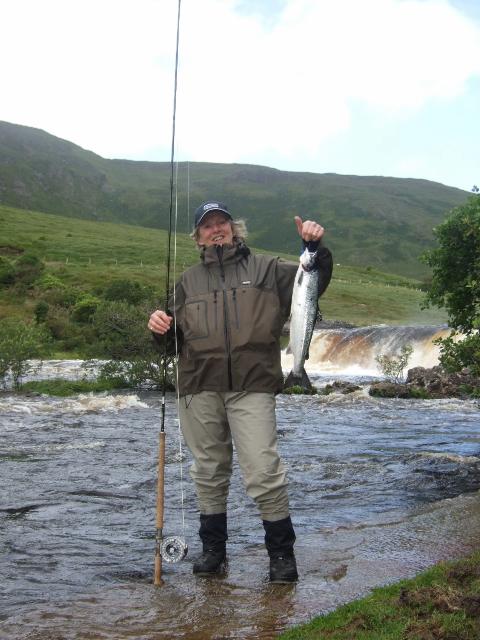 Penny Tindal Dublin with her first ever salmon caught on a Shrimp Fly in the Garden Pool on the River Erriff.
Congratulations to Penny Tindal who caught her first ever salmon in the Garden Pool on a Shrimp Fly on the 1st August. A Garry Dog produced a 6.5lbs. fish for Anthony Tindal which was caught in the Gauge Pool . Anthony also had 3 sea trout in the Square Pools which were safely released to the water.
Derek Harrison, Chester, U.K. released 2 grilse of 5lbs. each and his son Simon retained one of 5.75lbs. taken in the Coronation Pool on Beat 8 and released another of approximately 4 lbs. - all fish were taken on Shrimp patterns. Niall Spellacy released a 4 pounder on Beat 4. David Kirk released a grilse taken on a Collie Dog caught in Schoolhouse on Beat 3 and Trish Findlater returned a sea trout of 2lbs. caught on a Collie Dog on Beat 8.
James Keogh and Ian Fox, Dublin, had 3 grilse on Beats 6 & 7 - all on Cascades. Roy Craigie caught one on a Blue Charm. Fergus Crawford, Dublin, landed 3 grilse on Beat 7 & Beat 9 with Tim Keane releasing a 5.5lbs. fresh run grilse caught in the Bridge Pool on a Cascade. David Mooney, Killimor, retained one of 7.5lbs. which fell to a Stoat's Tail in Nee's Run on Beat 6 and released another caught in Altamont's Dam.
Greg Forde and son Christopher had their first salmon of the season in the Gauge Pool and in Kelly's Bend- both fish were caught on Cascades. Local angler Michael Coyne landed a grilse in the Top Square Pool on Beat 9.
Seamus Hartigan and James Stafford had a very sporting afternoon on Tawnyard Lough with 8 sea trout and some 30 brown trout. The best sea trout caught was estimated at a good 4.5 lbs. Most successful flies included Green Peter, Invicta and Bibio - all in small sizes. Delphi rods also accounted for 8 sea trout and several brown trout in two days fishing on Tawnyard. All fish were safely returned to the water.
Fish of the week goes to Penny Tindal who caught her first ever salmon - a sparkling fresh grilse - the best sea trout of the season (so far) goes to Seamus Hartigan with a fish of 4.5lbs. from Tawnyard Lough. Total catch for the week was 24 salmon and 26 sea trout.
To book fishing on the Erriff or accommodation in Aasleagh Lodge, contact Fishery Manager Jim Stafford on +353 (0)95 42252, or visit www.aasleaghlodge.ie for details. The lodge and fishery also have a Facebook page at www.facebook.com/AasleaghLodge.
Kylemore
Nigel Rush reported that Kylemore Abbey Fishery enjoyed another successful week with a total of 16 salmon reported. With a 4.5 lbs. grilse from the Yellow Banks on the Middle River, Geoffry Fitzjohn landed the 100th salmon on the fishery this year. Other successful anglers included Pat Burns with two salmon of 4 lbs. and 10 lbs. from the Lower River and Seamus O'Neil who had a fine salmon estimated at 15 lbs. from the Middle River. Andy Ffelts also did very well with a total of 6 grilse for his three day trip.
Water levels are dropping away again after last week's heavy rain, but with impressive numbers of sea trout running the system fishing on the lakes should remain good for the next week.
To book fishing at Kylemore, contact Nigel at +353 (0)95 41178, mobile +353 (0)87 9580702 or check www.kylemorefishery.ie.
Delphi
David McEvoy reported that despite a flood earlier in the week fishing at Delphi has been difficult with only 10 fish landed. However it was quite a good week for sea trout fishing with over 50 fish caught, mostly on Doolough.
Among those to land salmon were Gareth Beattie with two fish from the Rock Pool including a fine 12.2 lbs. salmon taken on a Beaded Nymph. William Beattie did well with two fine fish of 6.3 lbs. & 7.7 lbs. from the Horseshoe and Quarry Pools. US angler, Bob Glauber, will definitely remember his visit to Delphi as he managed to catch his first ever salmon - a lovely fresh run sea-liced grilse of just over 4 lbs. Other successful anglers included Declan O'Mahony, Co. Cork, and Ciaran Boland who both had fresh-run grilse. On Finlough, Billy Marshall had a 6.8 lbs. fish with Leo Casey also boating a grilse. Best flies included Collie Dog, Minkie, Willie Gun and Cascade patterns.
To book fishing or accommodation at Delphi, contact the lodge at +353 (0)95 42222, or check www.delphilodge.ie
Lough Inagh
Colin Folan reported that Lough Inagh received plenty of rain on Tuesday and Wednesday, which brought water levels well up and impacted on the fishing somewhat. However, on Friday fishing was excellent with 9 salmon, best at 9 lbs. and 31 sea trout, best at 4 lbs. recorded for the day. In total 12 salmon were reported for the week with 7 of them taken on Lough Inagh.
Michael Heery, Dublin, had 3 salmon of 6.5lbs., 7.5lbs. and 9lbs. on a Snow White and Green Dabblers. He also caught 12 sea trout on the same patterns. Dan O'Donavan, Dave Gibbons, both Co. Cork, and Campbell Sampson, Scotland, were also successful on Inagh and recorded 3 salmon to 9 lbs. and 15 sea trout to 3.5 lbs. on a Green Peter and Green Daddy. Brian Regan, Co. Galway, fished Lough Inagh for a morning on Saturday and landed a 6 lbs. grilse and 4 sea trout on a Green Dabbler. Ewan Guinness, UK, had a fresh grilse of 6 lbs. from The Derryclare Butts on a Silver Rat, while Paul Hollway, NI, fished Greenpoint Beat and hooked 3 salmon, but only landed one fish of 5 lbs. on a Van Beck.
Seventy-seven sea trout were reported for 56 rod days this week with 5 char to 0.75 lbs. and numerous brown trout caught also.
To book fishing or accommodation at Lough Inagh Lodge, call the lodge on +353 (0)95 34706, or check www.loughinaghlodgehotel.ie
Lough Mask
Another very successful World Cup was held on Lough Mask over the August Bank Holiday weekend with numbers up slightly on last year. This year 470 anglers battled for the much coveted World Cup trophy which is now in its 56th year.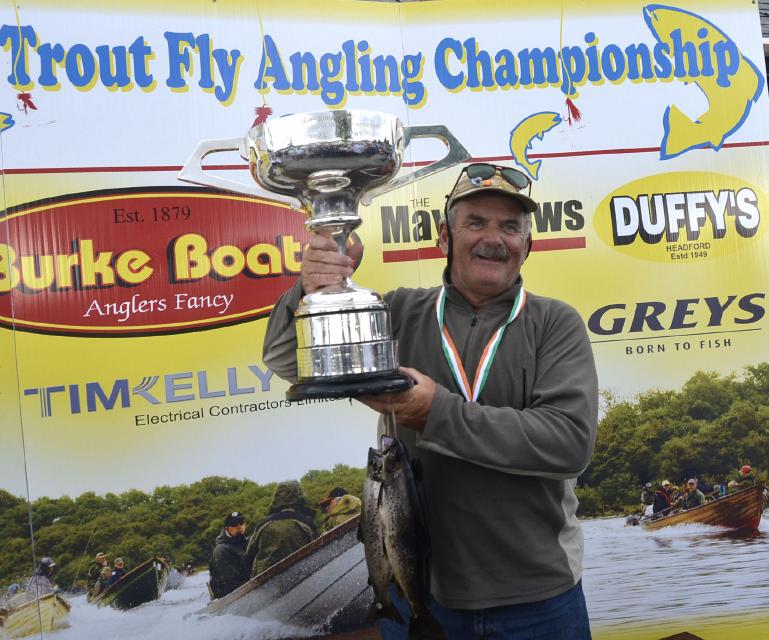 Mick Dunne Tourmakeady Co Mayo winner of the 2012 World Cup fished on Lough Mask.
Mick Dunne from the Midlands, now living in Tourmakeady, struck gold on the final day. Mick qualified for the final on Thursday with 4 fish weighing 4.15 lbs. On the final day Mick also weighed in 4 trout for 4.42 lbs. On this occasion, and something that has never happened in the 56 years of the competition, Brendan Shallow, Co. Fermanagh, also weighed in 4 trout weighing 4.42 lbs. The fact that both anglers had equal numbers of fish and equal weights meant the committee had to take into account the weights of their catch in their qualifying days to establish a winner. Mick Dunne proved to be the lucky angler and took the top spot on the podium.
Third place went to Colin Wilson, Co. Down, with 3 fish for 4.20 lbs. Heaviest fish prize went to Kevin Bettie from Ballinrobe with a fine trout weighing 3.71 lbs. Best Ballinrobe & District Angler over the competition was Jackie Coyne with 9 fish for 10.50 lbs. Top lady angler was Madeline Kelly, Co. Antrim, with 6 fish weighing in at 7.16lbs. Finally, the prize for best overseas angler went to Alexander Whiteside, Scotland, with 5 fish for 5.40 lbs.
The boatman who brought in the heaviest weight of fish over the competition was Jackie Mahon, Co. Sligo, with 15 fish weighing 17.99 lbs., while Sean Moogan from Westport scooped the prize for best boatman on the final day.
Lough Corrib
Fishing activity on Lough Corrib has been quiet of late, with very few boats out. However, some anglers who ventured out on the Lough during the week were rewarded with nice catches.
Nonaim Lodge reported on anglers having success on the dap and while trolling: Marie Helen Nguyen and Yvon Gauthier, Canada, had 5 trout (4 released) while dapping, average size at 1.25 lbs. Also on the dap Kathleen and Mike Hennessy, US, had two fine trout of 2.25 lbs. and 2.75 lbs. Belgian angler, Robert Wolters, boated two very nice trout of 3.25 lbs. and 6 lbs. while trolling.
However, 10 year old Patrick Borowski, Dublin, was crowning his fishing trip to Lough Corrib with a fine 6.25 lbs. salmon he caught when out fishing with his father Andrzej who himself had a 5.5 lbs. salmon earlier in the week. They also caught and released 6 trout and broke in a large trout while trolling flies.
To book fishing or accommodation at Nonaim Lodge, Oughterard, Co. Galway call the lodge on +353 (0)85 7364830, or check www.fishingcorrib.com
Sea Angling
Max Couque, skipper of the Leaca Rua, reported on some good mixed fishing during the week when he took out a group from Dublin. Fishing the back of Inis Óirr Island they had a fine John Dory followed by plenty pollack. In total the group had eight different species including pollack, John Dory, red gurnard, poor cod, dog fish and ballan wrasse.
According to Max mackerel appeared quite early this season and were plentiful from April until June, while they seem a bit harder to get lately. Some of his guests enjoyed good pollack and cod fishing this season. The heaviest pollack of 10 lbs., so far, this year was caught by French angler Jean Claude, while Tom Kiley boated a very nice cod last week.
To book fishing in the Galway Bay area call Max on +353 (0)86 3234638 or visit www.galwayfishing.ie
Elsewhere, 12 year old Eamonn Cooke, Co. Wicklow, had a memorable day's sea angling in Aughrus Bay where he caught a fine 5.5 lbs. cod. Well done Eamonn!