Galway Fishery
The lower water levels, couple with an excellent run of grilse, produced a great week for anglers in Galway. There were 31 fish landed, all grilse, with many more hooked and lost, including 2 for the unfortunate Neil Spellacy! The fishing is picking up as the week progresses, with 13 fish landed yesterday (Tuesday 11th). At one stage there 3 anglers playing salmon at the same time!
John White (UK) landed 5 grilse during his visit, mostly to shrimp, while Simon White had 2 fish. Their best fish was 5lbs. Jim Barry from Dublin landed 2 grilse on fly, while Donegal man Proinnsias Doherty had 2 grilse on shrimp. Anthony Griffin fished the fly and landed a 5lbs grilse, while local angler Simon Lenihan took 2 fish on fly. The Carroll/Ryan party from Tipperary had a great morning on the 11th, with John Carroll taking 2 grilse on fly, while John Ryan also had 2 on fly, and his son Jim landed 3 grilse on fly. Local man Mícheál Cunningham took 2 grilse on shrimp, while Patrick Fitzgerald had a 5lbs fish on fly. Cork angler Dan O'Mahony landed 2 grilse on shrimp, and Aidan Twomey from Waterford had a nice grilse on the fly.
There is a great run of fish on at the moment, with good numbers of fish coming in on every tide. Conditions are perfect at the moment, and if the run of fish continues fishing prospects are excellent for the next few weeks.
Lough Corrib
The heatwave over the last week meant that Corrib was more popular for boating and barbecues than angling. Indeed, I partook in one of the aforementioned barbecues myself, and we enjoyed a leisurely afternoon in the sunshine on one of the many islands on the lake. It was great to see so many families out enjoying the lake in the fine weather, and even more gratifying to see them taking all their litter home again - please always remember to leave no trace - take nothing but photos, leave nothing but footprints!
Back to angling, and Eamon Walsh reports that the bright warm weather put an end to most of the fishing on the Corrib. The early morning and late evenings proving best for those who ventured out, with Caenis hatches tempting fish to feed on the surface in the morning, while sedge and buzzer hatches are starting to bring trout on the feed later on.
Two UK anglers fishing with Larry McCarthy out of Corrib View Lodge in Glencorrib had some excellent trout between Wednesday and Sunday of last week. While fishing in the Kilbeg and Clydagh Bay area they managed over 50 trout, some up to 4lbs. A father and son combination who previously had some great fishing in the Greenfields area, Adam and Peter Neilson worked hard but were only rewarded with one sizeable fish to dry fly, while returning some undersize fish.
Larry provides boat hire, guiding and accommodation at Corrib View Lodge - to book call 093 31718 or check www.corribangling.com
Tommy Kelly reports that the Oughterard area has been very quiet in the past week, the flat calm water and strong sunshine putting many anglers off. The only suitable days on which there was a stiff enough breeze were Monday and Tuesday, when James and Peter Kelly managed 4 trout for 7lbs on wet fly. John Walsh, fishing with an English friend for the week, had very little joy except on Tuesday when they caught and released a total of 5 trout up to 2.5lbs along the Dooras shore. James McDonough had 7 fish for the opening days of the week in Corrnamona Bay.
Many anglers will be keeping a close eye on the weather as a week of rain is predicted which might help revitalise the lake and bring another hatch of late fly to the surface.
Mike Holian from Bayview Angling Centre and B&B near Cong sent in some returns for his guests. A party of 4 Swiss anglers including Bruno Ruegger and Urs Schwarz stayed for 12 days recently, and spent most of their time trolling on Corrib and Mask , recording 34 trout, best fish 5lbs, and a number of pike, including a fish of 15lbs. Fellow Swiss anglers Peter Walthert , Rolf Bucher and a friend fished over a week and landed 8 good trout, released many more undersize fish while dapping. Willie Schindler and his brother John from Germany landed 3 trout to 3.5lbs for their day, while Robert Holian and Paul Ramsey landed 12 trout averaging 1.5lbs to dry fly and buzzer.
Fintan Walsh from nearby Cross landed 6 "keepers" and released a lot of small trout. Larry O'Dea and Patrick O Malley (Cross ) had 13 "keepers" & released many undersized fish. Patrick had a nice trout of 4 lbs. among their catch. Paddy Nicholson and his son Rory (Galway) had 4 fish over the size limit, releasing a lot of small fish as well.
To book fishing, boat hire or accommodation from Bayview, which is situated on Salthouse Bay at the north-eastern corner of Lough Corrib, contact Mike at 094 9546385, email bayviewac@gmail.com , or check www.bayviewangling.com
Lough Mask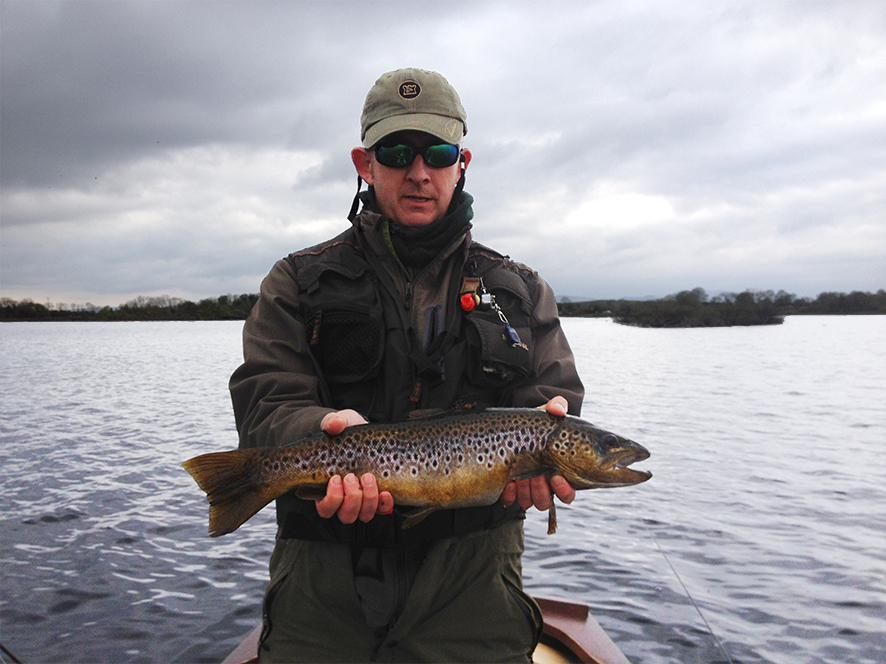 Mark Doc Rogan with a nice 3lbs Mask trout taken on buzzer.

Ronan Cusack reports that Mask anglers have focused their attention more on barbeques and sun-cream this week rather than fishing, mainly due to the tropical weather that hung over the country for the last seven days. The good fish have kept well and truly hidden during daylight hours only to reappear again at dusk to feast on hatching buzzers.
Hall's Angling Centre reported having a tough week with the majority of fish taken on buzzer and nymphs. Tom McMahon and friend from Northern Ireland fished from Hall's last week, and they had 15 fish during their stay (best fish 2.75lbs), mainly on buzzers and nymphs (Gold head Hares ear, Diawl Bach etc). Ian Matchet and a party of 4 had 6 fish for 3 days fishing (best 1.5lbs). Two Dublin anglers fished for a day and a half from Hall's and they had 2 fish (best fish 1.5lbs).
To book fishing or accommodation at Hall's, contact David or Helen on 094 9541389 or check www.lakeshoreholidays.com

Mick Dunne from Tourmakeady had 2 nice fish on Saturday (best fish 2lbs, both returned). Ronan Cusack and Mark Rogan had some good daytime buzzer fishing last weekend on Mask. They landed 10 fish for 2 days (best fish 3 lbs, all returned). Ronan also guides on Mask and can be contacted on at 087 2869487 or by email at cusackronan@gmail.com

Delphi
Most rivers in Connemara struggled over the week, with water levels on rivers at drought level, and temperatures soaring into the mid-20s, and no breeze to speak of to make a wave on any of the lakes. There were no reports from most of the fisheries, although David McEvoy reports that Delphi did record a few fish, mainly off the lakes as the river was very low. Seamus Maguire managed to wangle a sea-liced fish of 3lbs from the Whin pool on a Willie Gunn mini tube. Manfred Wolf landed one of 11lbs at the Boat Pier on Doolough, and Kurt Roth took one of 9lbs from the Ivy Rocks. Charles Harbottle had a fish of 7lbs 2oz off Fin on a Delphi Collie at 25 minutes to midnight!
Barry Brown had a sea liced fish of 3lbs 8oz off Fin on a Delphi Collie, and finally the old maestro himself John Mills got the Willie Gunn back into fashion when he landed a fish of 9lbs 8oz off Finlough.
To book fishing or accommodation at Delphi, contact the lodge at 095 42222, or check www.delphilodge.ie

Costello and Fermoyle
Fishery manager Terry Gallagher was in touch to report that the last couple of weeks have seen the beginnings of a run of fish at Costello and Fermoyle, with springers and grilse entering the system in good numbers. Geoffrey Fitzjohn struck again, this time on River Beat 3, landing a 5lbs 8oz grilse on the Round Pool with a size 12 Black Shrimp. Padhraig McDonagh also landed a bar of silver, 6lbs grilse, on the Cabbage Pool at River Beat 1. At the time of writing, water levels are getting low but fish are still coming in off the tide and into Beat 1. With rain arriving at the moment, things are sure to get interesting!
To book fishing at Costello, contact Terry on 091 572 196, mobile 087 2399988 or email terrygal7@gmail.com


Lough Inagh
Like elsewhere in Connemara, Lough Inagh suffered with low water and high temperatures last. However, the rain has now arrived, and water levels are expected to rise over the next day or two. Fishery manager Colin Folan fished at the Derryclare Butts yesterday afternoon and landed 2 sea trout, one of 1.5lbs and the other a cracking 4lbs. The sea trout run appears to be starting at Ballynahinch and Inagh, and once the water rises we should see good fishing here.
To book fishing or accommodation at Lough Inagh Lodge, contact the hotel on 095 34706 or check www.loughinaghlodgehotel.ie


Sea Angling
Duncan Smith reported on a great charter trip with skipper Max Couque aboard the Leaca Rua out of Rossaveal.
The glorious weekend weather brought our group of 11 anglers from Dublin down to Rossaveal for a day's charter with Skipper Max Couque on his boat the Leaca Rua. It was our second charter with Max after our very successful trip last August in which we landed 8 species including a smashing John Dory.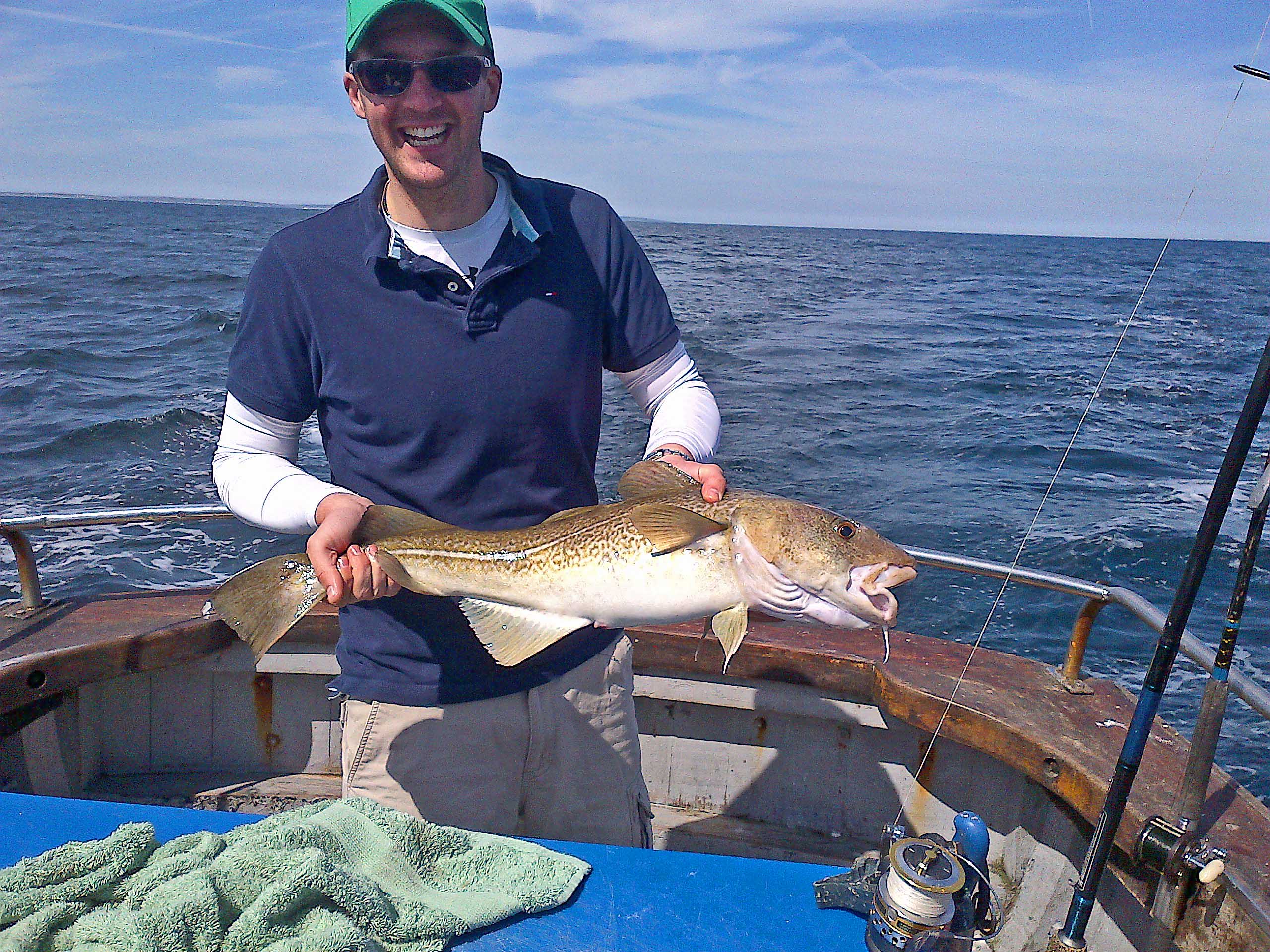 Robert O'Driscoll with a 9.5lbs cod taken aboard the Leaca Rua in Galway Bay, June 2013.


Despite the hot weather and intense sunshine, Max landed us on some very good pollack and coalfish action over a number of drifts. The highlight of the morning session was a mint condition 9.5lbs cod landed by a very happy Robert O'Driscoll from Dublin.
In the afternoon we moved to a drift between two of the Aran Islands and the action continued with more pollack and coalfish coming aboard with some codling and a solitary pouting even making an appearance. The scarcity of mackerel stopped us from ledgering for larger species such as tope, ray and spurdog but we felt it was best to leave some fish in the bay for next time!
The afternoon was topped off with a BBQ on the boat with our catch of the day cooked to perfection.
Thanks again to Max for giving us our second fish-filled day out on Galway Bay and we look forward to arranging our next trip on the Leaca Rua. To book fishing with Max, contact him on 086 3234638, or check www.galwayfishing.ie