Galway Fishery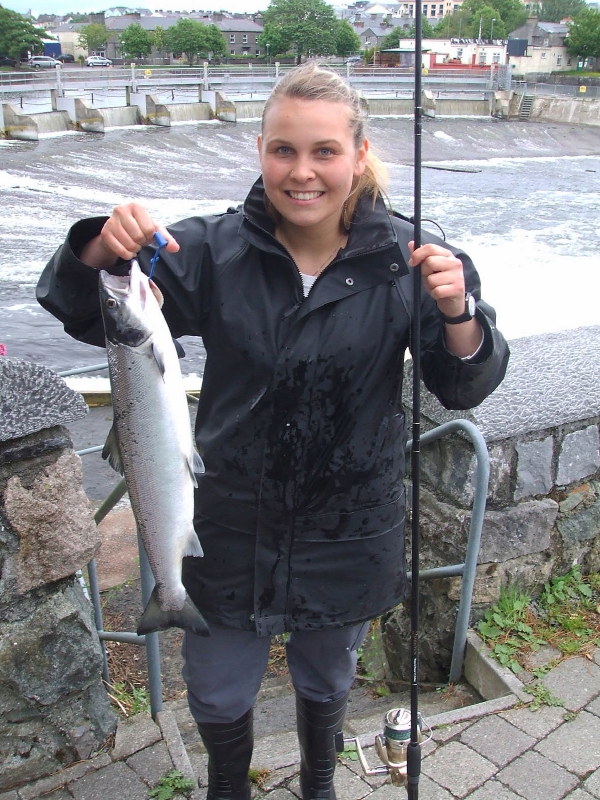 Lucie Fauquet from Switzerland, with her first ever salmon, caught at the Galway Fishery.

The broken weather last week resulted in water levels increasing, with an extra sluice gate open on the weir. Runs of grilse were excellent all week, and there were 79 salmon landed for the week, with many coming to fly and shrimp.

Dan O'Mahony landed 2 grilse of 4lbs each on shrimp, while Patrick Cotter also had 2 grilse on shrimp. Tom Beecher took 3 grilse to 4.5lbs on fly, while James McEvoy had 3 grilse on fly, best fish 5.5lbs. John Murphy took 3 grilse on fly, including a nice fish of 7lbs, while regular visitor and Dublin football fanatic Colm Adams landed 5 grilse for his visit, all taken on shrimp. Waterford angler Mossy Browne landed a nice 7lbs fish on fly, while local angler John Anderson took 4 fish to 5lbs on fly, including 2 released. George Houston from Northern Ireland had 2 grilse on shrimp, and regular Dublin visitor Brian Howard landed 3 grilse during his visit, all on fly. Swiss visitor Martin Hunziker landed a 4lbs grilse on shrimp, while UK angler John Menzies took 2 grilse to 6.5lbs on spinner and shrimp. Henry Csgrove had the best fish of the week, a fine 10lbs salmon, but our catch of the week went to Lucie Fauquet from Switzerland. Lucie, who is a fisheries student doing a summer work placement at the Galway Fishery, landed her first ever salmon, a nice 5.5lbs grilse, to the delight of the regular anglers present.

Lough Corrib
Eamon Walsh reports that the spell of broken weather over the past week has sparked some new life into fishing on the Corrib, but in saying that, very few anglers have taken advantage of this. Reports from around the lake indicate that some good fishing was had on Tuesday of last week and again on Friday. With both wet and dry fly proving successful, there are also those who still managed a few fish on the dap. Patsy Coyne and his son Stephen, from Corrnamona, both had good trout during the week on the dap, with Stephen tipping the scales with a lovely trout of 3.5lbs. Peadar Breathnach made a welcome return to the lake after a short break, proving the rest did him good, he landed 5 trout on Tuesday to wet fly and a further 4 on Thursday to dries.

John Coffey had 4 trout to wet fly while fishing for one day out of Molloy's of Carraig. Willie Marty, also fishing out of Molloy's had 8 fish for 3 days the best being over 3.5lbs. In the Oughterard area the fishing has been slow over the past week with very few anglers venturing out. Friday, however proved to be the best day with James Kelly having 4 fish for 8lbs, while Kevin Molloy also managed 4 for 7.5lbs. The pattern is much the same along the eastern shore of the lake - very few anglers on the water, but those who are fishing are seeing good returns. Robert Reilly and his son Kieran had 11 fish, the best of 2lbs to a mixture of wet and dry fly patterns for one days fishing. Frank and Oisin Reilly had 5 trout over 2 evenings while fishing in the Ballycurran and Greenfields bay area, with Oisin apparently teaching dad Frank a lesson by catching the first fish, most fish and the biggest fish!

There are still mayfly hatching off on the duller days, and with so few anglers out, fishing pressure is very light, so anglers have a good chance. This is also the time of year for early morning Caenis hatches, so a spell of calm weather could see good fishing early in the day, and Campto buzzer should be hatching late in the evening, as well as sedge hatches starting in earnest. Most years sees a quiet lake for June and July, but last year proved very good for anglers who tried their luck during the summer, and hopefully this year will be a similar story.

Lough Inagh
Colin Folan reports that heavy rain during the week saw the water rise to perfect fishing levels. It also saw the arrival of significant numbers of grilse. There are some sea trout entering, but the main run of sea trout has not started yet. At the time of writing the water height is excellent and hopefully more silver treasures will arrive in.

10 salmon were recorded for the week for 24 rod days. Rob Byrne (Dublin) fished the Derryclare Butts for the first time, and his afternoon was rewarded with two fresh fish weighing 5.5lbs and 14lbs. The fish took a Cascade and a Willie Gunn Tube. William Hamilton fished two days and recorded two grilse from the Butts on a Silver Badger. Both fish weighed 5lbs. Ned Eisenberg (USA) fished Lough Inagh and boated a fish of 5.5lbs on a Silver Daddy, and Andy Walshe (Galway) fished with Thomas O Brien (Galway) on Inagh for a day and landed two fish of 5lbs and 6lbs on a Silver Daddy and Bibio. Hugh Maguire (Dublin) had a grilse of 6lbs from the Butts on a Willie Gunn tube, and finally John Dardis (Kildare) took a 4lbs fish on a Silver Stoat also from the Butts.

To book fishing or accommodation at Lough Inagh Lodge, contact the hotel on 095 34706 or check www.loughinaghlodgehotel.ie

Erriff
Jim Stafford reports on fishing over the first 2 weeks of June:

Water levels on the Erriff were very low during the first week of the month. It was brilliant summer weather with bright sunshine and clear skies, with temperatures in the low 20s. There was very little fishing on the river during this time. However, somewhat against the odds with water levels at 0.58 meters, Selby Knox, a regular visitor to Aasleagh Lodge and the Erriff at this time of year, was not giving in and fished the Coronation Pool on Beat 8 in the cool of the evening. Selby fished a small lightly-dressed Cascade and caught a sparkling fresh-run grilse of 4lbs. The following evening he saw success again with the same fly, landing another fresh -run grilse of 6lbs in the Falls Pool on Beat 9.

Rain increased levels to 1.25 metres on the morning of the 11th - water clarity was a little peaty and fresh fish including several good springers were seen running through Beat 9. Once again Selby Knox was successful catching a fish of 11lbs in the Colonel's Run on Beat 6 - again on that small size 13 Cascade.

At last the heavy rains came on the 14th, with levels rising above 2 metres on the Aasleagh Gauge, rendering the river unfishable. Levels on Saturday morning were recorded at 1.9m - much too high for the lower end of the river. Levels dropped in the afternoon and John Dardis, Newbridge Co. Kildare caught a grilse of 5.5lbs in Poleen on Beat 4. Later in the afternoon John caught and released another sparkling fresh fish, estimated at 6.5lbs, straight in off the tide in the Coronation Pool on Beat 8 - both fish were taken on a Cascade. The same day, celebrating his birthday, Ken Wickham, Drogheda Co. Louth caught one of 8.5lbs in the Hawthorn Run on Beat 7. The fish was caught on a "Birthday Shrimp" tied by his brother and well known trout and salmon fly-tyer and successful angler Niall Wickham - a very appropriate birthday present.

The catch for the period was 6 salmon and 6 sea trout. At the time of writing water levels are still good for grilse to enter the lower beats. With rain forecast at the weekend, and grilse coming in better numbers by the day, the Erriff should see good fishing over the next week.