Galway Fishery
Water levels remained were perfect all week, with the weir operating at one gate open since last Thursday. The run of grilse has been very good, and fresh fish are continuing to come in in good numbers on every tide. There were 132 fish landed for the week, almost all grilse and most coming to the fly. Among the happy anglers this week were Davy Hoy, who had 4 grilse to 5lbs on fly, and Limerick man Eddie Corry, who had 3 grilse to 4lbs on fly. Fishery officer Grainne Dunne landed her first Galway salmon, a nice grilse of 5.5lbs taken on shrimp. Patrick Kane landed 2 grilse on fly, and family group Ashley, Lewis and Jasper Mathews from Clifden all had a grilse each on fly, with Lewis landing the best fish of 5lbs. Eoin Jackman took 3 grilse on fly, while Eamon Power landed 5 grilse to 5.5lbs on fly. Paul Whelan landed 5 grilse to 7lbs on fly, and Mick Delaney took 3 grilse to 5lbs, also on fly. Enda Scahill and Peter Gaffey had 2 grilse each on shrimp, and Paul Wymes landed 3 grilse on shrimp and fly. Frank Poland had 3 grilse on shrimp, Aidan Twomey had 3 grilse on fly, and Gus Murphy landed 4 grilse on fly and shrimp. Brothers Dave and Declan O'Reilly had a fish each, with Declan taking the family bragging rights with a beautiful salmon of 15lbs, taken on the fly, the best fish of the week by a long margin.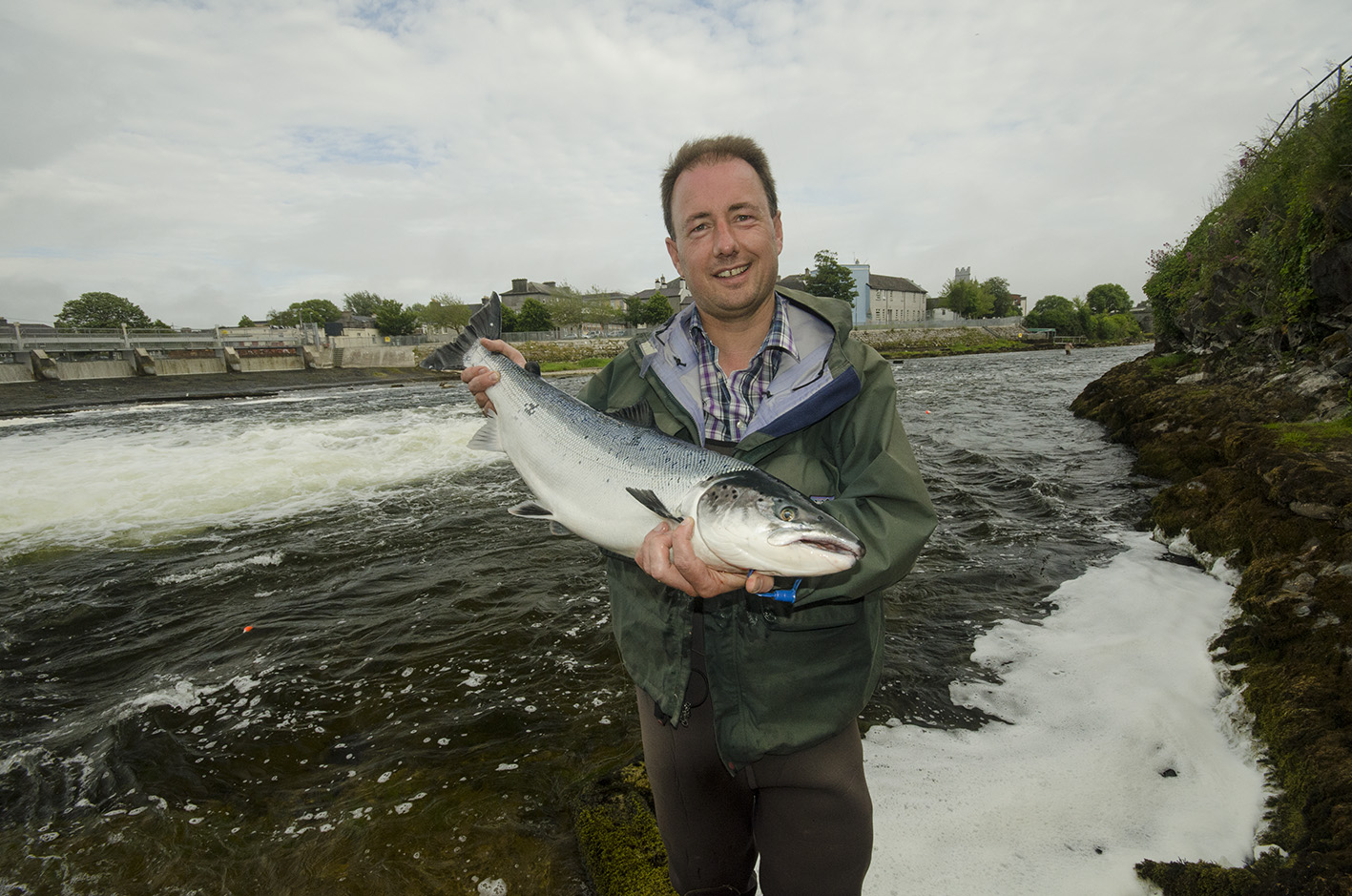 Declan O'Reilly with a fine summer salmon of 15lbs from the Galway Fishery, June 2013.
Lough Corrib
Eamon Walsh reports that the drop in temperatures over the past week, along with some good winds and showers, provided anglers a chance to once again fish the mayfly. Large hatches have been reported in various parts of the lake. A Corrib Federation Cup competition fished out of Kilbeg was won by Corr Na Mona Angler Peadar Gavin with 5 trout, all on mayfly patterns. Anglers say that good hatches could be seen around the Kilbeg area, and especially at Rabbit Island. The competition was well supported with 50 anglers taking part.
Very few anglers are being seen in the Oughterard area where much of the focus has switched from fly fishing for trout to trolling for salmon. One set of anglers from Northern Ireland, Ben Maguire and friend, had a great day wet fly fishing, having 6 good fish up to 3lbs to the boat, all of which were released. Well known angler Mike Shanks reported on an excellent week fishing around the Dooras peninsula. Mike had up to 15 good sized fish and many more between 12 to 13 inches for his few days.
Donal Connolly from Nonaim Lodge, Glann, Oughterard emailed to report on some good fishing in the Glann area over the weekend. Liam O'Connor, Dublin had a total of 6 trout and 1 grilse, the best trout was 2.25lbs and the grilse was 3lbs, all caught on wetfly. Will Landale, Dublin,had 1 trout for 1.25lbs on fly. Rob Eyers, Galway had 2 trout on fly for 4.5lbs (2.5lbs and 2lbs). Donal Connolly, Nonaim Lodge, had 5 trout on wet fly - best fish 3lbs.
Gerry and Shane Joyce had 3 grilse for about 13 lbs; 12-year-old Shane had an epic struggle with a hard fighting fish before he expertly landed him - Donal was lucky enough to be fishing close by at the time and enjoyed watching the battle. Well done Shane!
To book fishing or accommodation at Nonaim Lodge overlooking one of the most beautiful parts of Corrib, contact Donal or Connie at +353 (0)85 7364830, email info@fishingcorrib.com or check www.fishingcorrib.com
Lough Inagh
Fishery manager Colin Folan reported that low water levels last week were on the low side, but this has not stopped the large run of grilse into Inagh. There is rain forecast for the coming days so hopefully we should have some good fishing later in the week. 14 salmon were recorded this week for 40 rod-days. The best fish was landed by regular Andy Walsh (Galway), the fish weighed 8lbs and took a Fr. Ronan. Enrico Fantasia (Spain) fishing Inagh for only his second time landed 2 salmon of 4lbs and 5lbs (released) on a Telephone Fly and his boat partner Claude Gay (France) also had a grilse of 4lbs on a Claret Bumble. Dr. John Casey (Galway) fished the Derryclare Butts for an afternoon and had 2 grilse of 5lbs and 6lbs (released) - the fish took a Cascade and a Sunray. Chad Luce (USA), landed his first Atlantic salmon at the Derryclare Butts on a Cascade, the fish weighed 6lbs. Thomas O Brien (Mayo) and Noel Greaney (Galway) also had grilse this week. The sea trout catch is still poor with only 10 fish to 3lbs landed this week, however they are being seen on the fish counter downstream at Ballynahinch entering in good numbers. Finally the Recess Anglers held their annual Tom Joyce Memorial Cup on Saturday June 29. 16 anglers fished Lough Inagh and Willie Kelly (Galway) won the competition for the second time since its inauguration 3 years ago. Willie landed the only salmon of the day, weighing 6lbs and it took a Cascade. For more info and bookings, contact Lough Inagh Lodge on 095 34706 or check www.loughinaghlodgehotel.ie .
Ballynahinch Castle
Estate manager Simon Ashe reports that fishing at Ballynahinch over the past 2 weeks has been very fruitful, with large numbers of good-sized grilse and sea trout arriving on every tide. The water levels have been near-perfect and our fishermen have enjoyed good success for both salmon and trout. The general consensus from around the country is that the 2013 grilse run appears to be quite strong with large catches being reported from the Moy and Galway Weir. Let's hope that this run is sustained throughout July.
Sna Beg has been our most productive beat with Roseanne O'Grady-Walshe, Stephen Cullinane, Des Lally, Jonathan Broderick and Sean Ryan all having success there over the past few days. Ann Corcoran took a beautiful 6lbs fish from Beat 4 on 26th whilst, yesterday local angler, Ulrich Treusch, took a 5lb liced grilse from the stream of Beat 1.
The old reliables such as Beats 1 & 4/5 are filling up with more resident fish every day and we are anticipating some great fishing over the coming weeks. Ironically, we are hoping for a fairly dry July as this means that grilse and sea trout move more slowly through the system giving our anglers greater opportunities.
It is encouraging to see so many sea trout passing through the counter on a daily basis with a good proportion of these fish being 2lbs and more. We have yet to have great success on the sea trout front, however, it normally takes a week or two after their first arrival before they get settled and show any real interest in the fly! Between ourselves and Lough Inagh, I believe 2013 will be another great sea trout year.
Those anglers who specifically targeting sea trout are having good success especially in the evening for those willing to brave the Connemara midge!
To book fishing or accommodation at Ballynahinch Castle, contact the hotel on 095 31006 or check www.ballynahinch-castle.com
Erriff Fishery
Fisher manager Jim Stafford reports on fishing over the rather dry second half of June. Water levels on the river fell to 0.7m by the 21st of the month. Rain increased levels to 1.2m on the 22nd and 23rd - thereafter levels fell to 0.65m by the 28th. Rains increased levels to 1.08m by the end of the month. Michel Winthrop, France, caught a 5lbs grilse in the Coronation Pool on a Lady O'Hara on the 21st. The following day French angler Hubert Theotime, a member of Michel Winthrop's party and fishing the Erriff for the first time, caught his first ever salmon of 8.5lbs, also on a Lady O'Hara in the Colonel's Run on Beat 6. It was also a first ever salmon for Tony Brown, Corby, Northants, UK, who caught a sparkling fresh grilse on a Willie Gunn in the Bridge Pool on Beat 9.
Raphael Amat, France had a brilliant week fishing with very lightly dressed low water Cascade fly patterns and caught a total of 6 salmon (5 fresh-run grilse) and 55 sea trout. All fish were sportingly released including one estimated at 10lbs caught on a Hairy Mary in the Broken Bridge Pool on Beat 5. Michel Winthrop returned to the Erriff with another group of French anglers and they hooked 17 salmon and 16 sea trout in 5 days fishing - unfortunately only 7 salmon were landed and 4 of these were returned to the river again.
Total catch for the month was 23 salmon and some 80 sea trout. At the time of writing the report water levels are rising and fresh-run grilse together with some springers up to 15lbs have been seen passing through the fish counter.
We look forward to welcoming the participants to the fully subscribed Inland Fisheries Ireland Salmon Angling Tuition Course taking place at Aasleagh Lodge in the first week of July.
To book fishing or accommodation at Aasleagh Lodge, contact Jim at 095 42552, or check www.aasleaghlodge.ie