Galway Fishery
Water levels have been perfect all week, with catches reflecting the great run of fish until the warm weather took hold. The heatwave has taken its toll however, particularly on anglers, who are wilting in the hot and humid conditions, with temperatures in Galway reaching 29C yesterday.
In spite of the heatwave, there were 62 salmon landed for the week, most of those taken on fly. Brian Howard from Dublin was top rod, with 4 grilse to 7lbs on fly for his visit. UK angler John Wilson landed 2 grilse on fly, as did John Hetherington and John Anderson. Michael Browne and Dexter Lynas also had 2 fish each on fly, and Michael Hegarty took 2 fish on shrimp. German visitor Manfred Wilke landed 2 grilse on shrimp, while Henry Wilke landed his first salmon on fly, a nice grilse of 4lbs. Fellow German angler Wolfram Hoppe had a grilse on fly, as did French angler Marc de Veletian, with a nice 6lbs fish. Spanish angler Miguel Gomez took a 5lbs fish on fly, while Terry McDermott landed 2 grilse on fly, and Liam Gilsenan also had 2 fish on fly in torrid conditions.
With plenty of salmon still running, and the weather set to cool down, even if only slightly, at the weekend, fishing prospects in Galway are excellent for the week ahead.
Lough Corrib
The current heatwave means that fishing on Corrib has been seriously curtailed, with most anglers either heading for the beach, or just fishing very early or very late.
Eamon Walsh reports that fishing in the Greenfields area threw up some good results for the few anglers who ventured out. Good hatches of mayfly and sedges are being reported in many areas. Sean Dixon and Ger Maloney fished for a day, having 3 trout for a total of 4.5lbs on wet fly. Frankie Gllfoyle Jr and a friend had 4 trout up to 2lbs while dapping.
In Cong, Declan Gibbons assisted two US anglers staying in Ashford Castle, capturing 2 fine salmon while trolling toby's in the Ashford Bay area.
On Sunday last the Kilbeg Anglers ran a mixed bag competition in which 25 anglers captured 8 fish. In first place was TJ Egan who had a pike of 6lbs and a perch, in second was Mike Foley with one trout and a perch.
Father and son team Mike and Mathew Dooley travelled from South Africa to fish with Larry McCarthy from Corrib View Lodge and Angling Services. They were eager to give different forms of fly fishing a try. Their trip was well worthwhile with some wonderful catches. Monday produced 8 double figure pike to 17lbs all on the fly. Tuesday saw them switch focus to Lough Mask, where they had 8 good trout to 2.5lbs, all on dry sedge patterns. On Wednesday young Mathew, 16 years of age, had a 23lbs pike on fly followed by 8 nice trout to 2.5lbs on sedge patterns in the Greenfields area. Thursday brought further success, with 9 trout on dry may fly patterns including 2 over 2.5lbs and a personal best for Mathew of 4lbs, all the trout caught in the Inchiquin area.
To book fishing or accommodation at Corrib View Lodge, contact Larry at +353 93 31718, or check www.corribangling.com
Lough Mask
Fishing guide David Connor reported on some good fishing last week. David was guiding 2 anglers from Northern Ireland on Monday 1st July, they landed 4 good fish and a dozen or so under size fish around Kilbride and Spiders Bay on wet fly. On Saturday 6th David himself was fishing for an afternoon in Kilbride and came across a hatch of mayfly, landing 6 fish averaging 1.5lbs and numerous under size fish. He was also out on Monday morning at 5am and witnessed a good rise of fish to sedges but it only lasted about 10 minutes as the sun was coming up at this stage.
David offers a guiding service from various points around Lough Mask, and can be contacted at davidmconnor@live.co.uk or 087 3946989.
Lough Inagh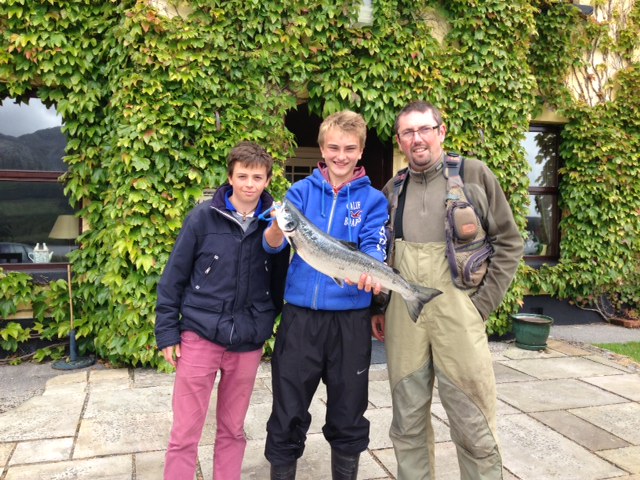 Jack Bradbury Hughes first salmon Inagh July 2013

Fishery manager Colin Folan reported that last week was another good week for grilse fishing in Inagh. We had plenty of rain on two separate days and the water levels were perfect this week. 17 salmon were landed for 51 rod days. Hans Werner (Germany), had the best fish of the week, it weighed 7lbs and was landed at the Derryclare Butts on a size 14 Silver Badger. Hans was also top rod with 5 grilse, including 4 from Derryclare Butts and 1 from Glendallogh Butts. 15 year old Jack Bradbury Hughes (Westmeath), landed his first ever salmon this week. The fish weighed 6lbs and was caught at the Derryclare Butts on a small Cascade, guided by Ceri Jones. John O'Malley (Galway) landed two grilse for his day on Inagh on a Yellow Dabbler. Michael Heery (Dublin), fished Inagh for two days and landed 2 grilse to 6lbs. There were also salmon landed by Andy Walsh (Galway), William Hamilton (Dublin), Paul Caslin (Mayo), Colin Folan (Fishery Manager), Joerg Werner (Germany) and Henry Harendza (Germany).

The sea trout fishing has picked up a little. William Hamilton (Dublin) had 4 sea trout to 3lbs for two sessions on Inagh. Michael Heery (Dublin) caught and released a brown trout of 5lbs or so on a Green Peter. Hopefully the sea trout season will start in earnest in the coming days as there are plenty of fish entering at the moment.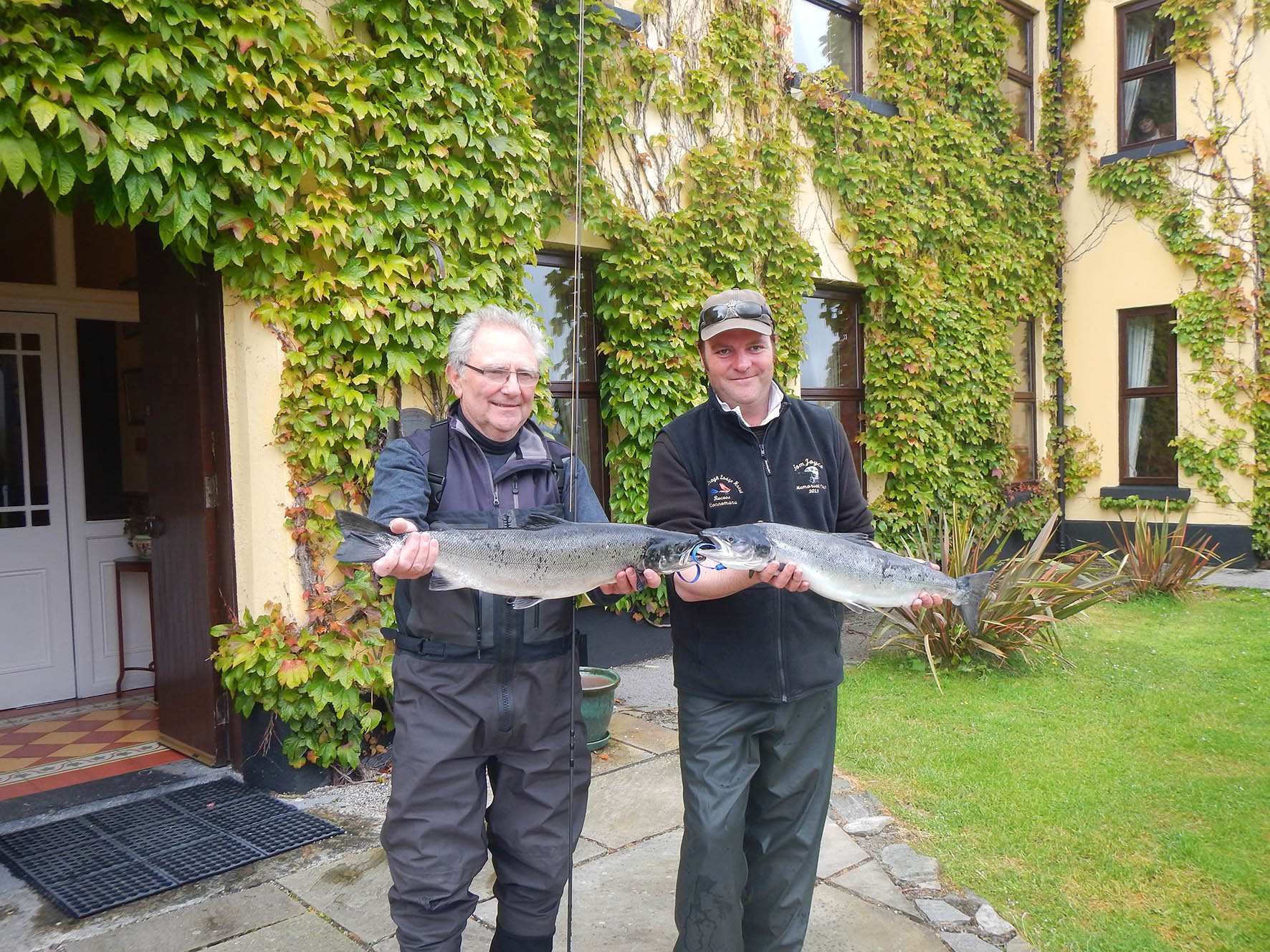 Hans Werner (left) with 2 of his fish caught at Lough Inagh during his visit. Also in picture if fishery manager Colin Folan.

For more info and bookings, contact Lough Inagh Lodge on 095 34706 or check www.loughinaghlodgehotel.ie .

Kylemore Abbey

It's official... the best week on record with 32 Salmon landed for the week for just 21.5 rod days! So reports fishery manager Nigel Rush, who says last week's rain gave the water the required lift to encourage a decent run of fish, and the few anglers that were availing of the fishing benefited accordingly. Top rod was Seamus O'Neil who landed 7 fish to 7lbs for just two half days. Hugh McGuire landed 5 fish for two rod days to 9lbs, and Geoffrey Fitzjohn had 4 fish for two days fishing, while Ronnie Counihan had 2 fish to 5lbs for his first outing this year. A couple of first timers are to be mentioned for their first ever fish - Frank McGuire for a 3lbs grilse and Jim Carolan a 4.5lbs grilse.

Out of the 32 fish landed just 11 made it to the dinner table, the rest safely returned and out of those 11 fish killed, 5 of them were hatchery fish from another system that had made the mistake of turning up in the Dawros!

Sea trout numbers seen to be entering the river are slightly more encouraging but with no anglers out on the lakes catches are accordingly down - just 2 for the week.

We are about to have a summer, if the forecasters are right for once so it looks like very little action for this coming week.

To book fishing at Kylemore Abbey, contact Nigel on 095 41178, or mobile 087 9580702, and for latest news check the website at www.kylemorefishery.ie