Galway Fishery
The grilse run has continued at Galway, with plenty of fish still showing in the river on a daily basis, although fishing has slowed down slightly, with more fish being hooked and lost this week than landed. There were 19 fish recorded for the week, including 3 grilse for Michael Rogers from Dublin, all taken on fly. Local angler Eoin Trill took a 6lbs fish on fly, while David Clarke had a 6.5lbs fish, also on fly, and there were further grilse for Martin Kiely, Gareth Byrne and Padraic Corrigan, all on fly. Brian King also recorded a grilse on shrimp, while Brendan Byrne landed the best fish of the week, a lovely summer salmon of 11lbs taken on the fly.
Water levels are perfect for the fly at the moment, with one gate open on the weir, and with such a good run of fish at the moment, fishing prospects remain excellent in Galway.


Erriff Fishery
Fishery manager Jim Stafford reports on fishing for the last 2 weeks of July, when heatwave conditions made for difficult fishing.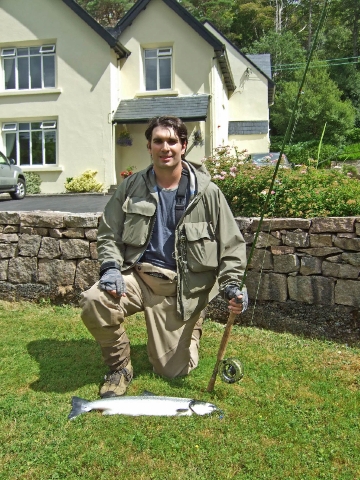 Gael Kerschbaumer Erriff July 2013.

Like the first two weeks of the month the glorious summer weather continued with water temperatures reaching 25.7°C. The much needed rain eventually arrived on the morning of the 24th. Heavy downpours increased water levels to 1.2m on the Aasleagh gauge - as expected the water was heavily peat stained but did clear by late afternoon. The increase in water levels was a much needed relief to the fry in the streams which were running seriously low. The big build-up of salmon and sea trout which were lying in the estuary ran upstream on this spate with over 600 salmon and 200 sea trout recorded on the fish counter at Aasleagh Falls.

Enda O'Connell, UK, caught a grilse on a Stoat's Tail in the Falls Pool and a sea trout in the Garden Pool on Beat 9. Gael Kerschbaumer, France, caught 3 salmon and 5 sea trout on a Willie Gunn and a Cascade on Beats 5 and 9. Gerard Garnier, Avilley, France, caught 5 grilse and a sea trout - best fish were 2 sparkling fresh 5-pounders taken on Cascades. Jean Jacques Eugene, France, fishing the Erriff for the first time, caught his first Erriff salmon in Joyce's Sand Hill (Beat 5) on a Cascade.

John Nelson (NI) caught one in the estuary in front of the Falls Cottage while spinning for mackerel; John also caught 2 sea trout on Beats 5 and 9. The Glenanane Stones produced a fresh- run grilse of 5lbs for Mark Broughton (UK). The following day Mark caught another of 5.75lbs on an Allys Shrimp in the Falls Pool on Beat 9. Fishing a Stoat's Tail micro tube Margie Crawford (NI) caught a fresh-run grilse in the Sea Pool on Beat 9.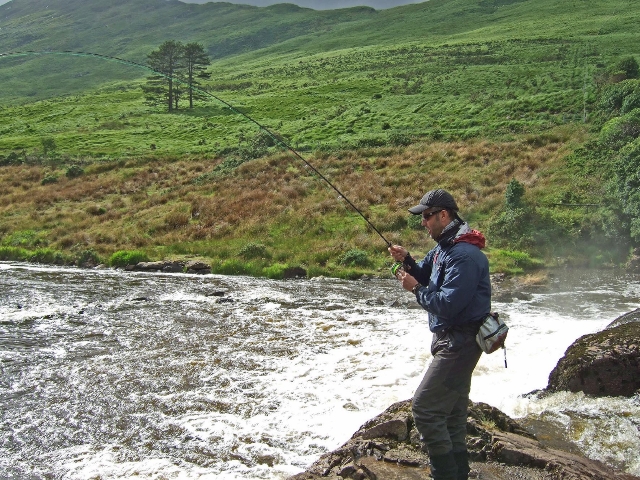 Allesio Sarina Spain first salmon Erriff July 2013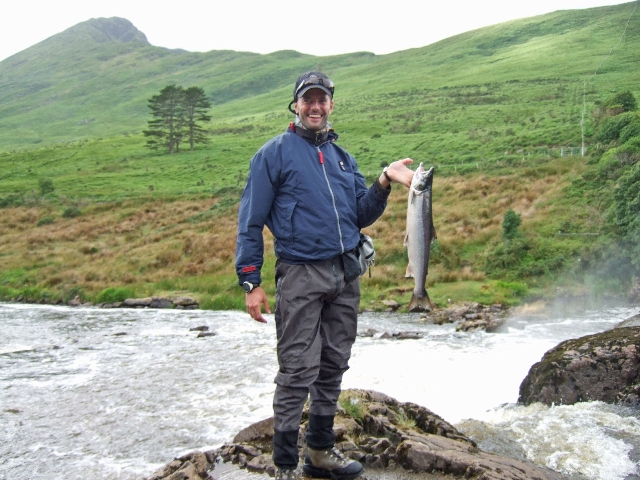 Allesio Sarina Spain first salmon Erriff July 2013.

Allesio Sarina , Barcelona ,Spain, caught his first ever salmon in the Falls Pool - the fish was caught on a Cascade and weighted 5lbs. Alexandra Llopart, also from Barcelona, was unlucky to part company with two fresh-run grilse on her first time salmon fishing.

Ian Ferris, Dublin, caught a grilse in the Colonel's Run on Beat 6 on a Frogie Cascade. Kevin Attride, home on holidays from the Netherlands, caught and released a hen fish estimated at 12lbs, which was taken on a Foxford Shrimp in the Broken Bridge Pool on Beat 5 - Kevin also caught 2 sea trout.

Koldo Bustina, Spain caught his first ever salmon in the Garden Pool on a Blue Charm - the following day Koldo caught another salmon and 3 sea trout. Inigo Tellache, Spain, caught 5 sea trout. Gerry Turner caught the only salmon in the local angling competition held on the 27th of the month.

At the time of writing the report (30th) overnight rains have increased levels to 0.9 meters which will allow the build-up of salmon in the Killary to run the river. Further heavy rain is forecast for the 1st August so prospects look good for some decent fishing. The total catch for the period was 21 salmon and 31 sea trout which was good given the relatively poor angling conditions that prevailed throughout July.
To book fishing or accommodation at Aasleagh Lodge, contact Jim at +353 95 42252, or check www.aasleaghlodge.ie for details.

Kylemore Abbey
Fishery manager Nigel Rush reports on some superb fishing: Three weeks ago we boasted our best ever week having landed 32 fish for a mere 23.5 rod days and from there on, we had nothing but brilliant sunshine and ever dropping water levels.

Last Wednesday saw us graced with rain for the day. Not much but enough to leave the river in a flood something akin to the Willie Wonka chocolate factory. By Thursday it had cleared to decent fishing level and once again another record was broken. The river produced 16 fish for just 3.5 rod days giving top anglers Neil Spellacy 6 fish to 8lb, and Geoffrey Fitzjohn another 6 fish for his day's effort. One other fish for Jeremy Shanahan and Steve Eustace and a further two for Denis McMurray.

Water levels were good for the next day but thundery weather allowed us just one fish.

We ended up with 18 salmon for the week for just 13.5 rod days...good going!


Big rains are due for Wednesday so hopefully more fish in the offing.

To book fishing contact Nigel at 095 41178, or mobile 087 9580702, and for latest news check the website at www.kylemorefishery.ie