Lough Mask
Ronan Cusack reports that last weekend saw the hosting of the 60th annual World Cup wetfly championships on Lough Mask, with 473 anglers participating over the 5 day event. Weather conditions were changeable over the weekend, ranging from gentle southerly breezes and broken cloud on Thursday to strong south-westerly winds with plenty of rain on Friday. Saturday brought another perfect fishing day, but unfortunately the winds died and bright sunshine appeared on Sunday making it a real challenge for anglers. Monday's final brought another perfect fishing day, with the wind swinging around to the west and plenty of cloud-cover. Angling over the weekend was challenging even for those lucky enough to have picked the better fishing days. This year saw roughly 60% of the catch coming from shallow water among the islands and along rocky shore-lines, which is a huge contrast from other years where the majority of fish caught were Daphnia feeders from the deeps off the Tourmakeady shore.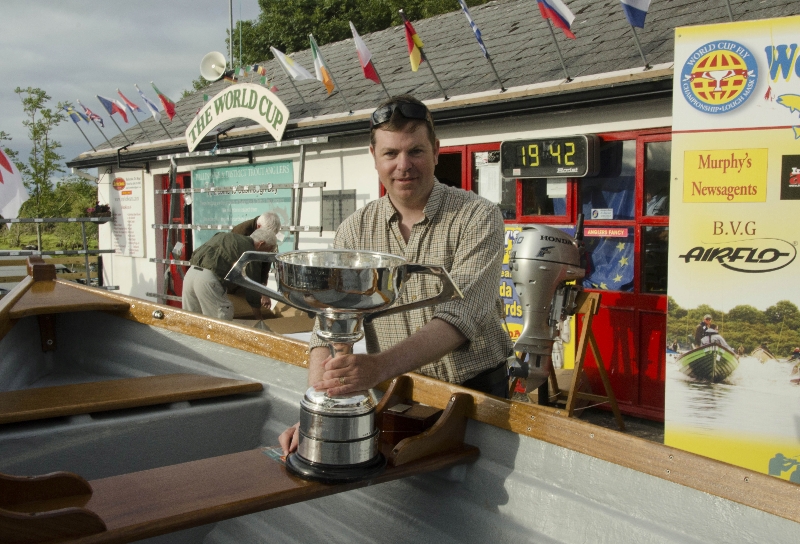 This year's winner was Eugene McCarthy from Galway, with a final day catch of 2 trout for 7.20lbs. Eugene's heaviest fish was a cracking trout of 5.27lbs. Unfortunately for Eugene, he could not claim the heaviest fish prize as he was the overall winner and the competition rules state that persons in the top 3 prizewinners do not qualify for the heaviest fish prize. This year's heaviest fish winner was P.D. Gilsenan from Co Cavan, with a trout of 3.31lbs.
Second place overall went to John Moroney from Ennis, with 4 fish for 4.84lbs. Third place went to Brian McInerney, also from Ennis, with 3 trout for 3.99lbs. Best under-21 angler was David O'Connor Jr. from Ballinrobe with 3 fish for 3.75lbs. The top lady angler over the competition was Madeleine Kelly (Ulster) with 3 trout for 3.21lbs. The winning boatman on the final day was Brian Joyce from Derry Park Lodge, Finny.
Thursday's heat winner was Simon Tarpey (Connacht) with 3 fish for 4.09lbs. Friday's heat winner was Nicholas Hanley (Connacht) with 5 trout for 10.60lbs. Saturday's heat winner was Ulster angler Dermot Brewster with 4 fish for 5.42lbs, and Sunday was John O'Malley (Connacht) with 2 fish for 5.64lbs. The best boatman over the competition was well known boatman/angler Patrick Molloy from Oughterard, who brought in 11 trout for 22.14lbs.
Erriff Fishery
Fishery manager Jim Stafford reports on fishing from the 29th July to the 3rd August. The much needed heavy rains which were forecast resulted in a spate of 1.9m. Levels held at 1.4m for the following 2 days and water conditions were perfect for angling from Beat 9 right up to and including Beat 1. Henri Hosinger, Luxembourg, caught one in the Colonel's Pool on Beat 6 and another the following day in the Coronation Pool on Beat 8. Norbert Meir, also from Luxembourg caught 3 - best fish 6lbs in the Falls Pool on Beat 9 - all 5 fish were taken on Shrimp patterns. R Page caught 2 of 4.5lbs in Humps & Hollows and the Willow Pool on Beat 6.
Ralph Tindal, Kilcoole, Co.Wicklow, caught a nice fish of 5lbs on a Cascade in the Coronation Pool. Johnny Couchman, Co. Carlow, released 2 on Beat 6. Frank Martin, Co Meath caught one in Joyce's Sand Hill (Beat 5) on a Cascade. Gary Connolly caught one on Beat 8 on a Black Shrimp pattern. Eoin Bresnihan, Oughterard took one of 6lbs in the Tawnyard Potholes on Beat 3 and released another estimated at 4lbs - both fish were taken on Cascades. Kevin Attride had 2 fish on Beat 9, also on Cascades. Fishing the Falls Pool on Beat 9, Clifford Shaw, UK, caught one of 7.75lbs again on a Cascade. Donal Chambers, Athy landed one of 6lbs on a Black Shrimp fly. John Dardis, Newbridge took one in the Srathloe Pool at the bottom of Beat 5.
A Bann Special produced a grilse of 4.5lbs for Mick Burt, UK, from the Quarry Pool on Beat 2. Clement Vaur, France had a very good day on Beat 4, catching sea trout of 1lb and 2lbs, and retaining one salmon of 7.5lbs and releasing another estimated at 3lbs. Babs Kijewski , Germany, fishing the Erriff for the first time, caught one in the Horse Shoe and another in the Bridge Pool at the top of Beat 3. Fishing the Holly Pool on Beat 8 Greg Forde released a grilse of 4lbs and his son Christopher retained one of 4.75lbs - both fish were taken on small Cascades.

***iimage1***Clifford Shaw, UK, with a nice salmon of 7.75lbs from the Erriff Fishery at Aasleagh Falls, July 2013
Gearoid Muldowney and Glen Harmon caught one each in the Hawthorn Run and Mickey's Run on Beat 7. Peter Thompson, Australia released a good sea trout of 1.5lbs and a salmon which he caught in the Long Pool on Beat 1.
The fish of the week, an 11.5-pounder was caught by Noel Fitzpatrick on a Kenyaman fly in the Colonel's Run on Beat 6 - Noel also caught 2 other fish the same day. Catch of the week goes to young Joseph Martin from Co. Meath who landed 4 salmon in 2 days and returned one to the river - all fish were caught on Cascades tied by Joseph himself. Total catch for the week was 36 salmon and 12 sea trout.
To book fishing or accommodation at Aasleagh Lodge, contact Jim at +353 95 42252, or check www.aasleaghlodge.ie for details.
Kylemore Abbey
Fishery manager Nigel Rush reports on yet more superb fishing: The week ending 3rd August saw the fishery breaking another record. The first week of July gave us a record 32 fish and this week past has surpassed this by 5 fish with 37 fish landed for just 27 rod-days.
Heavy rain on the 24th July gave us the necessary lift in water levels to allow more fish to enter the system and this combined with some excellent anglers booked into the fishing rota for the weekend resulted in yet another record week.
Topping the leader board for the week were Peter Zephras from Scotland, who landed 4 fish to 4.5lbs for one evening's angling on the lower river, and Neil Spellacy with 4 fish to 6lbs for one day. Colin Lynham landed 3 fish to 5.8lbs for one day. New to the fishery, Mark Helmore and Brian Hegarty had two apiece for one half day each. Jonathan Murray and Richard McDowell recorded 5 fish to 6lbs between them, and John McCaughey, Dundalk, had 2 fish to 4lbs for his first visit.
Out of the 37 fish 25 were released and 12 killed, 2 of which were fin-clipped hatchery fish.
Sea trout anglers are slowly starting to appear and for 4 lake days 19 sea trout were recorded.
To book fishing contact Nigel at 095 41178, or mobile 087 9580702, and for latest news check the website at www.kylemorefishery.ie
Ballynahinch Castle
Fishery manager Simon Ashe reports on a big improvement in fishing at Ballynahinch following the rain. After a prolonged dry spell lasting most of the month of July the welcome rain over the past few days has rejuvenated the fish along with the fishermen! Frustrated by large numbers of fish that would simply not look at a fly over the past 3 weeks, the anglers at Ballynahinch have been rewarded with some fantastic fishing since last weekend. 8 fish have been landed in the past 3 days, with many more lost.
Paddy Corcoran landed an 8lbs fish from Beat 4 and returned a 4lbs grilse on Beat 1. Tom McManus has returned 2 fish from Beat 4 whilst on the same day, Derek Strauss landed a fine 9lbs summer salmon also from Beat 4, and released a fine fish under the hotel whilst losing another. Cyril Biggins and Jonathan Broderick have also had good fortune with grilse from Beat 2.
Not only are we catching good numbers of salmon, the amount of fish that are rolling, turning and boiling at anglers' flies is a marvel and ensures we have many excited fishermen after their day, even if they have not managed to 'connect'.
The long dry spell has meant that many of the fish have 'imprinted' in the beats where they have been held up since the dry spell began. This means that they are less inclined to move through the system after a rise in water, thus ensuring we have a higher proportion of the salmon stock within the Castle Stretch for the remainder of the season. SnaBeg, Beats 1, 2, 4 & 6 have huge numbers of resident fish and this bodes very well for the remainder of the season; so long as the unsettled weather remains.
Whilst we are very busy for the coming weeks there are still some slots available on the river and I would envisage some fantastic angling so long as the weather remains unsettled. Contact the hotel reception on 095 31006 to make a reservation, or check www.ballynahinch-castle.com
Owenwee (Belclare) River
Fishery manager Tom Bourke reports that the Owenwee River, near Westport, has seen a massive improvement in fishing over the last week, with the rise in water levels bringing a lot of fresh fish into the river. Excellent runs of salmon and grilse have continued since 29th July, and August has continued with excellent rod returns per day fished. The total rod catch is now at 64! Most of these have been taken to the fly. On Wednesday 31st 2 grilse were reported, one of 6lbs from Killenacoff in the evening by Mick O' Toole to a Flying C and another of 5lbs from Cloona by Eoin Gannon to a silver Mepps. Vincent Piriou from France lost 2 more using a small spoon.
On the 1st Tom Bourke caught 2 more (4 and 3.5lbs) to an Orange Cascade shrimp variant and Eoin Gannon caught another in Killenacoff of 2lbs on a Flying C.
On the 2nd Mick O'Toole caught 2 more from Belclare Falls to an Allys Shrimp, one of 4lbs and another of 3lbs, he lost 3 more the same afternoon. That evening Vincent Piriou caught a grilse from the Mill Pool in Cloona and lost another.
On Saturday Mick O'Toole caught another 3 grilse, one from the flats of 3lbs and 2 from below Belclare Bridge, one from Toby's Pool of 5lbs, one above the falls and another from the Glide Pool at 2.5lbs.
Angling enquiries to Tom Bourke at 086 8331586 or via e-mail tombourkefishing@hotmail.com . Tickets are available at Gannon's Garage adjacent to the river, tel. 098 25239
Galway Fishery
Water copnditions remain perfect in Galway, with one sluice gate open, and although the run of fresh fish has slowed down, there are still large numbers of fish resident in the river now, and fishing has continued to provide good sport. There were 25 fish landed for the week, mainly to the fly, with most fish averaging 4-6lbs. Father and son Dexter and Andrew Lynas from Northern Ireland enjoyed their day, landing a grilse each on the fly. Michael Milner took 2 grilse to 5lbs on fly, while Neil Spellacy landed a grilse on fly. Martin Kiely took 2 fish on fly, and Robert Falconer landed a nice 5.5lbs grilse on fly. Long-time visitor Sean McManmon landed 2 grilse on fly, including a fine 7lbs fish, but the best fish of the week fell to a shrimp fished by Paddy McAleavy, who landed a cracking 15lbs fish over the weekend.
Sea Angling
John Brittain, skipper of the Bluewater out of Cleggan, was in touch to report on excellent shark fishing yesterday, with 10 blue shark boated and another 3 hooked and lost. Two of the fish were very good sharks, near the 100lbs mark if not over. John also mentioned they were enjoying some very good mixed species fishing at the moment, with Brendan Murphy's group from Kilkenny, on their annual trip to Cleggan, having great sport over the bank holiday weekend with nice ling into double figures, plenty of pollack, cod and various other species coming to the boat.
To book fishing aboard Bluewater, contact John or Sue at 095 21073, or visit www.seafishingireland.net