WRBD Galway Angling Report 2 October 2013
Well that was that, the game fishing season for 2013 is done and dusted. A very cold spring delayed hatches significantly on the western lakes, which meant mayfly were hatching well into June. Fishing was reasonably good during the mayfly, with some anglers reporting spectacular fishing, but it's fair to say it wasn't a vintage mayfly season, with weather conditions playing a big part. The heatwave in July, and an overall warm and dry summer, badly affected salmon and sea trout fishing, with sea trout catches down, and salmon difficult to tempt in high temperatures. Despite this, some fisheries had excellent fishing, with Kylemore recording its best year for a long time, and the Corrib producing plenty of salmon, particularly in Cong. The Clare River suffered badly from low water levels all summer long, being a limestone river, and while big numbers of salmon were visible in the lower reaches, anglers upstream struggled.
Anglers' attention turns now to the long winter months, restocking the fly box, and dreaming of long days fishing next season. Some of you may be planning to attend the Irish Fly Fair, which will be held in Galway on the 9th/10th of November - if so I hope to see you there.
Finally I would like to thank all the contributors to the angling reports this season, from the regular contributors and fishery managers to anglers who were kind enough to send in reports and photos during the year. I will always make every effort to include snippets and bits of angling news, and all contributions are welcome. I'll be turning my attention to sea angling now, with some wonderful fishing to be had through autumn and into winter. To anyone else planning the same, tight lines!
Lough Corrib
Donal Connolly reports that there was a huge display of salmon splashing and jumping over the last weekend in the Glann area. Donal and guests moved a few on wet fly but had no luck - the guys trolling had some success. Sean Maher and Mike Fogerty, Tipperary, had 3 salmon trolling on Thursday, all were about 4lbs. Rob Cooksley, Bristol, had 4 trout for a day's wetfly fishing, best about 2.5lbs, all released. Donal Connolly had 2 trout, best fish 2.25lbs. All fish were released.
To book fishing or accommodation contact Donal at 085 7364830, or check www.fishingcorrib.com
Kylemore Abbey
Its been a wonderful season at Kylemore, and fishery manager Nigel Rush reports on the last week, and rounds up the fishery news for the season.
The final 9 days of the season were hampered with low water levels. Anglers could "only" manage 6 salmon for the period for just 10 rod days, which gave a total of 221 salmon and 193 sea trout for 260 rod days.
The angling effort was down 12% on 2012, but resulted in a 60% increase in salmon caught, an extraordinary return. The sea trout catch declined by 29%.
Of the salmon caught, 152, or 69% were released again. Of the 69 salmon killed, 17 were of hatchery origin - not native to the system, so just 52 native fish were harvested this season. The draft nets accounted for 280 salmon.
The average weight this year was 4.63lbs, an increase of 6.9% on the 2012 average of 4.33lbs.
The overall catch per rod per day for salmon was 0.85, and for sea trout = 0.74. Adjusting these figures to allow for river effort only then 204.5 rod days produced 215 salmon... a staggering 1.051 fish per rod per day. Likewise, sea trout effort on the lakes when adjusted to remove the sea trout caught on the river as a by catch to salmon angling reads as 168 Sea Trout to 55.5 rod days giving 3.02 sea trout per lake angler per rod day.
The top three rods were as follows: Seamus O'Neil had 48 salmon for 14 rod days averaging 3.42 salmon/rod day, with his best day producing 5 salmon. Geoffrey Fitzjohn had 36 salmon for 15 rod days averaging 2.4 salmon/rod day - best day 6 salmon. Neil Spellacy had 20 salmon for 8 rod days averaging 2.5 salmon/rod day - best day 5 salmon. Some going!
The two best flies were the Black Shrimp, which accounted for 87 salmon, and the Cascade, which took 44 salmon.
The Lower River beat produced 74 salmon (33.5% of total catch); the Middle River produced 38 salmon (17.2%); the Upper River produced 53 salmon (24%); the Rock Pool Beat produced 50 salmon (22.6%), and finally the lakes produced 6 salmon (2.7%).
Many thanks to Nigel for the detailed end-of-season report.
Erriff Fishery
Fishery manager Jim Stafford reports that the weather during the latter half of the month was much more favourable for angling with excellent water conditions and spates up to 1.7 metres. Most of the rain, almost 3inches, fell during the week commencing the 14th with over an inch of rain falling in one day. Overhead and wind conditions were also favourable during this period.
USA angler Bill Sullivan caught one of 10.5lbs, taken on a Collie Dog in the Holly Pool on Beat 8 - Bill also caught a sea trout in the Glenanane Stones on Beat 7. Local angler Peter Coyne caught a grilse of 4.25lbs in the Sea Pool on Beat 9. Conor O'Leary, Dublin, caught 2 in the Tawnyard Potholes on Beat 3 and Poleen on Beat 4. Con O'Toole, also from Dublin, caught 2 on a Blue & Orange in Yellow Banks - best fish, estimated at 10lbs, was released. Chris Boone, UK, fishing the Erriff for the first time, caught one in the Coronation Pool on Beat 8 on an Alley Shrimp and another in The Hill on Beat 5 on a Silver Stoat. Mount Falcon rods Alastair and James Boomer, NI, had 4 between them - best fish 7lbs was taken on a Shrimp Fly in the Black Banks on Beat 6.
Fishing the Erriff for the first time Mike Bowsher, UK, caught 5 on Beat 3 and Beat 8. Dr. Eoin Bresnihan, Oughterard, released one of 5lbs taken on a Cascade in Humps & Hollows on Beat 6. Colin Edwards, UK, caught one on a Cascade in the Tawnyard Potholes on Beat 3. Pat Nolan, Nenagh released one of 5lbs taken on a Stoat's Tail in Deadmans on Beat 2. Stuart Woodhead, UK, released one of 6lbs and a sea trout of 2lbs taken on a Blue Charm in Black River Run and Cattle Pass on Beat 1 - Stuart also caught another 2 salmon and 3 sea trout in the Quarry Pool on Beat 2.
Arthur Muckian and son James, Dundalk, landed 3 fish, best 7.75lbs taken on a Willie Gunn in Poleen on Beat 4. Richard & Robert Kelly, Dublin, caught 2 grilse and 6 sea trout on Beat 6 and Beat 9. Martin Witort, Tourmakeady, Co. Mayo, released one caught on Yellow Banks on Beat 5. Mark Helmore, Co. Clare, caught one of 5.5lbs on a Cascade in the Willow Pool on Beat 6. Joe Pilkington landed 2 on Beat 3 and Beat 6. Fishing a Black Shrimp fly in The Bend on Beat 2 produced a fish of 10lbs for Ken Wickham - his brother Niall released a 4-pounder taken on a Claret Tail Shrimp pattern on Beat 5.
Michel Winthrop's party from France caught 7 salmon for the week including first ever salmon for Vivien Rossi, Yannick Coupry and Sebastien Bloyon - 4 of the fish were taken in the School House Pool on Beat 3.
Albert Caffrey's party which included Donal Chambers, Paddy Donegan & Mick Vincent had a fantastic week's fishing catching 31 salmon and 26 sea trout for the week - top rod for the week and indeed the season was Paddy Donegan, Wicklow (blanked last season!) who showed off his angling skills and accounted for 15 salmon including 4 fish in one day- well done Paddy.
The total catch for the period was 72 salmon (32 released) and 38 sea trout.
Sea Angling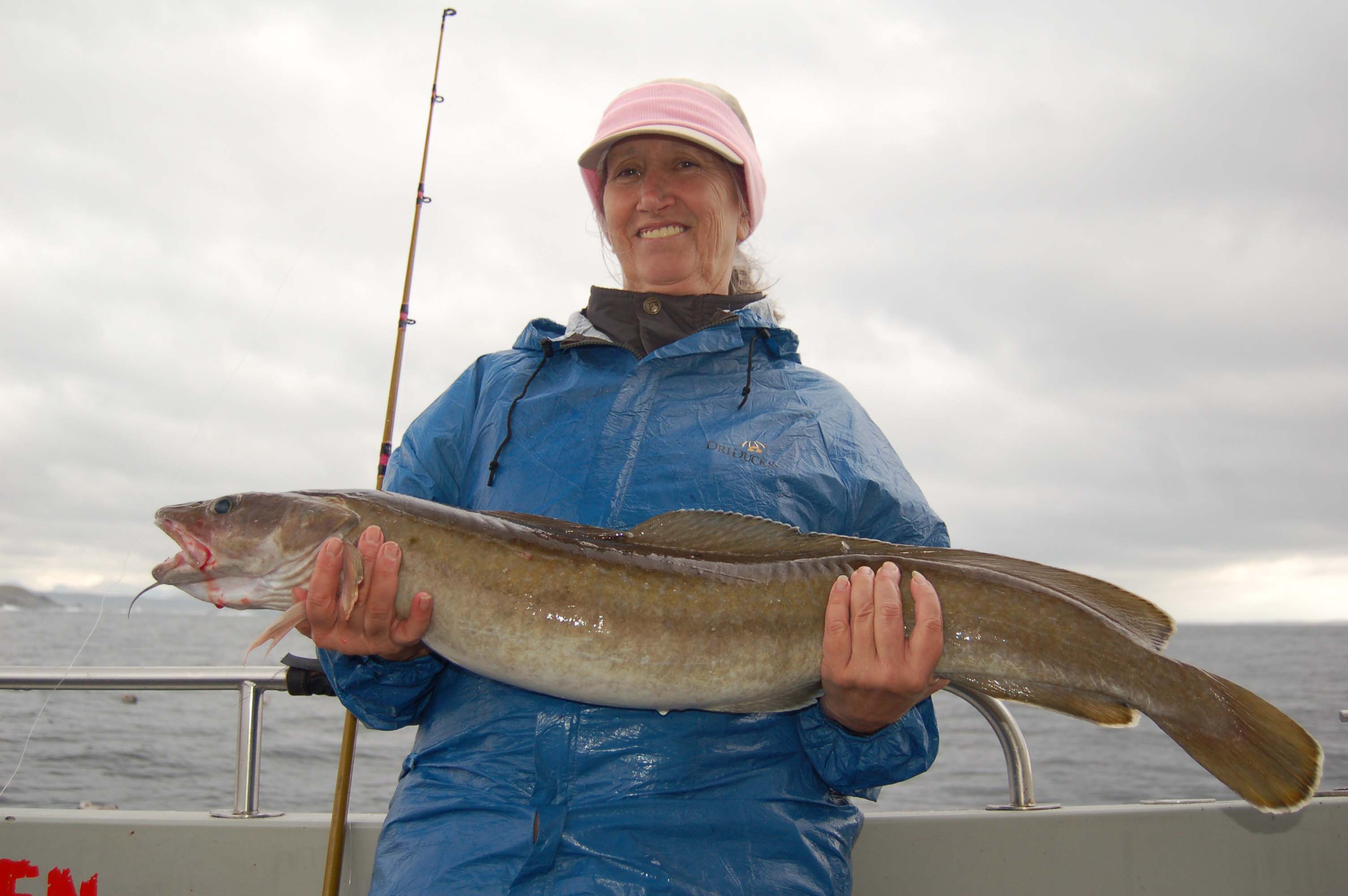 Nodie Williams from America, who caught this fine ling aboard Bluewater, skippered by John Brittain out of Cleggan.


John Brittain, skipper of Bluewater, reported on a great day out for 2 of his more unusual guests.

"I have to say that when I saw two retired American ladies getting out of a taxi from the Abbeyglen Castle Hotel and walking towards me on the pier at Cleggan I was apprehensive about what the day might bring. They were sharing the boat with two well experienced boat fishermen who have been coming for years.

Out we went.

Nodie told me she had worked in a national park on horseback and Betty Lee had worked in Memphis Zoo, and that they were both regulars with Willy Leahy's Connemara pony trekking safari. They fancied a day off to go fishing in the middle. I relaxed a little but still headed to marks handy to home in case.

The outcome was that the two lads at the back of the boat watched and the two ladies did the work, taking multiple pollack as well as ling and cod in double figures plus 6 other species. They did their own bait, hauled the fish over the rail, unhooked them and stuck at it all day. We had a good day, filled many boxes and the UK regulars admitted they were dusted.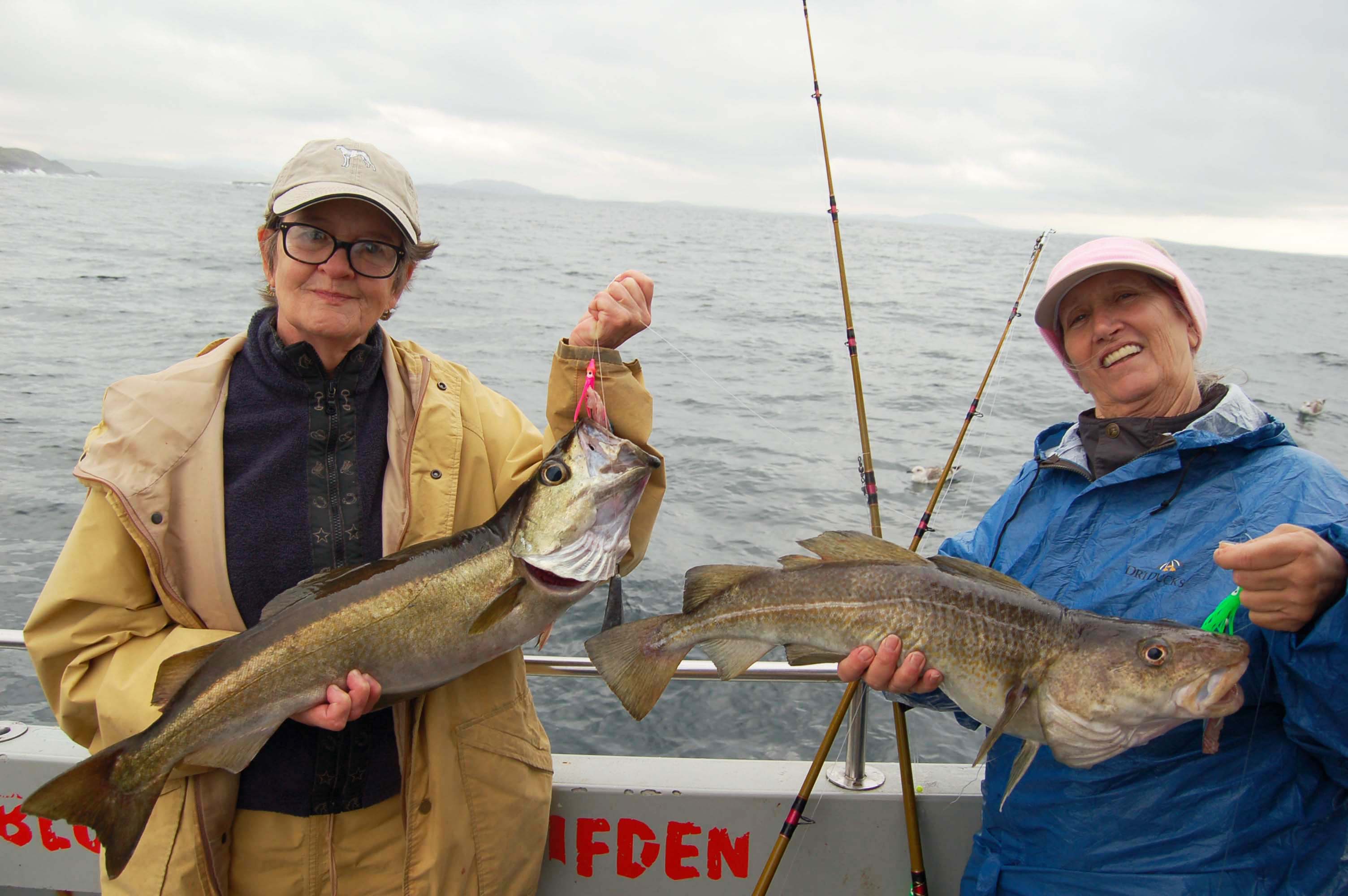 Betty Lee and Nodie Williams from America, who enjoyed a great day out aborad Bluewater with John Brittain recently, here showing off a nice pollack and cod from their catch.


Fishing is always surprising!!

John also reports that father and son Richard Bates and Richard Jr. have just headed home after a couple of days shore angling and one out on the boat.

The highlight of their trip was a day at the White Lady mark in Clifden Bay, when they landed around 40 thornback ray plus 3 species of wrasse, a lone dab and some dogfish. They were using fresh mackerel and frozen sand eels on a pulley rig with 2/0 hooks.

Richard Junior won the money on a day's boat fishing with the ling in the photo.




Great guests and dedicated anglers who are welcome back anytime.

To book fishing or accommodation with John, contact John or Sue at 095 21073, or visit www.seafishingireland.net

This weekend sees the annual Skate Festival organised by the Helm in Westport, and it promises to be a busy weekend around the quays, with over 120 competitors booked in. To complement the festival, Doug Priddy from A Shore Thing is also running a 24-hour species competition, with prizes for the most species, and heaviest fish (relative to specimen size), as well as other prizes. This promises to be a great event, and is open to all - you don't have to be a member of a club to enter. I plan on being there myself - all tips on venues for lots of smaller species welcome!

Check-in is on Saturday morning at the shop on the quay in Westport, and to confirm your entry or book bait contact Doug at 098 28447