Lough Mask
Ronan Cusack reports that trout angling was excellent last week on Mask, despite the severe weather conditions continuing, pushing water levels on Lough Mask to almost winter heights. Olives and Buzzer hatched in huge numbers all week with trout taking full advantage.
Anglers staying at Hall's Angling Centre had a bonanza week. Mr. and Mrs. Hammon from France had 25 fish over 5 days; biggest fish 3.5lbs. James & Marion Craigue from the UK had 8 fish for 4 days angling, biggest 2.25lbs. John O Sullivan and friend from Cork had 7 fish on wet-flies over 4 days; biggest trout 2lbs. Rune Dohlan and son from Norway had 11 fish for 6 days; best fish 2.5lbs. Mr Davis and three angling companions from the UK had 96 trout over 6 days; biggest fish 3lbs. Mark Rogan (Waterford) and fishing partner Eddie Roe had 4 fish on the Bank holiday Monday on a variety of Olive patterns; best fish 3.2lbs, all returned. Patsy Treacy from Fermanagh fished with Eddie Gibbons on the same day and they had 8 trout pulling wet-flies (best fish 2lbs, all returned). To book fishing or accommodation at Hall's, contact David or Helen on 094 9541389 or check www.lakeshoreholidays.com
Ronan Cusack had 3 fish on wet-flies for a few hours fishing on Sunday (best fish 1.75lbs all returned). Kit Doleman from the UK fished Mask with Declan Gibbons, Cong, on Sunday and they had 2 fish; best fish 1.25lbs. Declan also reported returning numerous undersize trout throughout the day. Ronan also guides on Mask and can be contacted at 087 2869487 or by email at cusackronan@gmail.com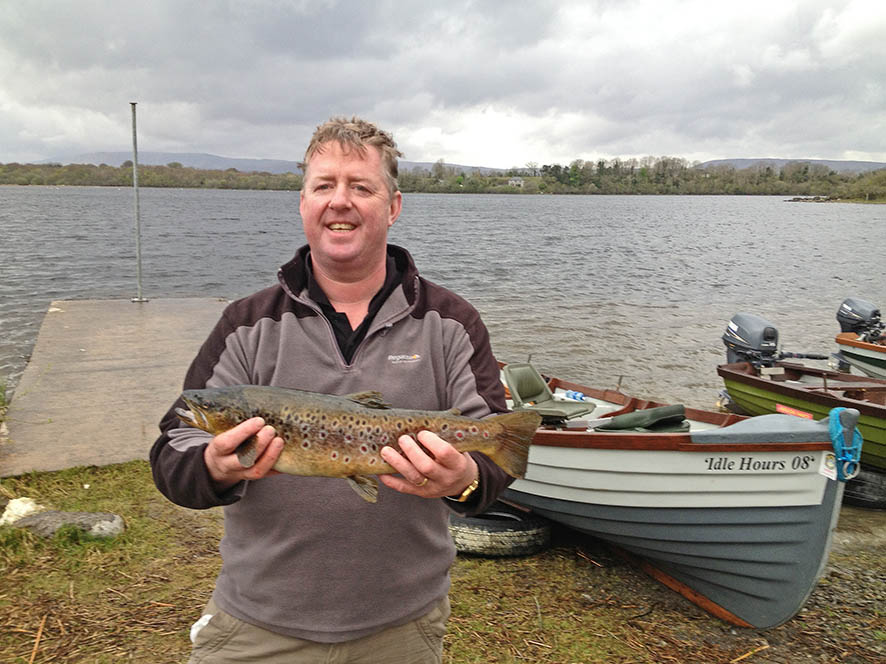 Vincent Kelly from Cavan with a 3lbs brown trout from Lough Mask, taken on a size 12 Olive pattern.
Margaret Gorman from Isham Self-Catering on Dringeen Bay reported on great fishing for some of her guests. Florian Keller and friends, from Germany, stayed at 'Isham' for two weeks from 27th April - 11th May. They accounted for 50 trout for the period and 4 beautiful spring salmon from The Cong River. One Ssalmon was returned, with the best fish weighing 15lbs. Most of the trout were returned also.
Chris Loots and Edith Bollen, Belgium and friends have been fishing from Dringeen Bay and have had fantastic fishing to wets - best flies are Green Peter, Octopus and Green Olive. They have been recording up to 12 trout some days - most of which have been returned. They have been joined by friends Michelle and Christine from Belgium to join in the fun. Digby Lewis, UK and John Wilson, Malawi had a great day on Sunday with 5 trout. Their best fish was over 3lbs.
John Caldwell, UK fished with Chris Huxley and Digby Lewis during the week and also had 5 trout. Jim Dix and his friend Jackie had a good day on Monday in trying conditions with two fish. Anglers have tended to fish the Bay with good results during periods of high winds when it was too difficult to get onto the outer lake.
For Boat Hire and Angling Information available on site at Isham see www.congselfcatering.com or phone 087 7908107.
Lough Corrib
High winds and frequent rainfall made angling last week difficult, but this week, while conditions are still difficult, hatches at last are picking up, and more mayfly are being seen on the water.
Eamon Walsh reports that last week brought further disappointment for anglers on the Corrib. With a continuations of the cold weather accompanied with gusty winds, fishing was made all the more difficult with the lack of fly life on the water. Those who did brave the conditions had contrasting fortunes. Some anglers reported not catching at all, while others, like Dermot and Barry Brewster of Northern Ireland fishing out of Molloys of Carraig, had 21 fish for 3 days fishing, and local angler Enda Brown had 16 over 5 days. Another international angler, Daniel Paris had 5 fish for 3 days fishing with John Walsh.
Craig Mc Kirdy reports that fishing activity in the Greenfields area had been slow to take off this year, owing mostly to the lack of may fly being seen on the water.
While activity on the Oughterard shore of the lake had been slow to get going, improvements are being seen, with small pockets of mayfly appearing in sheltered bays. Tommy Kelly informs us that the Eoin Jacob party, fishing out of Basil Shields Angling Center, had 15 fish for 32lbs over two days fishing with a best of over 5.5lbs. Donal Hayes and Eddy O'Brien of Waterford had 6 trout for 14lbs, with Donal also having a fine fish of over 5lbs for their 3 days fishing. A competition run out of Collinamuck had mixed results, with Christy Reilly coming out on top with 3 trout weighing 7lbs, Mike Keady was second with 2 fish for 5.5lbs.
Deirdre Forde from Camillaun Angling Centre in Oughterard reported that some of their guests enjoyed good fishing during the week. Jim O'Sullivan of Cork landed 5 trout in Oughterard Bay for 12lbs while spinning - having to adapt due to the lack of fly life! Patrick Walker had two lovely trout while dapping an artificial daddy long legs - again a good adaptation to conditions as there is a reasonable hatch of daddies - all in the Oughterard area.
Brian Esmie and Keith Bentley also fishing in Oughterard had 10 trout keeping just 2 from 1 ½ - 2 ½ lbs over 4 days with both dapping and wetflies.
To book accommodation or boat hire with Camillaun, call Deirdre at 091 552678 or check www.camillaun.com
Donal Connolly from Nonaim Lodge also reported that while fishing was slow, it is starting to pick up, with fish taking olives early in the week but turning on to mayfly patterns towards the weekend. Thibaut Giband, a French fishing guide from Alsace, on his first trip to Lough Corrib, had 6 fish for approx 7.25lbs, all released, for a day's wet fly fishing. Christophe Fresard, Clermont, France caught and released 2 trout for 2.25lbs on wet fly in very difficult wild conditions.
Marc Boesch, a fishing guide from Nice, had 7 trout over a couple of days on wetfly, best was 1.75lbs, all were released to fight another day. Andrew Mackean and Robert Streathfield, from Hampshire, regular visitors to Nonaim Lodge since 2001, had extremely difficult conditions of wind and cold but still managed to produce some good results given the conditions, ending up with 8 trout for 10.25lbs, all on wet fly and also released. Donal Connolly, had 6 trout for 9.5 lbs to wet fly on Sunday the 12th, all were released. To book fishing or accommodation, contact Donal or Connie at 085 7364830, or check www.fishingcorrib.com
Finally, Gary Costelloe from Lakelands Angling Centre, Oughterard, was in touch to report on fishing for his guests. The DAD's (Dublin Amateur Dapping Society), annual visitors to Lakelands, despite some initial disappointment with the lack of fly life persevered and were rewarded somewhat by dapping artificial mayflies. Rookie DAD's Fergus Cullen and Gerry Coleman landed their first ever Corrib trout, 2.5lbs and 1.5Ibs respectively. It was Dave Richards who took the DAD's trophy for this the first leg of their twice yearly trip to Lakeland, with 3 fish, (3lbs, 2lbs and 1.5lbs respectively); Bernard Kennedy, David Buggy and Chris Meehan also landed a fish each weighing on average 1.5lbs.
Also fishing from Lakeland Dermot Seymour from Mayo landed 3 fish, biggest 2.5lbs caught on a Silver Invicta. Roger Patterson, also dapping artificial mayflies, caught a 2.5lbs and 3lbs fish. Dai Williams and John Cowan from Wales had a mixed week catching 7 fish on the buzzer, best 2lbs 2oz. For further information on accommodation and boat hire please contact Gary on mayfly@eircom.net , call 091 552121, or check www.lakelandanglingcentre.com.
---
Inland Fisheries Ireland would like to take this opportunity once again to remind anglers that fisheries officers are continually carrying out checks and patrols around Corrib, Mask and Carra lakes to ensure that local bye-laws and regulations are being adhered to. Anglers should be mindful that since 2008 it is illegal to be in possession of any trout under 33cm (13 inches) and that there is a daily bag limit of 4 brown trout per angler per day.
---
Erriff
Fishery manager Jim Stafford reports that there was little activity on the river for the first week in May. However fishing improved during the week commencing the 7th of the month. With water levels at 1.2 meters on the Aasleagh gauge Richard Kelly, Dublin landed a fish of a lifetime, a magnificently conditioned fish of 16lbs. The fish was caught in the Garden Pool on a Collie Dog. The same day Alan Colles caught a fish of 13lbs on a Curry Red Shrimp in the Coronation Pool on Beat 8.
The river was unfishable for the next 2 days with levels recorded at 2.2 and 2.6 metres respectively.
Levels dropped to 1.6 metres on the morning of the 10th. Kevin Attride, home on holidays from the Netherlands, caught a fish of 9.75lbs at Altamont's Dam on Beat 6.
The Garden Pool produced another cracking fish for Martin Byrne, Skerries, Co. Dublin - the fish weighed 14lbs and was caught on a Willie Gunn. Local angler Peter Coyne caught another cracking fish of 12.75lbs on an Ally Shrimp in the Holly Pool on Beat 8. Urgan Scheel, Germany caught one of 10lbs on a Collie Dog.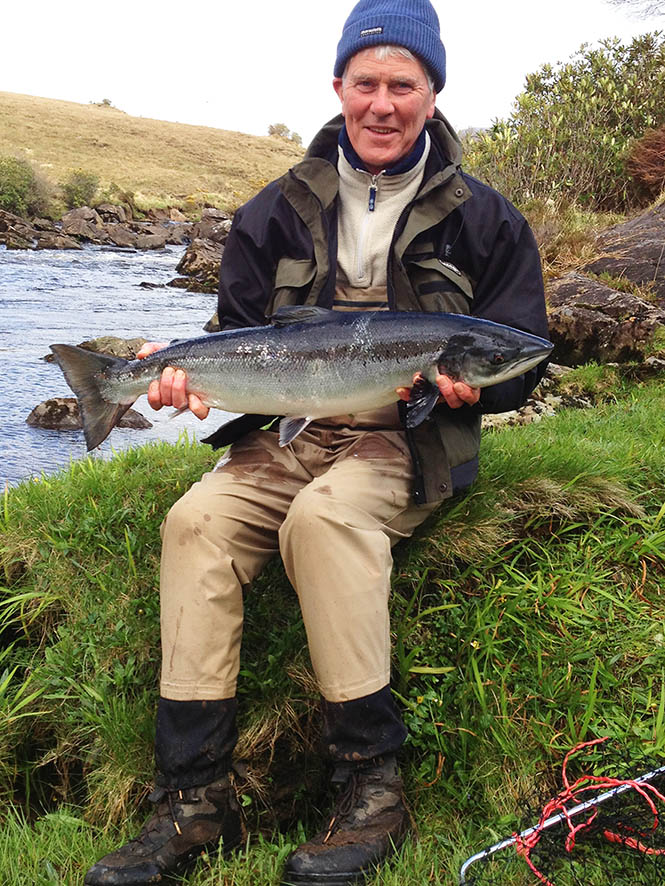 Martin Byrne from Skerries, Co. Dublin, with a fine 14lbs salmon taken on the Erriff.
Water levels were recorded at 1.4 meters on the morning of the 12th. Philip Clesham, fishing with a Thunder & Lightening landed a fish of 6.5lbs in the Holly Pool - this was followed by another one of 5.25lbs which was taken on a Cascade in the Coronation Pool - both fish were sea-liced. The same day Hugh McGuire caught one of 11lbs in Humps & Hollows on Beat 6 on a Kylemore Killer.
This has been the best Spring fishing on the river for many years with a few more fish hooked and lost - we look forward to good runs of fish throughout the season.
To book fishing contact Jim at Aasleagh Lodge on 095 42252, or email erriff.fish@iol.ie

Ballynahinch
Fishery manager Simon Ashe reports that the first salmon of the season from Ballynahinch has been landed. The fish was taken yesterday morning on Beat 1 by Tom McManus, and weighed 8.5lbs. Water levels have been high at Ballynahinch but are starting to drop now, and conditions should be excellent for the next while. More spring salmon have been seen in the river and spotted going up the counter, so there are fish there to be caught.
To book fishing or accommodation at Ballynahinch, contact the castle at 095 31006, or check www.ballynahinch-castle.com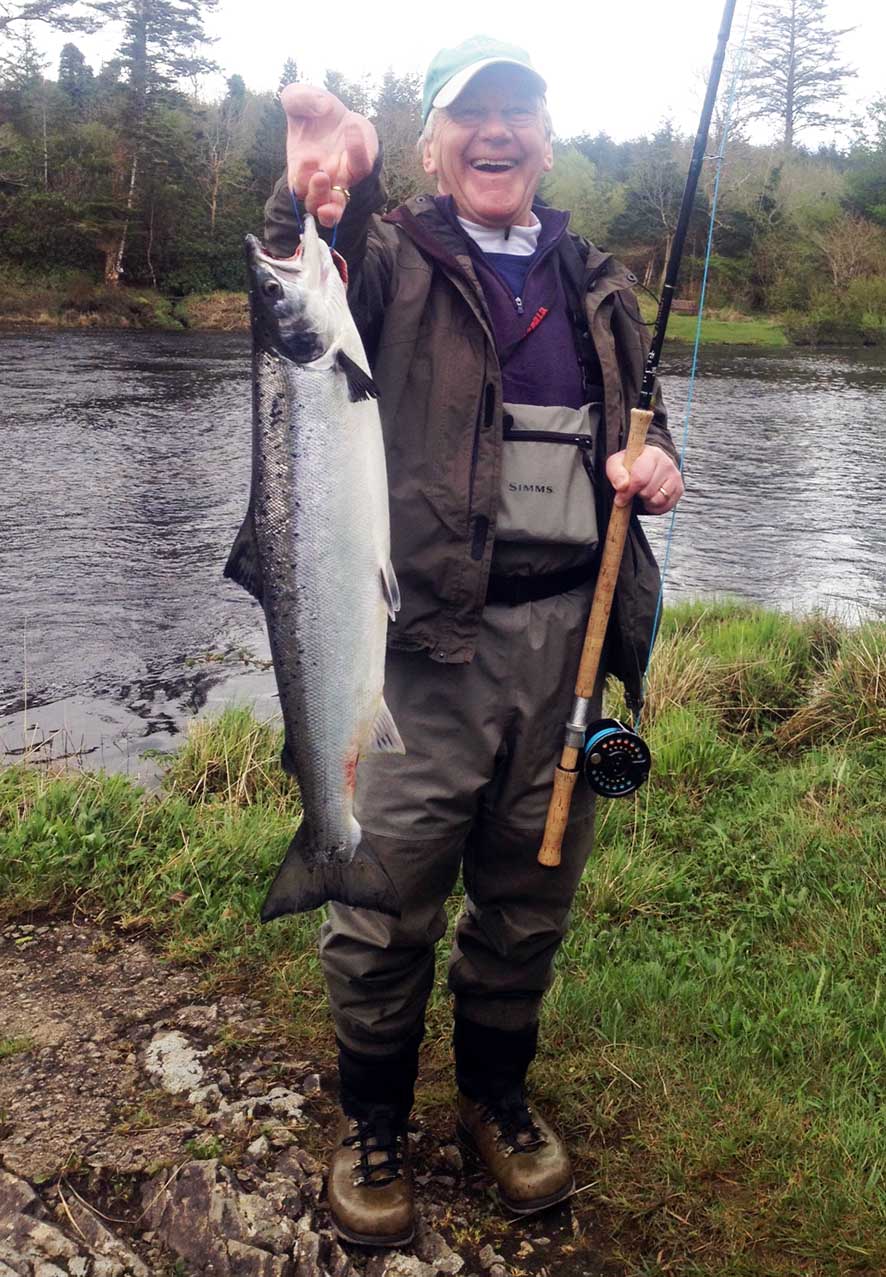 Tom McManus with the first Ballynahinch salmon of 2013, a nice fish of 8.5lbs taken from Beat 1.
Delphi
Fishery manager david McEvoy reports that while last week started slowly it certainly finished in fine style, with 16 fish in total landed. This was primarily due to the expertise of the Sutherland party, which included Angus Sutherland, Denis Daly, David Felton, Jimmy Keogh, Billy Marshall and Ireland's foremost angling instructor Peter O'Reilly, who I'm delighted to say actually got a chance to fish himself, which doesn't happen that often here.
Brian McHenry was actually the first on the score sheet, with a sea-liced fish of 8lbs 7oz from the Whin pool on a Willie Gunn. The next 10 fish were all taken by the aforementioned Sutherland party, 6 from the river and 4 from Fin. They were taken on Delphi Collie's, Cascade's and Red Shrimp's. They weighed in at 8lbs 14oz, 8lbs 1oz, 8lbs 10oz, 7lbs 4.5oz, 9lbs 12oz and approx. 7.5, 5, 7.5, 9.5 and 9.5lbs. Needless to say they were all happy campers.
On Saturday we landed 4 fish. Chris Jarman got off to a flying start with a fish of 6lbs 12.5oz from the Rock pool on a conehead Willie Gunn. Veronique Guiraud from France then had her first ever salmon, a fish of 7lbs 14oz off Finlough on a Temple Dog. Finally Paul Wymes was back in business with two fish off Finlough, one of 5lbs 10.5oz and the other of 7lbs approx, both taken on a Park shrimp.
To book fishing or accommodation at Delphi, contact the lodge at 095 42222, or check www.delphilodge.ie

Kylemore Abbey
Fishery manager Nigel Rush reports that springers are being seen in numbers for the first time this season, although the cold windy conditions has them keeping their heads down! Geoffrey Fitzjohn, however, who landed the first fish of the season, then landed the second and third fish, one of 10lbs and a fine 12lbs fish, which was safely returned. Nigel reports that water levels are prefect at the moment, and with showers forecast, conditions should remain good for the next week.
To book fishing at Kylemore Abbey, contact Nigel on 095 41178, or mobile 087 9580702, and for latest news check the website at www.kylemorefishery.ie

Galway Fishery
There are still 14 gates open on the weir this week, and all angling has been curtailed. There have been excellent reports from further upstream, with a 22lbs salmon reported from Cong, and some good salmon off the Clare River also, so we know there are springers running. If water levels drop and fishing resumes I would expect to see good catches from Galway.