Western Lakes

Lough Mask is fishing very well on some days, with some anglers reporting very good catches, but patchy fishing elsewhere, with other anglers blanking. Fishing Daphnia patterns in the deep seems to be the best method at the moment, so it is a case of searching out the fish, and if you find them stay on them.
The Vintners Society of Ireland held their annual 2 day wet fly competition on Mask last week Tuesday and Wednesday, the 7th and 8th of September.
Conditions were excellent on both days with lots of cloud cover and a fresh southerly breeze. The competition was run both as an individual competition, and a team event for teams of four. 120 anglers competed, with first place in the individual event going to Patsy Tracey from Fermanagh, with 8 fish for 10.5lbs. Second place went to Michael Shoevlin from Tourmakeady, with 7 fish for 9.6lbs, and 3rd was Mick Mellamphy, Cork, with 6 fish for 8.8lbs

The winning team was Mick Mellamphy (Cork), Jack Ringrose (Clare), Frank Long and Steven Campbell (Cork). Over the 2 days 171 trout were landed, averaging 1.33lbs.
Fishing on Lough Corrib has been slow enough lately according to Tom Kelly in Oughterard. Dapping has accounted for most trout there, with wetfly also taking some fish. Angling effort is low apart from the TAFI competition, of which more below. In the Cornamona-Greenfields area, John Walsh reports that fishing is slow, with wetfly taking most fish, mainly Dabblers and claret patterns. The Ennis Anglers held a Last Cast competition, with 18 anglers landing just 5 trout over the size limit. Brian Whelan took top honours with 2 trout for 3.4lbs, with Paul Dignam taking 2nd and Gerry Kenny in 3rd place. Elsewhere Joe Fetherstone and Dara Touhy from Dublin landed 3 trout for 5.5lbs. Peter Curran had 4 trout for nearly 7lbs, best 3.25lbs. A lot of undersize fish have been moving to the fly, a good sign for next year hopefully.
Sean Finnerty from the Connacht Angling Council reported on their annual TAFI Interprovincial Lake Championship, held in conjunction with Oughterard Anglers and Boatmen on Saturday the 11th. Once again the competition was held on a catch and release basis with a minimum size limit of 30cm. The day was blustery with westerly winds and the occasional downpour. 63 anglers participated in the event, representing all four provinces. The competition started at 11am and finished at 6pm with 61 fish caught. 1st prize went to Peter Driver (Leinster) with 4 fish, 2nd prize went to Hubert Smyth (Leinster) with 4 fish and 3rd prize went to Peter Dunne (Connaught) with 4 fish. Only 5cm separated 1st and 3rd.
The team event went to the Rosses, Donegal, the team consisted of Charles Kennedy, Ian Ireland, John Boyle & Daniel Sweeney. Leinster won the Provincial event, with Ulster 2nd, Connaught 3rd and Munster 4th. The heaviest fish went to Shane Callan (Leinster) a fine specimen of 57cms. Congratulations to those who are eligible to fish for the Irish Team, in either Slovenia (World Championship) or Portugal (Europeans).

Connemara
Frequent rain over the last week has kept Connemara rivers topped up, even too high at times. Jim Stafford at Aasleagh Lodge reports on very good fishing on the Erriff River from the 29th August to the 10th: Water levels were normal at 0.6 meters to the 4th, but heavy rain increased levels to 1.86 meters on the 5th. Levels then dropped to 1.3 meters on the 6th. There was another massive spate of 2.4 meters on the 8th. and water levels then fell to 1.25 meters by the 10th. Overall angling pressure was light on the river during the last few days of August and the first days of Sept. A total of 40 salmon & 23 sea trout were caught during the period.

Mr. Jean Francois Calvar and his brother Jean Jacques from France caught 7 salmon between them on mainly orange shrimp patterns. David Dugdale, UK, released a 5.5lbs fish taken on a Stoats Tail. A Munro Killer was successful for Kenneth Mills, UK catching a 5lbs fish in the Bridge Pool on Beat 9. Peter Huggard, UK, fished the river for a week and caught 12 salmon, best 11.5lbs taken in the Broken Bridge Pool on Beat 5. Greg Forde, Galway, caught 2 in the Gauge Pool and Falls Pool. A Yellow Shrimp pattern was successful for Eamonn Cusack from Limerick, landing a7.25lbs fish in the Middle Garden Pool. Alan McGurdy, Dublin, returned a nice sea trout of 1.25lbs taken in the Upper Square on Beat 9. John Dryburgh and John McFadgean from Scotland had 3 from Beat 5. Martin Sesselmann from Germany caught his first ever salmon on a Cascade in the Falls Pool - this was followed by another taken on a Garry Dog in The Hill on Beat 5. Dermot Seymour had 5 sea trout in the School House on Beat 3. Stephen Jones and Michael Stuart from Dublin had 2 salmon and 2 sea trout on Cascades in 1 day, while Mr. Morgan and Mr. Fairhurst, UK, had one each from Nee's Run on Beat 6 on a Shrimp Fly and Clan Chief.

The river is fishing very well at the moment, with a lot of fish running. Both numbers of fish through the counter and numbers landed to the rod are about 3 times the total run and catch for last season, a reflection of how well numbers of grilse are doing this year. With 2 weeks left in the season, there is plenty of availability at Aasleagh Lodge, and a great chance of a late salmon before the season end.
To book fishing or accommodation, contact Jim at 095 42252 or email erriff.fish@iol.ie


Galway Weir
The Galway Fishery has gone from a quarter gate open to 6 gates and a big flood over the last week, as heavy rain saw the lake rise rapidly. Fishing effort was nil, so no fish to report from here.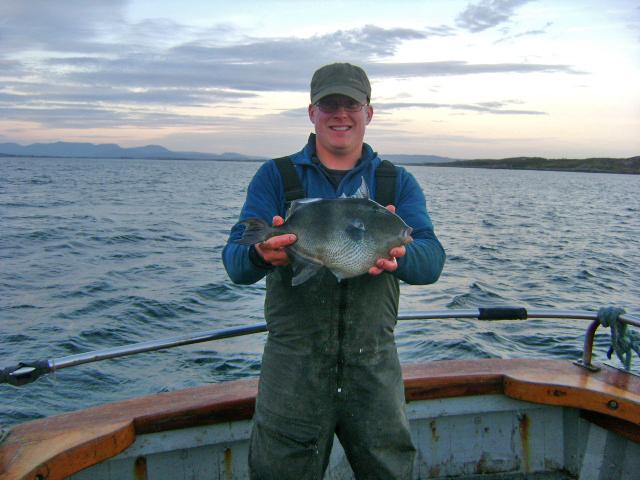 Skipper Max Couque aboard Leaca Rua with a trigger fish.
Sea Angling
John Brittain from Clifden reports that clients have enjoyed very good shark fishing aboard Bluewater over the last 10 days. They have been averaging 6 shark per day with Luigi Dannini' s Italian group getting the biggest, closely followed by BBC' s Monty Halls fish, which will be on his next Great Escape series. Both fish were up around 100lbs with Luigi's measuring 6 ft 6 inches. Ground fishing has also been good with a Dutch group taking 17 species for their 3 day trip, including a fine John Dory.

For info on fishing or to book a charter trip or B&B contact John or Sue Brittain at Sharamore House, Streamstown, Clifden, Co. Galway. (Tel. 00353 95 21073) or check www.seafishingireland.net

Max Couque, skipper of the Leaca Rua in Spiddal, reports on good fishing in Galway Bay. Between Max and fellow skipper Kevin MacGabhann of the Maighdean Mara, they now have more than 30 tope caught and released. Anglers are still geting a lot of spurdog., with some very large fish among them up to 16lbs, which are specimen size.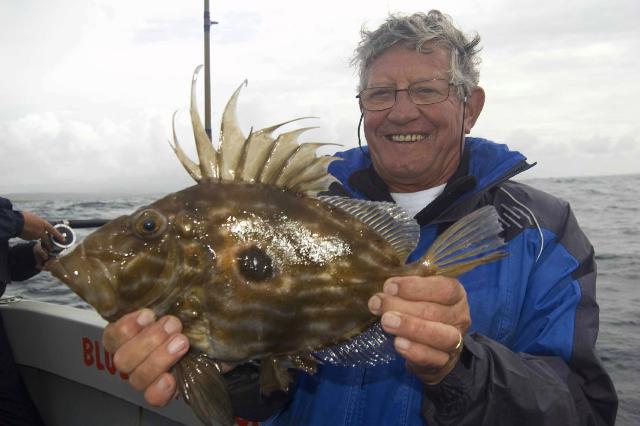 Both boats have fished for blue shark but they seem scarce around the bay this year, but as Max says the season is not over yet! They have found some very good mixed species fishing, however, with a 14lbs pollack taken under the Cliffs of Moher by one of Kevin's group, as well as good conger, ling to 10lbs, some nice pouting, plenty of mackerel and a lot of big pollack. This year so far has been very good for ling and pollack. The Maighdean Mara got it's first John Dory of the season recently, and Max got a trigger fish last week. It is very windy the last two weeks but Max had a very good day on Saturday with a group from Chanelle Veterinary in Loughrea. They landed a nice 9lbs bull huss, some thornback ray, dogfish, pollack, pouting, mackerel, cod, sandeel, cuckoo wrasse and ballan wrasse.

To book fishing contact Max Couque at 086 3234638, Kevin McGabhann at 086 8547890 or check www.galwayfishing.ie